Quick, clear rounds weren't only influential, they were essential for a top finish at the 2018 Galway Downs International Horse Trials, held March 29-April 1, as competitors took on the thrilling cross-country phase.
Tamra Smith of Murrieta, California, and Sunsprite Syrius, a 10-year-old Trakehner, were the only CIC*** pair to achieve this feat across Eric Winter's formidable track, and they were kindly rewarded with a big win in the division on a final score of 35.2.
"I've been producing him since he was 5, and we have a great partnership," said Smith. "It was a really tough track. I wasn't sure how he'd read things, but he didn't look at one thing. He was super."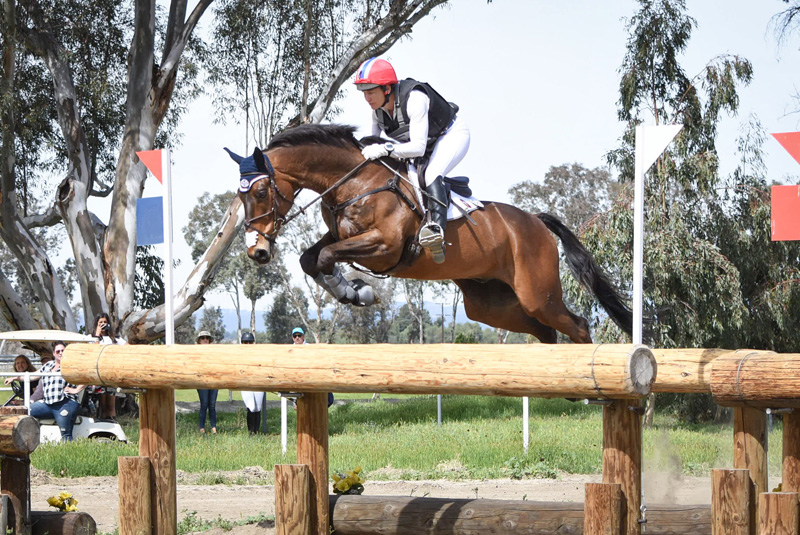 Sunsprite Warmbloods' CIC*** debutant is a proven competitor, winning the prestigious Dutta Corp. /USEF CCI2* Eventing National Championships at Fair Hill International (Maryland) in 2017 before moving up to the advanced level this spring. Cheering him on along the way were Donald Trotter and Pamela Duffy of Sunsprite Warmbloods, who are longtime Galway Downs volunteers and supporters.
"It's so good having them right at the finish flags," said Smith. "Pam and Don are good horse people. They get that eventing has its ups and downs. I don't think they had expectations of doing anything serious this weekend. We were just going to go out of the box and see how it went. I didn't know how the track would ride. I've never ridden Eric Winter's courses before, and [Sunsprite Syrus] only did his first advanced at [Twin Rivers Horse Trials] a month ago. It's fun because that horse is just a great. He's such a special horse."
Overnight leader Frankie Thieriot Stutes of Occidental, California, dropped to second after accruing 9.2 time penalties on an otherwise clear round with Chatwin, a 10-year-old Oldenburg owned by The Chatwin Group. Stutes, who won this event last year, is returning to Galway Downs as her first international competition since the birth of her second child last autumn.
"Usually I'm really quick in the gallop, and today I kind of stood up in my stirrups, and he wasn't quite as fast," Stutes said. "Instead of putting the pedal down in the beginning I was kind of feeling myself out and feeling him out a little bit."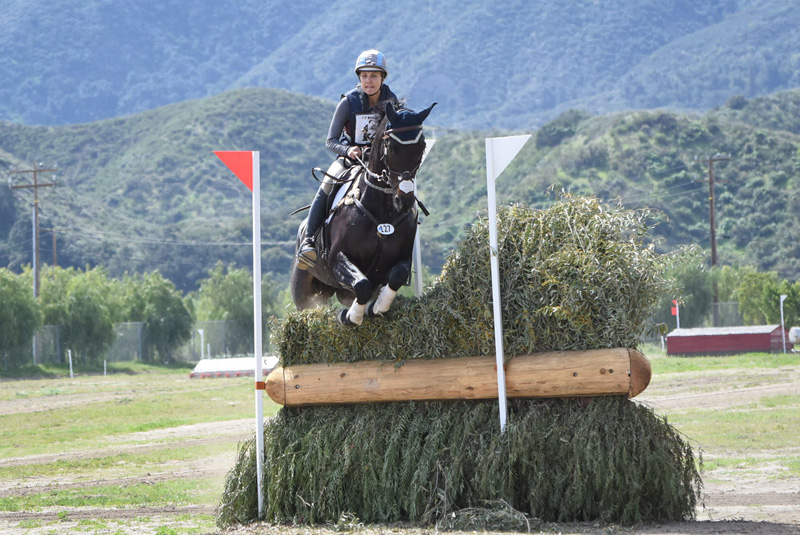 Stutes and Chatwin close the weekend out on a final result of 42.
"Overall I was really happy with him," she said. "I thought we both needed today to get back in the swing of things. I'm not quite as strong as usual, but I felt like today when the questions were there and Chat needed me, I was able to do my job. You always want to feel like you're doing right by your horse, especially for a horse like Chatwin who takes such good care of me. It felt good to feel right in my stirrups."
Andrea Baxter of Paso Robles, California, took hold of third place with her longtime partner Indy 500. These two posted a confident trip in their last outing before the Land Rover Kentucky Three-Day Event later this month. She and the 13-year-old Thoroughbred finish on a score of 48.8 after posting the second fastest run in the division.
"I was a little nervous because I hadn't done much since [Blenheim Palace International Horse Trials (England)]," said Baxter. "She hasn't evented at all. I was looking for a good solid run before Kentucky, and she was awesome. I wasn't planning on going fast I just went around in a nice rhythm. I didn't even wear a watch. This is obviously a big confidence booster for me knowing she's game on."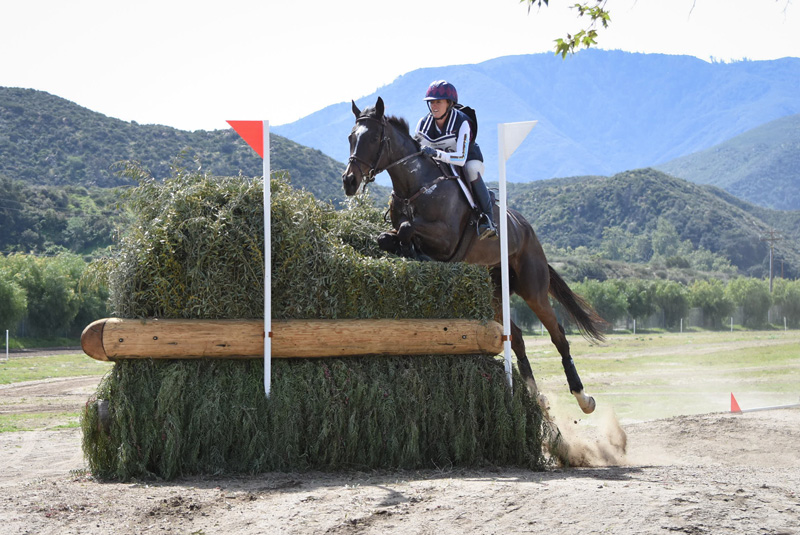 Gina Miles of Templeton, California put the pedal down with Tara Berkuil's Greenfort Othello for the top spot in the CIC**. The 13-year-old Irish Sport had a faultless cross-country day for a three-phase score of 37.5.
"He is a fantastic cross-country horse; I mean that certainly is his strength," said Miles. "But you never know on cross-country, something can always happen. It was a tough time to make on the course. I think there's a lot of great gallop stretches here, but by adding in a few little twists and turns, that takes time. You had to really stay on top of it to get the time done."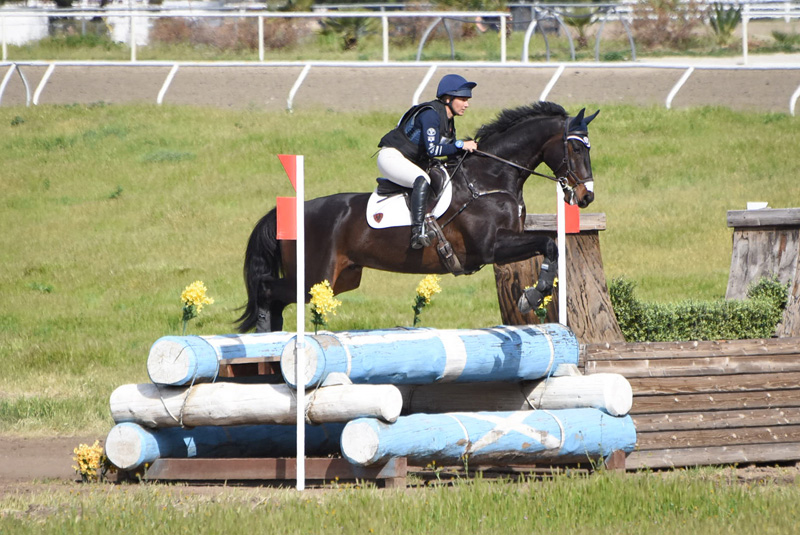 Emilee Libby of Temecula, California, and Linda Libby's Jakobi moved into second place. She and the 9-year-old Belgian Warmblood picked up 2.4 time penalties Saturday for a finishing score of 41.9. Third place was earned by Amber Pearson of Sebastopol, California, and her own Patagonia on 42.8 points. They were the only other pair to deliver a double clear cross-country round in the two-star.
Harper Click of Snoqualmie, Washington, sealed the deal on a wire-to-wire win in the CIC* aboard her own Rubia, a 9-year-old Oldenburg owned by Amy Click. The pair were foot perfect across country, to finish on 28.5 points.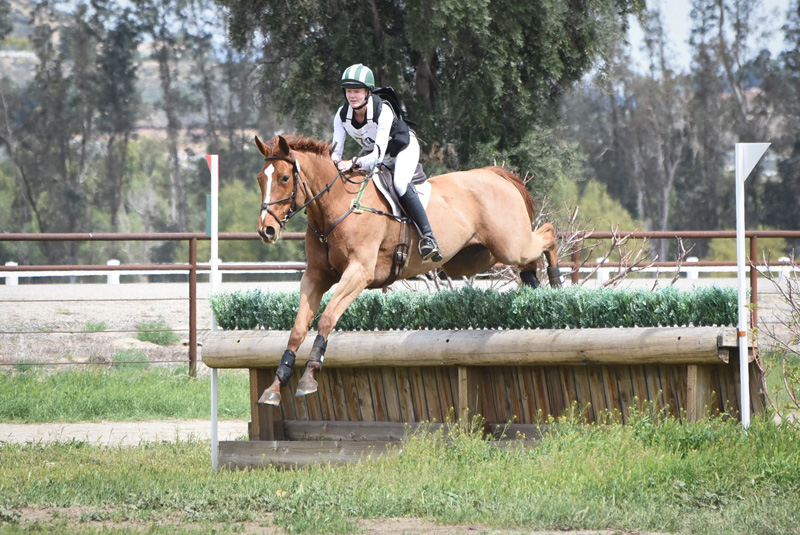 Baxter earned her second top finish this weekend aboard her own 6-year-old Holsteiner Enfinity in the one-star class, finishing on their dressage score of 35.1. Asia Vedder of Carpinteria, California, rounds out the top three aboard her own Gaelic Wealth. She and the 10-year-old Thoroughbred finish with 35.3 penalty points.
Click here for scores.