How strong is the field at the first Badminton Horse Trials (England) to be held in three years? Strong enough that Tamie Smith and Mai Baum, arguably the best eventing dressage competitors in the U.S., are sitting in fourth place after Thursday's first day of CCI5*-L dressage.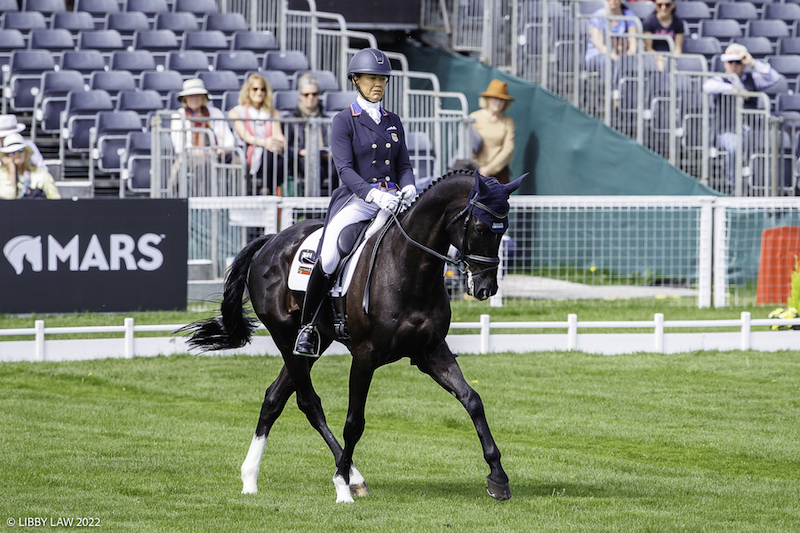 "He's been on fire all week and got a little bit overwhelmed by the crowds," she said, noting that "Lexus" also was out of his element in Badminton's traditional grass dressage ring.
"I think it's his first test on grass and, while he's never made me nervous going in to dressage, I was a bit 'hmmmm' yesterday when working him, so I played it a bit safe in there," she said. "I'm super proud of him."
Their score of 25.3 puts them closely behind a trio of British riders leading Day 1 dressage: Tokyo team gold and individual silver medalists Tom McEwen and Toledo De Kerser are in the top spot (23.4), Kitty King and her 2021 European team gold medalist Vendredi Biats are second (24.8) and 2021 Luhmühlen CCI5*-L winners Mollie Summerland and Charly Van Ter Heiden are third (24.9). Just behind Smith, tied for fifth on 25.7, are defending 2019 Badminton champions Piggy French and Vanir Kamira and current FEI Word No. 1 eventing rider Oliver Townend on a new gray, Swallow Springs.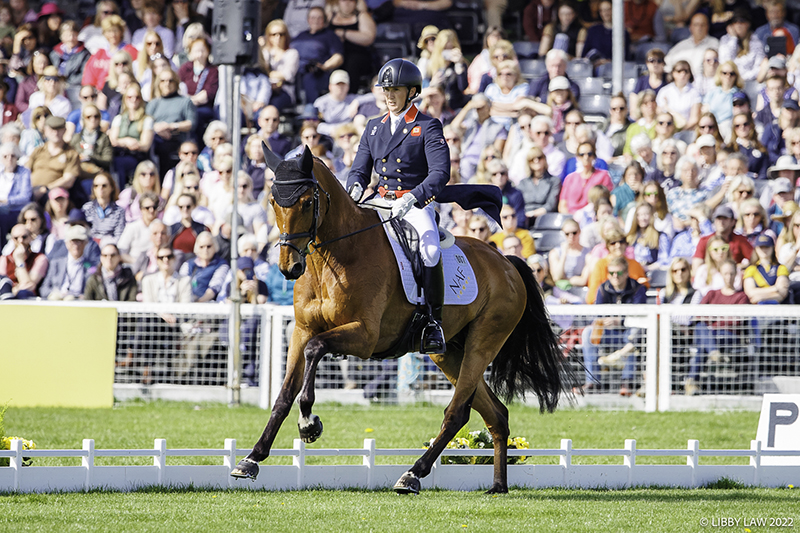 Smith said she decided to bring Lexus, a 16-year-old German Sport Horse owned by Alex Ahern, Ellen Ahern and Eric Markell, overseas for their first Badminton instead of taking him to last week's Kentucky five-star because "I feel that he's the best horse in the world. He's just an unbelievable creature and I want to be at the best event in the world with him. It's not every day you have a horse you can bring here. Neither of us have 30 years ahead of us, and we are ready!"
They were one of six U.S. pairs to complete their dressage tests Thursday.
No other Americans are in the top 20. Phillip Dutton sits in 24th with Z (33.2), Ariel Grald and Leamore Master Plan are 31st (35.4), Matthew Flynn and Wizzerd are 33rd (35.8), Lillian Heard and LCC Barnaby are 39th (37.8) and Will Faudree and Mama's Magic Way are 41st (38.8) of the 41 horses who went Thursday.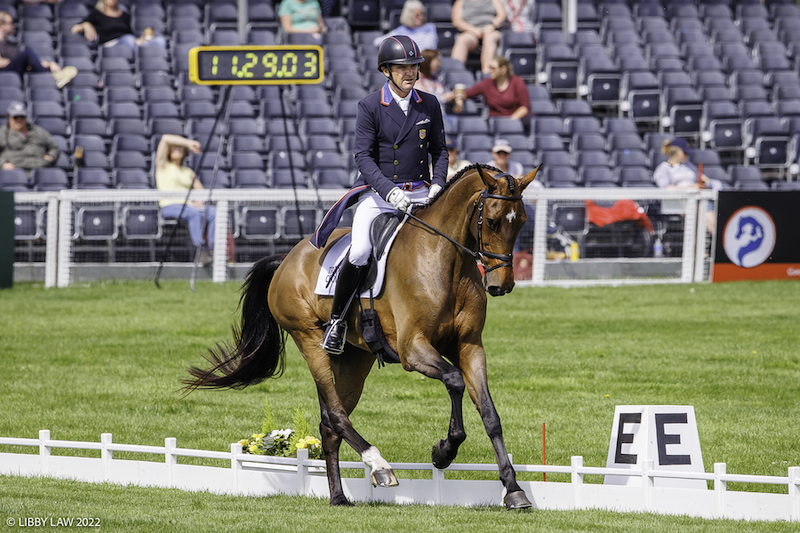 Still to come on Friday representing North America will be the final U.S. pair, Emily Hamel and Corvett, as well as Pennsylvania-based Australian Dom Schramm with Bolytair B, and Canadians Karl Slezak with Fernhill Wishes and U.K.-based Mike Winter with El Mundo.
Friday's dressage begins at 9:30 a.m. local time (4:30 a.m. Eastern Time) and Schramm will be second in the ring at 9:38 a.m., followed by Slezak, then Winter a few horses later. Hamel rides at 2:56 p.m. (9:56 ET).
Check here for information about how to follow the action at Badminton or watch it live. For full results, click here.