"Oh dang, that was awesome! Good boy Billy! Wait, what just happened?! They are all cheering, and I'm pretty sure I didn't drop anything, but I don't trust myself. OK, check the scoreboard…uh, I'm too excited, I can't remember what my score was. Look at Earl, Hawley, Morgan and Michelle on the podium…OK, they are jumping around like maniacs…YESSSSSSSSS! I DID IT!!!" ~ My inner monologue after finishing my show jumping round at Rolex.
I had just jumped a clear round at the Rolex Kentucky CCI****, over a show jumping course that ultimately only had six horses total leave all of the rails up. I had bested one of the biggest challenges of my life and now my greatest challenge was reduced to simply trying to stay on through the realization of what Billy and I had just done and the overwhelming joy and pride I felt for this horse.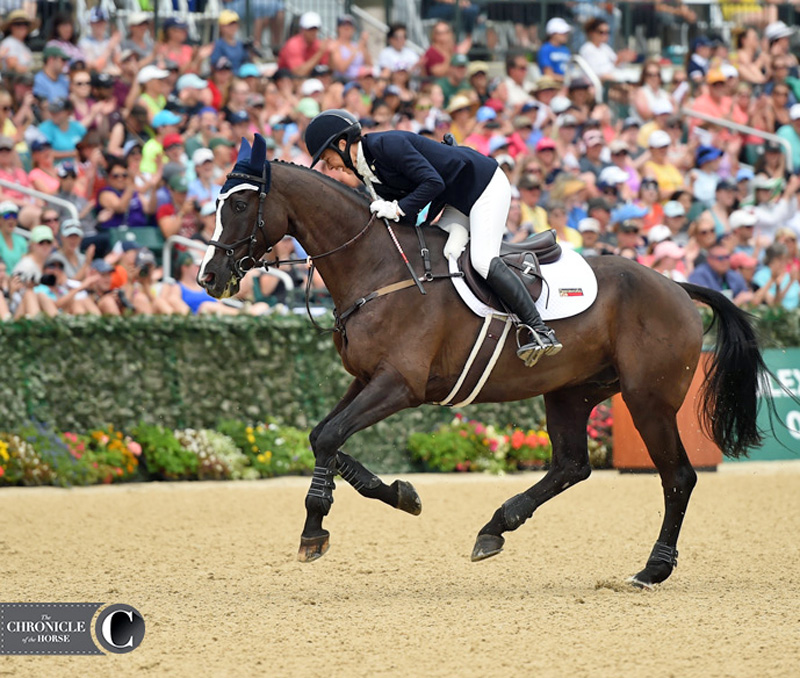 It was a mere blink of an eye, but that instant in time was the culmination of all of the hard work, the teamwork, the dig-down-deep dirty work; a climax of the faith and desire that every fiber of my body was vibrating with. That 96 seconds in time will stay etched in my memory as one of the best moments I have ever experienced.
Not just because it was a very long time in the making, but because it required me to overcome one of my greatest stumbling blocks that I wasn't even fully aware of, self doubt.
Show jumping has notoriously been my Achilles heel with Billy, and even the best eyes in the world couldn't necessarily tell me why. I have spent countless hours with geniuses in the field trying to rectify the frustrating fact that Billy just wouldn't have a clear show jumping round. It really made no sense at all, considering that he is a very obvious talent with scope and desire to burn.
And, although I am no show jumping wizard, I am brave, relaxed and focused, and accurate enough to not have such a disheartening stadium record with him. You name a million different ways to approach show jumping and the warm-up, and I've already tried them, probably twice.
How about different therapeutic pads, massage tools, ice boots, head caps, magic wraps, essential oils and voodoo dolls? I've got them. But the dismal truth was that no matter what I would try to do, Billy just was not "careful" enough over the rails.
This sad state of mind was in total conflict with my optimistic and stubborn personality. I believe in the underdog and I am a fighter, and I know that reality is whatever you believe it to be. It really is not in my nature to be beaten, yet I was so close to buying into the general consensus that I had gotten as good as I was going to get.
Honestly, who am I to not be happy with having a horse that I successfully reached the four-star level with, no matter how competitive he is or isn't? But, it wasn't an issue of not being satisfied, it was knowing that there was more to give, and more to prove, even if it was nearly impossible to achieve.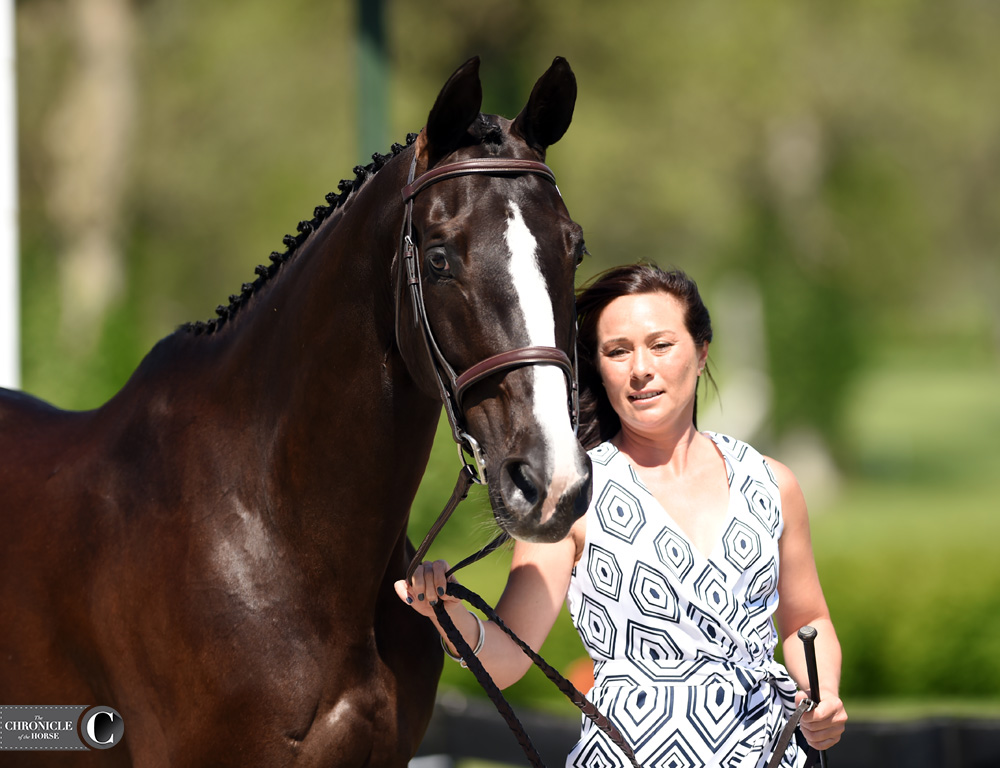 In the end, what probably saved me from thinking status quo was good enough (because it was not likely to change) was the end of California's drought. This state has not seen rain in years, but 2017 proved to be the wettest in history.
So instead of rationing how much water I allowed myself to use while brushing my teeth, I was up to my eyeballs in a constant state of flooding and we were finding it increasingly difficult to show and prepare for Rolex. Hawley was certain we needed to scrap our plan of flying to Rolex and head East early to do our final prep runs there and make our way home via Kentucky. This meant we would be away for five weeks, a much slower and more deliberate preparation for Rolex than our last appearance in the Bluegrass state, where we flew Billy in on the Monday before jogs.
This approach was the perfect remedy for what was ailing me.
Obviously, it was an excellent solution to my conditioning issues and the weeks spent in Florida were ideal for getting Billy acclimated to the warmer and more humid weather found outside of cold and dreary California. I had concentrated training with my coaches, and we were able to experience new courses that we were unfamiliar with to sharpen us and to give us a better perspective as to how our training was going up to that point.
But I'm not sure I should discount the more subtle,—and more likely—reason that I had such a significant improvement.
I think that it was the very lengthy time spent day after day with Hawley Bennett-Awad, someone who was equally focused on the same thing as I was. These long days were a torture for both of us because we felt like we were wasting our time being away from our businesses and families. For good or for bad, the long days away from home consisted of nothing but time to focus on one horse, one purpose, one goal. As we worked side by side throughout the days, the obsessive behavior of improving ourselves was nurtured, admired by the other, and it grew exponentially as the weeks passed. By the end, we were both fully immersed in this one-tracked mindset that competing at Rolex was the only thing that mattered.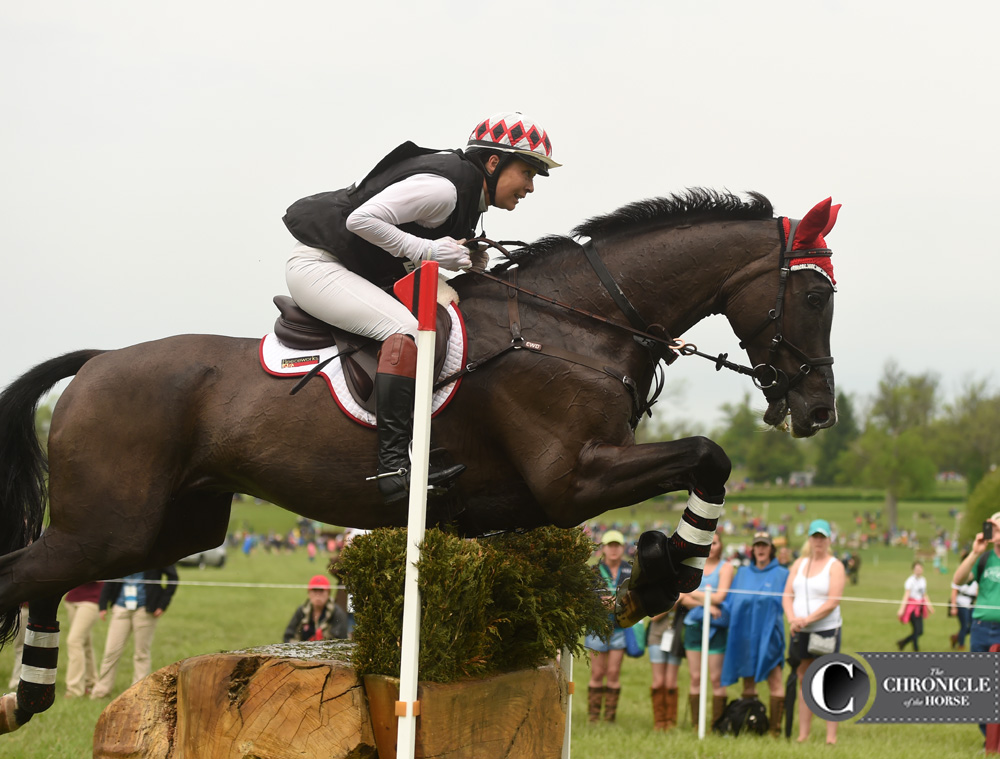 Fast forward to the hour before show jumping was set to start in the Rolex Stadium. The course was open to walk and the crowds had already poured in to stock up on Man O' War cocktails and to claim their seats. The arena was set in the most impressive way, a way that you can only expect at Rolex, with water features and Land Rovers scattered about, and all but the first fence set at maximum heights and spreads.
Hawley wasn't there yet to walk and my husband Earl was off somewhere without his phone, but I was feeling like I really needed to get out there and inspect the course before I was late to compete. This is the moment that normally my secret self doubt would sneak up on me. And that's when it hit me—I could walk the course by myself.
I know it sounds sort of silly that I had to realize that I could go it alone, because I walk courses all of the time by myself, but this was Rolex. Obviously you walk Rolex with a coach. Besides, I needed to hear all of the opinions of the people I look up to to help me navigate this course. I needed to know how the turns and approaches looked to them, how they were going to ride their horses. What did they think was the bogey fence? How would they deal with it?
But my long and arduous trip had made me unknowingly shed my hesitation to believe in myself. Maybe it was being out of my comfort zone for so long, away from my family and my normal routine, that kick-started this new thought process. However I arrived there, I knew I already had the tools to be successful and that I could call on those tools at the right time and use them correctly.
I stepped out onto the course by myself, but as I walked, I heard all of the words from Hawley, Susie Hutchison, Silvio Mazzoni, and Earl as if they were there by my side. Both Earl and Hawley ended up coming to the ring while I was still out there, and I walked the course with each of them. My confidence swelled as they said all of the things I imagined they would, and I knew that when Hawley said she thought I was going to have a clear round here, that she was very possibly right.
As I prepared to enter the arena, 16 pairs had negotiated the stadium course before me, most meeting great difficulty and some not coming away with very good results at all. Only one pair had managed to go clear, and that was Will Faudree on Pfun, as fate would have it just before me. The crowd had been hungry for a clear, and their approval of Will's round was obvious.
As I was being ushered into the ring to their ecstatic roar, I said a little prayer that Billy would not be overwhelmed by their applause. Billy's response to the pandemonium was to introduce himself as soft and elastic to the fans, and he reminded me of spotlight victory passes I would make on our family's Morgan stallion, Dragonfire Kirin. A horse that almost always won, and thrived on the crowd's confirmation of the good work he had done. A good omen, and a happy thought to start my ride.
After my salute and the tone rang in my ear, we began what can only be described as the ride of my life (to this point ;)). Billy was focused and leaving the ground easily, even after the grueling cross-country test the day before. I was patient and aggressive at the same time, a combination that I have struggled with in the past.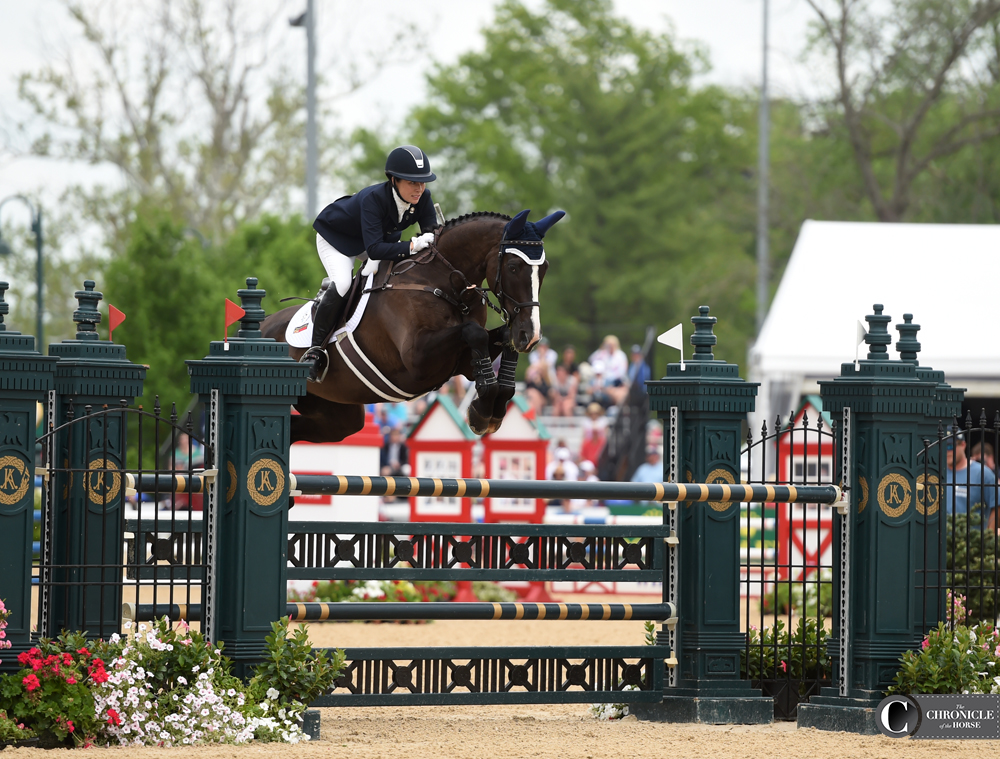 And when I saw a moving distance to the maxed-out triple-bar, I didn't let it turn into a gallop fest (which is my go-to response) and I rebalanced and jumped the following one-stride clear. The next fence was the oxer over the liverpool, with a very square front rail. Not only had riders before me been taking this down, I had the added knowledge that Billy has a strong disliking to this kind of fence and will change his stride 30 different times on the approach to one.
I came around the corner to the long approach to it, just trying to maintain a little pace without chasing him down to it. But, I was going to be off the base too much for such a big fence, not to mention one he wouldn't take a brave distance to, so I had to go to my stick the last two strides. I hate to hit a horse in front of a show jump, because it tends to flatten them, but I had to do it.
And he answered me by clearing it beautifully. Of course, after smacking him over a scary jump, the risk is that he will be too forward and moving on an uncontrolled step. And instead of a single fence that I could get away with a little too much pepper, it was the famous Rolex triple that we had to negotiate next.
I managed to take a little breath, and go a little wide to reorganize ourselves before approaching the triple where he sailed over the red, white, and blue poles like it was a grid in my ring at home. Just one fence stood between me and a clear, and it was set just ahead of the last of the triple, begging you to gallop down to it and take it out. Within those eight strides before the last, I just told myself to wait, the opposite of my natural instinct.
When I arrived at that blue Rolex Kentucky logo oxer, I knew it was a perfect distance and that it was out of my hands. And the rest is history.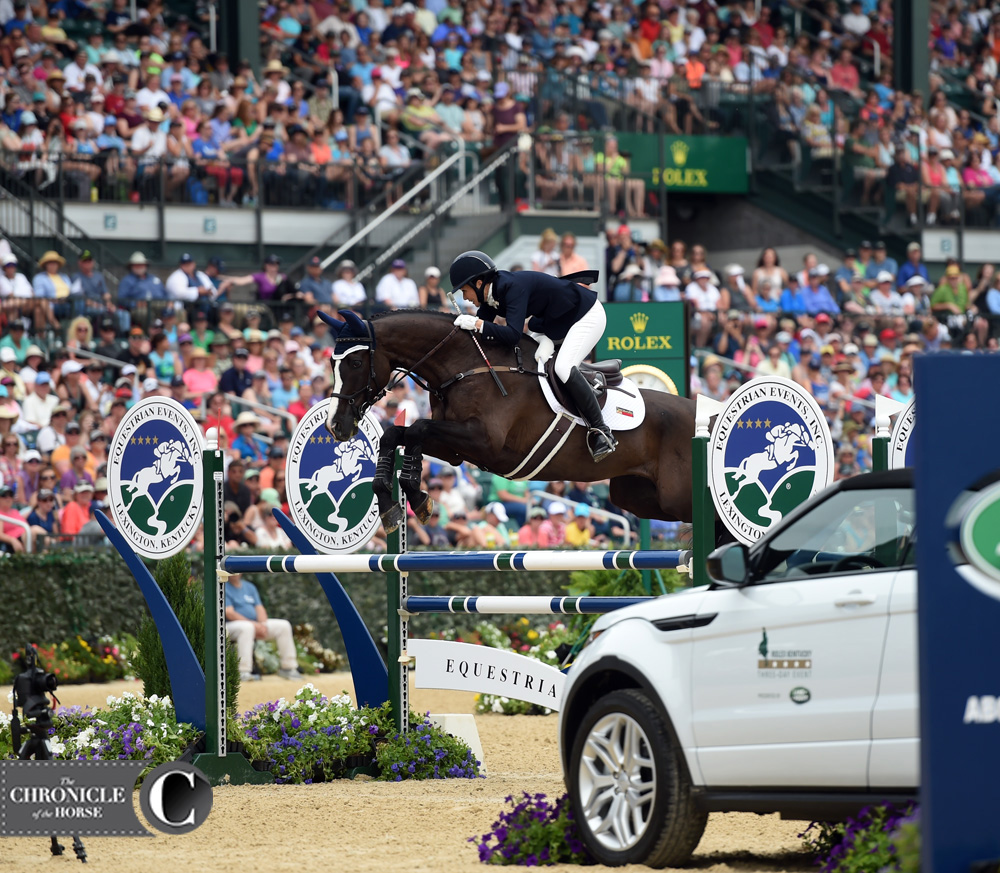 That magical round didn't have to go that way—sometimes you do everything right, and luck is still against you. But I'm pretty sure that if you don't believe you are going to go clean, you won't. I'm living proof of that.
I am so fortunate to have surrounded myself with people who have an unwavering belief in me and support my learning process without hesitation. Without them, that moment would never have been possible.
From my students who are willing to have me leave for most of the spring season, my owners and sponsors who want me to be the best I can be, and my coaches who are willing to keep chipping away at this with me. I also have to give a lot of credit to my family who never gives me grief over these crazy things I do. Even when I call homesick and miserable, knowing that I should be home to lend a helping hand, they tell me that everything is taken care of and that I'm doing the right thing.
I'm not sure what I did to deserve all of this, but I am going to keep riding this wave for as long as I can.
Jennifer McFall started her riding career in Pony Club and showed her family's Morgan horses on a regional and national level, winning many national and world titles in hunter pleasure, western pleasure, dressage and jumping. She and Dragonfire Kublakhan, a Morgan gelding bred by her family farm and her partner during her teenage years, are pictured on the cover of the Pony Club "A" manual and had an exciting career together. Her early years as a trainer/instructor earned her recognition on the national level and most recently the Morgan Horse Association honored her for her influence on the Morgan breed, particularly in the area of eventing.
Jennifer has always loved eventing and remained an active competitor. Currently, she and High Times, a Holsteiner gelding she has brought up through the levels, have finished in the top 10 at multiple CIC and CCI*** events and successfully completed their first CCI**** together at the Rolex Kentucky Three Day Event in 2014. Jennifer runs Dragonfire Farm, a sport horse breeding, training and sales facility, in Wilton, Calif., alongside her husband and fellow eventer Earl McFall and their daughter Taylor.
Read all of Jennifer's blogs here.