Thermal, Calif.—March 17
If you believe that warm-up performances dictate the fortune of show-time performances, then Skyhawk's day looked over before it started. Even before stepping foot into the ring for the $25,000 USHJA International Hunter Derby at HITS Coachella Week VIII, John French worried it might not be the pair's lucky day.
"A couple horses before, everybody cheered somebody, and he got all razzed up in the warm-up ring and took off," said French. "I was like, 'Oh no, he's going to be high! He's going to be high.' "
French proceeded to walk the 9-year-old, gave him pats and then focused the warmblood gelding (Quick Lauro Z—Aevita) on a few little jumps. With the desert wind ripping through the valley, focus proved paramount for the 32 horse-and-rider combinations. But upon entering the ring, spectators hushed and never suspected the previous behavior in the schooling ring as Skyhawk glided over the high options and didn't bat an eye at the ornate jumps. And landing off the final oxer in the first round, you could spot French subtly smiling to himself even before the judges finished scribbling down their scores.
"This class is sort of his specialty," said French. "He likes it to be a little more interesting. I showed him one day during the week, and he was like—the fences weren't even spooky—he was like looking at everything. And then you'd think he'd go and do a class tonight, and [it's] kind of dark at night and everything's getting dark, and all the spooky jumps, but no. Then he's like, 'OK now I'll pay attention.' "
Skyhawk and French soared to the top of the first round with a 182, one point ahead of another French entry Center Court. But French didn't have much time to rest on his first round success. Three of his four horses from the first round made the top 12 for the handy round. So he walked the course and then quickly focused on his next horse.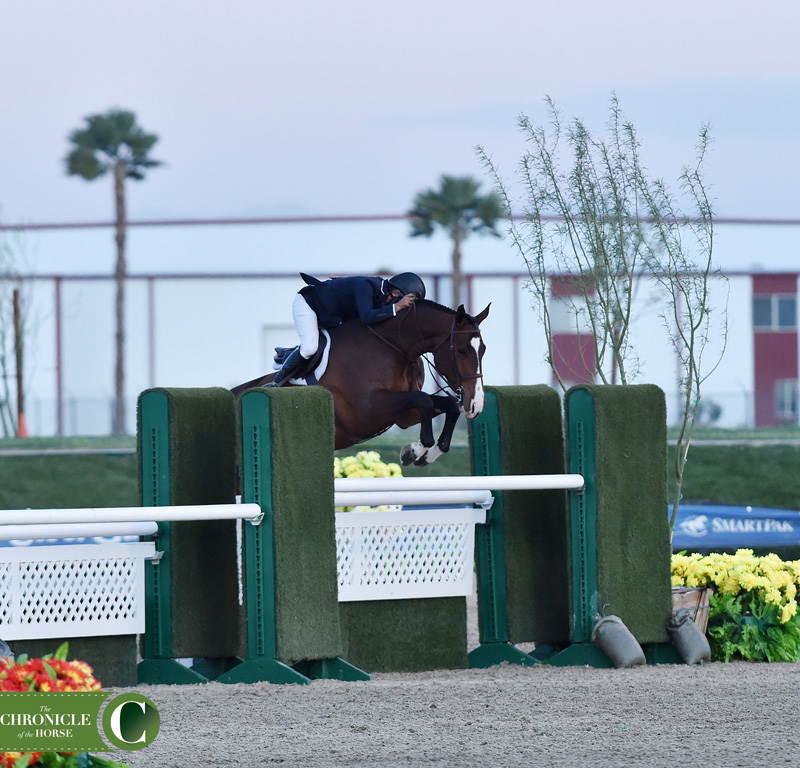 "I'm not very good at multi-tasking," admitted French. "When the afternoon starts, like a couple hours before, I have to kind of be thinking about this and getting my mind set on this. I can't be running and schooling people and run over here and just get on.
"I just need at least half an hour by myself and to start getting my boots clean or whatever," he continued. "Just have a little bit of quiet time to calm my mind a little bit. The morning I'm a little nervous and anxious about it. But when it gets closer to the time when I get on the horse, all of a sudden the horse relaxes me."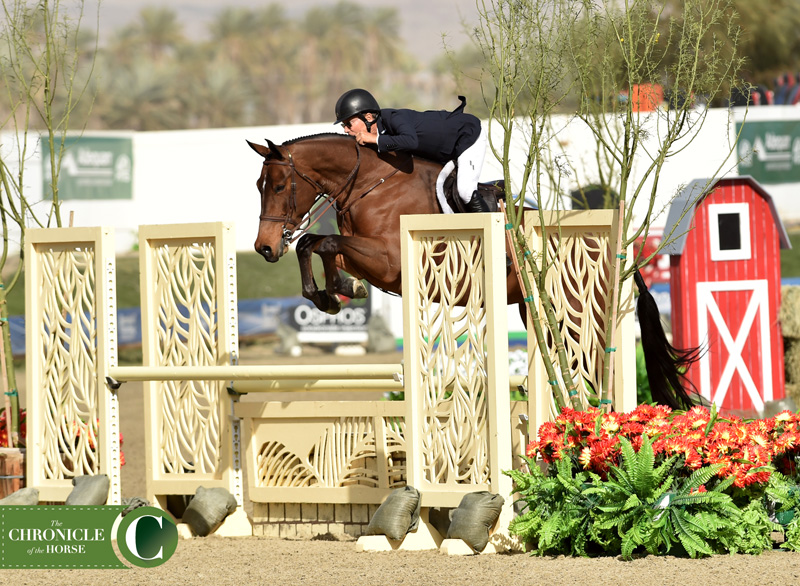 French entered last on Skyhawk, having already secured a first-placed position with Hiller Farms LLC's Center Court with a combined score of 372.
"I didn't really go galloping around in the handy because we had the lead," he said, "so I just tried to be tidy and win it off his jumping style."
The jumping style was more than enough as Laura Wasserman's Skyhawk ended with a finally tally of 388.
"To be first and second—it's a good way to end the circuit," said French.
Click here for all the results of HITS Coachella, see all of our coverage from the show, and check back for our coverage of the AIG $1 Million Grand Prix.