She takes the reins in the tandem class and earns the blue.
Expressions of grim determination are the norm on the faces of tandem drivers, but the expression on Wendy Ying's face was anything but during the marathon at the Katydid CDE. As she executed the final hazard, a happy smile set her face aglow.
"I was really happy with how the tandem did at Katydid," said Ying. "I felt I drove well in the hazards and did a good job handling the reins. It was a big step up from just getting through it."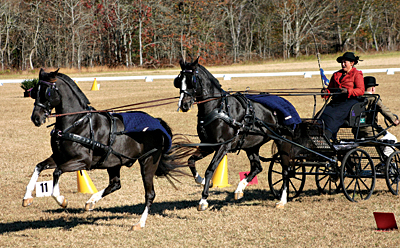 Wendy Ying was one of five tandem drivers who answered the call to enter the Tandem Challenge offered by the organizers of the Katydid CDE, held Nov. 13-16, at Katrina Becker's Katydid Farm in Windsor, S.C., just outside of Aiken.
Last year the challenge was offered only at the preliminary level, but this year it was open to those at the preliminary, intermediate and advanced levels. Ying and her partner, Sterling Graburn, both entered at the intermediate level.
Ying topped the intermediate tandem division (159.79) over Graburn (169.50).
Driving a tandem—an in-line pair—is considered by many to be the most difficult configuration in driving. The leader must be bold and forward, yet exceptionally obedient.
Unlike the leaders in a four-in-hand, the tandem leader doesn't have the physical or moral support of another horse. A tandem leader can turn on a dime and look you straight in the eye if you're not quick with the reins. One purpose of driving a tandem, in addition to highlighting the skill of the whip, was to drive to the foxhunt, where the leader would be unhitched and ridden on the hunt while a servant drove the wheeler and carriage back to the barn.
In fact, Ying's driving career began in the hunting field. While foxhunting in Virginia, Ying met Dede Bushneck, who instructed carriage drivers in North Carolina. Ying learned to drive using Bushneck's horses and equipment.
"I wouldn't have driven if it hadn't been for Dede," said Ying. Bushneck taught Ying for two years before she got her first pony. The Morgan Lemontree Magic Illusion, her first pony, is now owned by Dale Govus, who competes him at advanced level.
Ying admits that she likes the marathon phase of combined driving events best, but she has also driven at pleasure shows. Because she uses an all-purpose carriage and synthetic harness, which she can use on all three phases of CDEs, she isn't as competitive in pleasure shows. Ying learned she had to be good in cones if she wanted to win a pleasure championship to make up for poor placings in the ring classes.
Ying started driving tandem when another driving friend, Mickie Bowen, stayed with her for a while in Virginia. Bowen drove four-in-hand, but this was too much for Ying, who only had two ponies—Lemontree and a Hackney pony. They didn't go together as a pair, so Bowen helped her put them together as a tandem, which requires less special equipment than a pair. When Bowen was no longer available, she consulted Sterling Graburn, who lived in Florida, by phone.
Ying now lives in Bonifay, Fla., where she and Graburn operate Kingsforth Hall Training Center. In 2005, she competed as an alternate at the World Combined Pony Championships at Catton Hall (England). In 2006, she was third alternate for the U.S. World Singles team with Dante, who was then 6. These experiences were invaluable and taught her to "be a good competitor. I knew how to go home and fix the problems that we had," she said.
Going head-to-head in competition at Katydid, Ying took a 5-point lead over Graburn in dressage, increased it by another 5 on the marathon and beat him again in cones by .5 penalties.
She drove Dante in the wheel, with Duke out front. They are full brothers—their sire was North Fork Black Earl, a Section D Welsh Cob, and their dam was CS Zamron, an Arabian-Saddlebred cross. Dante and Duke carried a foundation of good manners into their training with Ying and Graburn. When they get tangled, as all tandems occasionally do, they don't get upset or kick. They stand until Ying can get them sorted out.
"They get confidence from each other," said Ying. "They are better as a tandem—they don't like driving single because they don't like being apart."
That being said, Dante, driven as a single by Graburn, won the advanced single horse division at the Live Oak CAI (Fla.) and the Sunshine State CDE (Fla.) this spring. Ying drove Duke into second in the advanced single horse division at Live Oak, which also served as the U.S. Equestrian Federation National Championship.
Ying went into the final phase at Live Oak with a sliver of a lead (1.28 points) over Graburn but hit the final cone, so Dante, with Graburn handling the reins, was awarded the USEF National Championship. The two continually challenge each other to drive faster and better, and they have encouraged all the singles drivers to work together.
In her professional life, Ying is a veterinarian, previously specializing in equine dentistry, but currently practicing traditional Chinese medicine, including acupressure, Tui Na (a form of acupressure massage) and food therapy.
Ann L. Pringle