Wearing orange armbands and marching alongside many of the biggest names in show jumping, equestrians at the Winter Equestrian Festival in Wellington, Florida, showed up in solidarity with hundreds of thousands around the world on March 24. On the same day as the #MarchForOurLives in Washington, D.C., and in over 800 locations around the world, the horse community came together to support school safety and to remember victims of school violence.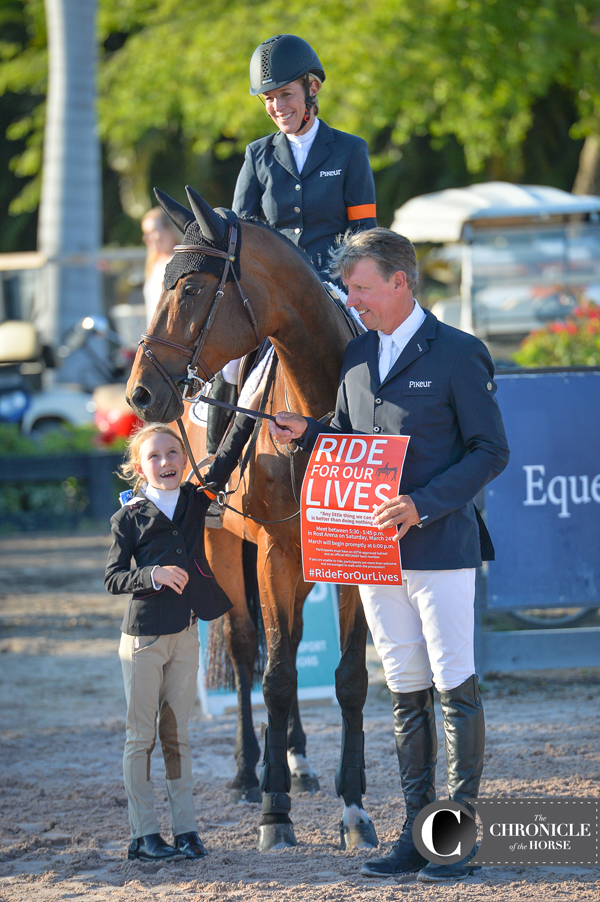 Held at sunset before the WEF Week 11 Saturday Night Lights competition kicked off, the #RideForOurLives aimed to rally the horse community together in light of the school shooting that took place on February 14 at Marjory Stoneman Douglas High School in Parkland, Florida, less than an hour south of Wellington.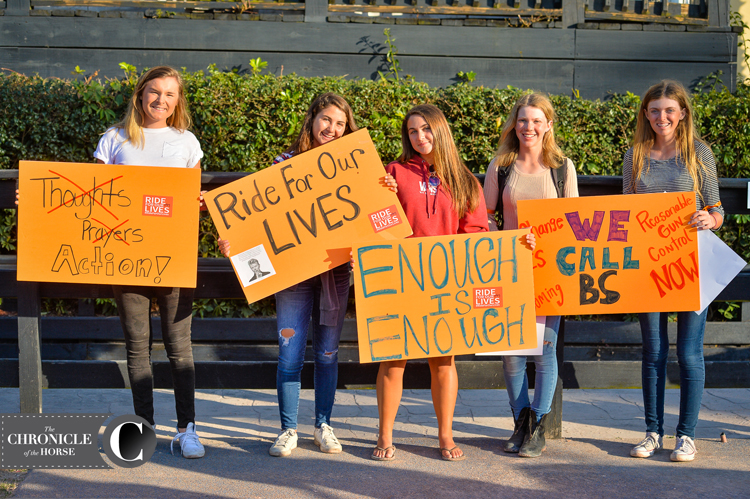 Riders were invited to march on horseback and on foot into the International Arena at WEF, and hundreds of equestrians of all ages and levels participated. Olympic show jumper Meredith Michaels-Beerbaum and Katherine Bellissimo, a principal in Wellington Equestrian Partners, chief marketing officer at WEF and mother of four, spearheaded the effort.
"It was incredibly heartwarming when I first walked up to the ring, not knowing if there were going to be five horses or 20 horses. And I just had to stop and look," Bellissimo said. "I couldn't believe that the ring was just full of horses and people, and dogs and families. Everybody was putting ribbons around their arms, and it was a very moving experience. When we walked into the ring and got halfway around, Meredith and I turned around, and all we saw were horses coming into the ring. It really made you feel that in some way, it was going to make a difference."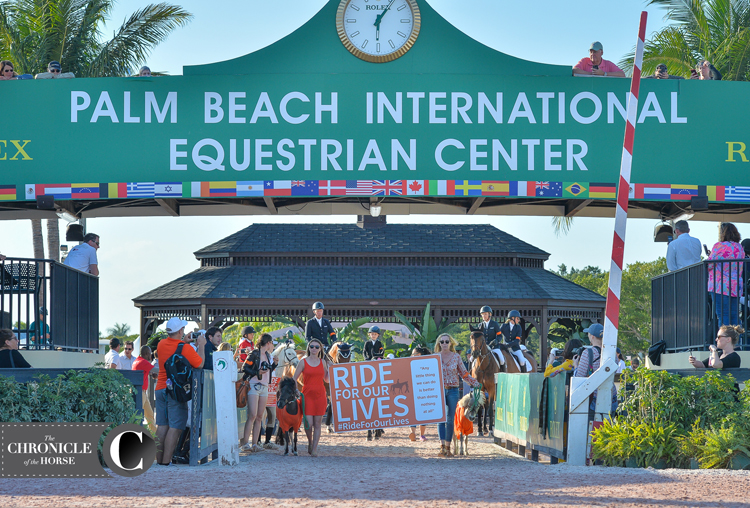 Alongside roughly 200 equestrians on foot, participants on horseback included Beezie Madden, George Morris, Peter Wylde, Rodrigo Pessoa, Quentin Judge, George Morris, Jessica Springsteen, Tiffany Foster, Lucy Davis, Jennifer Gates, Nayel Nassar, and many others.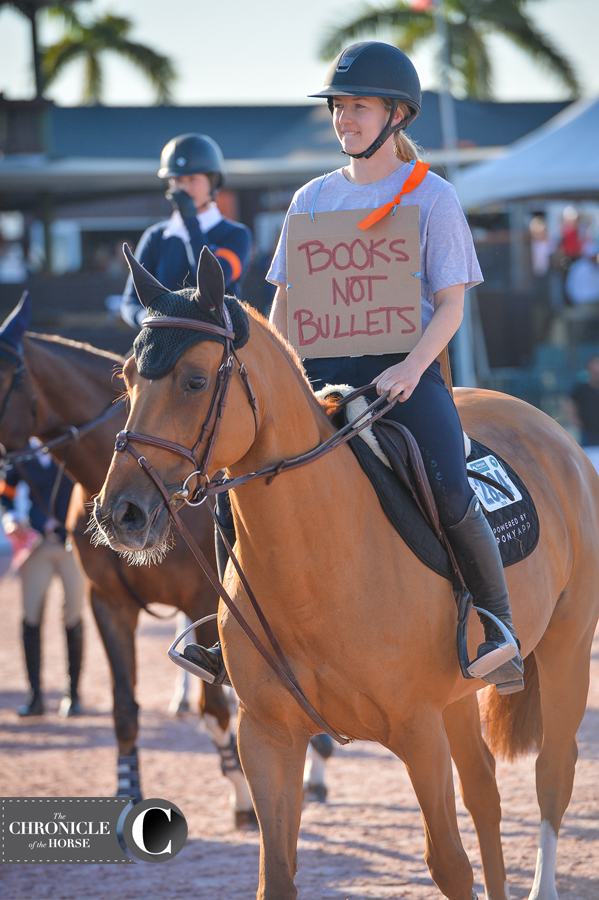 "I marched because I am proud that the equestrian community, my community, took a moment to pause and participate in this national discussion today," said Davis. "I think it really shows just how pressing (and bipartisan) this movement is. Enough is enough! It is time for new policy and CHANGE."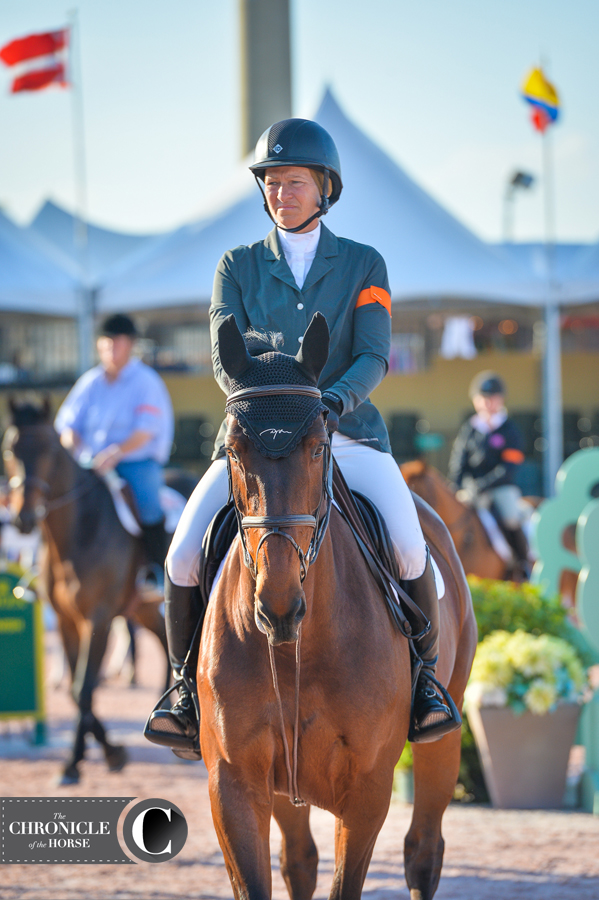 Bellissimo, who was especially moved by the tragedy at Stoneman Douglas, and its proximity to Wellington, is also determined to keep the conversation moving forward. During the final week of the 2018 Winter Equestrian Festival, she will lead a continuing effort by WEF to support Parkland, which has a strong equestrian community of its own. Among other actions, the Marjory Stoneman Douglas High School choir will perform next week during Saturday Night Lights.
"We have a big banner we're putting up for them, and we'll be focusing more on Parkland, and keep this momentum going, keeping the message going so that it doesn't end with tonight's march," said Bellissimo.