Her return to the sport in a new role as chef d'equipe garnered great support from her riders as they won European Nations Cups.
Just two of the four riders who accompanied Chef d'Equipe Melanie Smith Taylor on the U.S. Equestrian Federation Developing Rider Tour last summer were born when Taylor stepped into the ring at the 1984 Los Angeles Olympics to accept the team gold medal in show jumping. Eliza Shuford was in first grade, and Georgina Bloomberg was a toddler.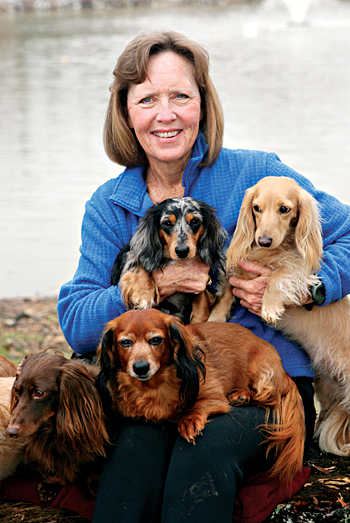 Yet, Taylor, who has been retired from active competition for almost 20 years, still remains a legend in the sport—and an active TV commentator, judge and clinician.
The riders on the tour—Shuford, 30, Bloomberg, 25, Brianne Goutal, 19, Sarah Segal, 23, and alternate Katherine Miracle, 27—would eventually find out much, much more from Taylor as they traveled to Nations Cup competitions throughout Europe.
"She's such a delightful person and gifted horseman. The riders on the tour were able to improve their level of knowledge by a lot under her guidance, while winning some Nations Cups along the way," said international course designer Linda Allen.
Taylor began acquiring her own knowledge as a child growing up on a farm in Tennessee. "My mother, Rachael, spawned my interest in horses," recalled Taylor. "She was raised on a working farm in Iowa, loved horses and all animals. In fact, she was so afraid I wouldn't ride because I didn't start until I was 2. She said I thought they smelled!"
Once young Taylor hit the saddle, though, there was no stopping her. After a junior career filled with local shows, foxhunting and Pony Club, Taylor, then a young amateur-owner jumper rider, caught the attention of George Morris in the late 1960s.
She rode with Morris throughout her career, and they remained close after she retired from competition and moved back to Tennessee in 1988. There, Taylor helped care for her mother who developed Alzheimer's disease. That same year she met her future husband and soulmate, Lee Taylor. They were married for 16 years before he succumbed to a brain tumor in December of 2005.
"We had a great life together," Taylor reflected. "I was incredibly fulfilled and totally happy. I stepped away from the show world, stopped traveling to be with Lee and just did enough to keep my judge's card and occasional TV commentary requests. I just loved our farm, being home and my life there."
While Morris, 69, juggled many responsibilities, including USEF duties and training, a lengthy clinic schedule, writing projects and more, as 2007 approached he considered all that was ahead of him. He thought of Taylor and wondered if they might reunite.
Personal Profile
Age: 58.
Hometown: Memphis, Tenn.
Pets: Eight longhaired Dachshunds— Scout, Bounce, Tumble, Jumble, Fudge, Mustard, Custard and Pansy Lee—pleasure horses, ducks, goats, geese and cows.
Hobbies: "I'm a runner, and I work out regularly," said Melanie Smith Taylor. "During my riding career I never felt I had time to do anything but ride and be at the barn. Now it's very important to me to stay fit and flexible. I love all sports and enjoy tennis and skiing, and I love to walk my 'doxns' and take them on pasture hikes."
"I thought she could use a life change," said Morris. "Her credentials are impeccable. She's a great motivator of people, and, with her personality, I thought she would do well on the Developing Rider Tour. She ended up helping me with the [Samsung] Super League [Nations Cups] in Hickstead and Dublin. She did brilliantly."
Taylor carefully considered his offer before she agreed.
"I decided if George needed help, I wanted to be there," she said. "He was always there for me. He was a great mentor.
"I told him I'd commit for one year. I didn't know how it would go—this level coaching was all new to me. But I enjoyed every minute and every mile," Taylor added. "I felt a feeling of purpose. And I enjoyed the people. I had a great group of riders. I felt that even if I'd helped in a small way, it was a good decision."
Shuford, who amassed an impressive record in Europe including winning the Grand Prix of Hamina (Finland), was so pleased with her progress that she asked Taylor to train her in 2008. "She was amazing," said Shuford. "She was a great leader, really motivating and a great person to have around. I had different types of horses, and she was able to help me on the ground and bring out the best qualities in all of them. She has so much to offer."
Taylor said she found standing on the sidelines much more difficult than facing the imposing courses in the arena. One of her most memorable moments was the Developing Rider team's first win in Finland, which jump-started the U.S. results in Europe.
"It came down to the wire," said Taylor. "Eliza, the anchor rider, had to go clear to win, and she did! I think that positive energy helped the 'big' team. They were teetering at the bottom of the Super League. I was so proud the girls came through for George and so thrilled it hopefully helped turn things around."
For 2008, Taylor has agreed to assist Morris again, but she noted that the final direction her new path takes is still yet to be determined. "When I lost my husband, my life changed again," she said. "I'd had my great career and then was totally fulfilled outside the arena. Now, I'm figuring out my own new direction. After George called, I realized I'd been drifting. I was still running the farm and riding, but I needed a sense of purpose. This seemed like something good to try, and a place where I could hopefully make a difference.
"I think all of the pieces of life's puzzle are starting to come together," she continued. "I am also involved in some other stimulating activities and boards. I know I have a lot of crossroads ahead. The essence of my thinking and what the future holds for me is perfectly expressed in a quote by Ralph Waldo Emerson that hangs over my desk: 'Do not go where the path may lead… go instead where there is no path and leave a trail.' "
Tricia Booker

---
Career Highlights
2007 Chef'd'Equipe USEF Developing Riders Tour
•1st—CSIO Hamina, Finland; •1st—CSIO Falsterbo, Sweden
2007 Chef d'Equipe USEF Samsung Super League Nations Cup Tour
•1st—Hickstead, England; •2nd—Dublin, Ireland
1998 Show Jumping Hall of Fame Inductee
1982 U.S. Olympic Committee Sportswoman of the Year
1984 Los Angeles Olympics Team Gold Medal (Calypso)
1982 FEI World Cup Show Jumping Champion (Calypso)
1980 Alternate Olympics Individual Bronze Medal (Calypso)
1979 Pan American Games (Puerto Rico) Team Gold Medal (Val De Loire)
1978 American Grandprix Association Rider of the Year