In 2004, after making the team for the Athens Olympic Games, McLain Ward said of Sapphire, "I think she really wants to be one of the best horses in the world. She has that character. Her future is still ahead of her."
Five years later, there's no question that Sapphire has fulfilled that destiny. She has three team medals to her credit—two Olympic Games golds from Athens in 2004 and Hong Kong in 2008, and one silver from the 2006 World Equestrian Games (Germany).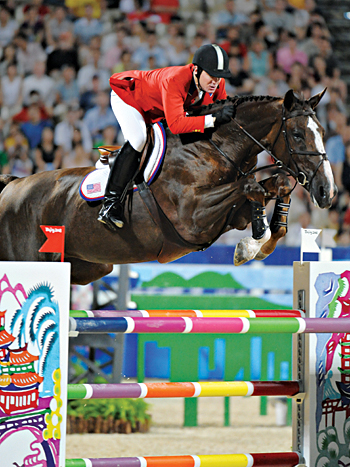 "She's pretty self-confident, and I think she fully understands that she's something special," Ward said. "I'm of the firm belief that the horses that are really successful at the top levels know what they do and they enjoy it. They rise to the occasion time after time. And she's never let me down. I can't think of another horse in the world that's been as consistent at this level as she has. She's had six years with never a bad round when it counted."
Sapphire and Ward's rounds in the team competition at the 2008 Olympic Games in Hong Kong were instrumental for the gold. As the pathfinders for the team, they put scores of 0 and 4 faults on the board over two rounds. When the U.S. team ended up tied for gold with Canada, Ward and Sapphire paved the way to U.S. gold with a clean and speedy jump-off round.
"She felt spectacular. She was as fit as could be, her weight was perfect, and everything came together beautifully. I think she jumped as well as any horse there," said Ward. "We spent the better part of two years trying to get her really fit, in great shape, and peaking for the Games. We knew what the conditions would be; Lee and Erica McKeever did a great job and had her primed and ready to go."
"It's hard to think back and remember a performance that wasn't good," said Beezie Madden, Ward's teammate in Hong Kong. "Sapphire definitely was the rock of the team competition, and I thought it was a real shame that she and McLain didn't end up with an individual medal." Ward and Sapphire jumped off with six others for individual bronze, but they ended up sixth individually.
"She's such a solid mare—she has everything right," said U.S. Chef d'Equipe George Morris. "She's very scopey, almost effortless over a fence. She's very rideable and honest, just a lovely mare. But I would say her greatest asset is her lovely disposition—her desire to please and do exactly what's asked."
Personal Profile

Description: 14-year-old, chestnut Belgian Warmblood mare (Darco—Idjaz C, Hedjaz), owned by Blue Chip Bloodstock and McLain Ward.
Size: Sapphire stands 17 hands and wears an 84″ blanket. "She's a big momma—big and beautiful," said groom Lee McKeever.
Homes: McLain Ward's Castle Hill Farm in Brewster, N.Y., and his winter farm in Wellington, Fla.
Feed: 4 quarts of Nutrena Farr XTN three times a day. "She puts on weight very easily. She's grumpy about being on a diet—she loves her food," said McKeever. "We cut back on her hay quite a bit when it gets close to a big event; she puts on a lot of bulk, especially with hay. But she gets a bag of carrots every night—no calories!"
Personality: "It's very easy to look after her. She's very laidback and mellow; she's
definitely spoiled, but she deserves it," said McKeever.
Team: Groom Lee McKeever, exercise rider Erica McKeever, veterinarian Tim Ober, farrier Mike Boylan.
That innate honesty was never more in evidence than on April 5, when Sapphire remained unperturbed when a violent thunderstorm hit during her round in the $200,000 Budweiser American Invitational (Fla.). She continued jumping through pelting rain and gusts of wind to win that night in miserable conditions.
Over the years, Sapphire has been known for her reliable clean rounds and not necessarily her speed, which kept her from dominating the grand prix results. But as she's matured, she's developed quite a turn of foot. On July 6, Ward came heartbreakingly close to winning one of the honors he most covets, the $514,633 Grand Prix of Aachen (Germany). Sapphire had the fastest jump-off time by more than a second over some of the best horses in the world, but just the lightest rub at the last fence brought the rail down and left them sixth.
Individual honor is the only thing that has escaped Sapphire, who has embodied the quintessential team championship horse. "It's been frustrating for both of us. We've banged on the door about as hard as you can for the last few years," said Ward.
"I think the reason she doesn't have that really falls in my lap. I can look back on losing moments, and I can identify mistakes I made that cost us those wins. It's really no fault of hers. Up to this point, I haven't put it all together myself to win the major championship. Hopefully, before my time with her is done, we'll pull that off."
Ward bought Sapphire in 2003, sight unseen. "We didn't even know what color she was," Ward recalled. "There was no vetting, no trial, but I trusted the word of Francois Mathy and the story evolved from there. I don't know if there are words to describe what she's done not only for me, but also for my family and the people who have been lucky enough to own her at different times."
Ward and Sapphire have stayed together through two ownership changes, as Harry Gill and Hunter Harrison were former half-owners. Thomas Grossman of Blue Chip Bloodstock now owns Sapphire in partnership with Ward.
"We've just stayed together through certain periods when I didn't know if it would be possible, and I guess certain things are meant to be.
"I never look at it that Sapphire's in our lives; we've been lucky to be in her life for a bit," said Ward. "I can see her from my house, and I can't say that I ever look over there without an incredible feeling of love for the horse and appreciation and gratitude. I hope we've done her justice. We all care very much for her. I hope she's enjoyed her life and experiences; I think she has."
---
Sapphire's Career Highlights
Team gold—2008 Olympic Games in Hong Kong (China)
Team silver—2006 World Equestrian Games (Germany)
Team gold—2004 Athens Olympic Games (Greece)
1st—2008 $200,000 Budweiser American Invitational (Fla.)
1st—2008 $100,000 Gerald R. Ford President's Cup CSI-W (D.C.)
6th—2008 $514,633 Rolex Grand Prix of Aachen (Germany)
8th—2007 FEI Show Jumping World Cup Final (Nev.)
1st—2007 $399,541 CN Worldwide Florida Open
2nd—2007 $200,000 Budweiser American Invitational (Fla.)

Molly Sorge