He and Kent Farrington were nearly unbeatable on the grand prix circuit, collecting $308,510.
Up Chiqui was quite simply the horse to beat in 2007.
"He's a horse who goes in the ring and makes you very nervous as a competitor. They had one hell of a year," said McLain Ward, who traded wins with Up Chiqui and Kent Farrington frequently. "It's unprecedented to go on a winning streak like he did, week in and week out."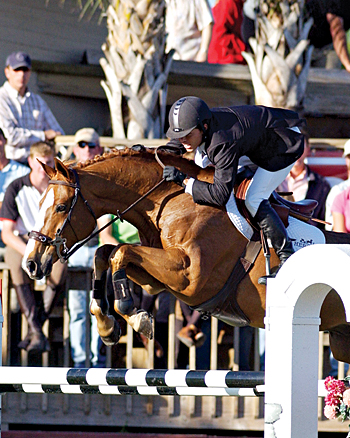 Of the 36 classes Up Chiqui started, he finished out of the top 10 in only eight of them, amassing $308,510 in prize money. "He's a winner. When you have a horse that you can feel really wants to do what you're asking him to do, and they're really trying for you, there's no substitute for that," said Farrington. "He has a tremendous heart."
"Chiqui" captured spectators' hearts with his all-out, gutsy enthusiasm, and his sheer foot-speed made him hard to beat in a jump-off. "I describe his style as catty," Farrington said. "He's not a big powerhouse jumper; he's like a little cat. He just runs up and hops over. It feels weightless. If you look at him, you can tell he's a fast horse. He's built like a cheetah; he's small and wiry and he's really aggressive."
Farrington, of Wellington, Fla., and Green-wich, Conn., knew he had a competitor on his hands the first class he entered with Chiqui. His business partner, Javier Salvador, had sent the feisty gelding, then 8, to him from Europe in September of 2005. Chiqui promptly won his first grand prix with Farrington, the $30,000 Duke Children's Benefit (N.C.) on Nov. 12, and placed third in the $30,000 UNC Grand Prix (N.C.) a week later. They started 2006 with two more wins, but Chiqui was sold in June.
"That's the business," Farrington commented of the sale. Little did he know that by October, Chiqui would be back in his barn. They celebrated their reunion by repeating their $30,000 Duke Children's Benefit win, and then they traveled to the Winter Equestrian Festival in Florida.
"In 2007, I started out showing him in some [smaller classes], and then I stepped him up and kept asking him to do a little more and a little more, and he kept answering," Farrington said.
Chiqui didn't fit the stereotype of an international-class jumper. "His style is so interesting. We call him 'Rocky The Flying Squirrel,' " said Alex Warriner, Farrington's barn manager. "A lot of people said that he looked like a nice 1.50-meter horse, but he's proved he's so much more."
Farrington's program and focus on flatwork made a big difference in Chiqui. "Chiqui is very much the kind of horse who was downhill and went on his front end, and Kent has totally changed his balance and way of going, which I think affects his scope and everything else. He's taken his time and religiously worked with him," Warriner said.
Personal Profile Description: Chestnut gelding, 11, Belgian Warmblood (Quidam de Revel—Quendelien Vogelzang, Chin-Chin), bred by Duerinck Walter.

Owners: Boone, McNerny & Dobbs. "His owners are the most wonderful people. They love him as much as we do," said barn manager Alex Warriner.

Height: "I don't know that he's 16 hands. I've never put a stick on him," said rider Kent Farrington.

Personality: "He's very cocky, sometimes a little bit rude. He's a prankster. Everything's a little bit on his own terms, and he wants to do things his way. And you kind of have to let him," Farrington said.

Quirks: "He has routines. He likes to back up to the gate in his stall and makes it clear that he wants to have you scratch his butt. He licks you like a dog after every treat he gets. And at the ring, if he's really on it, he stands there and chews on his chain and plays with it," said Warriner.

Bridle: A hackamore. "He has a little bit of a funny mouth, and I always felt he jumped best in that," said Farrington.

Competitive Spirit: "He loves to do it, and he wants to please," said Warriner. "He 100 percent enjoys it. It's funny; if he's second and he went really well, he doesn't seem to understand why he doesn't get to lead the victory gallop."
Farrington never questioned Chiqui's potential. "I don't think you ever know that a horse is a big-time horse until you go out there and jump big-time tracks against big-time horses and see how they handle it," Farrington said. Natural ability will get you so far, but, ultimately, I think the important thing is the horse's willingness to perform and their heart."
Chiqui proved that he was game for the challenge, jumping and winning in World Cup-qualifying classes against the best of the best. "He was always a winner, from day No. 1. It was just a question of what level he'd be able to do," Farrington said. "As he's matured and developed, he's started to understand the game a little bit, and he's gotten more comfortable with me and learned to do the job. He always had a lot of quality and was fast, careful and brave, and it got easier to bring out all those qualities he had all along."
Farrington won't speculate on his 2008 goals for Up Chiqui. "Whether or not he can go to an international level and do it at a World Cup Final is still an unknown. But I have more than faith in him," he said. "With as much as he's done, I have a tremendous amount of respect for him as an athlete and as a competitor."
Molly Sorge
---
2007 Competitive Highlights
USEF National Grand Prix Horse of the Year
1st—Rolex/USEF Open Jumper Championships (Fla.)
1st—$100,000 Budweiser/Upperville Jumper Classic (Va.)
1st—$75,000 Fidelity Investments AGA Grand Prix (Mass.)
1st—$65,000 Budweiser Grand Prix de Penn National CSI-W (Pa.)
1st—$50,000 Idle Dice Open Jumper Stake (Pa.)
1st—$50,000 Hagyard Equine Medical Institute Grand Prix CSI-W (Ky.)
1st—$50,000 Mary Rena Murphy Grand Prix (Ky.)
1st—$32,981 WEF Challenge Cup Round VIII (Fla.)
1st—$30,000 Hagyard Lexington Classic (Ky.)
1st—$30,000 WEF Challenge Cup Final (Fla.)
1st—$25,000 Upperville Welcome Stakes (Va.)
1st—$25,000 RV Sales Of Broward Grand Prix (Fla.)
2nd—$200,000 Charlotte Jumper Classic (N.C.)
2nd—$80,000 New Albany Classic Invitational (Ohio)
2nd—$75,000 Budweiser World Cup Of Syracuse CSI-W (N.Y.)
2nd—$75,000 Hermes Grand Prix (N.Y.)
2nd—$25,000 National Horse Show Jumper Classic (Fla.)
3rd—$75,000 Evergreen Invitational (Wis.)
4th—$100,000 National Horse Show CSI-W (Fla.)