In the junior hunter world, there's one name that has stood the test of time: Lyle. No other horse has won so many accolades over so many years with so many different riders.
At 15 years old, he's earned three U.S. Equestrian Federation Horse of the Year awards, topped the USEF Junior Hunter Finals-East twice, and picked up championships at every major East Coast indoor horse show.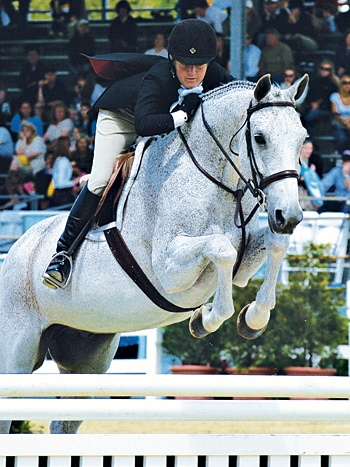 This year he won the proverbial Triple Crown of the hunter world—championships at Capital Challenge (Md.), the Pennsylvania National and the Washington International (D.C.)—with Caitlin Hope aboard. But Lyle's national accomplishments span a decade and a succession of riders, including Leslie Steele, Elizabeth Katcher, Stephanie Keen, Erin Stewart, Jane Ehrhart, Megan Massaro, Taylor Ann Adams and Hope.
"No one appreciates him until they see him in the flesh," said Steele, who piloted Lyle to his first national title back in 1999. "He's such a cool little horse and really thrilling to watch. It's amazing that he's been able to go on and be successful with so many people."
Careful management by long-time trainer Don Stewart Jr. and owner Keen has boosted Lyle to the front of the jog time and time again. From the start of his junior hunter career, Stewart knew that harnessing Lyle's tremendous talent would require a specific rider.
"We've been very careful about who we put on him," said Stewart. "He's not the kind of horse you can teach kids on. He needs a certain ride—a smooth, accurate, quiet ride. He'd hate it if I rode him, for example."
When Lyle and Steele shipped from the West Coast to contest the East Coast fall indoor circuit in 1999, he hardly looked like three-time Horse of the Year material. Plenty of East Coast horsemen had heard about an amazing gray out in California who led the second year division thanks to his jaw-dropping style over fences, but no one expected a plain little gelding to shuffle into the ring after the announcer called Lyle's name.
"When I first saw him I wasn't a big fan of his, actually," said Stewart. "He had that high head carriage and, frankly, he was an average mover, but he had that spectacular jump."
Steele had brought "an unbroken, unattractive, little and inexpensive" Lyle back from the Netherlands in 1996 at the prodding of Alan Waldman, who insisted that she'd have a superstar on her hands. Her customer Jessie Douglas bought him as a jumper prospect, but he never made it to that side of the show grounds. Steele took him in the hunter ring to get some miles under his belt, and from the get-go it was clear he'd found his niche.
"Scott Williamson was one of the first people who judged him as a first year horse," recalled Steele. "He came to me raving about how fabulous he was and where did I find him. I said, 'You don't think he's too ugly?' But the truth is you never noticed because he jumped so great."
Personal Profile

Description: 15-year-old, 15.31⁄4-hand, gray Dutch Warmblood gelding by Harlem. "Everyone thinks that he's old because he's potbellied and fleabitten, but he's not. He started his career early; he was a second year horse when he was 6," said Leslie Steele.

Owner: Stephanie Keen

Home: Star Hill Farm in Ocala, Fla.

Tack: Plain D-ring snaffle and a loose martingale.

On his name: "We called him Lyle because you've got to love it. He's always been just a plain Jane—he's always been just Lyle," said Steele.

His show routine: "If we can get in the show ring in the morning we'll flat for 15 minutes. Then four or five out we'll jump a couple verticals and go into the ring. He's really simple like that," said Caitlin Hope.
Keen's mother, Susan McConnell, purchased Lyle for Keen to show in the young amateurs, shortly before preg-nancy sidelined her riding career. Rather than selling the talented horse who had quickly become a part of their growing family, Keen decided that Lyle should have a lifetime stall at her Star Hill Farm in Ocala, Fla., and that he would partner with an equally talented junior rider in the show ring.
From the outset, Keen has insisted that Lyle be treated like any other charge at home. He enjoys plenty of turnout, gives bareback rides to Keen's young daughter and gets a chain over his nose for the walk to the paddock to keep him from diving for the grass. Coupled with Stewart's careful management over his career, the pair have kept Lyle in peak condition.
Keen manages his daily care at her farm and keeps him fit by flatting him between shows, but she rarely manages to sneak away from her busy life on the farm to watch him perform.
But in 2007 she found herself nursing him back to health after he suffered a freak infection. After a strong start to the season at HITS Ocala (Fla.) with Adams, a few pieces of hair fell in his eye while being clipped, which festered. While the show season reached its crescendo in the spring and early summer, Lyle rested in a dark stall with a protective cup around his infected eye. Keen, already keeping irregular hours to care for her newborn child, took the night shift in his treatment, administering his medicine every two hours for three months.
After 100 days of recovery, Lyle returned to competition with Adams in July and earned the small junior hunter, 15 and under, title at the USEF Junior Hunter Finals-East a month later. And by the end of the year, and with just 17 shows under his belt, Lyle earned his second consecutive USEF Horse of the Year title.
"I kind of wondered if he could get away with being the big winner if he wasn't beautiful, with that hunter look and a fantastic mover, but he chose it for himself," said Steele. "He's given so many kids the thrill of their life in their last junior year. Every time I look at him I think how lucky I was to have him."
---
Lyle's Career Highlights
2008—1st—Capital Challenge (Md.) Emerging Professional Challenge; champion—Capital Challenge (small junior, 16-17); champion—Pennsylvania National (small junior, 16-17); champion—Washington International (small junior, 16-17).
2007—USEF Horse of the Year (small junior, 15 and under); champion—USEF Junior Hunter Finals-East (small junior, 15 and under); grand junior and champion—Pennsylvania National (small junior, 15 and under).
2006—U.S. Equestrian Federation Horse of the Year (small junior, 16-17); champion—National Horse Show (Fla.) (small junior, 16-17); reserve champion—Washington International (small junior, 16-17).
2002—Champion—USAEquestrian Junior Hunter Finals-East (small junior, 16-17).
2001—Reserve champion—Pennsylvania National (small junior, 16-17).
1999—AHSA Horse of the Year (second year green hunter); champion—Washington International (D.C.) (regular working hunter); reserve champion—Pennsylvania National Horse Show (second year green).
Mollie Bailey