William McMahon pulled off one of the most romantic proposals of 2016 to his girlfriend of three years, Grace Maxwell Murphy on Dec. 26 in Ireland.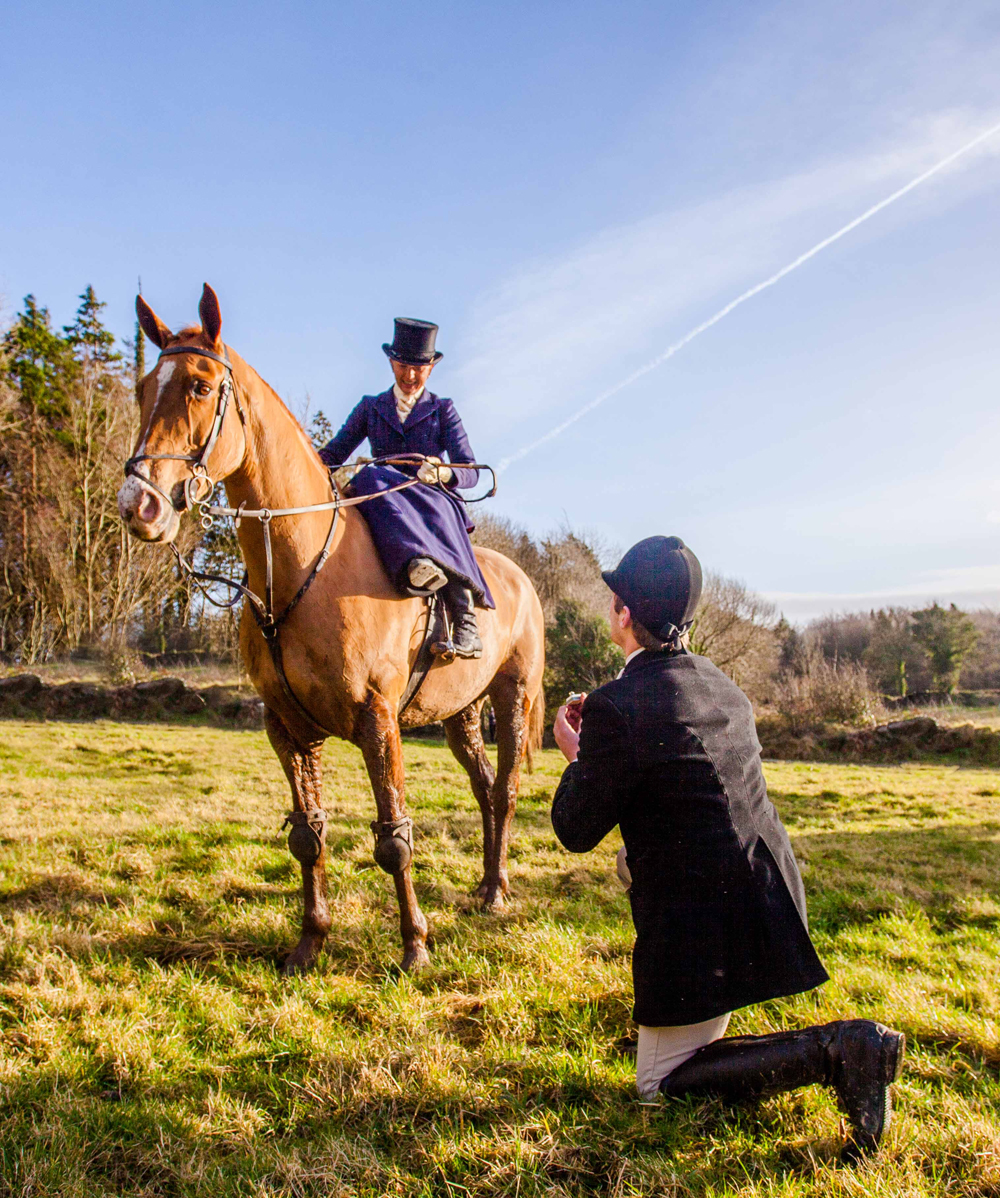 William McMahon proposing to Grace Maxwell Murphy. Photo by Siobhán English
Murphy, an associate in medical negligence with Beauchamps Solicitors, is a well-known producer of Connemara ponies, while McMahon is a jockey.
Having arranged their first proper date while hunting in 2013, McMahon thought it would be most appropriate to pop the question to Murphy on Monday while both enjoyed another day out with the Galway Blazers from the kennels at Craughwell.
Riding side-saddle and looking as elegant as ever, Murphy, 32, was busy chatting to some friends as they entered Moyode Wood, only to be greeted by a photographer and some family members who had been planning the big event with McMahon, 29, for several weeks.
Even the huntsman, Tom Dempsey, was in on the big secret and it was only when Dempsey called the 80-plus mounted followers together at the edge of the wood that Murphy realised something was afoot. "William was definitely acting a bit odd for the past few weeks, and I couldn't understand all the fuss when I had ripped my veil a few minutes before we reached the wood. It was obviously for the photographs! I only tweaked something was about to happen when William moved away from the mounted field and Tom said there would be some sort of announcement," she said.
First reminding everyone of how the couple met, McMahon then jumped off his horse and went down on one knee at Murphy's side while she was still mounted.
Naturally Murphy was completely overcome with emotion, as were many others, but gracefully accepted his proposal to the cheers of everyone. "It really was a dream come through," Murphy added.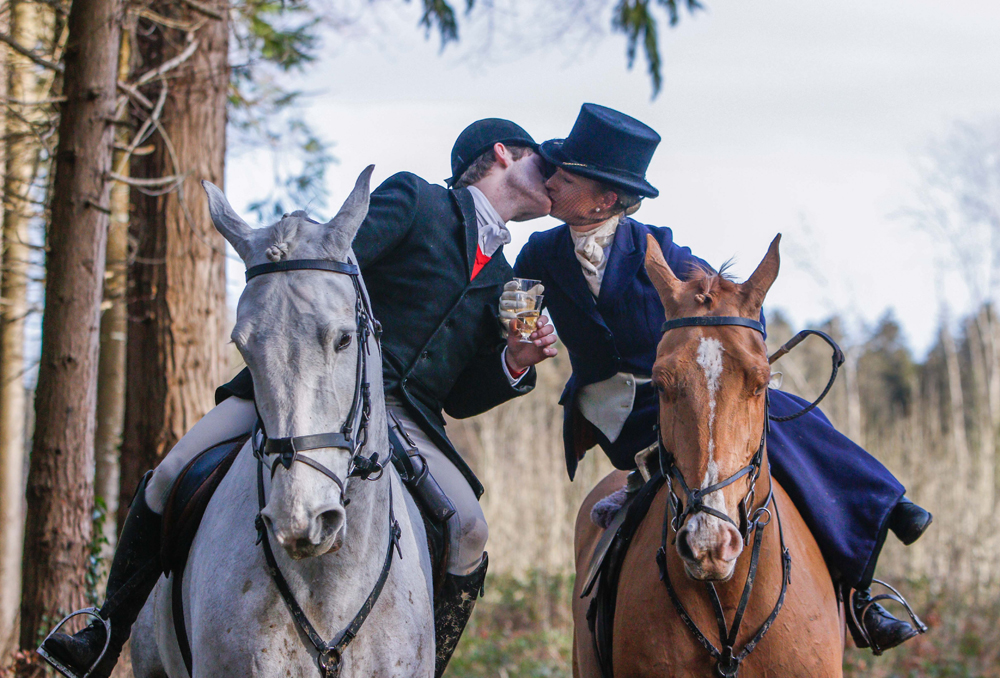 Photo by Siobhán English
"He had borrowed my mother's diamond ring for the day and that was very emotional too as that had been bought by my late father who died in 1999 when I was just 15," Murphy said.
Murphy's mother Beatrice, sister Lorna and brother Mervyn, as well as the couple's good friends Declan Collins, Colie Delapp, Stevo Finn and Brian and Paul Cawley were among a small group of people who had managed to keep it all under wraps. "As my father is no longer with us, William had asked my brother Mervyn for my hand in marriage," Murphy added. Of course Mervyn, who works as technical analyst for the Irish rugby team, was delighted for his younger sister.
As the saying goes, "it's great when a plan comes together," but an hour earlier there was a bit of panic when McMahon's first choice of venue for his proposal—the family farm—was abandoned when the hunt's quarry decided to run in the opposite direction.
"When you look back it was quite hilarious," photographer Siobhán English said. "Here we were waiting for them to arrive four fields from the road when we discovered they were hunting hard towards the wood. My friend Anne O'Connor had the bottle of champagne tucked under her coat, and our driver Damien Carty had all the glasses hidden under his jacket when we had to jump a few walls and run for the jeep while William quickly put a new plan into action.
"Thankfully though everything fell into place and Moyode Wood proved the perfect venue for the big moment."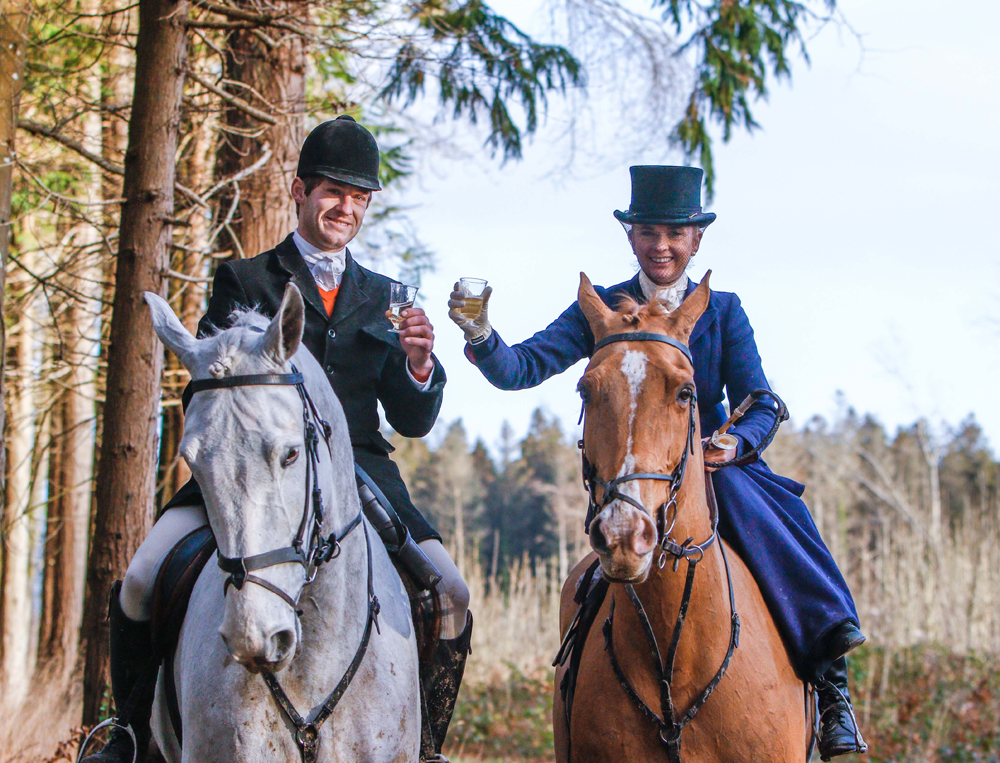 Photo by Siobhán English