Jenifer Paris Owen has always been a horse person. She was 3 years old, growing up in Newcastle, California, when she discovered a photo of her mother competing as a junior and never let go—literally.
"I took that picture with me everywhere," she said.
Within three years, she was competing alongside her mother, Jeanne Paris, under the tutelage of Patty Ball, Jeanne's trainer from her junior years.
"I showed in all three rings," Jenifer said. "We were very hardcore. We kept our horses at home and hauled in [to Ball's farm], so I was doing all the horse care myself."
Jenifer went on to compete in the upper levels of the sport, showing in her first grand prix at 13 and heading East for equitation finals, often catch-riding in the process. She began her professional career as soon as she aged out of the junior ranks.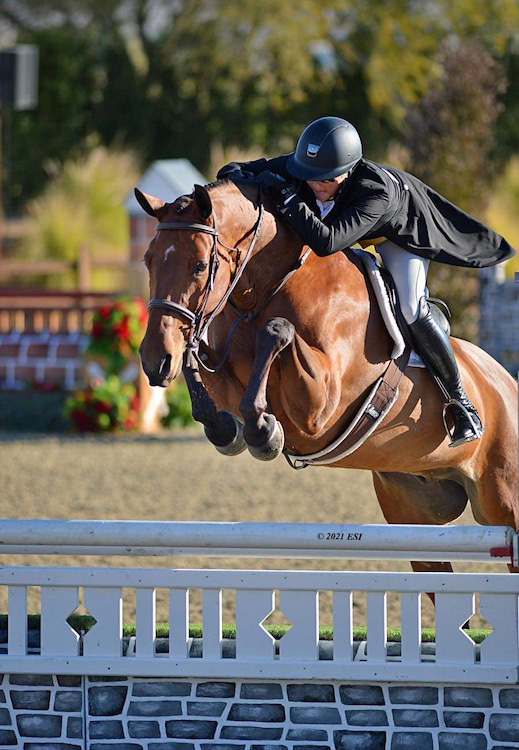 "I just worked," she said. "I was a total barn rat that just loved being around horses. Showing was fun, of course, but I really just wanted to ride anything I could get my hands on.
"I knew I wanted to be a trainer from the time I was 8," she added. "I began teaching lessons around age 15, 16, so it was really a no-brainer."
She now is the owner and head trainer at Cheval Farm in Elk Grove, California, where she rides and trains in the hunter, jumper and equitation rings. Recently, Jenifer won the $30,000 USHJA International Hunter Derby at Franktown Meadows in Washoe Valley, Nevada, on a horse she's owned since he was 2.
Shameless, or "Garth" (yes, after "Shameless" singer Garth Brooks), was sent to Jenifer's husband David Owen, a professional cutting-horse trainer, to be broken. Garth (Ragtime—Harley Du Quesnoy) piqued Jenifer's interest from the moment she heard about his pedigree: He is by Ragtime, a well-known hunter stallion that Jenifer showed in the USEF Show Jumping Talent Search Finals early in her own career. Once she saw the way Garth jumped and moved, Jenifer and her husband bought him—and soon realized they had their hands full.
"Garth was almost the cause of a divorce," Jenifer joked. "My husband and I fought over him a lot. Garth had to be hobbled every day for about 30 days just to get a saddle pad on him. He was quite feral in the beginning, but my husband did a great job."
Jenifer said that while they often spend time apart at their respective competitions and training from their respective barns (just a few miles down the road from each other), she and Dave have a special dynamic.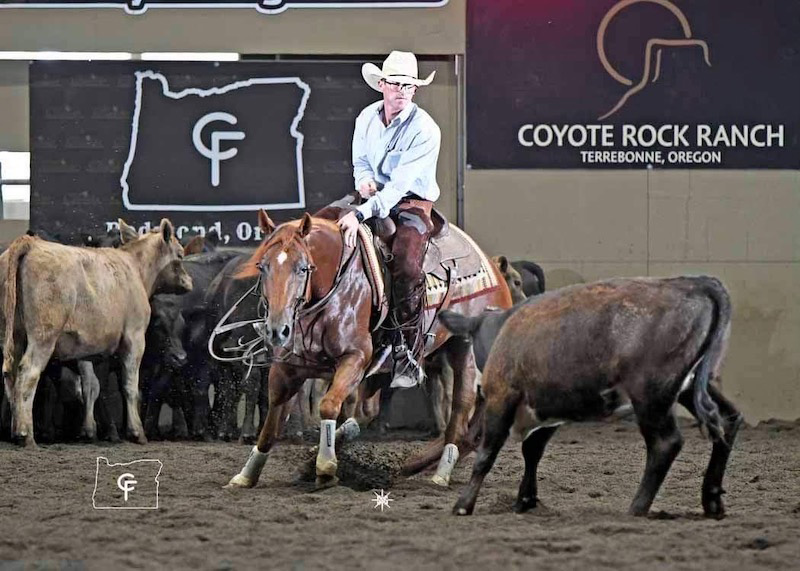 "It's great because we're not in competition for rides with each other," she said. "But we can talk about problems we're having with horses and troubleshoot with each other in ways that I haven't been able to do with anyone else."
The two met on dollar beer night at a local bar. David, who is from New Mexico, had been a bull rider but had gotten seriously hurt after taking a horn to the head.
"His mom begged him to stop riding bulls, so his friend got him a job riding cutting horses in the same town as me. We met over dollar beers, and the rest is history," she said with a laugh.
David's bull riding background has come in handy for Jenifer, she said, like the time she put him on a jumper mare with a habit of rearing at the in-gate. After one particularly upsetting episode, she tapped him for help.
"She was a huge jumper, so it was hard for me to stick with her, but he could hang onto her—especially with the help of the horn," she said. "He got her to the point where you'd apply pressure and she'd give. I could put pressure on her by backing her up–it was something I didn't think of, making her move backwards because she didn't want to move forwards. We'd back up until she was tired of that, then move forward. He gave her a completely different understanding."
Jenifer has helped her husband, too. While loping horses for him at The South Point Equestrian Center in Las Vegas, Nevada, which has a bowling alley above the equine complex, she provided a very simple yet effective suggestion to David: Use earplugs.
"The horse I was on was coming completely undone," she said. "I went over to my husband and asked if he had earplugs. He looked at me like I was crazy."
Jenifer purchased some at the tack store for the horse, and to this day, David still shows the horse with earplugs.
"He told me, 'I never would've thought of that!' And I said it's just a hunter girl trick," she said, laughing.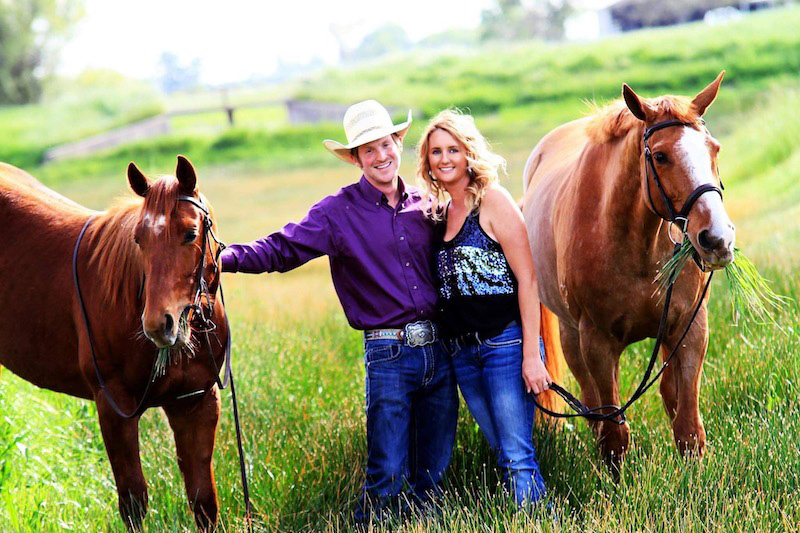 Garth, now 9, was one horse that both were able to work with, and he's remained in their barn ever since, starting in the 3' greens and progressing up through the high performance hunters and, of course, the international derbies.
At Franktown Meadows, where they won the $30,000 USHJA International Hunter Derby on June 27, Garth hadn't gone particularly well in the Welcome Stake or the 3' hunter derby earlier that week, and she discussed with her mother scratching the horse from the international derby. They decided to leave the decision up to Garth, with Jenifer tacking him up early that morning to gauge how he was feeling.
"I just rode him like there was no one else out there," Jenifer said. "We had time to ourselves. We jumped a few jumps in the warm up, and he actually felt amazing. So, we threw our hat in the ring."
They scored a total of 166 and 179.5 points in the first round and handy to emerge victorious over the 11 other pairs competing.
Far from the feral 2-year-old he arrived as, Garth is now one of Jenifer's most trusted horses. After a serious fall in October 2021 sent her into surgery, where she received plates, screws and soft tissue reconstruction around a broken collar bone, Garth was the first horse she rode.
 "He was the first horse I jumped and the first horse I showed six weeks after the surgery," she recalled. "I just trust him. We know each other like the back of our hands."