There's a lot that goes into the first show of the year. Cleaning tack, perfecting that tight rollback turn, grooming your horse to the nines, getting every little detail perfect.
For Team Nikki, the first show of the year involved me flying back to New York, setting up our trailer as a box stall, and driving Nikki out to Minnesota, followed by a few weeks of flailing around trying to remember how to ride and thinking that grand prix fences look really big when you haven't jumped bigger than 3'6" since October of the previous year.
Not surprisingly, given the whirlwind weeks before our first show, there were some ups and downs. This year, there were quite literally some downs for me.
Down side: a couple of bruises, a lot of sand in my clothes, splat incident not caught on video (yep, I'm one of those people), and a bit of shaken confidence.
Bright side: ample opportunity to make "down" puns, determined that I can still take a good digger even after my back surgery a year ago, and free chiropractic adjustment from the ground. As Monty Python says, always look on the bright side of life!
Who Wants A Free Back Adjustment?
Not me. But I got one!
Nikki is always exuberant when we're jumping, and at the beginning of the year, she can be a bit of a silly nutcase. This usually manifests with her being a bit strong, overjumping, or playing in the corners. We're usually very in sync with each other when it comes to distances. We don't always agree on the ideal choice, but I can generally persuade Nikki that she should humor my idea, even if she thinks it's stupid (which she usually does).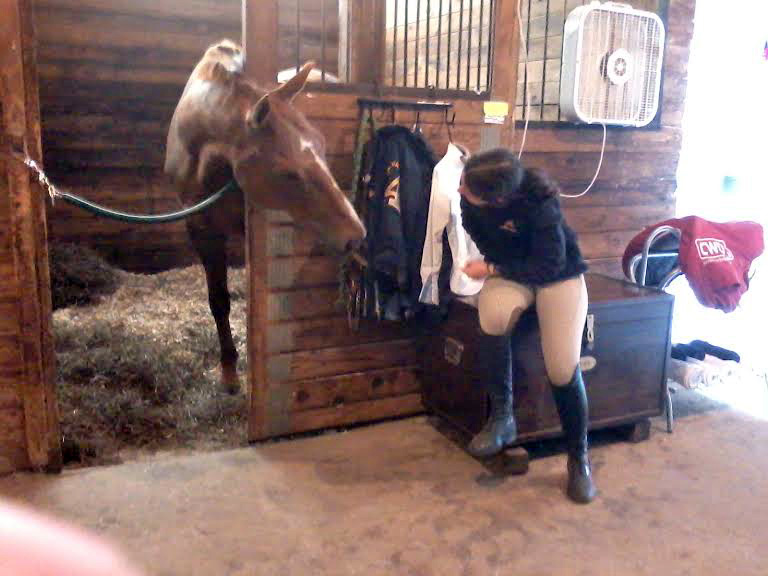 Having a little discussion about our approaches.
In this case, we were schooling at home over bigger jumps for the first time—nothing huge, maybe 1.30-meter—and I wasn't quite definite enough on the long approach to an oxer. I saw the hunter gap and opted to pass it up for the deeper spot that I also saw. I thought Nikki saw it and opted for it as well.
Well, you know what they say about assumptions. I went ass-umption over teakettle.
One of us left from the hunter gap and one of us waited for the deep spot. In other words, I was shocked and doomed as soon as Nikki left the ground. Nikki opted not to wait around to see if I was OK, but when I caught up with her, she nickered at me and licked me. She hates when I fall off!
I got back on and jumped the oxer a few more times, and Nikki waited for the deep distance nicely. We left the day on that note, with the plan to school her a few more times before our first show.
Shake It Off
I kept telling myself that falling off two weeks before our first show didn't bother me, but I found that it was a niggling doubt in the back of my mind when we schooled. I kept questioning whether Nikki would be on the same page as I was, even though it was just one little bobble in an otherwise normal preparation for horse shows.
I had to force myself to jump fences that made me a little nervous, particularly bigger oxers, because I knew I needed to get past that. Knowing exactly what went wrong helps a lot, and I knew what had happened, but I was surprised by the fact that it took me a few weeks to really get confident and comfortable riding up to the deep distance at oxers.
Just like in 2014, our first show was at the Midstates Summerfest in Mason City, Iowa. Just like in 2014, we started off with a 1.30-meter class to get back in the groove. Just like in 2014, I was a little nervous because I hadn't jumped a super technical course at height in a while.
Unlike in 2014, I went last in the class, and everyone who went before me fell off.
There's no better way to get an already nervous person's brain going like a cracked-out hamster on a wheel contemplating exactly why we think that jumping prey animals over brightly colored sticks is a good idea.
I went into the ring singing "I Will Survive," because all I needed to do was get over 11 jumps. We were fine, although I took my leg off at the last oxer and had it down as a result, but I didn't really feel like we were in the rhythm we needed for the entire course. I was slightly under pace, which I felt in the schooling ring as well. My hope was that with more pace, I'd feel more confident in my decisions.
Welcome Worries
Courses that don't give you a bit of a chance to breathe have always been tough for me; I have some nerve damage in my right hand from an old fall and need to shorten that rein periodically because I struggle to keep that hand closed. When jumps come up very quickly for the entire course, it can be tough for me to do that, so I've had to learn to either shorten the rein immediately following landing or get comfortable riding with longer reins if necessary.
The welcome stake course was not a course that was particularly friendly for me; everything came up pretty quickly and there were some funky turns in it, so I knew I needed to be prepared and looking ahead. Nikki is super responsive to where I look, so even if I'm slipping the right rein a bit, we can get where we're going. When we went in, there were no clear rounds, so I was just hoping for a conservative clear first round.
We were successful in that endeavor, which meant that I needed to figure out a jump-off plan. You may recall from one of my previous posts that I said I wanted to be more competitive in the jump-offs. I'm frequently early in the order, and so am usually one of the first ones to go in the jump-off, which means that I have to make the decision of whether to go for broke or to opt for a slower clear round.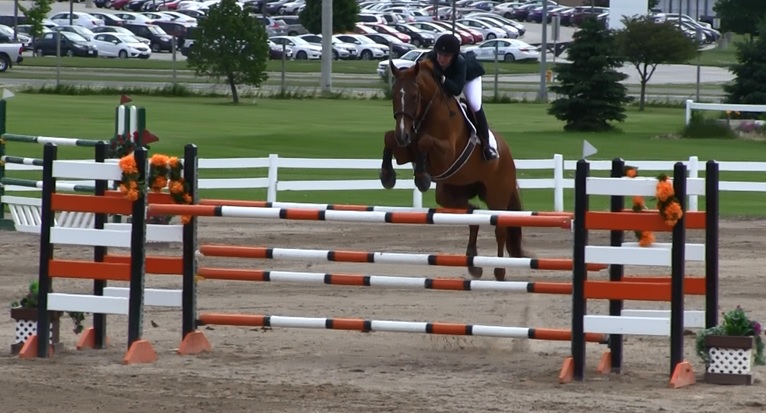 Last year, I always opted for slower and clear, which meant that I got some nice ribbons, but also meant that I was second a lot.
I got tired of being second.
It's easier for me to do a risk/benefit analysis for a grand prix than for a welcome stake because prixs are table II, section 2a classes, which means that the jump-off is after the first round finishes. You know how many people are in the jump-off. The welcome stake is frequently a section 2b class, which means the jump-off is immediately after your first round, and you don't know how many clears there will be.
For this welcome, I decided to go for a conservative clear in the jump-off because I went midway through the class and was the only clear in the first round at that point. I'd love to say that I got a fire in my belly and decided once we were cantering that I was going to go for it.
That's not really how it happened though.
We did go for it… because I didn't steer all that well to the second fence in the jump-off and so ended up on the track for an inside turn that I'd sworn I wasn't going to do. But when the options are either to pull to straighten out and risk having the rail or do the inside turn that you weren't planning on doing, you do the inside turn. So we accidentally went for it (I did say that I spend a few weeks remembering how to ride, knowing how to steer being part of that).
Post-accidentally completing an inside turn, I figured we might as well keep it up, so we did another tight turn and galloped a bit to some of the other jumps. It went quite well, which gave me the information I needed to be comfortable trying risky turns in the jump-off. We were pretty fast, and even better, the whole thing was smooth.
We ended up winning the welcome, but the ribbon was icing on a cake I was already thrilled about. To me, success isn't necessarily being better than someone else, but being better than you used to be. I think this was one of the better jump-offs we've done, and I was so excited to start the year off that way. It gave me a lot of confidence to lay down a trip like that so early.
Appreciating What We've Got
Nikki is 19 years old this year, and doesn't owe me a thing. The career we've had up to this point has been a crazy cool journey, and while it hasn't been easy, I wouldn't trade it for the world. Nikki is my best friend and the best partner I could ask for.
So when things didn't go our way in the featured class over the weekend, I really didn't get upset. I was frustrated, but still grateful for Nikki being able to and wanting to do her job.
In retrospect, our lack of success was totally my fault. Knowing that Nikki gets fired up when there's a crowd and that it was our first show, I should have either ridden her down a bit to get her quiet, or worked her more on the flat to make sure she was really listening to me. I warmed her up as I normally would, even though I said to my mom that I felt like I couldn't get Nikki to turn her head once she eyed in on the jump.
In the grand prix, Nikki jumped the first two jumps well, and then eyed in on a triple bar—backwards. If I had set us up to jump across the second fence, instead of jumping it the way it was set, we might have avoided the problem, but I didn't. I'm an amateur and I slip up. Fence 3 was a big oxer on a funky angle, and because we were arguing over whether we were going to jump fence 6 backwards, I didn't get Nikki's eye on it until one stride out. She stopped because she was so surprised there was a fence there.
Whoops.
We circled back and jumped it fine, and Nikki jumped the rest of the course beautifully, but it was definitely not the night I hoped for, especially coming off our win in the welcome stake. Overall, it was a night where the course won; even with our refusal and the time faults that came with it, we ended up in 10th.
This is an easy situation for me to fix because I know exactly what happened. She didn't stop due to being scared. She stopped because she had no idea there was a jump there, so was caught off guard. If she'd been scared, she wouldn't have jumped so well in the rest of the class.
Instead, we took two days off and just hand-walked multiple times each day, with the plan of doing some good solid flatwork the next week, working on her suppleness and flexibility. Then we'll do the welcome and grand prix again!
Emily Pope, 24, started her relationship with Seize The Moment, an off-the-track Thoroughbred and a chestnut mare, in 2006 and they began in the junior hunters. Emily quickly realized "Nikki's" talents lay in the jumper ranks, and they worked their way from the junior jumpers to the grand prix. She rides with Kip Rosenthal and Elzabeth Lampert.
Emily graduated from the University of Minnesota in 2013 with a B.S. in animal science, spent a semester studying aboard in Madagascar, and now works in cancer research. Read Emily's introductory blog, "Taming My Inner Gecko."