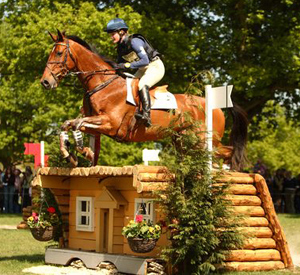 A double clear cross-country ride today wasn't enough to give Kim Severson and Winsome Adante (left) the lead at the Badminton CCI**** (England), but it did narrow the gap between their score and that of frontrunner Lucinda Fredericks, who notched .8 time penalties aboard Headley Brittania.
"I am very happy with my horse and myself," said Severson, who now sits only .2 points away from first place in this, her first Badminton. "I just aimed to get into a rhythm and it all went pretty much to plan and it feels cool to have done it.
"I wouldn't say that I am very good at show jumping, but we'll see what happens," she added cautiously.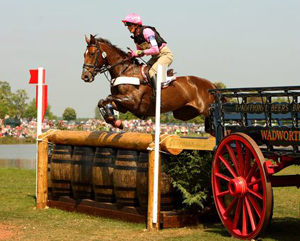 Fredericks (right) will be watching her back in Sunday's final phase. She said although her mare was quite fast and feisty, she "felt quite a lot of pressure" towards the end of cross-country and "just had to take a pull at the last to stay safe."
Gina Miles and McKinlaigh moved up in the standings with a clear jumping round and 5.6 time penalties. They now sit in 19th place on a score of 53.6.
Jan Byyny and Task Force, the first American pair on course, had two unfortunate stops, adding 40 jumping and 29.6 time penalties to their score. But with a greatly narrowed field, the pair still moved up nine places to 40th.
While maintenance crews worked through the night to improve the hard track on cross-country, 22 horses were still withdrawn before the start of the phase. British favorites Zara Phillips and Toytown bowed out of competition, as well as fourth-placed pair Ruth Edge and Two Thyme. Mary King also withdrew both of her mounts. Despite footing concerns, however, 43 of the 55 remaining horses completed the course, 33 with clear rounds. Eighteen horses were within the time.
The current top six horses are all foreign entries, from Australia, the United States, Germany and New Zealand.
Two tragic equine fatalities also occurred on the grounds at Badminton Saturday. Skwal, a 15-year-old gelding ridden by British rider Andrew Downes completed the course but reportedly collapsed soon after leaving the finish line area after experiencing a probable heart attack.
In a freak accident, French rider Jean-Lou Bigot's horse Icare D'Auzay knocked a flag on a fence and severed an artery. The horse was given emergency treatment on course and moved to a local veterinary hospital, but could not be saved.
Photos by Anthony Trollope/EWB News