Loxahatchee, Fla., Jan. 21
Riders brought their mounts out in front of Steffen Peters and Scott Hassler for the second day of the Succeed/USDF FEI-Level Trainers' Conference. And, no surprise, the concepts discussed were similar, though most horses showed improvement in all the work since yesterday.
"I'm not too crazy about the word submission. I like cooperation. We both have to cooperate. He should, and I should, both of us. Submission is a little too much of a one-way road for me," said Peters as he helped the riders form even stronger partnerships with their mounts through the training.
Check out what Peters and Hassler said about each horse today, as well as some key concepts from each session.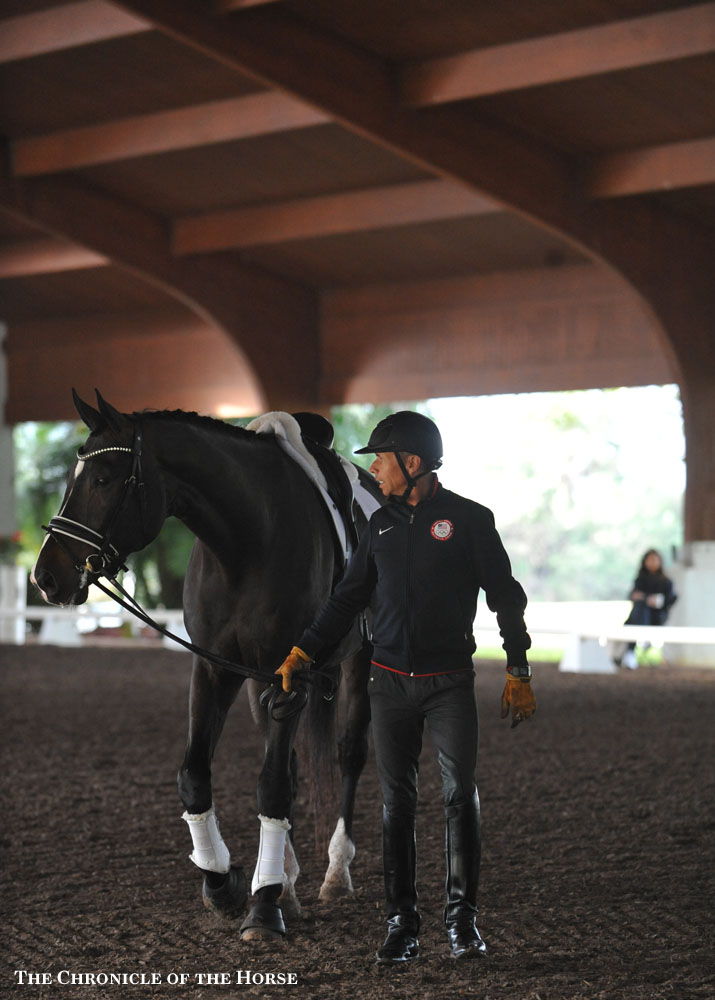 Horse #1: Deklan, a 5-year-old Dutch Warmblood gelding ridden by Mette Larsen.
Key Concept: Find the neck position that's best for your horse.
"The back is quite round, and the neck is clearly over-round, but I want to find the most productive frame to get him to let go," said Peters when Deklan showed some tension in the beginning. "I feel that in the beginning when a horse wants to be this uphill, I want to help him relax. We can't make a horse relax, but we need to help a horse to relax. I want to see a position that's deeper and rounder and very respectful in the bridle. You find and create that perfect moment where you can release. Let's not have our horses talk us into fussing with the bit and coming too high up. Yes, again, he's a bit over-round and exaggerated over the back, but it's the only place for him to be with you and comfortable right now."
Peters stressed that the ideal neck position for a horse will change over time, and that all horses should go with the poll as the highest point in the show ring. But for training, other positions are required sometimes.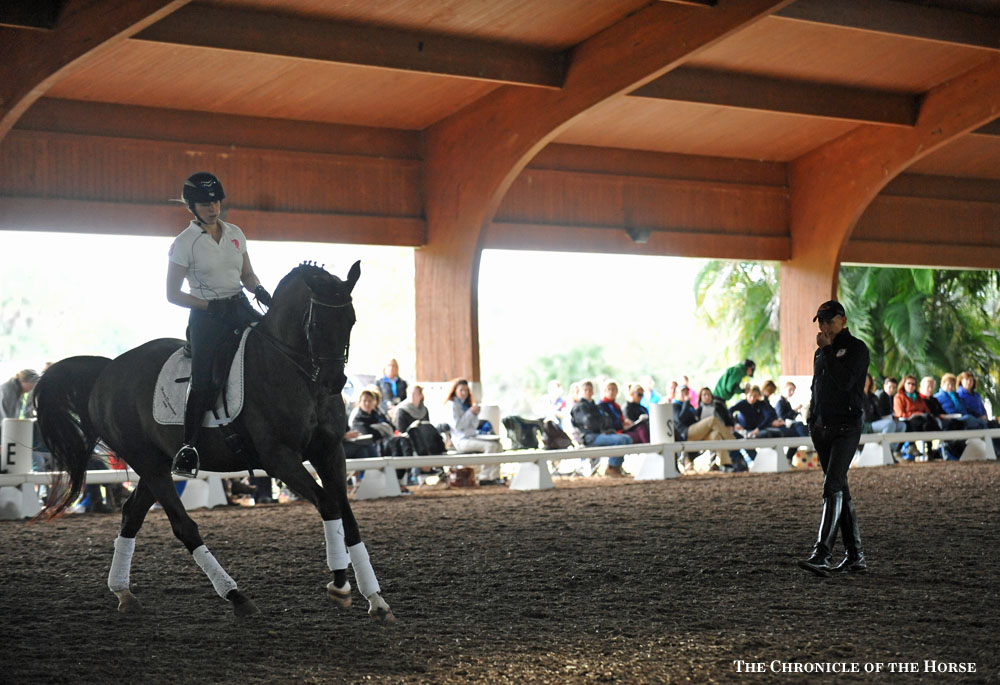 Horse #2: Don Fredo HD, a 6-year-old Oldenburg gelding ridden by Heidi Degele and owned by Greystone Equestrian LLC.
Key Concept: Use your brain, especially in the movements with a high degree of collection.
"It's a really silly question, but in canter pirouettes, what's the most important part of our body we want to use when it comes to this idea of collection?" asked Peters. "It's between the ears, the brain. It's so important to use the mind and say, 'What's the right thing to do now?' You have to send them forward at times. The building block of collection is forward energy. I have such a hard time when trainers tell students, 'Do this and this and then this,' in the pirouettes. We cannot see as fast as the rider feels when things go wrong. It needs to be up to the rider to decide, 'I have to get out this pirouette.' Sometimes only one stride and you have to go."
As Degele and Don Fredo HD practiced the working pirouettes, Peters encouraged her to feel when the horse needed a short break or a quick correction forward.
"My point is we use very logical, straightforward decisions in movements that require the highest degree of collection: Canter pirouettes, piaffe and passage," he said.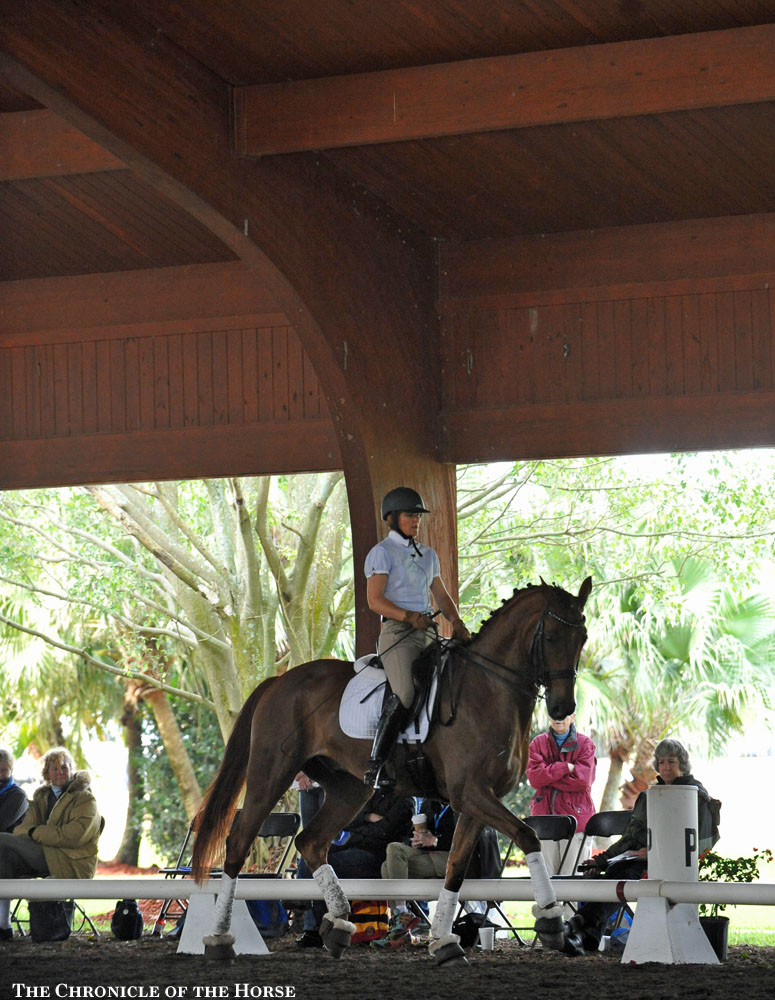 Horse #3: Don Joseph, a 7-year-old Oldenburg gelding owned by Gaye Scarpa and ridden by Ilse Schwarz.
Key Concept: Improve the horse with training, don't shut him down.
Peters and Hassler praised Schwarz for her patient and clever training of Don Joseph over his career.
"You've done a great job being a coach for this horse," said Hassler. "When we find a weakness in a horse, and if you look deep enough and honest enough at your horses you'll find some, if we try to make that weakness a 10…be careful. You can take the spirit from the horse and shut them down. You identify the weakness and say, 'Every day I'm going to make this a little better.' Ilse was a beautiful example of that the last couple of days. She doesn't attack the weakness. She works with him, finding creative exercises and then letting him be. Tomorrow is another day."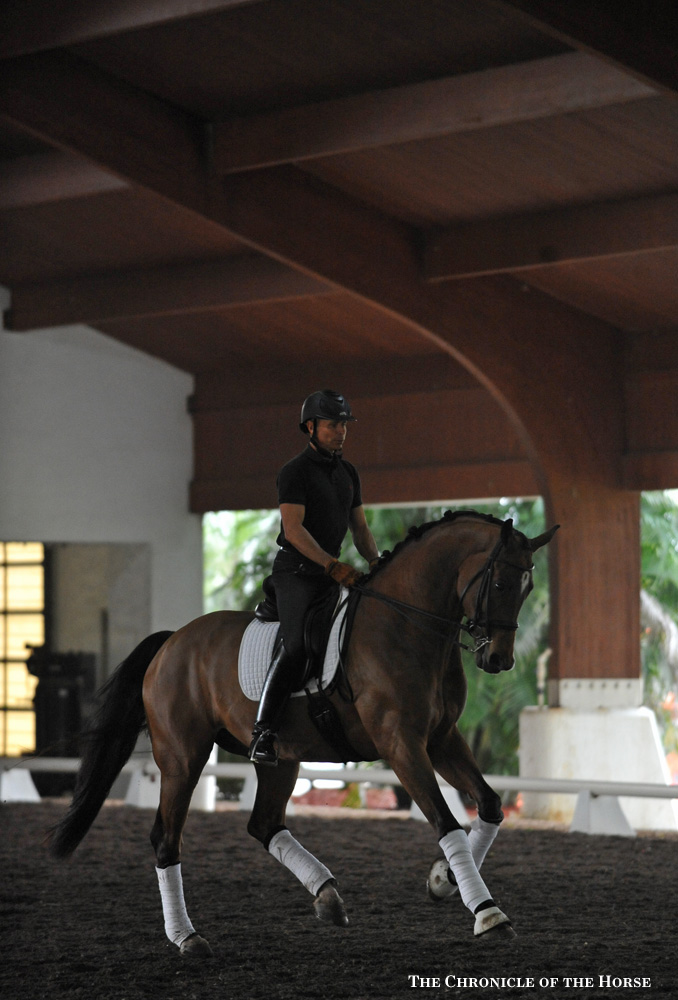 Horse #4: Sir Velo, a 7-year-old Westphalian gelding owned by Melissa Mulchahey and ridden by Noel Williams.
Key Concept: Simplicity in all movements.
As Williams and Peters played with movements from the small tour and some from the Grand Prix, Sir Velo clearly understood what they were asking. But, Peters said, the amount of rider management still needed for those movements meant they weren't quite Grand Prix show ring ready.
"My compliment to Noel is that everything is there," said Peters. "I really like the feeling. Just keep analyzing how difficult the setup is. He talks you a little into helping him a bit much. That's all good for this stage, at the Intermediaire I and Prix St. Georges. For the Grand Prix, it has to just be short little corrections. You say, 'Hey buddy, you do it. I don't want to have to micromanage you that much.' He's so ready for you to ride him that way. That's what I love about this stage. It's details and polishing, and there's nothing major I want to correct right now.
"The word is simplicity," he added. "It can't be complicated to straighten him or send him forward. If I have to manage his energy or do too much straightening, we have to take a step back."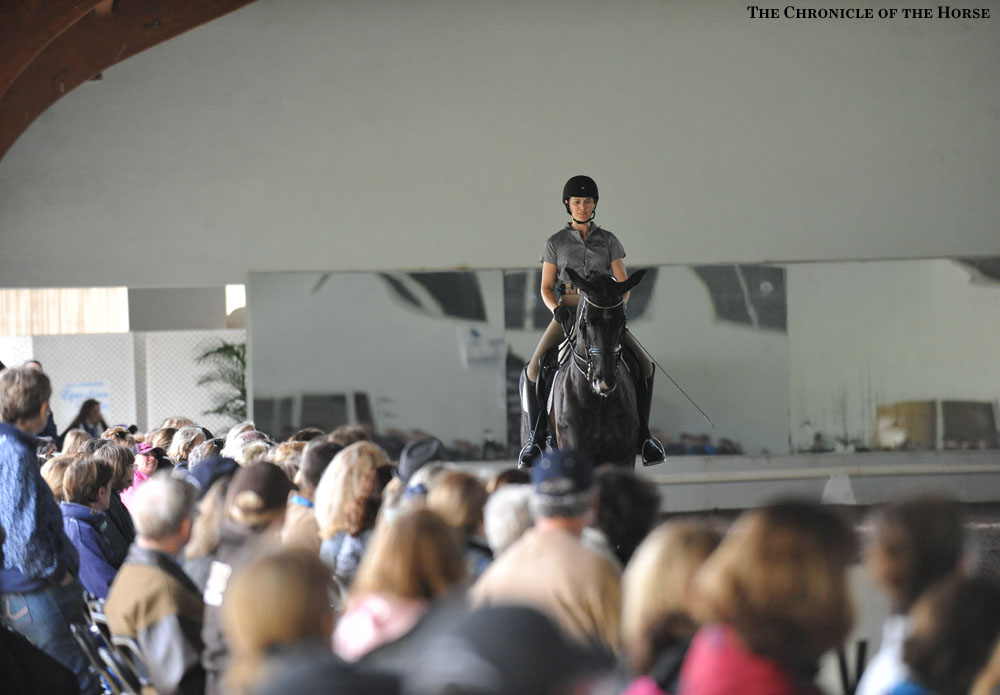 Horse #5: Allure S, an 8-year-old Dutch Warmblood mare owned by KC Dunn and ridden by Angela Jackson.
Key Concept: Control the pirouette, control the world.
As Jackson worked to contain the size of her mare's pirouettes in walk and canter, Peters reminded her that the inside leg can control the dimensions of the pirouettes.
"Ravel once got a 9 and 10 on one canter pirouette, and the comment from judge was, 'Nicely controlled.' I think that's so perfect," said Peters. "It's really straight to the point that you can control the pirouette like that. That's the essence of the pirouette—the control of whole body like that. The inner leg is a gigantic part of that. Horses are ready to do pirouettes for 8s and 9s when it's just up to the [rider's] inside leg for the placement of the pirouette or the size. I don't have to think too much about my outside leg; that has to be done by that point. I really think pirouettes can be trained to perfection."
Peters added that he's seen a link between super walk pirouettes and piaffe in horses—rarely seeing one without the other.
"When we see this coordination in the walk pirouette, the horse usually does a good piaffe, too," he said.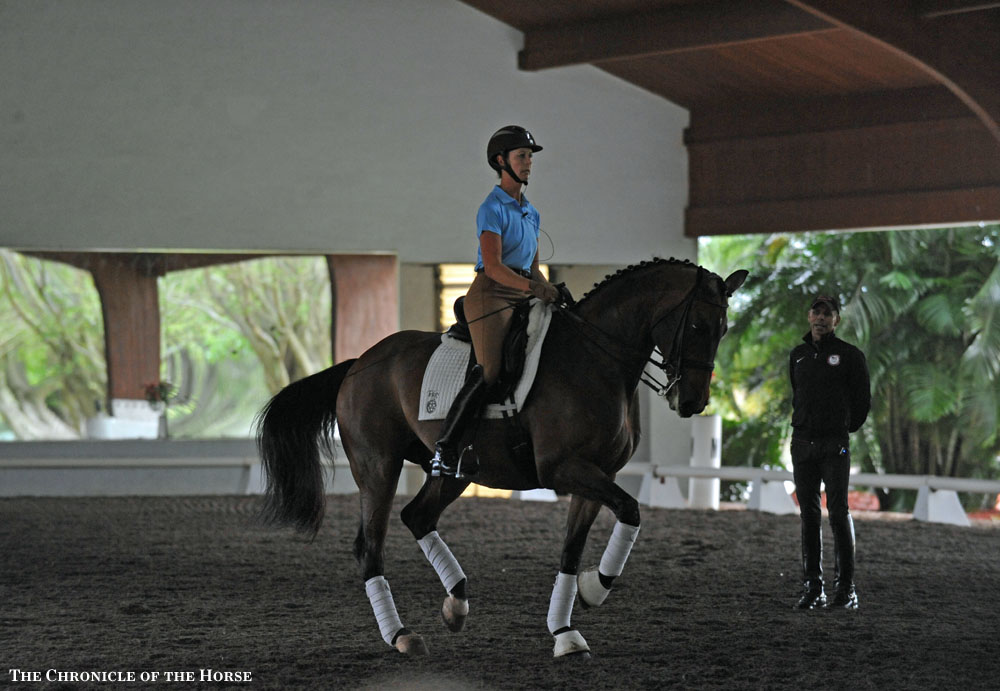 Horse #6: Faberge, a 10-year-old Westphalian gelding owned by Elizabeth Guerlsco-Wolf and ridden by J.J. Tate.
Key Concept: Allow the piaffe to happen and count the steps.
As Tate and Faberge worked transitions between piaffe and passage, Peters noted: "If you have the feeling you need to drive him into piaffe, it's trouble. That's not the moment we want to help him a whole lot. If you help him on the way out, I can live with that."
Peters added that riders sometimes get in trouble in the show ring for not showing enough steps in piaffe, but that there's an easy fix for that.
"Find the really clear moment when the piaffe is starting and try to count at that moment," he said. "It happens very easily that we count 15, and the judges count 10, and the judge says you didn't do enough. We start counting the piaffe steps too soon sometimes. We start counting in the transition. Educate your eye in front of the mirror so you know where the first true piaffe step occurs. If we do 12-13 steps, certainly I don't think any international judge should complain about that. But if it's less than that, yes."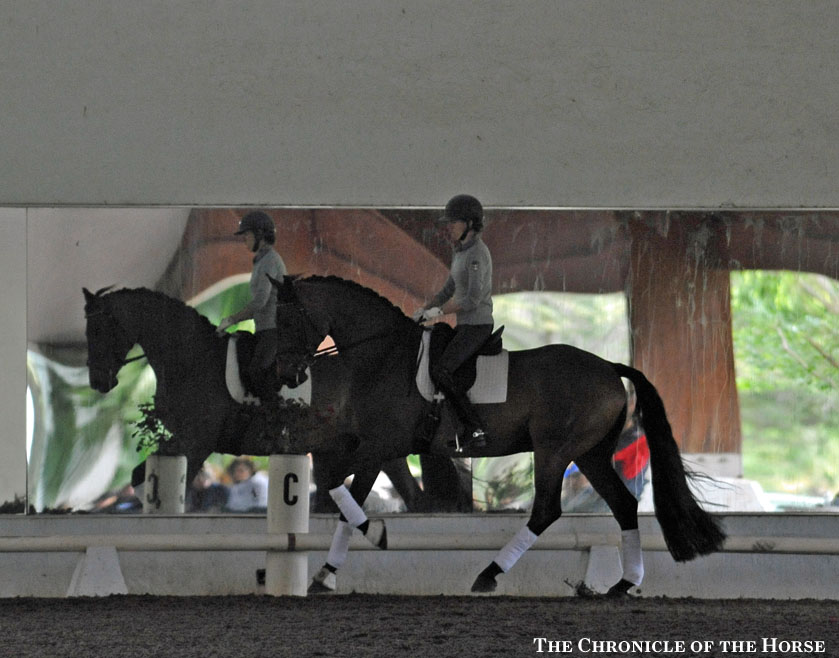 Horse #7: Rassing's Lonoir, a 9-year-old gelding ridden by Olivia LaGoy-Weltz.
Key Concept: Know when to shut up as a trainer.
Peters helped guide LaGoy-Weltz through her work with Rassing's Lonoir, advising her as to when to practice pirouettes or tempis or piaffe, but he also left her alone at times.
"This is honestly a horse and rider combination where we should just appreciate what we see, and not just say, 'Do this and do that.' This is clearly one of those moments where we need to shut up and just enjoy," said Peters. "I don't want to be too much in the middle of that. This is one of those times I really enjoy my job; I watch a little and enjoy the ride."
Read coverage of yesterday's sessions.