Wellington, Fla.—March 25
It is not often that McLain Ward goes all out in a jump-off aboard Rothchild, leaves the jumps up, and still fails to secure the blue ribbon, but on Saturday night a young Spanish rider named Sergio Alvarez Moya stole the show in the $500,000 Rolex CSI***** Grand Prix.
"I'm super happy, as you can see," Moya said with a grin. "My horse jumped amazing."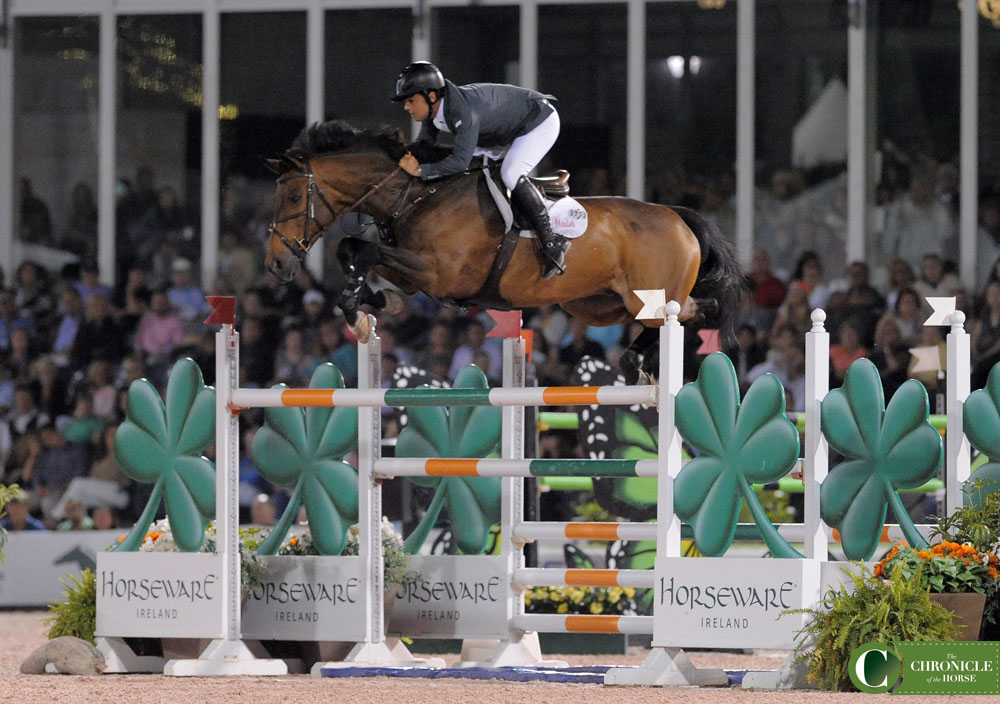 Aboard Charmeur, a relatively inexperienced 11-year-old, Moya laid down a jump-off ride so quick it had Ward taking a risky path to try and best it. After slicing an oxer, Ward pointed Rothchild's nose toward the inside of a large gazebo in the ring, opting for the tight slice to the next fence over the galloping turn every other rider in the jump off had chosen.
"I went in and I looked at the cut inside the gazebo, and I decided not to do it. Then [in the jump-off] when I turned back on the oxer, I kind of saw the line, and I knew I was too slow from Fence 1 to 2 to have a chance, so I figured at that point it was worth the risk," Ward said.
The risk paid off in the moment—the crowd gasped, but Ward left both fences up, rolling back on another before making the gallop to the final oxer, and that's where he lost the class.
"I thought maybe at that point that turn did so much that I didn't have to go to the last," Ward said. "I took a little bit off, and Sergio didn't leave much room."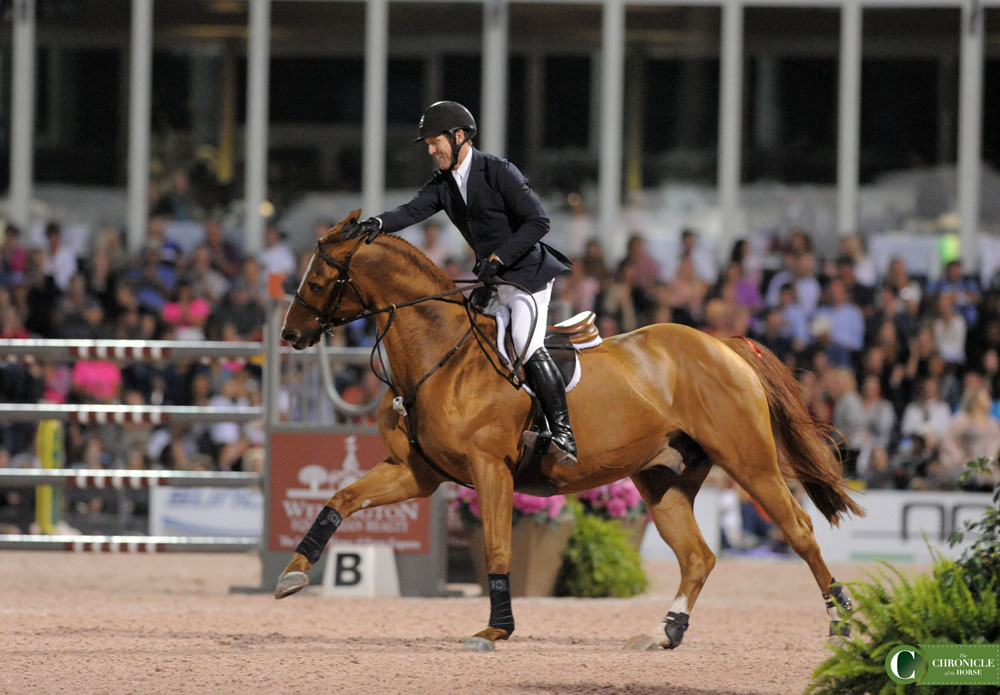 A few tugs to the last fence was all it took for Ward to leave Moya on a time half a second faster. In Moya's mind, it's about damn time he won a class at the Winter Equestrian Festival. Moya has earned just about every top ribbon color except blue this winter, pulling multiple seconds and thirds at grand prixs all season, but the $500,000 Rolex CSI***** Grand Prix is his first win.
"I've had Charmeur since a 6-year-old, and I just feel very happy and very proud that we got to win a five-star grand prix here," Moya said. "I have a feeling that this is the grand prix here that every rider in the circuit wants to win. I was just lucky that I won this one and not the others!"
Ward, for his part, was still quite pleased with long time partner Rothchild's finish in the class.
"I'm thrilled with the horse. This is his eighth year jumping grand prix in Palm Beach," Ward said. "He's just a remarkable animal. I'm blessed to have him, and I'm really excited to be able to keep doing it with him."
Karen Polle was the youngest rider in the top three at 24—she captured third place aboard With Wings, a great finish coming a few weeks after her win in the last WEF five-star.
"It's definitely a great feeling. I'm really happy that Wings and I are so consistent at this level now and that we're in these jump-offs," Polle said. "I thought the course tonight was really, really tricky. I thought that this was the trickiest grand prix that I've jumped this circuit."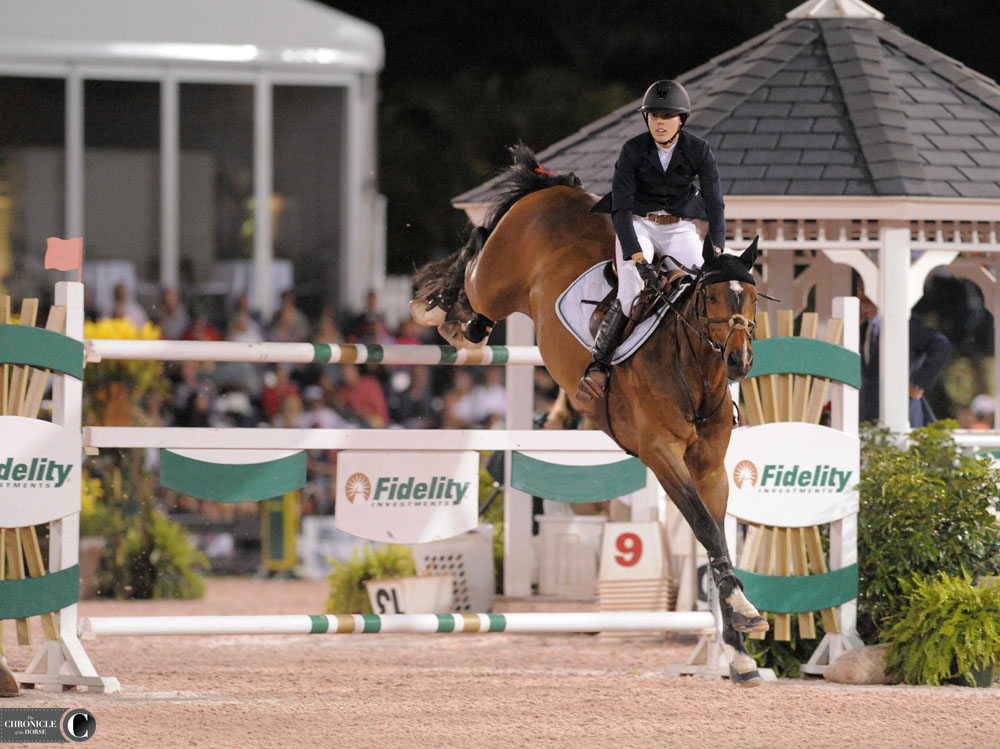 Guilherme Jorge's course did prove challenging. A few horses made awkward efforts at the open water resulting in breaking the tape, and a few others found the liverpool under the large triple bar gave their horses something to stare down at and pull the top rail. When all was said and done only five pairs made it to the short course, and only two were double-clear.
"I thought it was a very good course. I think in these five-star grand prix, I prefer to see five or six clear, not 10 or 12," Ward said. "The three-stars, that's a different thing. That's a different group of horses and a much more mixed bag, so you like the course more conservative. But these are grand slam type events. The course should be challenging. You didn't see horses crashing; you didn't see over the line. You saw rails everywhere."
This was certainly true, as one could practically close their eyes and count how many faults a rider had by the sound of the crowd of 5,000 spectators groaning as rails fell from the cups. This was by far the largest crowd WEF has seen this winter season, with people standing in corners and sitting on every spare patch of grass to get a glimpse of the horses galloping by. When one rider fell after the final fence near a group of spectators, many came running over to the rail to ask if he was OK.
At the end of the night, a crowd of people in the know gathered at the exit from the ring the top riders leave through to ask for pictures and autographs, which the riders happily oblige. Ward even took off his red second place sash and gave it to one lucky fan.
"The crowd has become a lot more engaged, and you can see the people really following the sport," said Mark Belissimo, a managing partner of the horse show. "There's top sport here, and we're all very excited about it."
Click here for full results, and check back with the April 17 issue of The Chronicle of the Horse for more in-depth coverage from the Winter Equestrian Festival.