There's a simple way to start a conversation at any equestrian outing: Turn to your neighbor and say, "So, who do you like?"
If you want to sound good, you'll name one of the favorites, one of the pairs whose names have been regularly featured in the Chronicle. And for this year's Derby Finals, we've made that really easy with the USHJA International Hunter Derby Finals Preview issue, which has, among others things, a roster with statistics of the competitors.
But let's face it: Cheering for the same person as everyone else can get boring sometimes, and besides, two of the last three Finals winners weren't favorites. Plenty of horses and riders have special reasons to cheer for them—besides the ribbons they earn.
If you happen to sit down next to me at the Kentucky Horse Park at Finals and ask who I like, this is what you'll hear. There have been some changes to the start list since I first put together my short list, so I've updated it to reflect the new order of go. Scroll down to see other Chronicle staffers weigh in as well.
-Mollie Bailey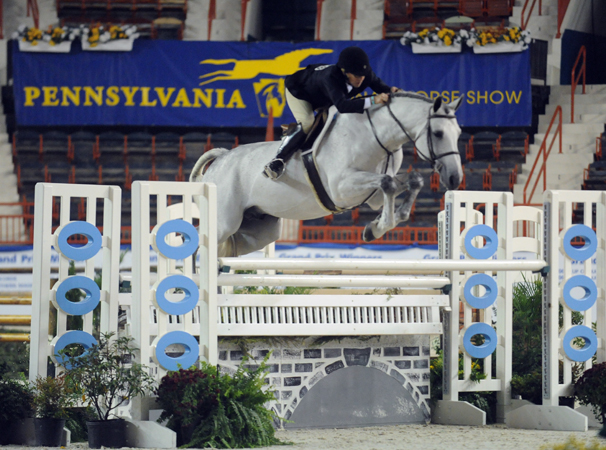 C. Quito
Owner: Margot Snowdon
Rider: Jessie Lang
Pick her if: You love an underdog with a real shot.
Why you should cheer for C. Quito: In a year when Lone Star and Rosalynn dominated headlines at the Pennsylvania National, a little horse from Wyoming and a rider few had heard of were the talk of the show when they handily won the regular conformation championship. Since then he's won derbies at Summer In The Rockies (Colo.) and Franktown Meadows (Nev.).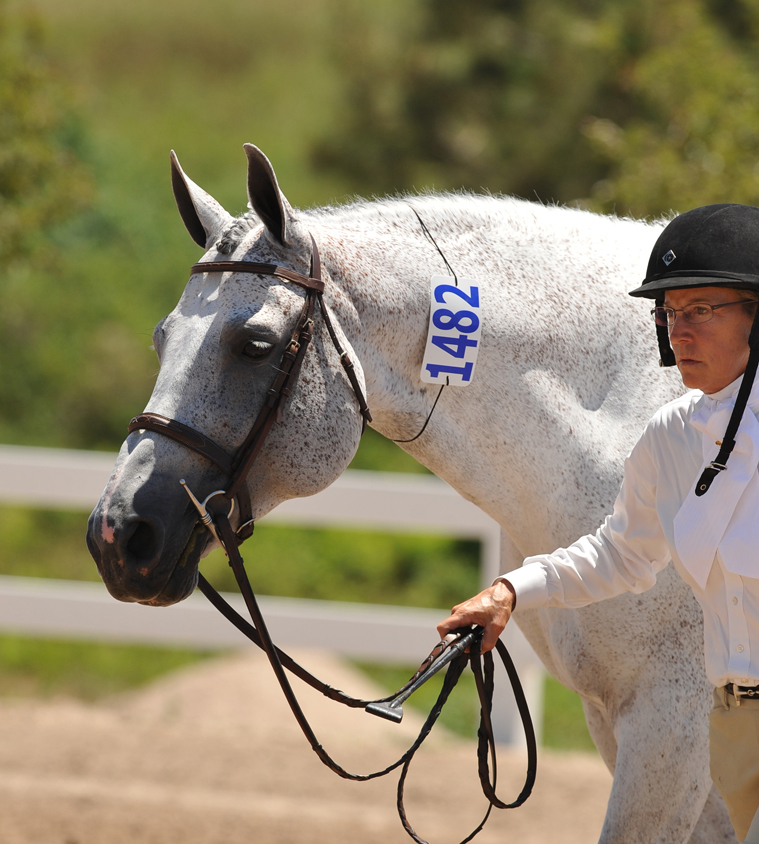 If you're still not convinced consider this: Quito's a breeding stallion who zips back and forth between the adult amateur, 50 and over, and derby rings and wins in both. And at home he's known to chow down on the occasional peanut butter and honey sandwich—with a side of potato chips.
Why you should cheer for Jessie: It's hard not to root for Jessie Lang. She loves Quito, and she's constantly thanking the people around him—especially his groom Nacho Gonzalez. Jessie's a down-to-earth and talented rider who readily admits to her nerves but rides beautifully despite them and jokes that she's the only one in her barn who needs Perfect Prep. To top it all off, Lang grew up foxhunting. What's not to love?
————————————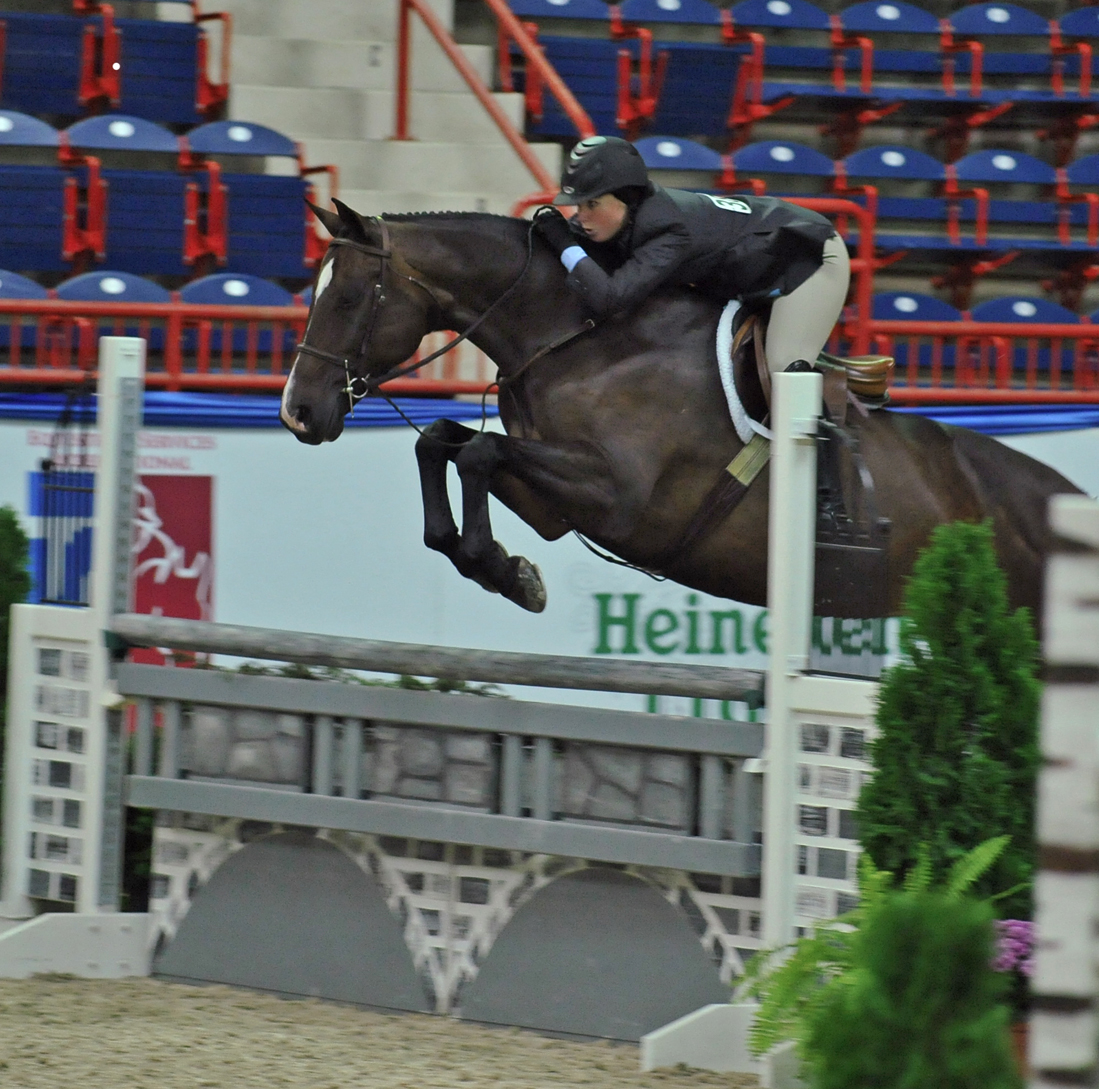 Brooke
Owner/rider Rachael Herkowitz
Pick her if: You have no time to ride.
Why you should cheer for them: Because our deadline preceded the day entries were due, my fellow Chronicle staffers cold called as many of the riders and owners of the 262 qualified horses as possible to ask if they were attending (and grill them on important topics like who ties their stocks).
I almost didn't bother to put Rachael's name on the call list. After all, she and Brooke hadn't competed in a derby since last June or shown at all during this calendar year. But I emailed her anyway, and it turns out Rachael had a good reason for staying out of the ring as she was finishing her residency in clinical psychology out of state. She'll be just as busy after Finals, as she'll be joining a group private practice in Bloomfield Hills, Mich., specializing in health psychology.
She's attending Finals more for love of the sport than expectations of blue, but it's hard not to be inspired by an amateur who's working hard and so thankful to her trainer Heather Irvine and the staff at Hillside Farms for getting Brooke ready to go.
————-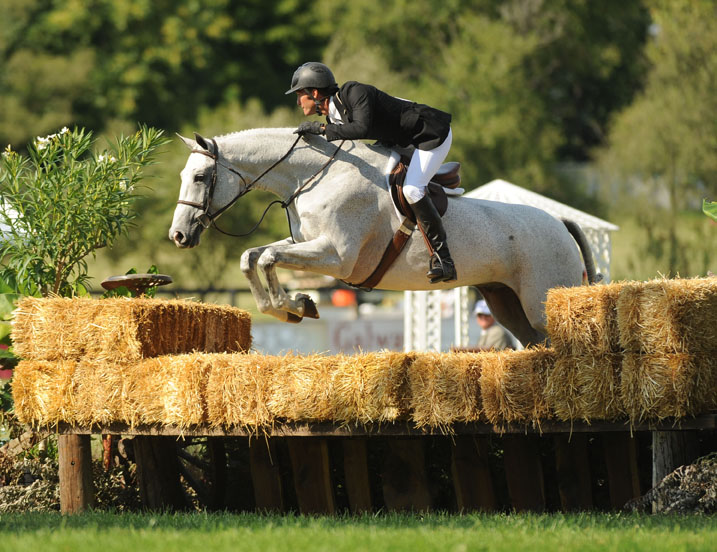 Rex The Wonder Horse
Owner: Moral Masouka
Rider: Kris Killam
Pick him if: You love a great partnership.
Why you should cheer for Rex: Besides having the best name on the start list, Rex is a former jumper with talent to spare. He may not have the most classical form around, but he's reliable and incredibly handy. If he makes it to Round 2, double down on your bets. Rex won't bat an eye at anything, and he's sure to move up the standings with turns you won't believe. Rex has been a favorite of mine since seeing him nail a tough handy course during the 2009 Wellington Hunter Derby (Fla.). (Unfortunately he was disqualified for jumping down the bank in a way that wasn't intended as an option.) A wooden plaquard with his name from 2010 Finals may or may not be hanging in my office.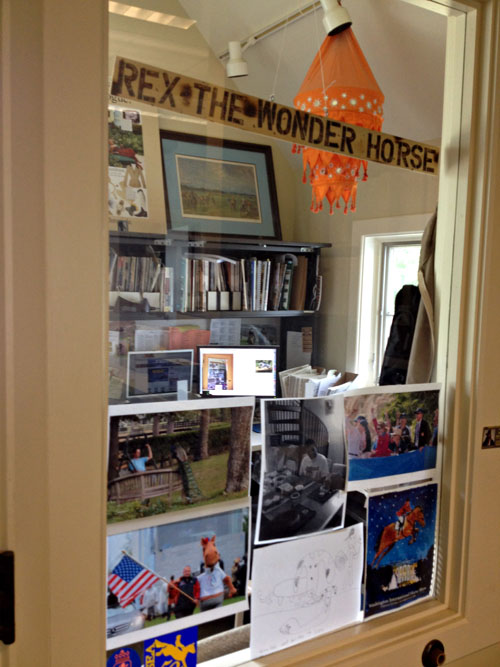 Why you should cheer for Kris: Bill Moroney talked about the importance of partnership in picking a derby winner this year, and Rex and Kris have it. Kris adores that horse, and together they're really fun to watch. Kris broke his leg while schooling another horse at the Colorado Horse Park in 2010, and he had to sit out Finals that year and watch Richard Rinehart ride his horse. As soon as he got a walking cast on, he ignored his doctor, of course, and had an assistant hoist him up on Rex—the only horse in the barn he'd ride—so he could walk around and keep a bit of fitness.
————–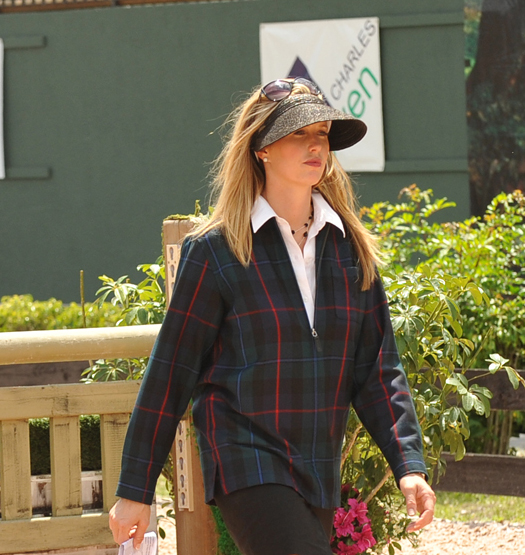 Hope Glynn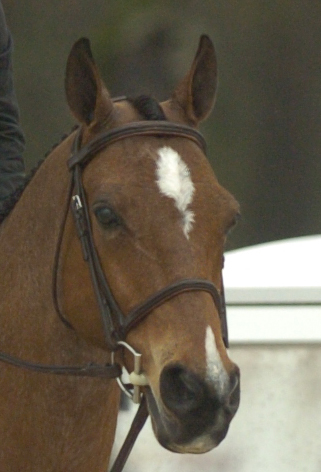 Pick her if: You're looking for a role model.
Why you should cheer for Hope: It's hard not to look up to Hope Glynn. She and her husband, Ned, run Sonoma Valley Stables in Northern California, and she and her students are competitive nationally. Hope's the kind of positive person who always has a smile and kind word for everyone, rides and trains well, is active in national and regional governance, and still manages to show up to her PTA meetings. Plus she stole a page from the eventers' playbook and made this helmet cam video for us to enjoy. She'll be campaigning Woodstock here, owned by Sabrina Hellman.
Why you should cheer for Burberry: Remember that YouTube video you forwarded to everyone from your barn a few years ago of that amazing little roan horse going around the hunter ring bridleless? That's Burberry, and he's at Finals! OK, that was with Brandie Holloway aboard (who we'll miss at Finals), but that little horse still looks as rideable as ever—even in a bridle. Hope was originally slated to ride Burberry, also owned by Hellman, but she's passed the reins over to up-and-comer Tiffany Hickey-Cambria.
————–
Quatrain
Owner: Janet Peterson and Liza Boyd
Rider: Liza Boyd
Pick them if: You want a fresh-faced winner.
Why you should cheer for Quatrain: When the USHJA set out to create the derby series, there was a lot of talk about how they didn't want jumpers to just come over and hang their legs all over the derby field in an effort to make some hunter dollars. While Quatrain spent an awful lot of time in the jumper ring, really he was just in the wrong place the whole time. Quatrain clears every fence with room to spare in perfect form, and he looks like a quintessential derby horse in action.
Why you should cheer for Liza: It's no surprise that Liza's won plenty of sportsmanship awards since galloping onto the scene as a pony star. She's a fierce competitor and works very hard but is also genuinely nice and incredibly likeable. Riding for her is a family game, and her tack box is cluttered with supplies for her toddler daughter and special tack she's hiding from her brother, Hardin.
I think that Liza's due for a big win. She was unlucky at Finals last year, but all three of this year's mounts have a good shot. Quatrain may not have as many miles as her other contenders, but he's fresh and ready and could be the winner this year.
————–
Taken
Owner: Jessica Stitt
Rider: Kelley Farmer

Pick him if: You like a hunter that gallops.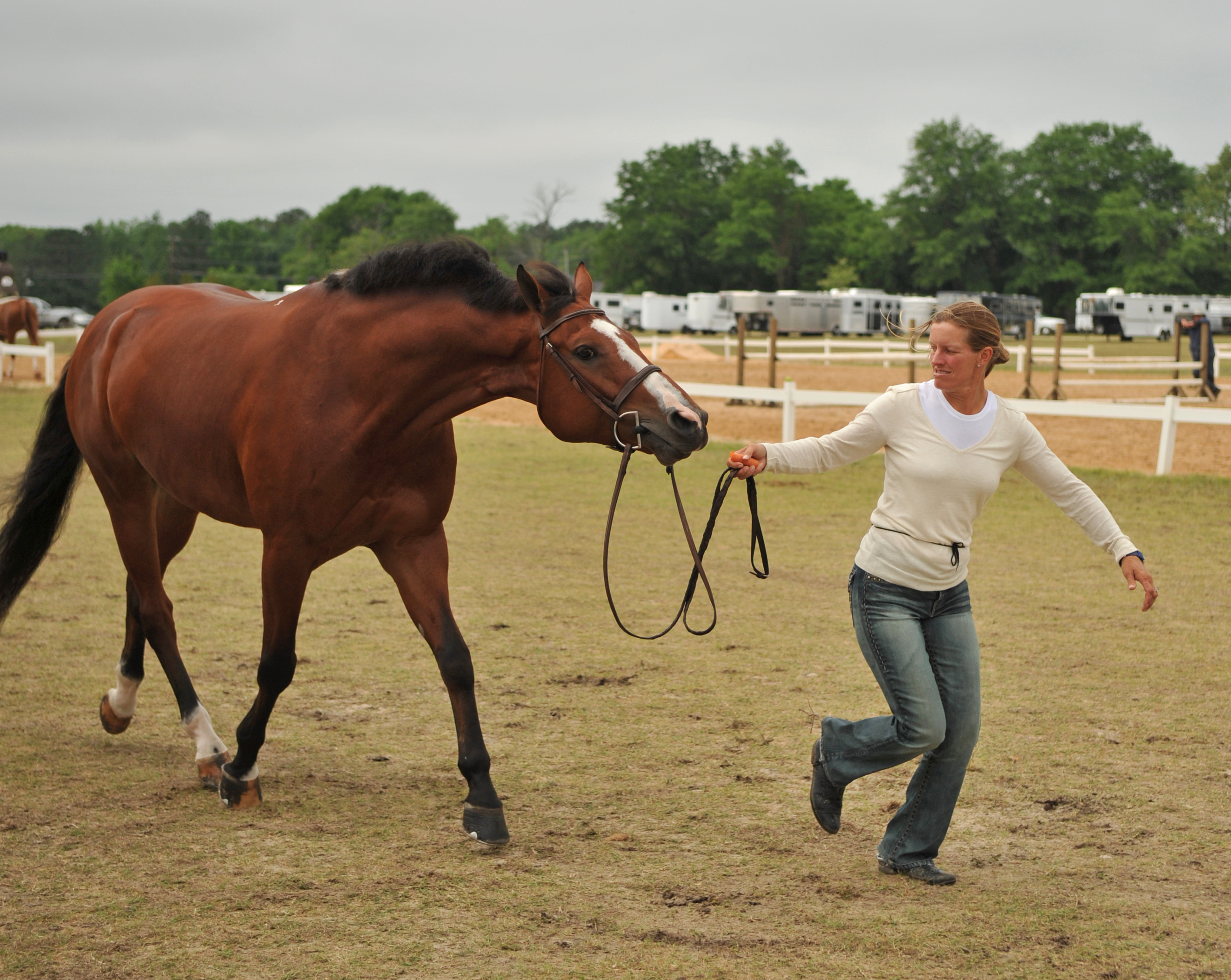 Why you should cheer for them: OK, OK. Professionals across the country marvel at this horse's extraordinary talent, and he's probably the favorite heading into Finals. But I'd be holding my breath anyway even if he weren't.
Kelley loves to gallop, and in Taken she's found the perfect partner: It's like he's always looking for the next jump and waiting for Farmer to loop the reins a little and add some leg so he can kick it up another notch. He's hands down the most fun to watch, like a little rubber bouncy ball bounding around the course. He's a petite fellow, but he makes up for it in heart.
There's also a cute factor: There's an old Chronicle icon for the Young Entry section of the magazine depicting a child on a pony dangling a carrot in front of her horse to make him go, and Kelley and Taken might be the modern day equivalent. As eager as he is in the ring, that horse won't take a step to walk back to the barn or in the jog without seeing a carrot in front of his nose. Stop by the jog to see it in action.
————–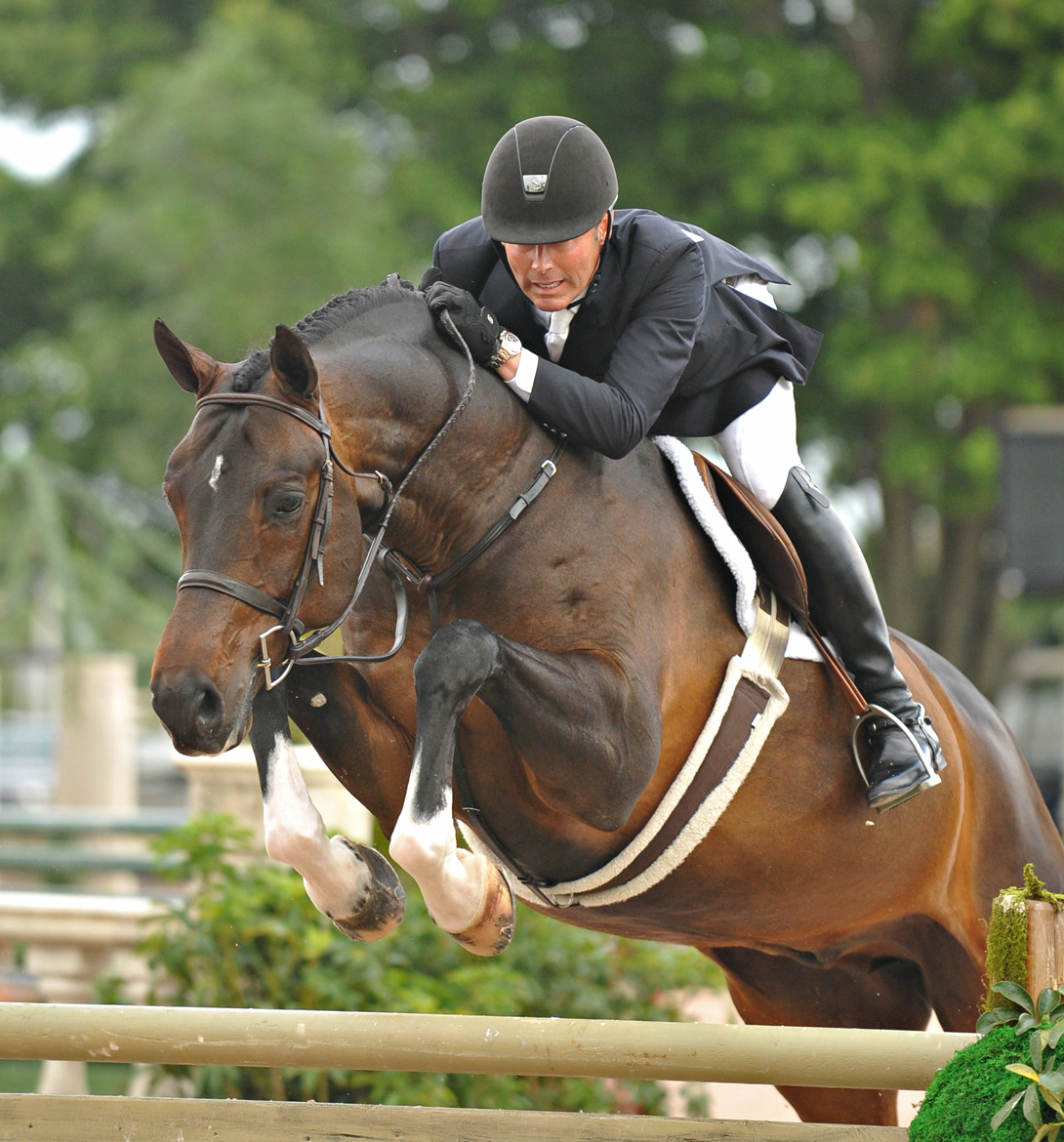 Declaration
Owner: Fashion Farms
Rider: Scott Stewart
Pick them if: You like a horse you'd want to take home.
Why you should cheer for them: Plenty of really talented mounts like Brunello and Jersey Boy and Taken look amazing when a top professional rides them around a derby course, but Declaration looks like one that I might be able to stay on while it happened.
Not to take anything away from Scott. Together he and that horse are just spectacular. They never miss a beat, and Scott gives a riding lesson on every horse he rides. Plus it's hard not to swoon over Declaration as he's so photogenic and just as lovely in person. Don't worry—owner Glen Senk knows just how lucky he is and fawns over "Jake" (named after Jake Gyllenhaal, count that as another reason to cheer for them).
————–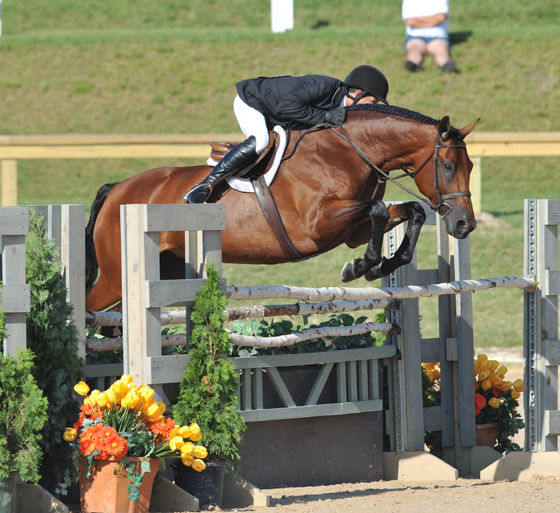 Peter Pletcher
Pick him if: You've ever gotten hurt at the wrong time.
Why you should cheer for Peter: Peter's the kind of rider who regularly dominates the start list at derbies near his Magnolia, Texas, homebase and beyond. He's the only rider I know of who's ever participated in a derby jump-off—and he jumped off against himself.
Last year during the week of Finals, Pletcher found himself with a herniated disk that slipped. When he should have been putting the last bits of training on five horses, he ended up bed ridden and hopped up on pain killers instead.
Peter will be back in the tack this year and could have a shot on any of his six entries.
————–
The Chronicle editorial staff weighs in: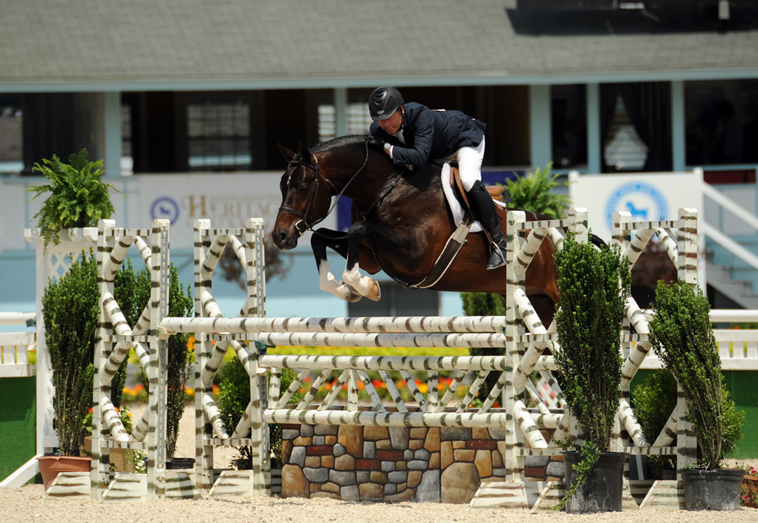 Beth Rasin, executive editor
"I love watching Declaration go. I love his slow, scopey jump, and Scott always gives him a fantastic ride. Usually I would root for an underdog, but that horse reminds me of watching Jos Lansink's horse [Cavalor Cumano] win WEG [in 2006]."
————–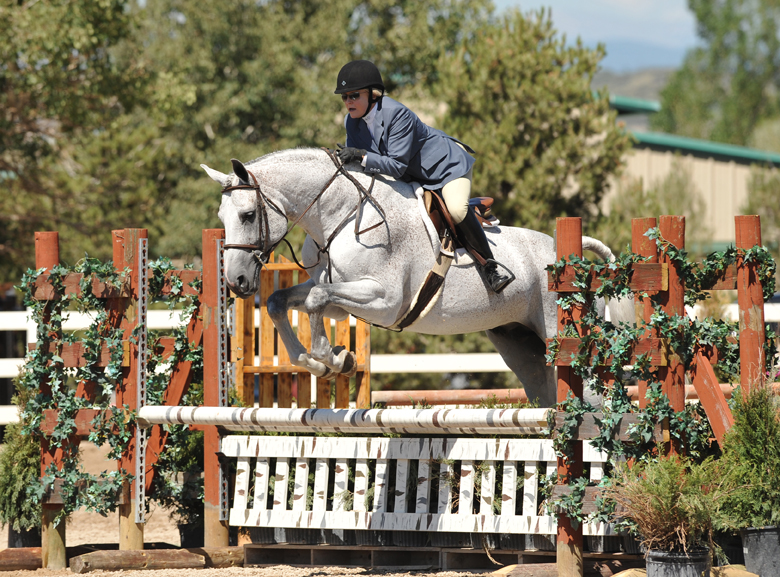 Molly Sorge, associate editor
"There are two grays I'm going to love following in the derby finals—C. Quito and Cool Blue.
I interviewed Jessie Lang about C. Quito in February 2010, when they were third in a derby at the HITS Desert Circuit (Calif.). It's an interview I still remember, because it was so much fun to talk to someone from Idaho who lived such a different life than the typical big name hunter trainer.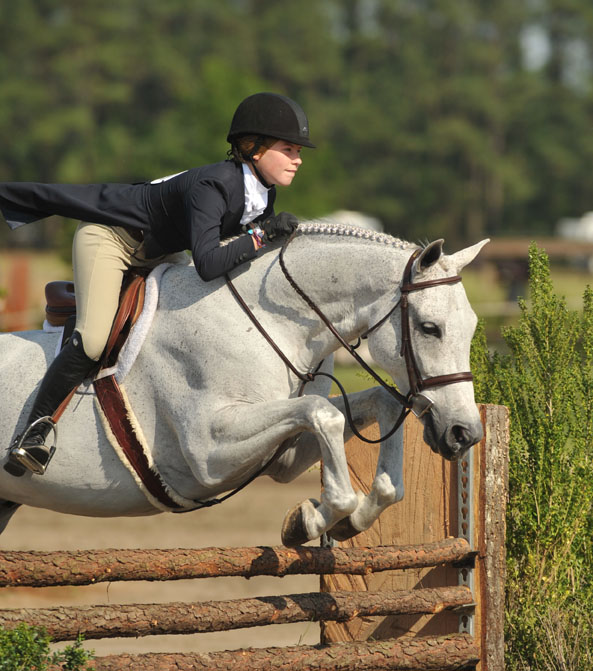 I'd say that Lang is one of the first hunter professionals who actually has said the words 'Life is about more than showing horses' to me. Her family participates in all kinds of winter sports. And C. Quito, a stallion, is truly a family horse for owner Margot Snowdon (see left) and her daughter, Arianna, showing with them in the adult and amateur divisions.
C. Quito is proof positive that a great horse can take people to levels they never anticipated.
The other gray, Cool Blue (right), is also a longtime favorite. I remember taking pictures of Cool Blue in 2004, when he was a first year green horse with Scott Stewart. He's had quite a few junior riders since then (10 just from 2008 to now, according to USEF records) and has competed on both coasts with success. He just keeps jumping with his knees to his chin and his ears pricked."
————–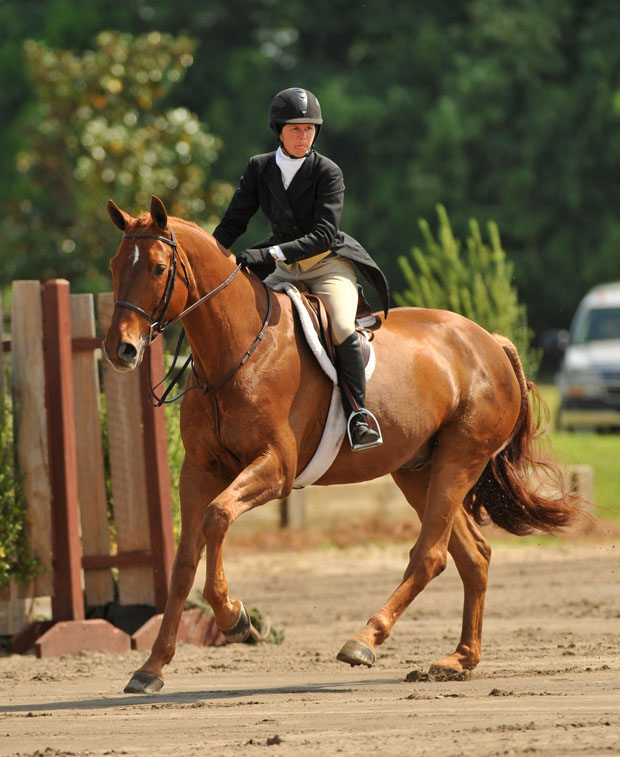 Lisa Slade, editorial staffer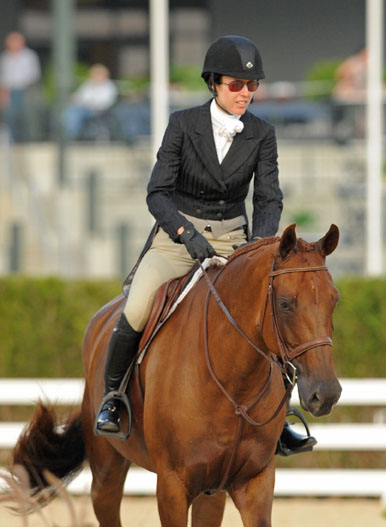 "You had to feel for Liza Boyd last year when, headed into the classic round as one of the hot favorites to win it all, she went off course. It's happened to all of us, and I know Boyd and Brunello (left) are more than capable of putting that mistake behind them and completing beautiful rounds this year in Kentucky. (It doesn't hurt that you'd be hard-pressed to find a nicer person than Liza.)
I'm a big fan of mares, and there are lots of lovely ones entered at this year's Finals. But maybe none are so lovely as Sienna (right), piloted expertly by Patricia Griffith. She jumps in classic style every time, with pictures demonstrating back-cracking efforts and perfectly even knees. Plus, you have to like a girl who lives on Peeps."
————–
Lauren Maruskin, editorial production manager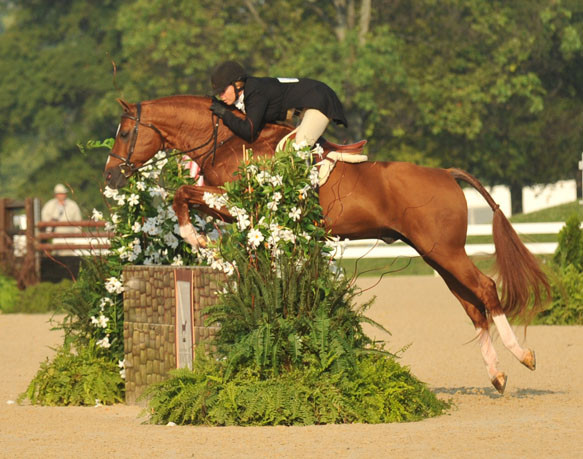 "Anything Scott Stewart is on because he is my riding idol, but particularly Declaration. I also really like Sienna and Shine (right) (the alliteration was purely coincidental). Well now that I've effectively chosen almost half of the Derby Finals field as 'my pick,' I think I have a pretty good shot at winning!"
————–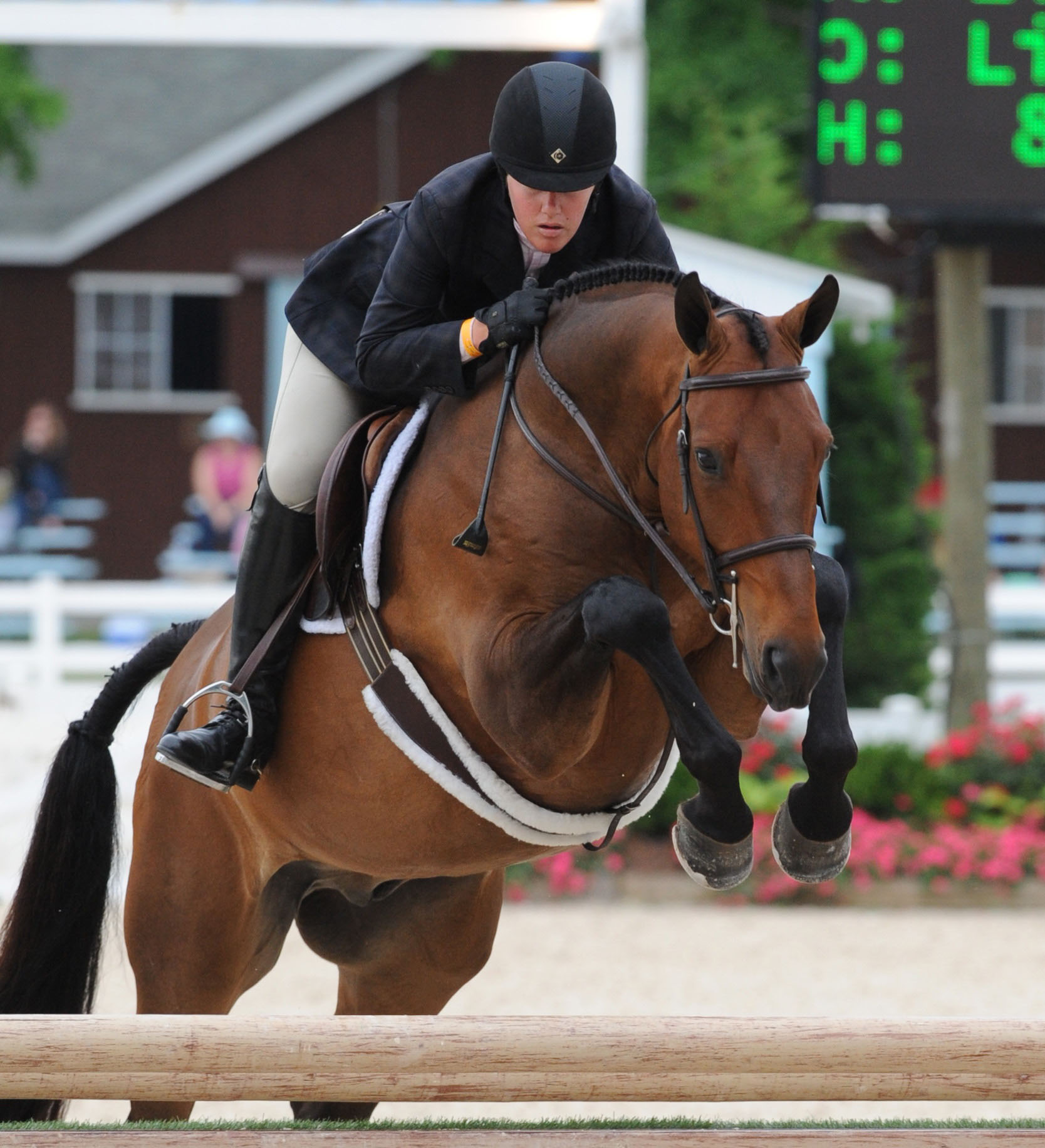 Lindsay Berreth, editorial staffer
"I'm going with Lindsay Mutschler and Fielding. Lindsay is a top amateur (and shares my name with the same spelling!) who works a full-time job, has done most of the training of her horse and keeps him at home. It's great to see that."