Lexington, Ky.—Aug. 18
Being sidelined for an injury and unable to ride for months may have thrown other riders for a loop before a big championship, but not Scott Stewart.
After sitting idle since mid-May after the Devon Horse Show (Pa.) with a pinched nerve in his back, Stewart came to Kentucky and rocked the USHJA Pre-Green Incentive Championship. Not only did he capture the tricolor with his own Rivers Edge entry, Storm Watch, he qualified no less than seven horses for the third and final round of the three-day championship.
"I got through the last day of Devon and then wasn't able to ride until a couple weeks ago," Stewart said. "This is my first show back. I went to some very good doctors in New York after Devon, and they said I just needed physical therapy, because I have had trauma to my neck, so I went to an acupuncture lady down the street and within one session she made me a lot better. I've gone ten times now."
Stewart's winning ride in the class, Storm Watch, is a horse he went and tried during what was supposed to be a break from the four-legged creatures he rides and trains for a living.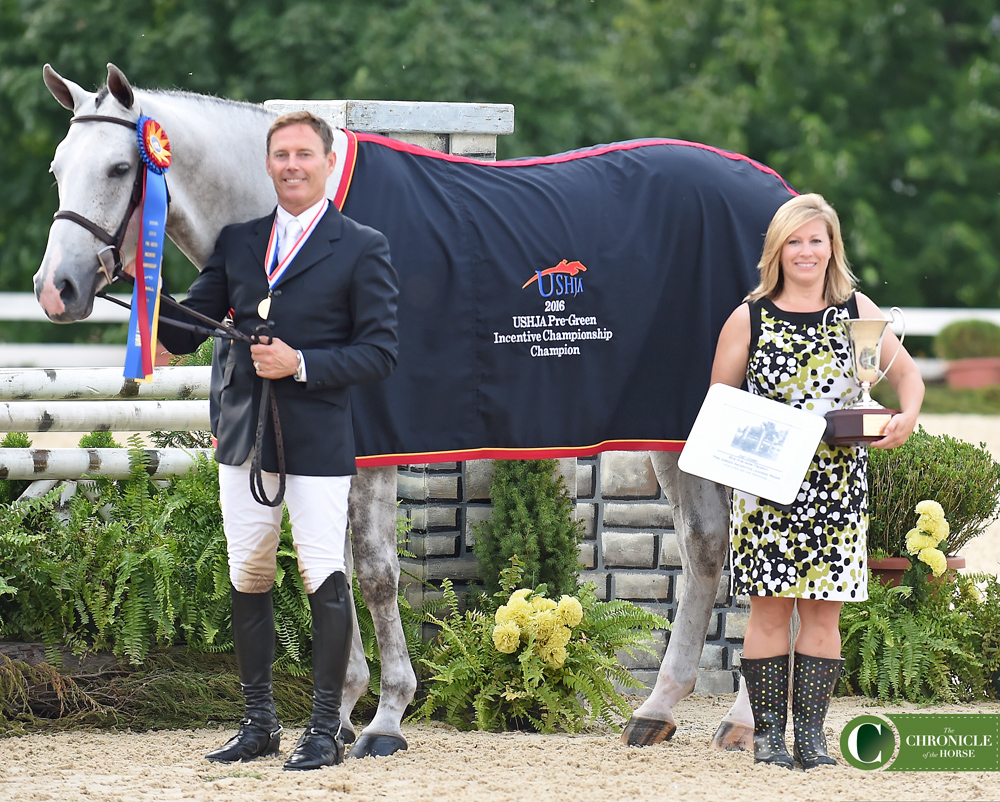 Scott Stewart won the Pre-Green Incentive Championship with Storm Watch. Photo by Kimberly Loushin
"It was the week after the National Horse Show [Ky.], we went over to Holland, and we didn't go over specifically to look at horses, it was supposed to be a vacation," Stewart said with a smile. "But he was sort of in the area, on route, so we looked."
Watch Stewart's round with Storm Watch:
Stewart was impressed by the gray Oldenburg stallion by Chacco Blue out of Whizz Kid—he had him gelded and imported to his Wellington, Fla., farm, showing him three times at the Winter Equestrian Festival (Fla.) and once at the Kentucky Spring horse show mid-May before the pinched nerve took Stewart out of the saddle.
"Ken [Berkley] has been riding him at home so he really got the horse ready for here," Stewart said. "I think that plan worked—not showing him too much. I was really pleased with him."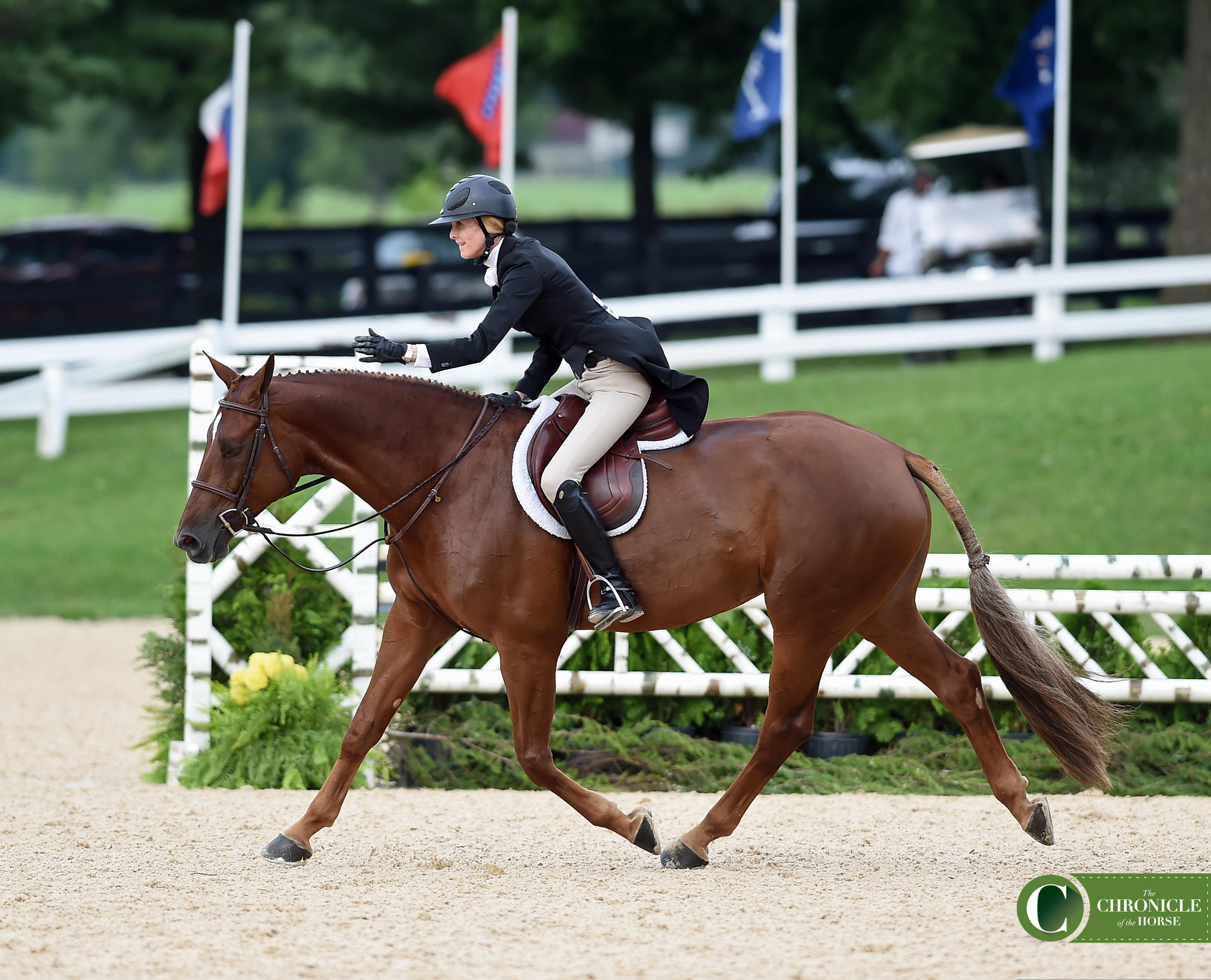 Jenny Karazissis and Puissance R. Photo by Kimberly Loushin.
Jenny Karazissis rode Puissance R to the reserve championship title.
"This is my first time doing [the USHJA Pre-Green Incentive Championship] and I'm so excited to be here," Karazissis said. "I was thrilled that my owner wanted to come. We weren't sure; we were maybe going to chose between here and Capital Challenge [Md.], and I said 'She can come here, and if she does well she could do both!' "
Karazissis is referring to the massive amount of prize money available to competitors in the championship—Stewart took home $23,822.81 for finishing first on Storm Watch, and Karazissis earned $16,866.55 for her and Puissance R's reserve finish.
Puissance R's owner, Lisa Hankin, bought the 10-year-old Hanoverian mare because of her sire, Pablo.
"She owned another horse by the same sire, and she went in search of another one because she loved the horse so much, another chestnut mare," Karazissis said.
Hunt Tosh took third in the championship aboard Douglas Wheeler's horse Chicago.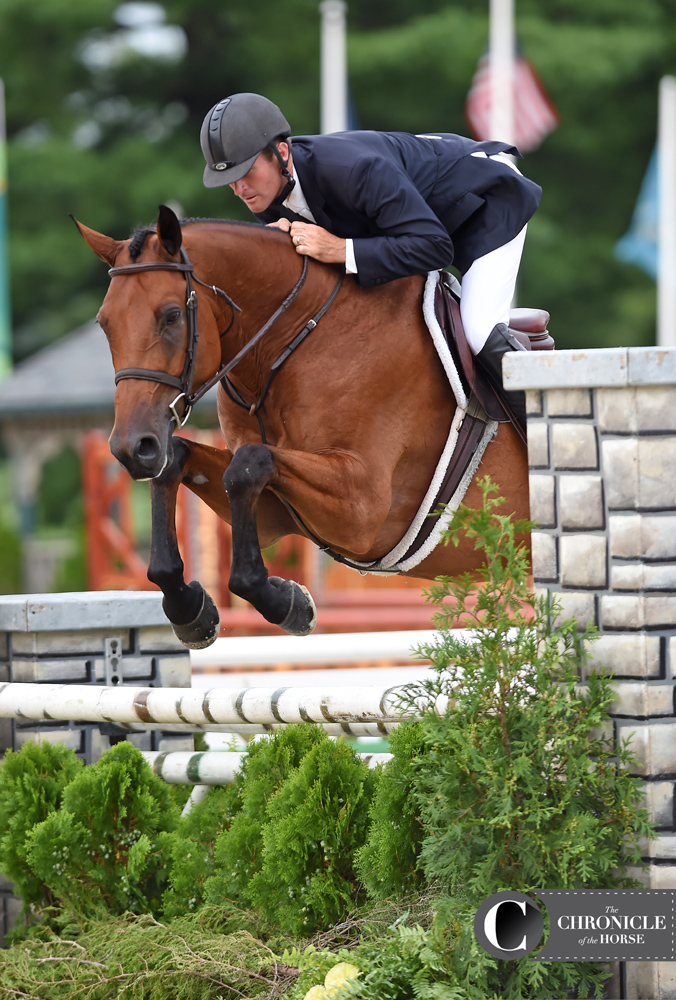 Hunt Tosh and Chicago took third. Photo by Kimberly Loushin.
More pictures from the Pre-Green Incentive can be found here. 
To learn more about how the winners got to where they are, don't forget to pick up a copy of the Sept. 5 issue of the Chronicle.