Tryon, N.C.—June 9   
You could pick Schuyler Riley out of the crowd in the warm-up arena for the $25,000 USHJA International Hunter Derby at the Tryon International Equestrian Center. In a sea of dark blue and black shadbellies, she was the only rider in a bright red show jacket—her U.S. team pinque coat.
"It's been a while since I've done the hunters, and I don't own a shadbelly, never have. Even as a junior I didn't own one," Riley said.
Riley has along history in the grand prix ring, complete with Nations Cup appearances for the United States and competing in three FEI World Cup Finals. She operates a horse sales business, Wolfstone Stables in Wellington, Fla., that deals almost exclusively in jumpers. She had one hunter come through her barn briefly two years ago that was quickly sold, so it's been a while since Riley ventured over to hunterland.
"I was reading the derby rules for proper attire, and it said if you have ridden for the U.S. team and you have a pinque coat you're allowed to wear it," Riley said. "And there you go! I thought, 'why not.' "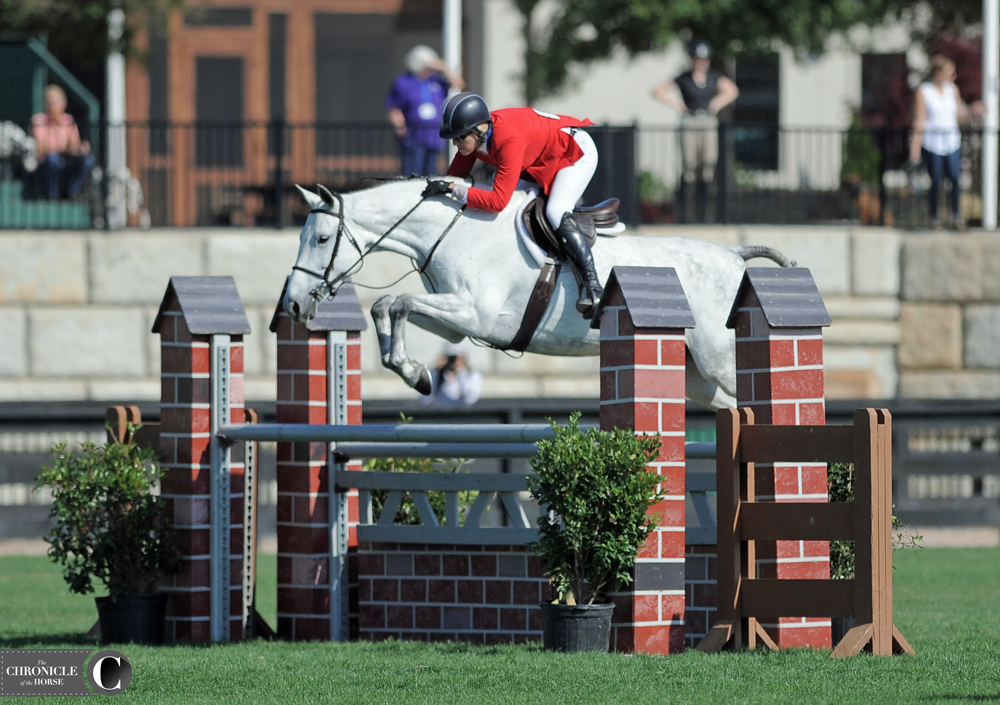 Not to be outdone by her brightly clad rider, Riley's mare Cleopatra's Smile caught the judges' attention in her own right with an impressively careful and scopey jumping style. They led the class wire to wire and beat out hunter mainstays like Liza Boyd and O'Ryan (who took second) to take the win.
Like most everything Riley owns, "Cleo" is a sales horse. Riley found her in Europe doing the 1.30-meter jumpers and thought she'd do well switching to the hunter ring. She took the mare in her very first hunter class this spring, and this marks her first international hunter derby appearance (so far, perfect record!).
"I brought here because I just loved her character, and she's just blossomed because her character is so good," Riley said. "My friend Adam said she's just like a Labrador retriever, that's kind of what she is. You watch her expression going around the course and as soon as she zones in on a jump her little ears go bing! I think she's gotten really good really quickly because of her character, and she's a blast to ride."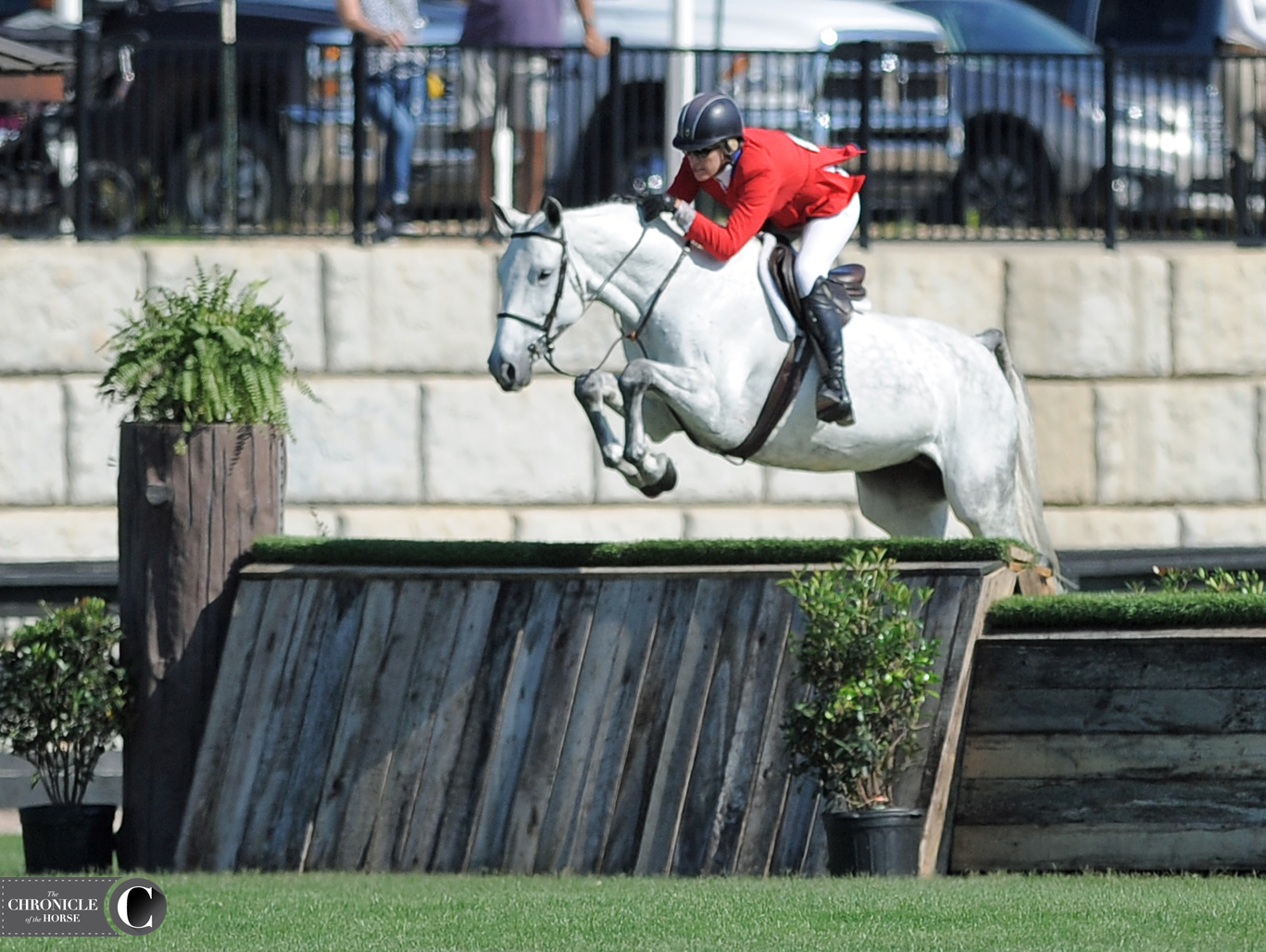 Riley has to be careful not to get Cleo too excited about her job because the 9-year-old mare is such a recent convert from the jumper ring. Her first U.S. show was in April, and she's only shown in three shows as a hunter. Her last outing before Tryon was in the Kentucky Spring Classic in May, where Riley rode her in the 3'6″ performance division and catch-rider Emma Kurtz piloted her in the small junior classes.
"The first round, because she's new at this, she still comes in and I think expects to be revved up a little," Riley said. "So I just try to take as much time as possible to get to the first jump. Then she took a breath by the time I was there and I know her well enough now to trust her, that she's not going to actually spook at any of the jumps, so you can just ride very planned, calculated and soft. Everything rode really exactly like I planned it."
Cleo pulled base scores of 88 and 85.5 for Round 1 to put them in the lead going into the handy. They defended their lead with handy base scores of 83 and 81.
"I think we can improve on the trot jump next time, but right after we landed after the trot jump I felt like I could trust her to go and turn, go and turn," Riley said.
The competition better watch out, because Riley doesn't plan to make this a one-off appearance in the hunter ring.
"I love good hunters—when you have a good hunter its really fun to do," Riley said. "I would look for horses to do this because these [derbies] are really special classes. I have as much fun out there as I do in the jumper ring."
See full results of the $25,000 USHJA International Hunter Derby at Tryon. Check back with the Chronicle for more from the Tryon International Equestrian Center, and check out the July 3 issue of the magazine for a more in depth look at Cleopatra's Smile and Schuyler Riley.