She's reaping the rewards of a lifetime of dedication.
Susan Schneider saw years of planning and focused training come together on the weekend of Sept. 27-30 in Parker, Colo. She and Wagner de Bonce left the Great American/USDF Region 5 Championships decorated with multiple championships.
The pair consistently topped the Intermediaire I classes, scoring 64.66 percent in the Rocky Mountain Dressage Society Regional Championship class and 64.91 percent in the USDF class.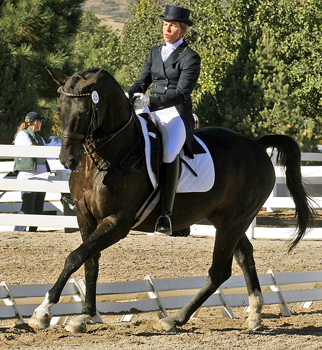 "It's always nice to win," Schneider said humbly. "But to be able to ride the same test more than once and be consistent, within a few points each time, has tickled me pink."
She's made her and Wagner's training, education and consistency on the small tour a top priority. She takes "Wagner" and two other mounts from Mon-trose, Colo., to Germany four to five times a year for a week at a time to train with Catherine Haddad, from whom she originally bought Wagner as a 6-year-old.
But it's not a simple matter of getting to travel, ride and train with top dressage riders full-time. "It's still a selected, focused approach. I still spend most of my time riding every day using a video camera as my eyes on the ground," Schneider said.

I Wanted To Ride
It took years of honest hard work and planning to reach a point in her life where regularly crossing the pond was possible.
After graduating high school, Schneider used her savings to get a first taste of riding in Europe. "I knew that I didn't just want to go over there to travel around," she said. "I wanted to ride. So that's all I did that summer."
She rode full-time in eastern Austria before returning to the States, attending college and veterinary school, and then establishing her own practice in 1982. Even through time constraints, she continued to ride when possible.
In 1995, Schneider decided that riding full-time was her true passion, and she committed herself to turning that goal into reality.
"I put my nose to the grindstone, got all my debts paid off, sold the practice that I owned in 2000 and sort of semi-retired," she explained. "My main goal now is to continue improving as a rider and a trainer. Not really to train other horses, but to be a good rider and trainer for my own horses.
"When I [go to Germany], it's not a vacation. I work hard," she continued.
Over the last seven years, she said she's made a big effort to integrate herself into the culture and get to know the people there. "It's terrific because I get to see a tremendous amount of really good riding. I learn not only from being in the saddle but also from watching."
Schneider and Wagner's remarkable bond has been a few years in the making. She rode him off and on while he was still a stallion in training with Haddad.
"He fit me well even then," she remembered. "We got along well and the timing was perfect."
Wagner even had manners as a stallion. After he was gelded, Schneider said his showmanship and vanity never faded. He was the whole package so Schneider finally bought him in 2006.
"He's very affectionate," she said of the 11-year-old Rheinlander (Welt Hit II— Donnerflash de Bonce). "If he was a human, he would have his hair perfectly combed, his shirt perfectly pressed with the sleeves rolled up just above the elbow, and a sweater around his shoulders. He's so vain it's comical. Fashion is everything to him."

The Best Horse I've Ever Had To Ride
Grant Schneidman and Superman dominated the Prix St. Georges classes, taking the open Prix St. Georges Region 5 Championship (69.62%) and the RMDS Championship Prix St. Georges (65.33%). They also placed second to Schnieder and Wagner in the Region 5 Intermediaire I class.
When Schneidman discovered Superman (Mondriaan—Mikado) in the Netherlands as a 5-year-old, he formed a syndicate with a group of comrades and clients called the Euro-West Group LLC to enable him to buy the horse.
Superman, 8, initially greeted his new home in Parker, Colo., with the fiery temperament one might expect of a young stallion.
After he was gelded, "he still had a bit of a fiery temperament but in a good sense," Schneidman said. "He's got a lot of expression and presence. You have to work with him and know where the line is. You can't just dominate him."
Even though he only knew how to walk, trot, and canter at the age of 5, he made up for what he didn't know then with natural talent.
"He's always been a bit behind in training compared to some horses. But at the same time he was able to do the FEI 6-year-old [test], and finish fifth [at the 2005 USEF/Markel Young Horse Dressage Championships] in that division. He did it more off natural talent than actual training and preparation."
He went on to win the RMDS and the USDF second level championship classes at the Region 5 championships that year.
By age 7, Superman really started to hit his stride with Schneidman. They cracked down on critical training and hit fourth level within a year. He competed his first Prix St. Georges in Florida this spring and started seeing good results this summer.
At the regional championships this year, Superman impressed O-rated judges, which Schneidman said made the wins even sweeter. "Having that caliber of judging there I think was important for our area," he said. "You tend to put more weight on the comments they give."
Natalie Lamping, Cara Whitham and Anne Gribbons presided over the Prix St. Georges divisions.
Schneidman runs Westmanton Stables at Cañon Ridge Farms in Parker with his wife, Sharon. While he hopes to take Superman to some CDI competitions in California or Florida next spring, "we have horses and students in training, and for me to go off and do that and not make any income for three months is difficult," Schneidman said.
"I think he really could compete at the national and international level though. He does his job very easily," he went on. "It's just a matter of being careful with his development. He's the best horse I've ever had to ride."

Joshua A. Walker