Paris—April 11 
The first thing to notice about Sarah Scheiring's horse Dontez as he walks into the warm-up paddock at the Longines FEI World Cup Show Jumping Final is what's not there. The gelding's head is noticeably bare of any bridle save a little black strap around his jaw.
"It's actually a spur strap, a nylon spur strap," Scheiring, 31, said with a laugh.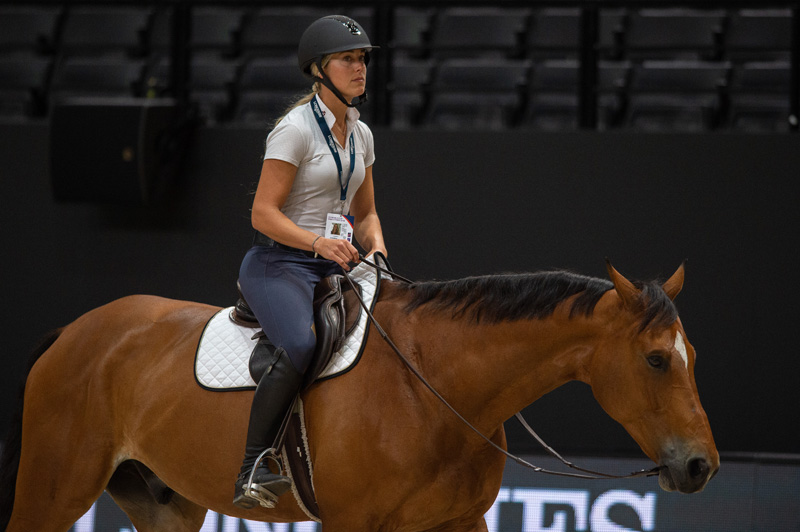 Scheiring came up with the idea to make an improvised war bridle two years ago after Dontez bit his cheek with a Waterford bit.
"We took a spur strap and attached reins to either side of the buckle," Scheiring said. "He goes so well in it; it really keeps him relaxed."
While Scheiring has jumped in the spur strap before, she only used it for a flatting warm-up day at the World Cup Final. Scheiring switched to a more traditional bitted bridle for the jumping warm-up class.
"That's because one time it broke," Scheiring laughed. "We were out on a grand prix field—not at a show—but we were jumping, and I was trying to stop, and I go to half-halt, and I pull back, but I don't hit anything, and I actually land behind the saddle, and then he bucked me off."
Scheiring thinks the 10-year-old gelding is comforted by the simplicity of the war bridle.
"I can actually do a lot more flatwork with him in it; he gets anxious in the bridle," Scheiring said. "For sure he gets like claustrophobic, and I don't know if you saw his show bridle, but it's quite a bit because he is so strong, so he knows when the spur strap is on it's just relaxing work, and he just goes well in it."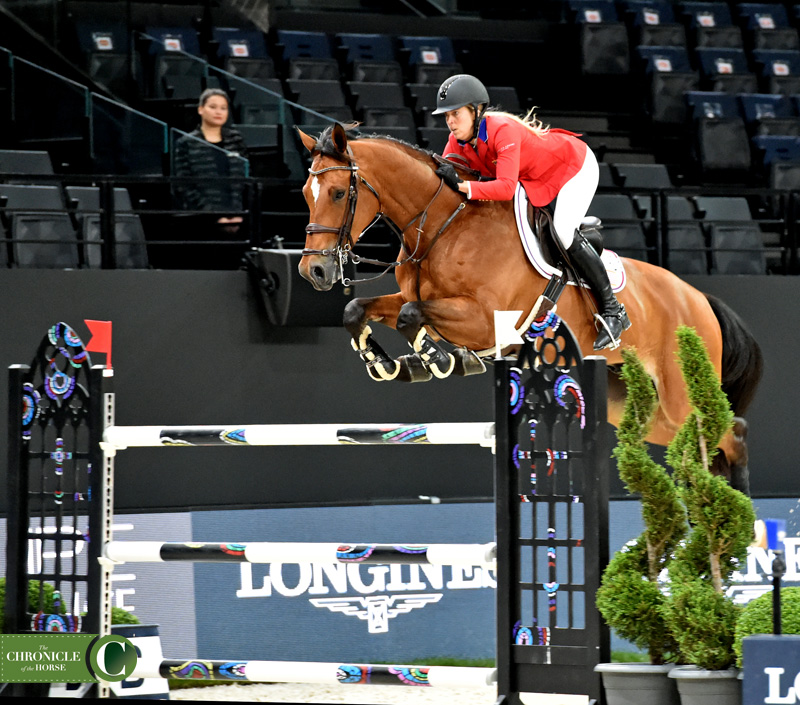 This is Scheiring's first World Cup Final, and the level of riders she is surrounded by back in the barns and in the warm-up arena is not lost on her.
"I'm very excited," she said. "We have a great team this year. I think everyone's super friendly, and we're lucky to be part of such a team."
We noticed Scheiring asking McLain Ward a question about the course after he came out on HH Azur, and the reigning World Cup Finals champion took a moment to discuss strategy with her before she went in the ring.
"I mean, come on right?" Scheiring said. "It's insane. And the jacket, just everything—it's amazing."
The Chronicle of the Horse is onsite at the 2018 FEI World Cup Final. Keep an eye out at coth.com for all our coverage of the event in both show jumping and dressage. Check back Thursday, April 12, to see how Scheiring's first World Cup class in the pinque team coat goes for her and Dontez!
Important Links: Paris World Cup website  ⁄  Orders of go and results /  Live streaming/ All of the Chronicle's coverage
Make sure to follow along on the Chronicle's social media outlets: Facebook, Twitter and Instagram.