Lexington, Ky.—Oct. 7
In many ways Retired Racehorse Project Makeover rider Sarah Hepler's story in the sport mirrors the Thoroughbred horse.
Who hasn't seen the sale ads with "NO OTTBS" in all caps or met the trainers telling students they can't be competitive on a Thoroughbred? It's no surprise that Hepler has found an affinity with the breed, because she once dealt with similar prejudice. Hepler lost her arm in a car accident when she was 10 years old.
"Right after I got out of the hospital we went back to the barn I was taking lessons at, and they said you can't ride here; we don't have a handicap riding program," Hepler said.
Hepler had been taking lessons for a few years before the accident—she was the typical horse crazy kid whose non-equine inclined parents obliged with lessons at a nearby hunter-jumper barn. Hepler's parents were driving with her and a friend in the car when a driver ran a stop sign and struck their vehicle.
"I was in a coma after, and they told my parents I wasn't going to wake up," Hepler said. "My dad whispered in my ear 'I'll buy you your first horse if you wake up,' so to this day he credits getting my first horse for me surviving."
That first horse was an off-the-track Thoroughbred. After meeting resistance at the hunt seat barn, Hepler and her parents found a more welcoming dressage and eventing stable near their home in upstate New York.
"The trainers gave me so much confidence; they thought I hung the moon and the stars," Hepler said. "They just gave me so many opportunities."
Hepler competed in eventing and dressage on a series of Thoroughbreds, her breed of choice to this day. 2018 is her second year competing in the Retired Racehorse Project Thoroughbred Makeover—she rode Flat Leaver in dressage and the freestyle competition. "Fletcher" was actually given to Hepler by a trainer who had previously placed a horse off the track with her.
"The trainer loved how well I took care of the other horse and how obsessed with her I was, so she called me and said 'I have to retire my baby, and I really want you to have him,' " Hepler said. "And here he is. We're only 60 days in to our training. He didn't come off the track until the end of May, and he's been phenomenal here; he's just a unicorn."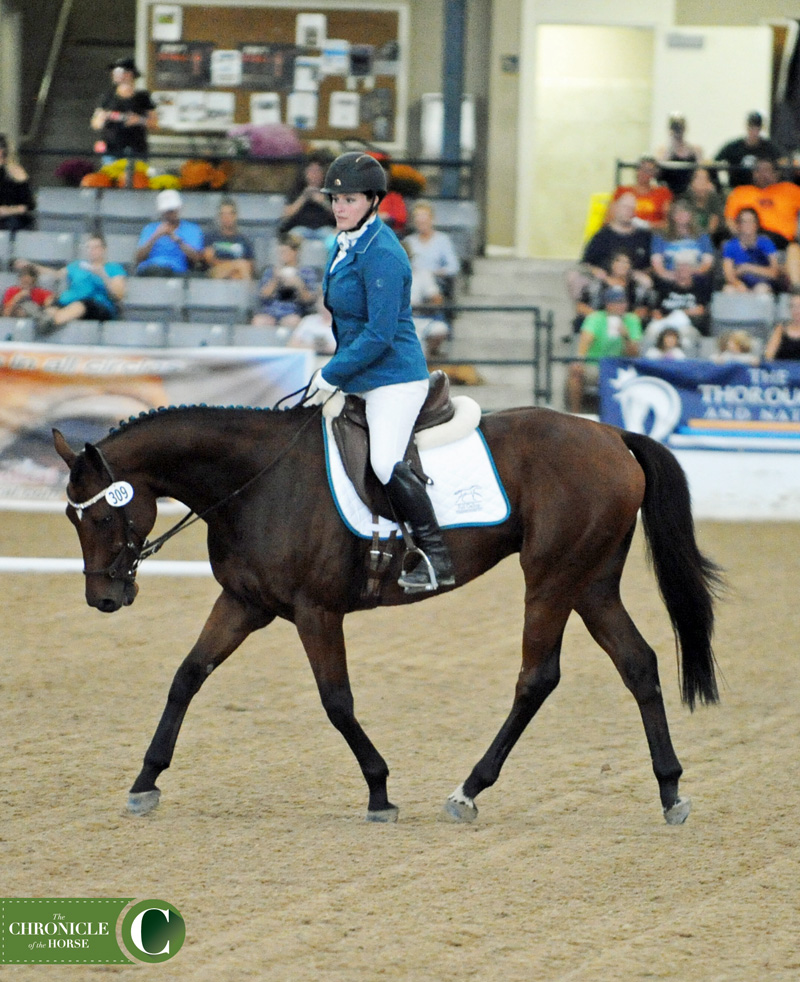 While Hepler placed higher in the dressage competition (third place overall) it was her freestyle many people at the Makeover found particularly memorable.
During Hepler's freestyle ride she sported a t-shirt emblazoned with the words "Lift Your Sister," with negative phrases she or her friends have been told in their lives about their riding written in Sharpie around the margins. As Hepler explains it, the shirt is not a specific organization but a mentality she hopes to foster in the equestrian world.
"When my barn told me I couldn't come back and ride because they didn't have a handicapped riding program, that really negatively affected my riding for basically the past 28 years," Hepler said. "So Lift Your Sister is a movement I want to start where rather than saying mean things to each other and tearing each other down we support each other."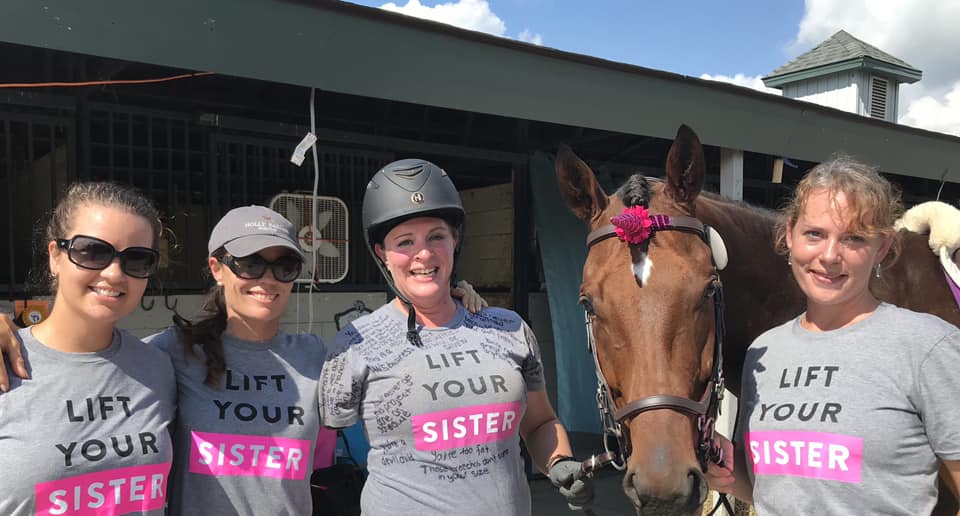 In the RRP Makeover Hepler has found the perfect niche to start Lift Your Sister within the equestrian community.
"Everybody here is so supportive, everybody. Everyone says hi and is there if you need something; it's such an incredible environment," Hepler said. "Lift Your Sister is really about reaching out and supporting each other and encouraging each other and this is a perfect example of how the whole horse world should operate."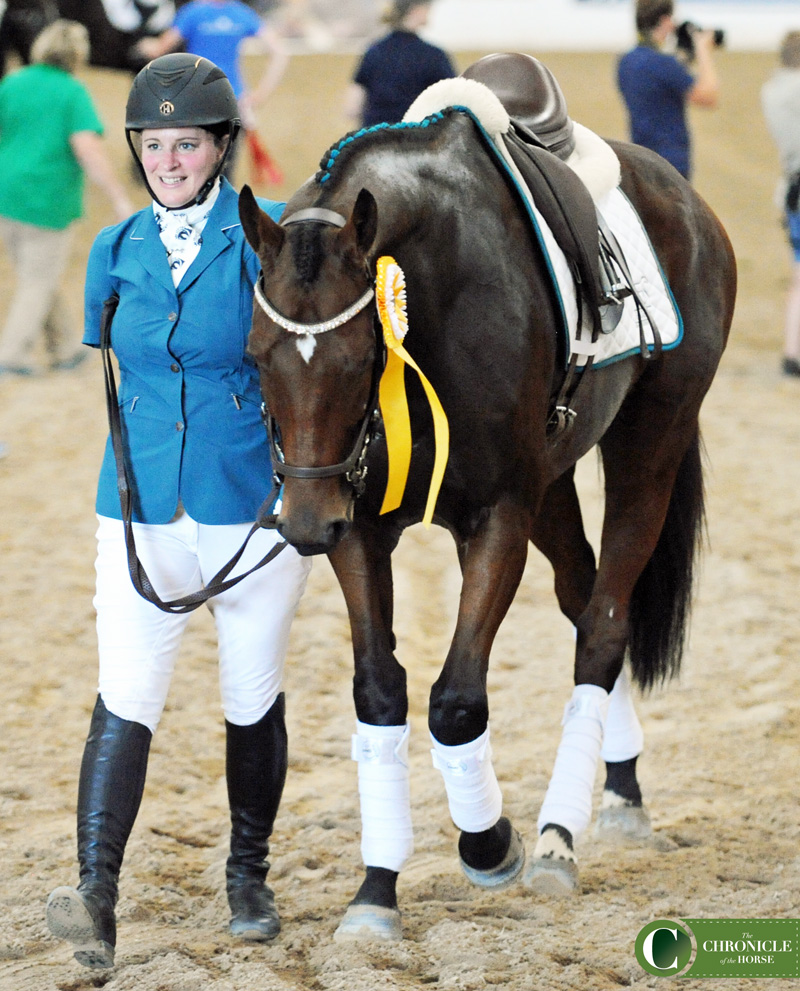 Flat Leaver is one of four Thoroughbreds Hepler now owns and rides at a stable near her home in Finger Lakes, New York. She already has plans to come back to the Makeover in 2019 and is excited to start competing in recognized para-dressage competition aboard the breed she fell in love with as a child.
"I just love their heart. Did you see that horse out there? His whole heart was out there," Hepler said. "It's their heart and their willingness to try anything. He's so game. I'm like hey, we have 30 rides off the track, let's go to the Makeover, and he says OK!"