Some prospects for the 2024 Olympic show jumping team have arrived. Two foals out of supermare Sapphire have arrived via surrogate mares, and they were born on the same night just 13 minutes apart.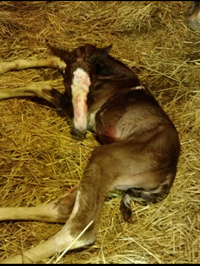 The Heartbreaker–Sapphire filly.
Both recipient mares, one carrying a Presley Boy—Sapphire foal and one with a Heartbreaker—Sapphire foal, went into labor at around 11 p.m. on June 22. They were the last two mares of more than 140 to foal out at Blue Chip Farms in Walkill, N.Y.
"The [Heartbreaker—Sapphire] filly wasn't due for a few more weeks but that filly came first and 13 minutes later the Presley Boy colt was born. The filly obviously wanted to beat her brother to the punch we figured!" said Chris Sallee, who manages the warmblood breeding activities at Blue Chip, which is primarily a Standardbred breeding facility.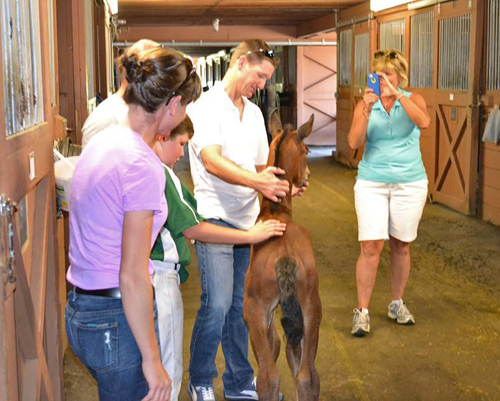 McLain Ward (center) visited the offspring of his two-time
Olympic gold medal mount, Sapphire,
and Presley Boy.
"The filly is chestnut with a giant blaze and lots of white. The colt is bay with a half moon on his forehead and a little white on his legs. Both are doing great and McLain Ward and Erica McKeever and the Castle Hill crew stopped by to see them and took lots of photos," Sallee continued.
One of Sapphire's clones, Kidjaz, also had a foal via surrogate by Capone I last week. "We're very excited about him, too. He's also bay with a little white on his nose and legs. He's a very frisky foal! These three will be raised together at Blue Chip," Sallee said.
The warmblood breeding at Blue Chip takes place under the Blue Chip Farms Sport Horse Incubator name.
Read all about Sapphire's clones…