Traverse City, Mich—July 23  
Mexico's Santiago Lambre and his own Dingeman bested an original starting field of 30 international horses and athletes and outpaced a six-horse jump-off to take home victory in the $50,000 Great Lakes Grand Prix at the Great Lakes Equestrian Festival.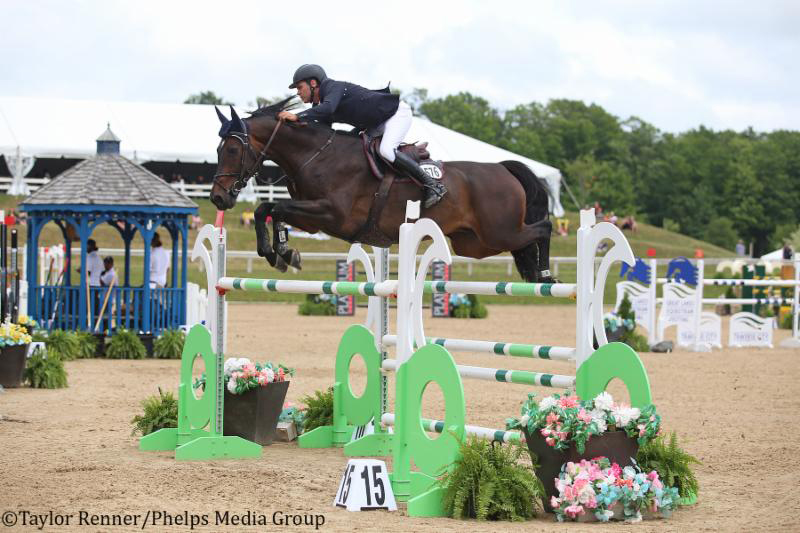 The course, designed by 2016 Rio Olympic course builder Guilherme Jorge of Brazil, challenged horses and riders over 13 obstacles in the first round. Those who successfully completed the course with no faults returned for the tie-breaking round over a shortened course.
Speed was definitely the key to winning on Sunday as five of the six horse-and-rider combinations jumped a second clear round in the jump-off. Germany's Wilhelm Genn and Eduardo Leon's Bugatti were the first pair to crank up the pace as they galloped across the timers in 38.87 seconds as third in the jump-off order.
Lambre and the 9-year-old Dutch Warmblood gelding followed and outran Genn by 1 second to take over the top spot in 37.82 seconds for first place.
Watch Lambre's tidy jump-off round:
Genn and Bugatti would settle for second place once again on Sunday, after also finishing second in Friday's $35,000 Welcome Stake. Finishing in third place was Meagan Nusz and Waomi, owned by Amalaya Investments, in 39.14 seconds.
"I've had [Dingeman] since he was 4 years old," Lambre said. "I bought him in Europe and I've been training him for five years now. He started to compete at the grand prix level this year and we've had a lot of good results so far. He jumped great. He's a very careful horse and is doing better and better. I hope he can keep going like this.
"I saw [Wilhelm] go before me, and he's a very fast rider, and I turned inside to No. 3 and saved a lot of time. I was also really fast to the last two fences as well."
$50,000 Great Lakes Grand Prix CSI2*, presented by North Face Farm:
Dingeman / Santiago Lambre / MEX / Santiago Lambre / 0 / 0 / 37.82
Bugatti / Wilhelm Genn / GER / Eduardo Leon / 0 / 0 / 38.87
Waomi / Meagan Nusz / USA / Amalaya Investments / 0 / 0 / 39.14
Columbcille De Reve / Lauren Crooks / USA / Crooks Show Jumping LLC / 0 / 0 / 39.99
Dino / Capt. Brian Cournane / IRL / Robert Stiller / 0 / 0 / 44.88
Javas Keltic Mist / Capt. Brian Cournane / IRL / Glenbeigh Farm LLC / 0 / 4 / 38.73
Coachella / Erin Haas / USA / North Face Farm / 1 / 84.74
Van Gogh / Theo Genn / USA / Wilhelm Genn / 1 / 86.52
Casino N / Santiago Lambre / MEX / Santiago Lambre / 4 / 77.25
Willow / Alejandro Karolyi / VEN / Amalaya Investments / 4 / 77.74
Hindsight / Lisa Goldman / USA / Lisa Goldman / 4 / 78.57
Chance STE Hermelle / Michael Morrissey / USA / QBS Equestrian LLC / 4 / 79.24