Kalispell, Mont.—July 20
In the Rebecca Farm CIC*** dressage today, Sandro's Star stormed into the lead with a score of 29.3 penalties. But there was just one issue—the CIC*** isn't the division Chris Talley and "Sandro" came here to contest.
When Talley jogged Sandro at Rebecca Farm on Wednesday, it was for the CCI*** division. Then on Thursday, Talley and Hannah Salazar, owner of the stallion, learned the pair wasn't qualified for that division based on a previous score that included 30.4 cross-country time penalties, just outside the required maximum of 30.0 for that trip.
Organizers allowed Talley to swap into the CIC*** division, and the test today earned Sandro his first FEI dressage score in the 20s.
"He was really good, and he put in a good test," said Talley. "I struggle the most on the flat, and I work with his owner Hannah Salazar on the flat, and I think I struggle in that phase the most. His frame was too open in one test, and then I have to get the feeling. There were really good moments in there."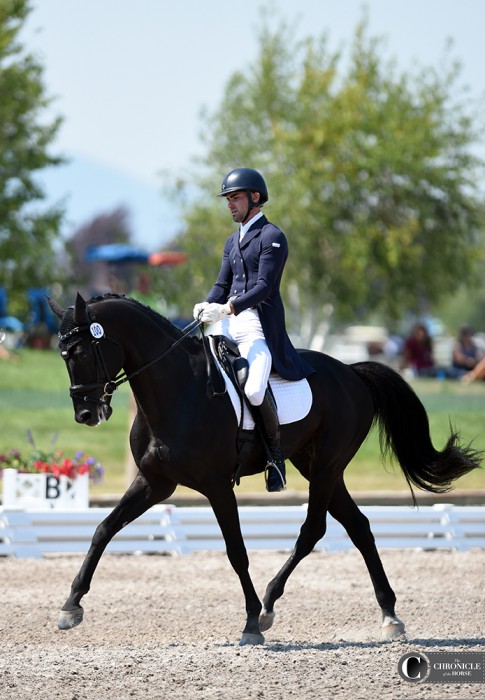 But even with Sandro not in his intended division, Talley is making the most of his trip out to Montana from his base in Virginia. He's also riding Unmarked Bills in the CCI***, and he's anticipating Ian Stark's courses will be good for both horses.
"I think the Thoroughbred [Unmarked Bills], it should suit really well because it's open and galloping," Talley said. "Sometimes he doesn't like to turn; he just likes to gallop and jump. With Sandro, I'm looking forward to it. He's such a super jumper. It should be good."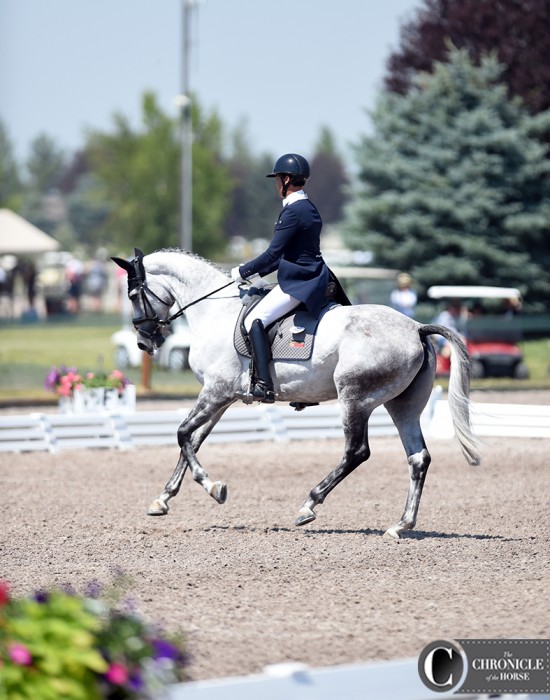 Tamra Smith has returned with Fleeceworks Royal, last year's winner of the CIC*** here. She described her dressage test as having  a few little mistakes, but she's still sitting second on a score of 31.0 penalties.
"She's 9 this year, and normally I have to work her down quite a bit to get her rideable in the test, and she's just gotten stronger and better, and so I didn't do that," said Smith. "I just rode her on the flat before. I went over to the ring by the cross-country, and that lit her up, which I think was good, but I'm kind of in that step to be able to put my leg on and ride her through it. We had some tension moments.
"But overall the suppleness, it's really there," Smith continued. "I was really happy with the overall quality. Having all those mistakes before would have put me really low. I was really happy that even though she was a little zippy, she was still really relaxed and moving through her whole body."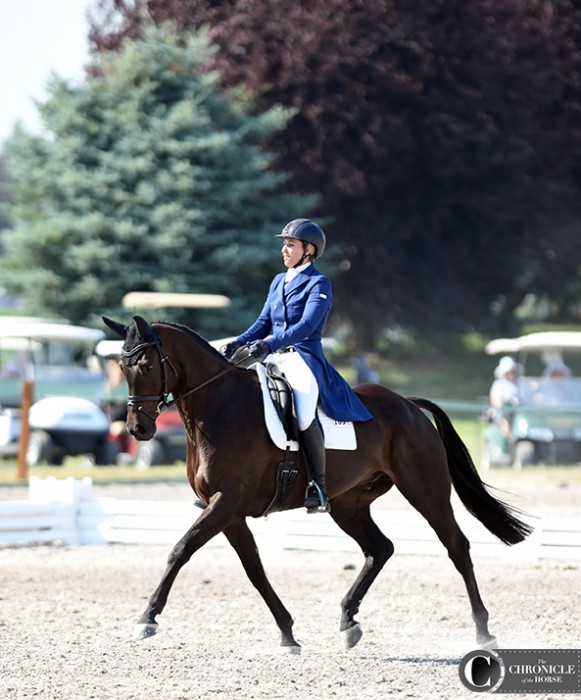 In the CCI***, Frankie Thieriot Stutes and Chatwin took the dressage lead with a score of 26.9 penalties over Kristen Bond on Enough Already (30.5 penalties). Stutes is balancing her riding this weekend with working at the event as part of her Athletux Equine sports marketing agency and caring for her two young boys.
"I haven't ridden here since 2013 since it's so important for me to work this event," she said. "I haven't wanted to give that up. This year I really wanted to ride him here, so I approached Sarah Broussard and said, 'I really want to ride, but I promise I'll still take care of my jobs.' I want to come back and work here because it is really special.
"I have an amazing team helping me," she continued. "Kelly Prather, one of my best friends from home, flew in to see my boys and to help this weekend. I would also recommend people get friends who are really good four-star riders. Tamie is here, and she's helping me this weekend. My mom and husband are here and both my boys, so it's really fun to have everyone come here this weekend and be able to do it. I think I'm a little better when I have more going on. I don't get in my head as much."
New Jersey-based Bond is also mother to two young children, Beckham, 3, and Berkeley, 1. She just returned to the advanced level this year on Enough Already (30.5 penalties), and it's the first CCI*** for her horse.
"The course looks great, but there's some really big stuff," she said. "I think the first and second water are formidable. And it's really long—you just walk for so long—so I think that'll be a test as well. My horse hasn't gone that long in his life. Hopefully I'll be staying on tomorrow and jumping all the jumps. I'm just grateful to be here, and to have been given a grant to come all the way out here. I think it's so generous for the Broussards to make it possible for East Coast riders to come out here. I hope I'll represent that well this weekend."
See full scores for both three-star divisions.