Wellington, Fla.—April 1
When someone finds great success, everyone wants to know what's their secret. What special trick of the trade are they utilizing that no one else is?
Samuel Parot's answer is simple: no tricks, no secrets. Just good horses, fast riding and a little bit of luck—at least that's all it took for Parot to ride away with the win in the final Winter Equestrian Festival Saturday night grand prix event, the $216,000 The Wanderers Club CSI****.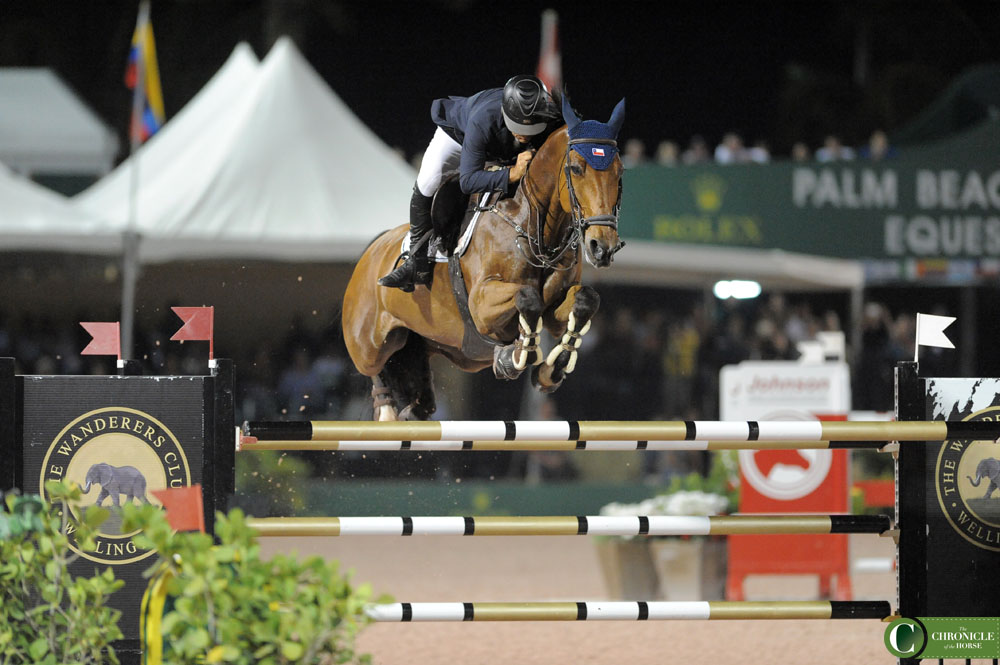 "The horse is very fast, so I just tried to go straight and not make an error," Parot shrugged modestly in explanation. The simplicity of his answer drew chuckles and smiles from fellow riders and press alike, and Parot added "Life is so complicated—this doesn't need to be more difficult!"
With this class in particular Parot made a good point—as the night went on it became obvious it would be less a test of fancy turns and show-off speed and more a competition to see who could correctly and efficiently execute the course without making a silly mistake costing a rail. A field of 45 riders attempted Olaf Petersen Jr.'s first-round course and only five jumped it clear.
Rails fell often and all around the ring, and a handful of riders retired when their horses made awkward efforts at oxers, particularly one oxer across the middle of the ring with a liverpool underneath that many horses seemed to misjudge as a vertical and end up reaching through the back rail.
It was Lillie Keenan and Super Sox who first showed the way to a clear first round, and for a while it seemed no one would join them in the jump-off as pair after pair found faults. It wasn't until the 35th in the order, Parot, went on course that Keenan finally had company on the short course, and they were quickly joined by Margie Engle and Royce, Daniel Coyle and Cita, and Beezie Madden and Breitling LS.
Keenan pulled a rail in her jump-off round before it was Parot's turn, and his mission at that point was simple: a double clear effort at a time that could hold up to the pairs coming behind him. Parot noted that he makes a point of buying horses that can be difficult, particularly in the mouth, so his jump-off round wasn't blistering but it was quick and tidy. It put enough pressure on the remaining pairs that Madden and Engle both pulled rails, and Coyle simply wasn't fast enough to catch him even with a clear round.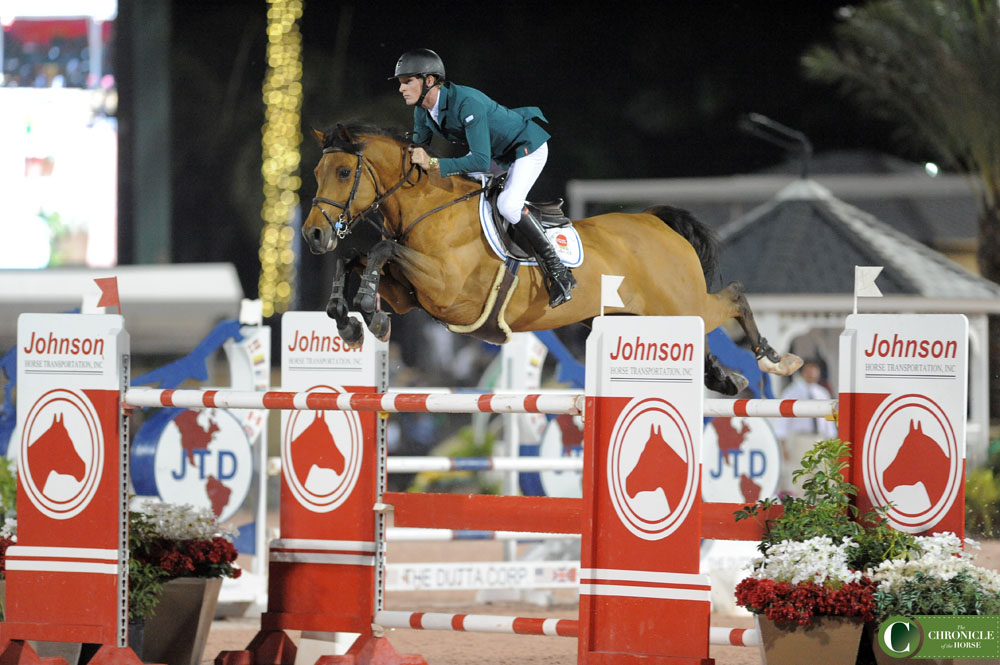 "He got me at the second-to-last fence, that was my mistake," Coyle said with a grin aimed at Parot (minutes earlier Coyle had dumped half a bottle of champagne down Parot's back in the prize giving ceremony). "I just tried to be neat the first half of the course, and I kind of got ahead of myself turning back. He did a very good turn back to the second to last, and I just rode past the jumping instead of turning into the jump and that cost me a second anyway at least."
Engle wishes she had never watched Parot's jump-off round before heading into the ring herself—she pulled the very first rail in the jump-off.
"Watching Sam go I got a little excited," Engle admitted with a laugh. "I went right after him in the jump-off. I figured I was going to take a shot at the last one of the season, so I went really forward to the first jump. I just wanted to land kind of going, but I think I got too geared up after watching him because he was very fast."
A simple strategy on Parot's part followed by some simple mistakes on his competitions part, and Parot is thrilled to be walking away from the last CSI grand prix of the season with a win.
"It's super. I really have had a very good season," Parot said. "Every night in the Saturday class I have good results, but today I'm really, really happy."
Click here for full results, and check back with The Chronicle of the Horse for more in-depth coverage with circuit champions and more from Week 12 at the Winter Equestrian Festival.