The final day of the 2018 Spruce Meadows 'Masters' CSIO5* brought excitement to the grounds as fans packed the grandstands surrounding the international ring to watch the $3 Million CP 'International', presented by Rolex and part of the Rolex Grand Slam of Show Jumping.
The Grand Prix course, designed by FEI Course Designer Leopolodo Palacious tested the riders with two rounds with the first round being over a 600-meter track and 17 jumping efforts. The top twelve riders would then return for Round 2 with the lowest score going first.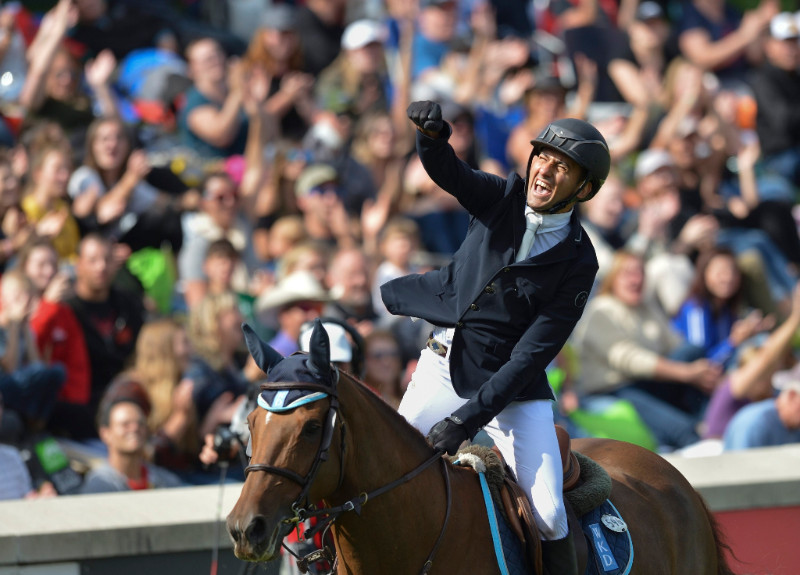 Going into Round 2 each of the top twelve represented a different nation. It truly was going to be an "International" competition. Seven of the top 12 who continued into Round 2 did so on a score of zero, there was the potential for a jump off if any two riders would tie for faults.
Beezie Madden was clear for jumping in Round 2 on Coach, however just slightly under pace and over the time allowed and she incurred one time fault. Maikel van der Vleuten with his veteran stallion Verdi TN was the first of the top 12 to post a double clear, proving that it could be done. Sameh el Dahan of Egypt would follow suit and post a clear round with Sumas Zorro to guarantee a jump-off.
With the jump-off course set, the crowd was silent with Van der Vleuten first into the ring and posted a clear round with a time of 42.98s – the pressure was on as El Dahan had to be fast and clear. Looking to the clock tower as he galloped through the finish line, he had done it, Sameh el Dahan was the winner of the CP 'International' Grand Prix presented by Rolex and new newest contender in the Rolex Grand Slam of Show Jumping.
"Every time I sit on this mare I am confident," el Dahan said following his victory.
"This is one of the biggest achievements of my career," he said. "The feeling is indescribable. I need a few days to make sure everything sinks in and believe that it actually happened. Going forward, the four Majors which make up the Rolex Grand Slam will be at the top of my list to compete at."