At age 20, Canadian show jumper Sam Walker is in the unusual position of representing his country at both Nations Cups and Young Riders.
Although the Nobleton, Ontario, rider has a resume stacked with equitation wins from his junior days, Walker credits not just years of saddle time but something else for helping him develop the focus and stoicism required to succeed in riding: golf.
"I love the mental aspect of it; it's very similar to riding, in the way that you control how you [perform]," he said. "Also, it's not really a sport where you can show a ton of emotion. Emotional riding doesn't get you far, and emotional golf also doesn't get you far either. So it's a tough mental game, which I love."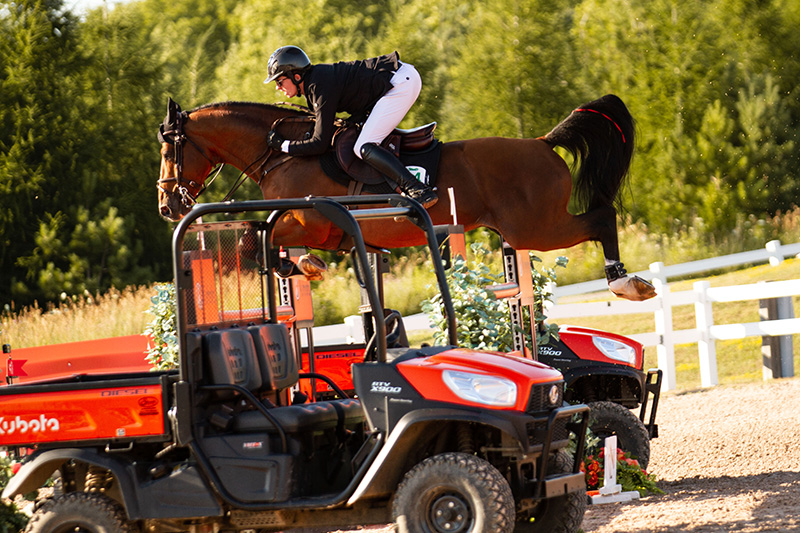 This month alone, Walker has notched two big FEI wins: July 10 aboard MarBill Hill Farm's Evita in the $106,800 Sun Life Derby at Spruce Meadows (Alberta) in his first-ever derby start, and last weekend, July 23, when he and Tal Milstein Stables' Eothymm De Kergane turned in the only double-clear to win the $29,000 Kubota Triple Crown Phase II Grand Prix CSI2* at Caledon Equestrian Park (Ontario).
We caught up with the 2018 ASPCA Maclay Finals winner—and 2019 Adequan/FEI North American Youth Championships gold and silver medalist; Washington International Equitation Finals winner; and George Morris Equitation Championship winner—to talk about living life in the professional ranks, continuing to represent his country at youth championships, the importance of putting quality horses under those young riders, and his favorite pastime that doesn't involve horses.
Earlier this month, you won the Sun Life Derby at Spruce Meadows with the 13-year-old Dutch Warmblood, Evita (Canturano—Miolieta, Farmer). What's it been like getting to ride her?
We've had her for about two and a half years. She generously was bought by MarBill Hill Farm for the sole purpose of being a sport horse for me. They've been longtime supporters of me since I did the pony jumpers—since I was 8 or 9 years old.
(MarBill Hill owners Marion Cunningham and Bill Tilford) are super, really great people, and Canadians just like us. And Evita has been a really, really amazing horse for my career so far. She helped me secure the biggest wins so far, like the Spruce Meadows Derby, and we've also won multiple ranking classes together, last year and this year. So she has just been a really top horse for me.
She previously was ridden by former FEI world No. 1 Steve Guerdat (of Switzerland). So when I purchased her, she had come straight from the World No. 1. I was a little bit nervous at the start, and it took a couple months to get along. But once we clicked, it was like a match made in heaven. Any time I go into a class with her, I truly feel like I can win. It's such an incredible feeling to be on a horse that gives me so much confidence.
How did you prepare for the derby? 
In almost every other sport, there's a post-game review during practice and training sessions. You're getting reviews via videotape. I think there's no better way to learn—for me at least—than by watching. I'm a very visual learner.
When I watch something, I can usually pick it up pretty easily. So I was just constantly watching videos of the derby. After watching the derby, not only since I was a little kid, but really studying it, you know, the days and weeks in advance in preparation for that class, I think I got to the point that when I walked in the ring, it felt like I'd almost ridden a class like that before. It didn't feel brand new to me, which was very exciting.
Some other preparation that we did: We have a home in Caledon, Ontario, with some tabletops, a little bank and a big grass field with some natural jumps that we practiced over. And Evita is such a natural at derbies—I mean, she's already jumped clear rounds (with Guerdat) in other derbies around the world, such as Dinard and La Baule (France), and she's had great results in classes like that.
So not only did I feel confident in being able to ride the course, but I was also confident that my horse, no matter what—even if I didn't know what I was doing at any of those jumps—she would be able to do it for me. So it just kind of all came together. She was really on form that day, and I was riding the best that I could for the class that I was riding. It just all worked out, so I was super happy.
The horse you won the Kubota Triple Crown Phase II Grand Prix CSI2* with, Eothymm De Kergane, is just 8. How did you come to your partnership with the young Selle Francais stallion? 
He's owned by Tal Milstein Stables; they send horses to me to produce and sell. Eothymm (Quinoto Bois Margot—Acadie De Kergane, Campo Flamingo Z)—we call him "Eeyore"—came to me in January of this year. We started off small, jumping in 1.30-meter to 1.35-meter classes. He'd already jumped some bigger classes, such as the 1.40-meter and 1.45-meter levels, which he did at the 7-year-old championships last year in Lanaken (Belgium). He was sent to me to produce and to sell to a young rider
Along our journey, he has turned into a really nice horse for me. And I've been very, very grateful for the opportunity to ride him to a little bit of a bigger level, in the FEI two-stars. Actually, since I've had him, every FEI class that's 1.45 meters, he's been clear or double-clear so far, which is very cool. It's a big achievement, especially for a horse that's only 8 years old.
And he has plenty of good results at 1.40 meters as well at Spruce Meadows (Alberta). This summer he's jumped to multiple clear rounds and placed in the top 10 multiple times. Overall he's just a really, really sweet horse to ride, and I love working with him. As for the future, I hope that he finds a home with somebody that loves and adores him just as much as I do. I'm going to keep riding him for as long as I can until he finds a new person.
What are your short- and long-term riding goals?
For the short-term, I hope to put in the best performance I can with Evita at the (Gotham North/FEI) North American Young Rider Championship this year (Aug. 9-14 in Traverse City, Michigan) for Team Canada.
I love riding for Team Canada, whether it be for the Young Riders or for the big five-star Nations Cups. I think it's so important that the team events don't lose their importance, and I think it's important to always strive to ride through your country and ride for your team.
For the long-term, I want to keep riding for Canada and do more Nations Cup teams, some bigger ones. I was very lucky I made my debut when I was 17 years old on the five-star Nations Cup teams. So I want to ride on more five-star teams and hopefully go to championships in the future for Team Canada.
Do you enjoy any hobbies?
I have been playing golf since I was really young. I used to hit golf balls in my basement when I was 3 years old, at a big net that my dad had set up. If I wasn't riding horses, I'd be playing golf.
I play golf as much as I possibly can. Horses take up quite a bit of time because we have to make sure they get ridden at least six days a week, and we're always traveling. So wherever I travel, my golf clubs come with me. If I have time in one afternoon or on a Monday, I am most likely out on the course.
I love the mental aspect of it. It's very similar to riding, in the way that you control how you do. Obviously a horse has opinions, but most of the time the horse is doing its very best and doing its job.
Also, it's not really a sport where you can show a ton of emotion. Emotional riding doesn't get you far, and emotional golf also doesn't get you far either. So it's a tough mental game, which I love.
When I'm on the golf course, and maybe I've had a really bad shot, I know that it's like missing the distance to a jump. But I'm a professional show jumper, and I'm an amateur golfer, so it reminds me that we all make mistakes. But another thing I love about it is that I'm naturally super competitive. And I love sports. Even if it's golf, I'm always trying to win.
And I love being outside. If it's a beautiful day, I'd rather not be sitting inside. I like playing golf, riding my motorcycle—those things really appeal to me. And usually if I'm not out on the grass fields with the horses, I'm out in the grass fields on the golf course.
I love nature and the wilderness. It's so fun to play golf courses all over North America. I'm so lucky that I get to bring my clubs and play everywhere we show, at least for one round. Next week I'll even play in a charity tournament, for JustWorld International (a nonprofit that partners with the FEI to aid impoverished children around the world).
Do you have any specific personal goals outside of competition? 
I aim to grow my business and have even more horses readily available for people to try and buy. I think it's so important that good horses go under young riders. And for me I mean, I was recently a junior growing up, doing the equitation to the highest level and the junior jumpers, and the Under-25 classes, and now the big classes. So I know exactly what it takes to have a winning equitation horse or a winning junior jumper, wherever you are in North America. We've already proven that with the horses that we sold to other people.
So for me, I think it's a really big advantage that I have that I'm so experienced in that field at such a young age. I just really hope to grow my business of horses and owners. We really work as a team; it's like one big family for me. It's a great environment to be in.
What's the best advice you've received so far? 
Definitely two things. No. 1 came from Missy Clark: She always tells me that good riding brings good results. That means instead of trying to win every class, just try to ride the best that you can. And that's when the good results will come. I've found that to be so true.
And the next one is that one bad round doesn't make a career. I've always told myself, "Hey, I had a bad round. That doesn't make my whole entire career."  Michael Jordan missed the game-winning point, like, 25 times. So it's not that huge of a deal if you have one round that in your mind is a bad round.