After four years together, Chase Hickok and Al Guden's Sagacious HF have parted ways. Since 2014, Hickok leased Sagacious and competed in the United States and abroad in the CDI U25 division and then in CDI-W and Nations Cups classes.
Guden's 19-year-old Dutch Warmblood gelding (Welt Hit II—Judith, Cocktail) rose to recognition with Lauren Sammis when they won team gold and individual silver in the 2007 Pan American Games (Brazil). He did Grand Prix with Sammis before Caroline Roffman began riding him in 2012. Roffman, who is Guden's stepdaughter, contested the U25 Grand Prix classes with Sagacious in 2013 before Hickok took over the ride.
Hickok told EuroDressage that she didn't want to ask Sagacious to compete in Europe again after he initially tested positive for Glanders after returning to the United States. It required a legal battle to request a second test and prevent him from being euthanized—although he turned up negative in the end. Since Hickok ended her lease, Sagacious has started working with new rider Alessandra Ferrucci.
"At this age, he's so at the top of his game," said Guden. "You don't see him going downhill. You see him improving as he gets older.
"His personality is not such that you can turn him out, and he'll be happy," he continued. "He just loves the attention. He absolutely does."
Ferrucci is a working student and groom for Golden Point Partners in Wellington, Florida, and previously was a working student for Roffman at Lionshare Dressage, in Wellington.
"Caroline, Andrea [Nason] and Al, they're all like family to me," said the 18-year-old from Woodbury, Connecticut. "Even though I wasn't her working student anymore, I'll go to Thanksgiving and Christmas. They kind of became like a second family."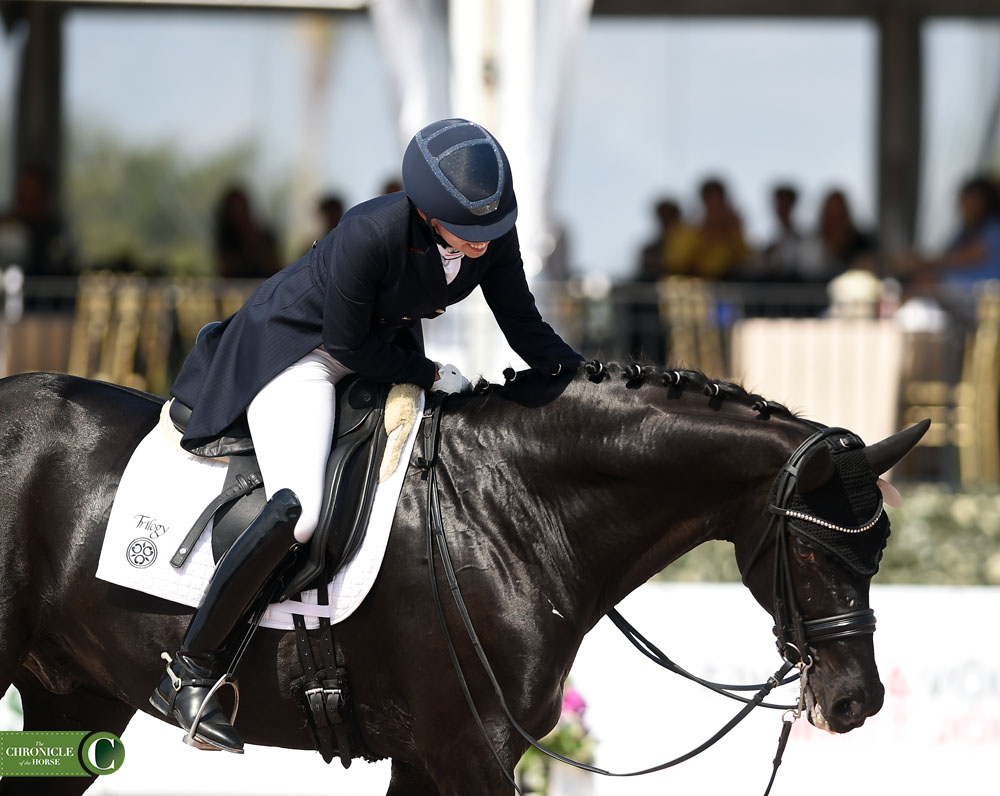 Because of her hard work, Guden decided to pass on the ride to her.
"She's a wonderful little rider, great work ethic," Guden said. "Because she's got a full-time job, she comes over there at the crack of dawn. Puts the horse on the treadmill. Mucks his stall. Puts him back in and then sometime mid-day she'll come over and have a lesson with Caroline. And then come back at night and set him up at night. So she's really working hard and really with the horse."
With Guden and Roffman's guidance, Ferrucci hopes to start competing in the U25 classes this summer or next show season.
"I was just so shocked," she said. "It took a few weeks for it to sink in. It's really exciting for me because I had my own two young horses, which I sold last year, so I've been on ponies—because I'm only 5' tall. So everybody always gives me their ponies. So I show like first level, second level with these little Quarter Horses. Now I'm like, 'Oh my gosh, I'm showing in the U25? What?' "
With Roffman sponsoring her lessons, Carmi Weininger from EQ Saddle Science sponsoring a saddle, Allyn Maix of Choice of Champions sponsoring supplements and riding clothes, Raymond Petterson of Sox For Horses Inc supplying Sagacious' socks, and Julia Harrison-Lee of Golden Point Partners sponsoring her hay, feed and shavings, everyone works together to help her afford Sagacious and work towards her new goals.
"Everybody's lending a hand because they know I don't have much," said Ferrucci. "I'm just a working student and a groom. So I'm like, 'I'm showing Grand Prix now? I wasn't expecting this.' "