Tampa, Fla.—Dec. 13
At last year's annual meeting the U.S. Hunter Jumper Association's Amateur Task Force brought up a heavy issue: improving the outcome of accidents at horse shows. Their concerns gave rise to the Safety Ad Hoc Committee, which spent the year extensively researching the differences between types of medical professionals who could attend to emergencies at horse shows, their costs and availability across the country, and many other aspects of keeping exhibitors safe after an accident. The group brought its concerns to this year's meeting, held Dec. 9-13 at the Hilton Tampa Downtown, and also came armed with several rule change proposals.
"Breakaway cups and helmets have greatly increased safety and reduced accidents," said chair Joe Dotoli. "We want to look at what happens when something does happen. As they say, 'Safety matters to you when it matters to you.' "
A rule change requiring shows to list the mileage to the nearest hospital and mileage to the nearest level 1 trauma center passed in today's USHJA Board of Director's Meeting, as well as a rule change requiring a paramedic at premier-rated horse shows and jumper shows rated level 5 and above.
Like all the other rule changes, these will go forward to the Jan. 9-12 U.S. Equestrian Federation Annual Meeting in West Palm Beach, Florida, where that board of directors will have the final say.
Part of the challenge to implementing new rules stems from the size country and diversity of the locations that hold competitions. At the BOD meeting Dianne Johnson and Shelley Campf, who both hail from the Pacific Northwest, supported the intent of having paramedics—who have a higher level of training than the currently required EMTs—at horse shows but pointed out that they were impossible to obtain in their areas.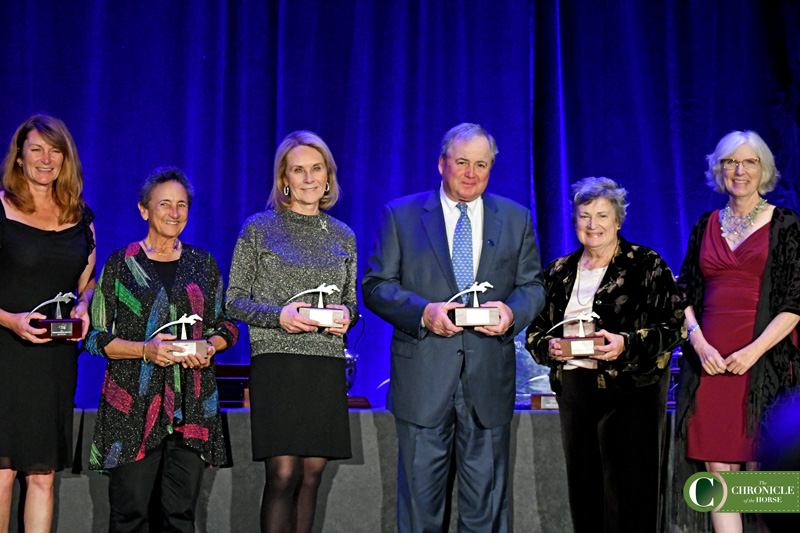 Another rule requiring that competition management must distribute an accident preparedness plan to all appropriate officials and staff passed easily.
"The implementation of an effective accident preparedness plan will be the most impactful thing," said Dr. Laurel Blakemore, MD, who sat on the task force. "If everyone is on the same page because they've reviewed it beforehand, that will save lives more than anything else we can do."
Serving The Membership
During a state of the association speech USHJA president Mary Babick asked a simple question: Who are we serving in our association? She flipped to the next slide to illustrate the answer, showing a bar graph that demonstrated that 17,236 members identify as amateurs, 12,182 as juniors and 7,561 as professionals.
"We're mostly serving amateurs," she pointed out. "And they're our most underserved group of members. Juniors are in the middle, our second largest group. And we need more juniors to get more amateurs, of course. Our smallest group is the professionals.
"We have to start considering the needs of our amateurs, and if we don't I think we're super foolish," she continued.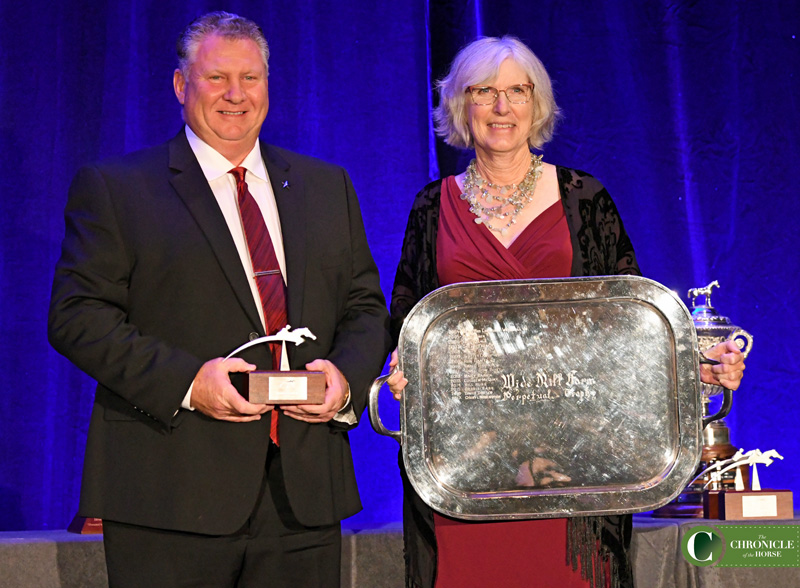 The USHJA Emerging Athletes Program has been a sought-after goal for many young riders, but with the cut-off age at 25, many amateurs have been left asking: "What about us?" In response, the Emerging Athletes Committee voted to open the 3′ section of the regionals to not just those 25 and under but also to adults.
The goal is to add a 3′ final in the future, ideally attached to the final already in existence, as well as opening an adult section to the Horsemanship Quiz Challenge.
"It's time we give adults the chance to show what they know," said Babick.
Building off the collaboration and team spirit fostered at the current final, which includes both EAP and HQC, the ultimate goal is to create a symposium that includes finals for multiple levels of both programs and quite possibly creating additional educational components, such as the trainer's certification program and horsemanship clinics.
Other Ideas
Adults already have the opportunity to compete at USHJA Zone Jumper Finals, a program that saw increased participation this year, with 117 riders at the most recent Zone 9 and 10 competition. The Emerging Jumper Rider Task Force announced a new initiative for 2019 Zone Jumper Finals: the platinum level. Platinum riders will jump 1.40-1.45 meters, and while the 1.10-1.15, 1.20-1.25 and 1.30-1.35 levels are restricted to amateurs and juniors, platinum riders may be juniors, amateurs and professionals.
Right now riders who earn a medal at zone finals are invited to participate in four-day riding and horsemanship USHJA Gold Star Clinics. Platinum riders who earn a medal will be invited to a separate, more advanced USHJA Masters Clinic. The details for that clinic are still being fleshed out.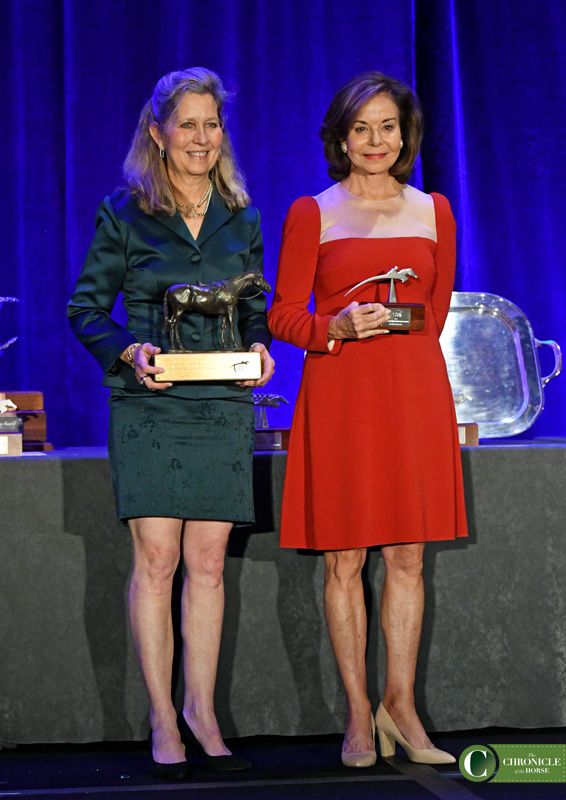 The Competition Standards Committee also trotted out an idea they've been fleshing out: rewarding shows with stars for excellent quality of experience. This wouldn't change the current system of premier, national and regional-level shows but would reward shows with one to five stars, regardless of level, based on the amenities  they offer.
"I'd rather go to a national four-star show than a premier two-star show for a better experience and less expense," said Nancy Jones, an amateur rider from Zone 7.
Frank Madden, head of the Competitions Standards Committee, compared the concept to hotels, where expectations change whether a customer is at a Ritz Carleton or a Fairfield Inn. He also agreed with those who pointed out that using the word "star" might be confusing because of FEI designations and is open to other comparisons.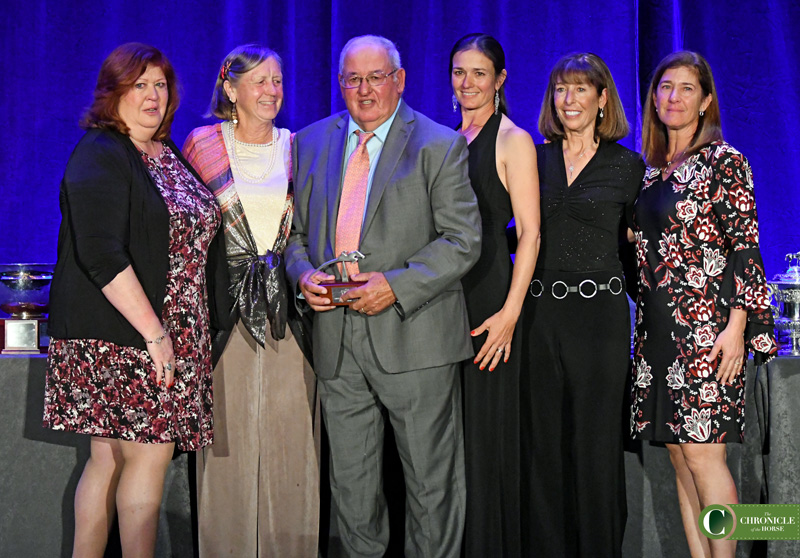 Rule Changes Of Note
• A rule empowering and encouraging USEF stewards to discipline any person who takes excessive or abusive action against a horse, or uses tack or equipment inhumanely, passed.
• A rule strengthening horse welfare for equitation horses passed, prohibiting acts such as riding an exhausted horse, excessive pushing of a tired horse or showing a horse with hypersensitive, raw or bleeding sores around the coronets, pasterns, legs or body.
• A series of rules prohibiting the unsafe use of electronic devices and cell phones in schooling areas passed.
 • A rule change prohibiting draw reins and German martingales in age restricted classes passed.
 • A series of rules that would have revived the old names of the green hunter sections (i.e. pre-green, first year green, etc.) failed to pass.
• A series of rules clarifying what types of curb chains may be used passed. The rules also banned cable or metal tie downs for use on horses and ponies.
• A rule restricting coats in equitation and hunter classes to black, blue, green, gray or brown passed.
• A rule that would have negated the "one horse, one handler" policy in hunter breeding classes failed to pass.
• A rule that would have allowed double judging of hunter breeding classes failed to pass.
• A rule banning removing shoes for under saddle classes from a shod horse did not pass.
• A rule requiring all horses to jog for soundness between 7:00 and 9:00 a.m. in order to be eligible to compete that day failed to pass.
• A rule renaming the three sections of amateur-owner jumpers, amateur jumpers and junior jumpers to low, medium and high passed.
• A rule banning motorized devices, such as hover boards and scooters, failed to pass.
• A rule requiring a bridle, hackamore or bit with reins in the jumper divisions failed to pass.
Want to learn more about the conversations held during the USHJA convention?  Check out the Jan. 14 issue of the magazine for analysis from the meeting.