The U.S. Equestrian Federation's midyear board meeting, June 11-13, in Lexington, Kentucky, took place just two weeks after sexual misconduct in horse sport made the front page of The New York Times. The article followed up on the Chronicle's original reporting regarding multiple allegations of sexual abuse by the now-deceased trainer Jimmy Williams against former students, including Olympian Anne Kursinski.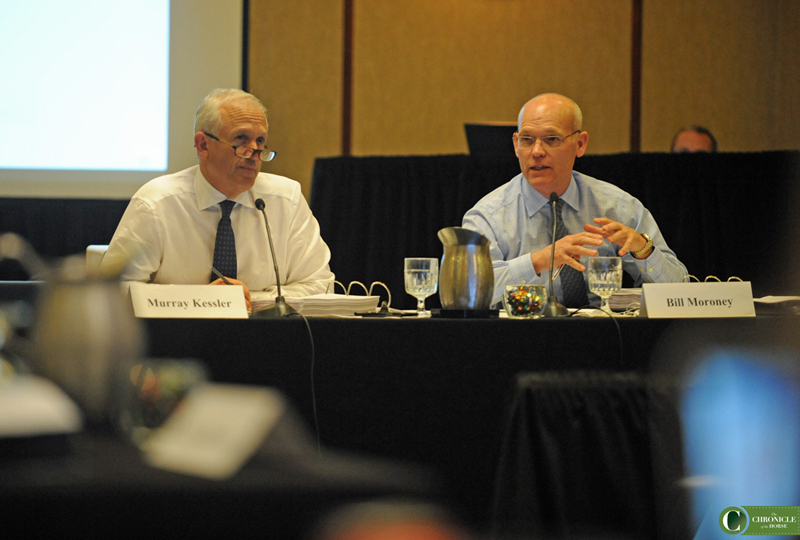 As a result, the topic was first on the agenda when USEF President Murray Kessler addressed the board in his opening remarks.
"I can't think of something more important for this board than to do our part in the global effort to help keep our children safe," Kessler said.
He outlined USEF's history with the SafeSport program, an initiative begun by the U.S. Olympic Committee to both educate people to recognize the signs of abuse and investigate reports of sexual, emotional and physical abuse of athletes. As it currently stands, all USEF board members, licensed officials and chefs d'equipe are required to undergo a background check and SafeSport training.
"Now it's time to go a step further," Kessler said. "The recent article by Chronicle reporter Mollie Bailey—they did a great job on that article—and the article in The New York Times shared horrible crimes that affected some of our most prominent athletes. These crimes took place almost 40 years ago, so some have shrugged off the articles. Not me, and I hope not us.
"These articles and the brave women that came forward in them are an inspiration for us to take further action," Kessler continued. "I believe we must learn from the past, and now we must focus on stopping abuse we believe is still going on. And we need to hope those articles will encourage those being abused to come forward and get help from their governing body and know they are safe doing so."
Proposed SafeSport Rule Change

Kessler closed his opening remarks with a mandate to the board to move forward with drafting a rule change proposal that would include professionals in the group of USEF members required to take SafeSport training and undergo a criminal background check. Kessler noted this wasn't simply a response to the recent media coverage of the issue—early this year Senate Bill 534, Protecting Young Victims from Sexual Abuse and Safe Sport Authorization Act of 2017, a bill strengthening protections for athletes governed under the USOC, was signed into law.
The bill did three things: It designated the U.S. Center For SafeSport as the entity with exclusive jurisdiction over sexual misconduct reports within the Olympic family, it broadened an existing statute that criminalizes the failure of an adult to report sexual misconduct they become aware of, and it closed a loophole that allowed trainers banned by national governing bodies to continue working with athletes in non-affiliated organizations.
"It's important to know that the reach is beyond the [national governing bodies]," said Kessler. "Congress intentionally broadened the scope of the requirements that capture amateur sports organizations. It is not limited to NGBs, and it's not limited to associations affiliated with NGBs. There is no escaping this by distancing yourself from an NGB.
He explained that Congress was addressing a specific situation where a coach had been banned from an NGB but went to a non-NGB association where he was permitted to continue to participate.
"I can't imagine there will be much discussion on a rule that will be required by basically every sport's NGB in the United States," Kessler said. "I will open the floor for discussion, but I'll only do so after playing a video I shot from my phone this weekend while I was at [the Upperville Colt & Horse Show (Virginia)] with Anne Kursinski.
"As you know, Anne bravely and voluntarily stepped forward to help prevent the kind of abuse she suffered from happening to others," Kessler continued. "She is the coach of our developing show jumping team, a three-time Olympian, and has been a member of this board of directors several times as an athlete representative. She is an amazing woman, and I'd like you to listen to what she has to say."
A transcription of the video reads: "Hi I'm Anne Kursinski, and Murray asked me to speak today to the SafeSport initiative. To me the federation is doing a great job for the whole sport, and I hope that you all can be supportive of that. I did decide to speak up. It was my idea to speak up about my story mostly because I love horse sports, I love horses, that's what I do, and I want kids to do that. I want them to be safe and feel safe because of the love of the horse. What horses have done for me in my life and my career, I'm always trying to give back to that. I've had a great career and a great life. Even with this terrible sexual assault that happened to me as a kid, I'm so thankful that I could take that and move on and grow and have a great career and go to the Olympics, all of that. But I feel like it has to be mandated that all the trainers really take the SafeSport program. It's very simple to take the SafeSport program that the federation offers. It's great education, it's only good for the professionals, and the professionals need to be setting the example for everybody else. That's why they're professionals, and in every other walk of life it happens. We see it now today, and we the horse sport we need to be proactive. Please don't let all that I've done by coming forward to help the sport and help children go to waste. I know you all can improve the sport by going to the next level. Thank you very, very much."
Potential Stumbling Blocks
This is not the first time the board has considered expanding the scope of USEF's SafeSport training requirements. U.S. Hunter Jumper Association president Mary Babick took the podium next to outline her affiliate's history with the proposal.
"Last fall USHJA proposed that USEF adopt a general rule expanding the training requirements for both SafeSport and concussions, two areas that are critical to the safety and welfare of our athletes," Babick said. "The rule was met with resistance from almost all committees and affiliates."
Part of the issue with USHJA's proposed rule for many affiliates was how it was tied to concussion education. In addition to the online videos and tests required by SafeSport, Babick and the USHJA wanted USEF members to be required to take a separate online course on recognizing and addressing concussions. While USEF is able to verify that members have taken SafeSport training through the U.S. Center For SafeSport, there isn't currently a way to verify if a member had taken concussion training.
Kessler said that was a legitimate concern, but he made it clear he wouldn't entertain objections to having a rule at all.
"What is not legitimate is the pushback we have gotten that there should be no mandatory requirement," Kessler said. "Encouraging us to use a carrot not a stick with regards to SafeSport training. Ladies and gentleman of the board, that ship has sailed."
Kessler appointed a task force headed up by Babick to refine the rule change proposal with regards to SafeSport, and Babick reported on the group's progress.
"The task force members unanimously agreed that the requirement to take SafeSport training should require all persons signing an entry blank to take the training, including professionals, amateurs and parents," Babick said. "Furthermore, all professionals—not just those signing entry blanks—should be required to take the training.
"As soon as possible members should be informed that completing SafeSport training will be tied to membership renewal," Babick continued. "The task force also recommends an awareness campaign that includes posters at all licensed competitions with a recognizable image and the SafeSport hotline number to get people comfortable with reporting misconduct."
Concerns had come up that enforcing the SafeSport training requirement would put an undue burden on horse show managers to police whether people had completed the training and to withhold prizes if they didn't. Kessler said the way the training would be tied to membership would largely eliminate this issue.
"This is the DMV," he joked. "It's not that you're going to be getting punished for not completing training; you're not going to be a member. You didn't renew your license; you can't drive. You didn't complete SafeSport training to renew your USEF membership; you can't compete. We don't need to fine people. You just can't renew until you've completed the training."
USEF General Counsel Sonja Keating outlined how SafeSport reports and violations are handled by the federation. Keating said if an athlete called to report anything other than a sexual abuse violation (emotional abuse, cyber bullying, physical abuse, etc.) the USEF still has jurisdiction over those cases, and they would go through the USEF Hearing Committee process. However, if there is any component of sexual misconduct then the entire report gets directed to the U.S. Center for SafeSport.
The center, which does not report to the USOC but receives funding from the USOC and NGBs like USEF, then conducts its own investigation of the allegation and directs the national governing body on the appropriate punishment, ranging from a warning to a lifetime membership ban.
"They send us their decision," said Keating. "We don't have discretion. We reciprocate their penalty and sanctions."
Keating said the statistics she has received from the center indicate that since its creation in March of 2017 they've received 800 cases of sexual misconduct, with 25 of them coming from athletes in equestrian sports. Kessler said he expects a report from the task force on the proposed rule change ready at the board's next meeting, but he made it clear where he stands on the issue.
"We are not asking them to decide whether we should or shouldn't have this rule," he said. "We're saying we want it. Now come back and tell us the best way to do it. But it's not optional. We are going to have a rule, and it is going to be mandatory."