When the U.S. Olympic team arrived in Tokyo, Sabine Schut-Kery was the most novice of the dressage riders on the roster there. But after four days of competition, she became its highest- scoring rider across all three events, clinching a fifth-place finish individually and helping the team earn silver for the first time since 1948.
As praise poured in from fans around the world, Schut-Kery felt overwhelmed, not just by its quantity but by its content.
"The feedback I got the most from people was just that they really enjoyed what we embodied—that we were able to display elegance, harmony, power and a strong relationship with Sanceo in the ring," said Schut-Kery, 52. "Those are things that I feel in the saddle, but it was so nice that those were also what was displayed to the onlooker. Those are the things that are very close to my heart and my philosophy as a trainer.
"It was a treat to get that feedback," she continued. "As a trainer, it's pretty cool when people can see what you're trying to do, and what style of training you have, and what your beliefs are in your performance."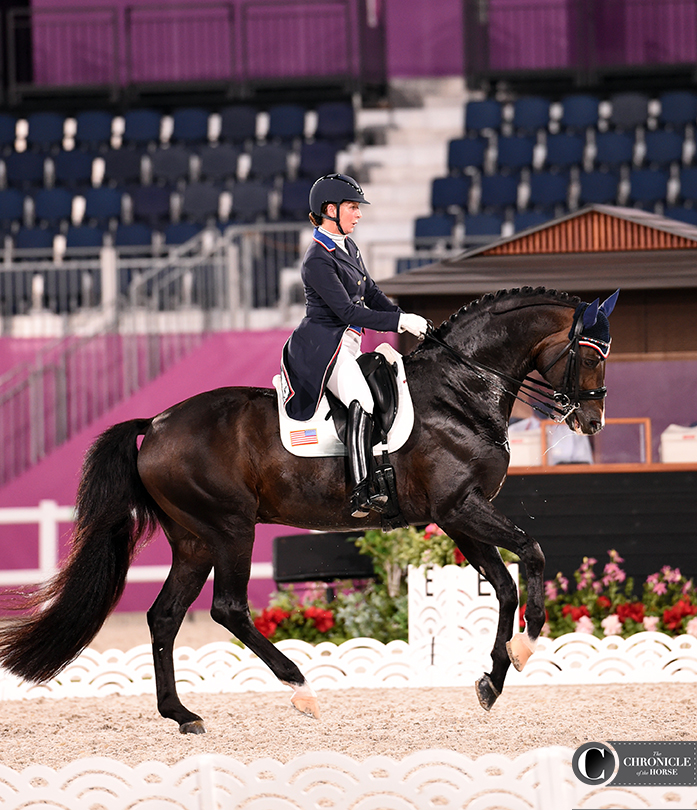 Schut-Kery was born in Germany, and her training philosophy has its roots in the German riding system. She studied under Jean Bemelmans for three years before earning her bereiter's license in 1988. Since coming to the United States in 1998, she's trained with fellow German native Christine Traurig, who shares a similar philosophy—one that begins with a horse's earliest days under saddle.
That philosophy is part of what motivated Alice Womble-Heitmann and Dr. Mike Heitmann to purchase the Hanoverian stallion Sanceo (San Remo—Rivera, Ramiro's Son II) as a 3-year-old for Schut-Kery to train. Schut-Kery had developed another stallion of Womble- Heitmann's, Cacique, up to the small tour, and she wanted to see what Schut-Kery could do with a blank slate.
"We're very big on the basics, and bringing along a 3-year-old is really just a result of that," Schut-Kery explained. "The word 'half-halt' is almost becoming a cliché, but we're really taking that seriously that when you close your leg and sit a little deeper, the horse sits in the haunches and elevates the shoulder while still pushing to the contact. For me, when you teach a 3- or 4-year-old the transition from trot to walk or canter to trot, it's the same principle that you'll need later as a Grand Prix horse going down in the transition from passage to piaffe. You have to maintain that push power as you gear down.
"It all starts with a half-halt, and a half-halt starts with my 3- and 4-year-olds," Schut-Kery said. "That's why I love training the young horses from the beginning."
Schut-Kery worked as an exhibition rider in Europe, often performing during entertainment breaks, riding quadrilles, pas de deux and choreographed routines in period costumes, often as part of "Der Zauberwald," a German equivalent to Cavalia. She not only rode every movement of the Grand Prix but also performed bows and rears, all whilst sitting sidesaddle.
The performances taught her a flair for drama and helped secure her first job in the United States as a rider for Proud Meadows, a Friesian breeding and training facility in Waxahachie, Texas. But more importantly, Schut-Kery's years in costume improved her feel.
"In exhibition, you don't ride from letter to letter like in competition, so you have much more room for making decisions about what to ride when and when to ride what," Schut-Kery explained. "Looking back, I was able to make a lot of decisions out of what my horse felt like in the moment, which I think helped me develop more feel. Combine that with the throughness that competitive dressage demands, it's a really beautiful combination that has made a difference for me."
Sometimes, Schut-Kery's close listening has kept her out of the spotlight.
In 2011, she passed up an opportunity to travel to the World Championships for Young Dressage Horses in Verden, Germany, because Sanceo didn't feel quite mature enough. They competed instead the following year, primarily to acclimate Sanceo to international travel.
They rode on the gold-medal winning team at the 2015 Pan American Games in Toronto, but Schut-Kery and Sanceo's owners chose to pull him out of the final European selection trials for the 2018 FEI World Equestrian Games (North Carolina) due to minor inflammation, unwilling to ask him for his best if he didn't feel just right.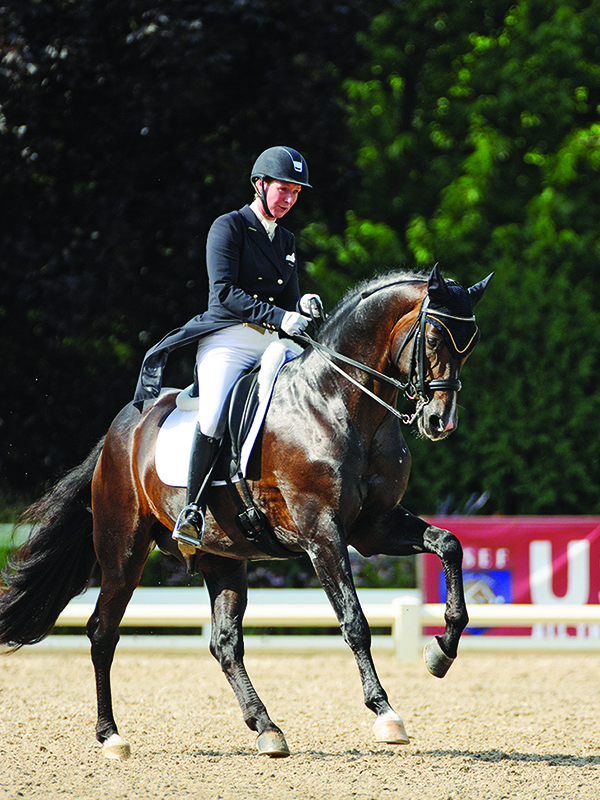 At the Olympic Games, Schut-Kery used her long relationship with Sanceo to help her keep the stallion poised for his best performance, walking the delicate line between fresh and out of fuel. During their stop-over in Aachen, Germany, and two weeks in the Olympic facility, she and Sanceo spent long hours hand-grazing, a habit Schut-Kery developed at home for keeping the 15-year- old stallion calm and content. She hoped, like all the other riders, that they would peak at the right moment.
Even so, she hardly expected their peak to be so high. With the eyes of the world upon them, she and Sanceo posted personal bests in Grand Prix (78.41%), Grand Prix Special (81.59%) and Grand Prix freestyle (84.30%).
"In my mind, the most important thing was I was going to Tokyo with the team, and we were going in a format where all three of our scores counted without the luxury of a drop score," Schut-Kery said. "I put a lot of thought and work into the Grand Prix and the Grand Prix Special—into doing my job for this team goal. We got team silver, which was absolutely amazing, and only now, really reflecting back, I am realizing that I have a few personal things I was able to accomplish there as well. One was cracking that desired 80 percent, and the second ending up fifth place individually with a freestyle I hadn't ridden since 2018 and that still had an easier, more simple floorplan."
The pair's Olympic debut was a product of Schut-Kery bringing up Sanceo through the U.S. dressage system. For the past 12 years, they've worked through the USEF/ USDF Dressage Young Horse Emerging Program, which is overseen by their trainer, USEF Dressage Young Horse Coach Traurig, and the USEF Dressage Development program. They finished fourth at the U.S. Young Horse Dressage Championships for 5-year-olds in 2011 and won the Developing Prix St. Georges Championships in 2014, proceeding promptly into U.S. small tour CDIs the following year.
Although both Schut-Kery and Sanceo are German- born, the Napa Valley, California-based rider believes their success as a team marks a triumph of the U.S. dressage pipeline.
"Often the question comes up, when horses do well in young horse competitions, where people have doubts that these horses are not always going to become a good Grand Prix horse," Schut-Kery said. "This horse proves that wrong. Sanceo has gone through every step of the young horse and developing horse program in the United States, and today he's ended up an international Grand Prix team horse, fifth individually at the Olympic Games. I think the U.S. programs are working!"