Sabine Schut-Kery sometimes struggled to hold back tears while reflecting on the recent retirement of Sanceo, her partner of 14 years and a breakout star of the Tokyo Olympic Games. In many ways, she explained, the decision to transition the 17-year-old stallion to a quieter life at the 1,000-acre Texas ranch of his owners Alice Womble and equine veterinarian Dr. Mike Heitmann had been an easy one.
Sanceo's team, which also includes long-time coach Christine Traurig, all wanted him to go out on a high, healthy and ready to enjoy the next phase of his life.
But as happy as she is for Sanceo, the week before he left her barn at The Palms Equestrian Center in San Marcos, California, was tough for Schut-Kery, 54. After all, the two had been together since Sanceo came to her as a promising 3-year-old, through their selection to the gold-medal-winning 2015 Pan American Games (Toronto) team and their career-capping team silver and individual fifth-place freestyle finish in Tokyo two years ago.
Schut-Kery announced the Hanoverian (San Remo—Rivera, Ramiro's Son II) stallion's retirement Feb. 19 on social media.
We chatted about the pair's final months together, the joy Schut-Kery found in riding Sanceo without anything left to prove and the scenery outside the observant stallion's new stall on his owners' sprawling ranch near Houston.
What sort of reaction have you had to the news of Sanceo's retirement?
It's really an amazing feeling to see how much impact Sanceo had in the United States and other countries with his performances, especially after our Tokyo rides. Our partnership, I think, represents lightness in the aids and the way we communicate—and happiness! That is very close to my heart.
He always demonstrated that throughout his career, but he wasn't seen by as many people until the Olympics. I did the European small tour as preparation and qualification for the 2015 Pan American Games in Toronto. For Tokyo, it was a COVID year, so we did the observation event in Wellington [Florida] in our home country of the United States.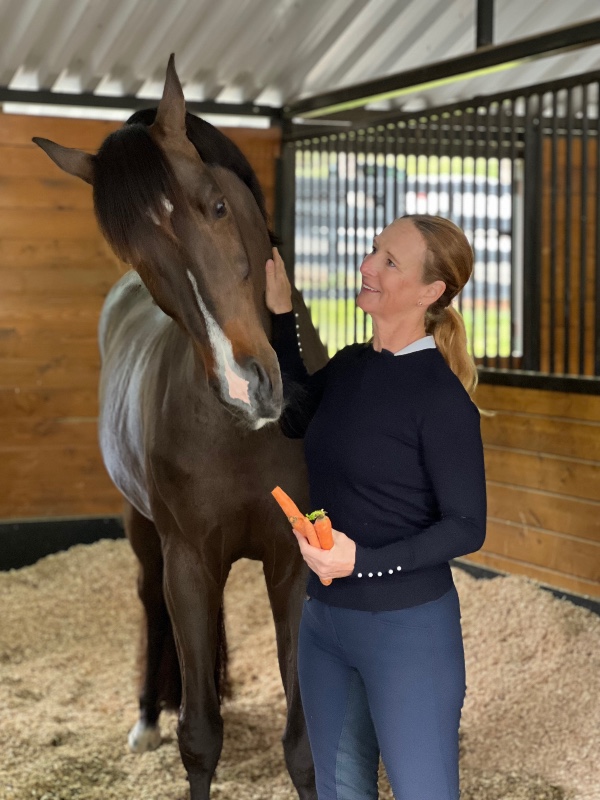 Last year, you said you would attempt to qualify Sanceo for the 2022 FEI World Dressage Championships (Denmark), but he didn't end up competing. What has he been doing since his contribution to the U.S. dressage team silver medal in Tokyo?
We had flown him to Florida to try to qualify him for the world championships, so that was the plan. He sustained a small injury there, but it was not career-ending. He's healthy now. If an injury like that is in the wrong timing, it's devastating. The qualification goes in steps. You have to first qualify in the U.S. during the winter season in Wellington [at the Adequan Global Dressage Festival]. If you miss that, you're not going to make it to the next qualification step, which is Europe. So you miss out.
We intended to do the world championships, and after that, our goal was to leave it. Why keep showing and showing? He also deserves a life as a horse on pasture.
How did you and Sanceo's owners decide that this was the right time for him to retire?
For Alice and Mike, Tokyo was the pinnacle. It was Alice's dream to breed, but she was always so good and said, "Let's focus on his performance career and not interfere with that."
After his injury in Florida, I took him home with me to San Diego and rehabbed him. We really took our time because he's 17. We didn't want to start him up sooner and risk a re-injury.
After that much time off from competitive sport? Yes, he knows his job, but the horses do have to have a certain fitness level. For me and Christine, who has been my coach since he was 3 years old, we decided it would take a bit to get him back into that kind of competition shape. So then he would be close to 18, and we just felt like, why?
What was that transition like for you?
It was hard, because you close a relationship and you close a chapter. But Alice and Mike have been really amazing. Alice said, "You keep him as long as you want. You just tell me when you're ready, and then we'll make the transition."
In the two-and-a-half or three months that I had to prepare, I rode him every day and just enjoyed him without having to think, "We have to get that right pirouette a little better," or always be working on something.
Shortly before he left, my good friend Elena Dotoli came to take some photographs. She did some beautiful shots in the morning. It was cold, and his breath came out as clouds. He was so full of himself, I had to longe him first. He likes to rear! It was fun to see him be so full of life, to see that side of him, especially after we were in such an intensive training program and the mindset of riding in the Olympics.
It was really hard when he left, of course. It was a Friday, and it was really hard over the weekend, because I take weekends off. But when I go to work, I'm really busy and I'm focused on the work.
Mike and Alice have been sending me videos and pictures almost every other day. So it was hard the week before he left and the weekend after. Since then, I have to say it's been OK. I'm happy for him, and that's what's important to me.
When did he leave your facility in California for Horsegate Ranch in Texas?
He left at the beginning of February. You know, Alice even said I could keep him here with me. That was another hard decision. But we are a working barn, and even though we are incredibly lucky here at The Palms to have grass pasture year-round, we have been in a drought in California. All our horses want to go out, and we have to rotate so that they can all enjoy a bit of time in the pastures. We didn't have the space for him to be out all day. My heart just said, I want him out and being a horse.
How do you imagine his life will look in retirement?
After the Pan Am Games in 2015, he went home to Alice and Mike's ranch [in Hempstead, Texas] for a while. They wanted to breed him, and we thought it would be nice for him to have a break. I've been to their place many times.
He has a double stall that opens onto a pasture. First it has an area with rubber mats, and then a little turnout with several trees for shade. They also made a little sand pit where he can roll, because he loves doing that.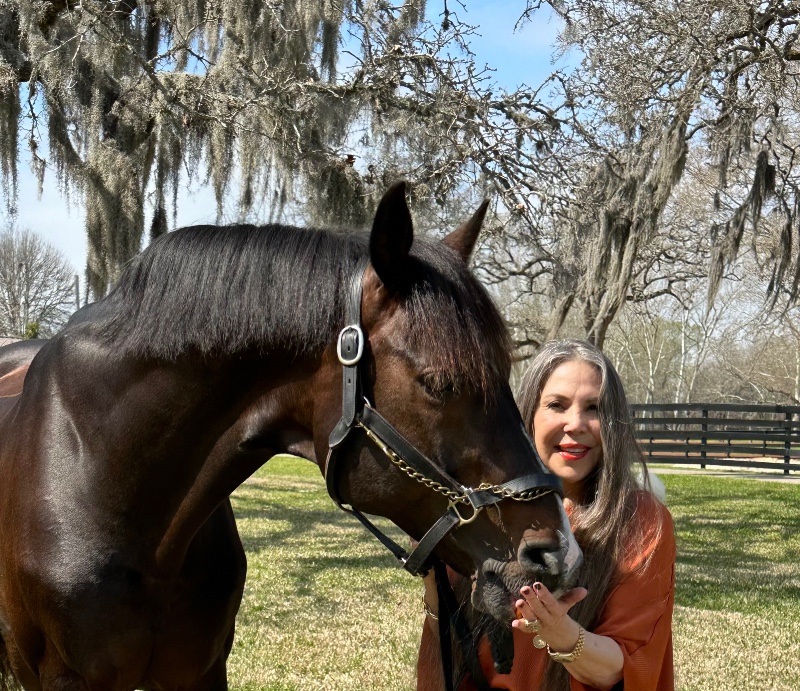 Alice has 1,000 acres and it's absolutely stunning. They have polo ponies and a polo field, with beautiful barns, a covered arena and plenty of grass and space.
Sanceo has always been a horse that likes to look into the distance. Sometimes when I would take him out to hand-graze, he wouldn't graze. He would just stand there and look and look and look and look. All his life he's done that.
Mike and Alice have Brahman cattle. He looks and it's almost like he's counting them. He's very curious and interested. I've never seen him stand and let his head hang. He's always either grazing, looking around or staring into the distance.
He has always had so much human contact, and he's still going to be groomed and loved and brushed daily. Alice and I talked the other day, and he's also going to be trail ridden on her property. She's very careful, and he's her baby. I told her, "It's fine."
The breeding job, it's not that much. He got collected the other day. They have a place 10 minutes from the ranch, and it's almost like a little field trip for him. It's not like some busy breeding stallion in Europe, just every now and then.
What are the most important lessons Sanceo taught you over the years?
I learned from Sanceo how to integrate the way a horse learns with his own character and personality. How do I bring the information so that it suits him as a hotter horse and a stallion? I always had the tendency to look at that in understanding my horses and training them, but I think Sanceo brought it out even more.
I love to figure out a horse. What's their conformation, what's their personality and what were their past experiences? What are the little kinks the horse has? That is what I learned even more from Sanceo.
Looking back on your Tokyo experience with the benefit of time, how will you remember it? From the outside, it seemed like three perfect days where a horse who was excellent but not expected to anchor the team stepped up and led the way. What was that like?
To qualify and be on the team to represent my country in a year with only three combinations plus the reserve was a big honor. And then to be able to get three personal bests, that was pretty amazing.
I've competed for many years. A lot of times, you have a good day and then a not-so-good day. To have three great days, and to have a horse on the third day that still wanted to do it and had a lot in the tank and was happy in those weather conditions, that was very special.
For me, to break 80% was an absolute highlight. What 80% represents is harmony and lightness and athleticism in the horse, where they become beautiful through their job and their work. For me, the best is that you can communicate with the animal with such small aids that hopefully nobody sees. And to have a horse that wants to go and do it.
In that moment, I didn't take in everything. I knew Sanceo felt amazing and I knew we had only three horses [because reserve rider Nick Wagman's Don John] was out due to injury. I wanted so badly to have a clean test and reach my biggest score. That was a huge satisfaction. But it was also a little bit like a job.
The more time that goes by, the more I celebrate it and the more precious and amazing it becomes.
Christine and Alice and Mike, we're all just grateful and happy and really thankful to Sanceo for what he has done for us. I never thought, "My goal is to go to the Olympics." Sanceo put that in my head.
 What comes next for you?
I am teaching a lot. Right now, because it's wintertime, I have lots of people coming from out of state for intensive training. It's very exciting, because I have several new [horse and rider] combinations and I have to dial in and give them the maximum information and collaborative training while they are here.
Tomorrow, I am expecting a 6-year-old stallion named Splendid (San Amour I—N-Infinity, Dream Boy). I'm very excited about him. [Editor's note: Splendid was named champion of the 2021 Oldenburg saddle licensing and subsequently sold for a saddle-licensing record price of 515,000 euros.]
I have three other young ones as well. The black stallion Gorgeous Latino (Glock's Toto Jr.—Blackmanda, Rubiquil) that I took last year to the world breeding championships, he's 7 this year. So I will start riding some qualifiers soon with him for the FEI 7-Year-Old Test.
So you won't have a horse ready to try to qualify for the 2024 Olympic Games in Paris?
No. I always had to train my own horses, so I never had an opportunity to get an older, already trained horse. I don't think that's something I would do well with at this point. I'm most familiar or most comfortable with training them myself.