Wellington, Fla.—April 2
When Russell Frey entered the Grand Hunter ring to accept his blue ribbon from the first round of the $50,000 USHJA International Hunter Derby, he did so not with his winning mount, the 8-year-old warmblood gelding Kodachrome, but with his dog.
After 45 rounds had gone through the ring, contesting an option-filled course of 11 fences piled high with brush in the heat of the afternoon on a sweltering day in Wellington, the top 12 ribbon winners did not return for the presentation with their horses, instead sending them back to the comforts of well deserved shade and water in their stalls. But despite the exhausting weather conditions, Frey noticeably perked up when asked to talk about his horse, whom he rode to leading first-round scores of 87 and 90 (plus 8 points for successfully jumping all four 4′-4'3″ high option fences) for a total score of 185. Heading into the derby's second round, set to take place Sunday afternoon on the derby field at the Palm Beach International Equestrian Center's Stadium, Samantha Schaefer and Classified sit in second (184), while Callie Seaman and the popular Holsteiner stallion Carrico finished the first round in third (182).
"He's done a couple of other smaller derbies, but this was his first real 'step up, be a big boy' derby," Frey said of Kodachrome, who just started competing in at the USHJA International Hunter Derby level this year after pairing up with Frey last summer. "I loved it. He rode around great. But there's always tomorrow. We'll wait and see."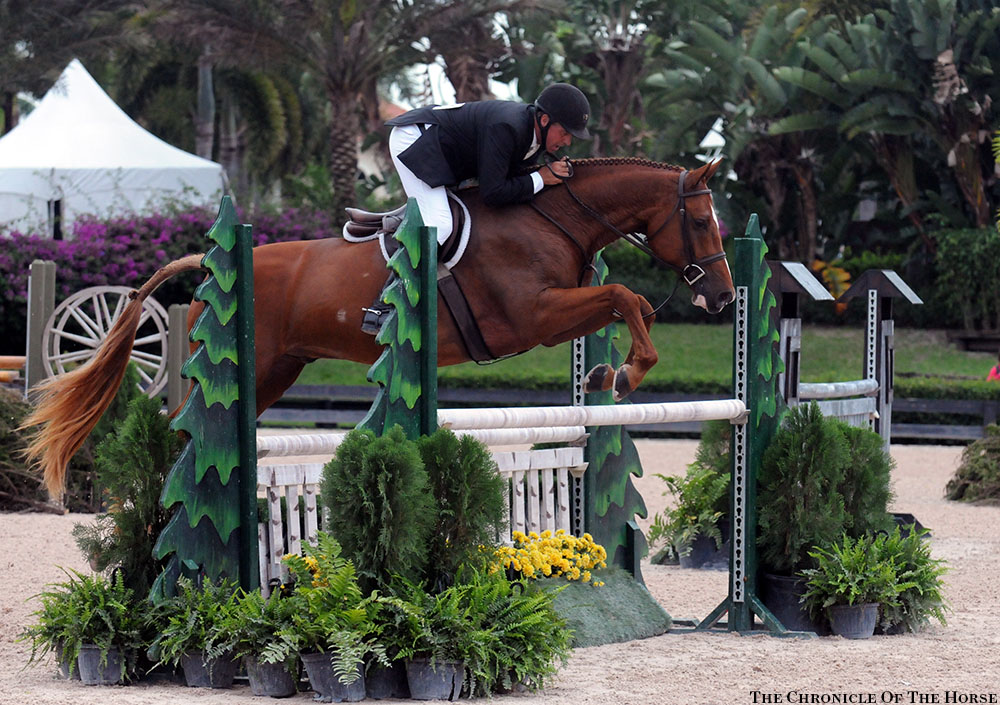 Russell Frey and Kodarchome jump the final fence in the first round of the USHJA International Hunter Derby.
The chestnut gelding of unknown breeding couldn't have gotten off to a better start in Wellington, where dozens upon dozens of golf carts lined the rail of the Grand Hunter ring for a shaded view of the competition. Owned by Nina Moore, Kodachrome was originally imported by Christian Heineking to be a jumper, but the rider saw the horse's potential in the hunter ring and sent him to Will Roberts in Texas. When Roberts came to Chicago and showed Kodachrome in the first year green hunter division, Frey first laid eyes on the horse and was immediately attracted to him.
"I was sitting at the ring and saw him going around, and he just looked like a nice, sweet horse," he said. "Will said to me, 'This horse has way more scope and way more jump than you see from him in the 3'3".' So I rode him, and from the minute I got on him and started jumping him, I just felt that there was something special about him. We tried him again the next morning when it was quiet and nobody was around and really jumped him, and I just knew."
Despite his inexperience at the level, Kodachrome handled Saturday's first-round track with a class and poise well beyond his years. Frey boldly pointed the gelding at every high option, including the first fence, a tall vertical that came off the right lead on the quarterline. The next option directly followed across the diagonal, and the final two larger fences came at 5 (a fence stacked with hay bales) and 6, an imposing brush oxer. The course was filled with many sweeping turns, with only one direct four-stride line.
"I thought the course was nice," Frey said. "I thought they kind of threw it right in your face right away with all the high options early in the course. [Fence 2] was a big jump, a big vertical, and I got a little cautious myself at it, more so than he did. I should have just let him go, and he rubbed it lightly. But he does not like to touch the jumps, and after he touched that jump, he was like, 'OK, I got it.'"
Frey will look to maintain his narrow lead (Schaefer would have won the first round had she jumped all four options; she only jumped three for 6 bonus points) in tomorrow's final round, in which the top 25 will return. He hopes his mount's previous experience on grass will help him as he tackles his next challenge.
"I think he'll be alright," he said. "We did a national derby last year [the $5,000 Chicago Hunter Derby in Illinois] that was out in a huge field in Chicago, and he was second. It was on grass over all sorts of wild jumps, so I'm hoping that, if anything, the jumps will really pique his interest, because I think he's a special horse, and he's got an incredible jump."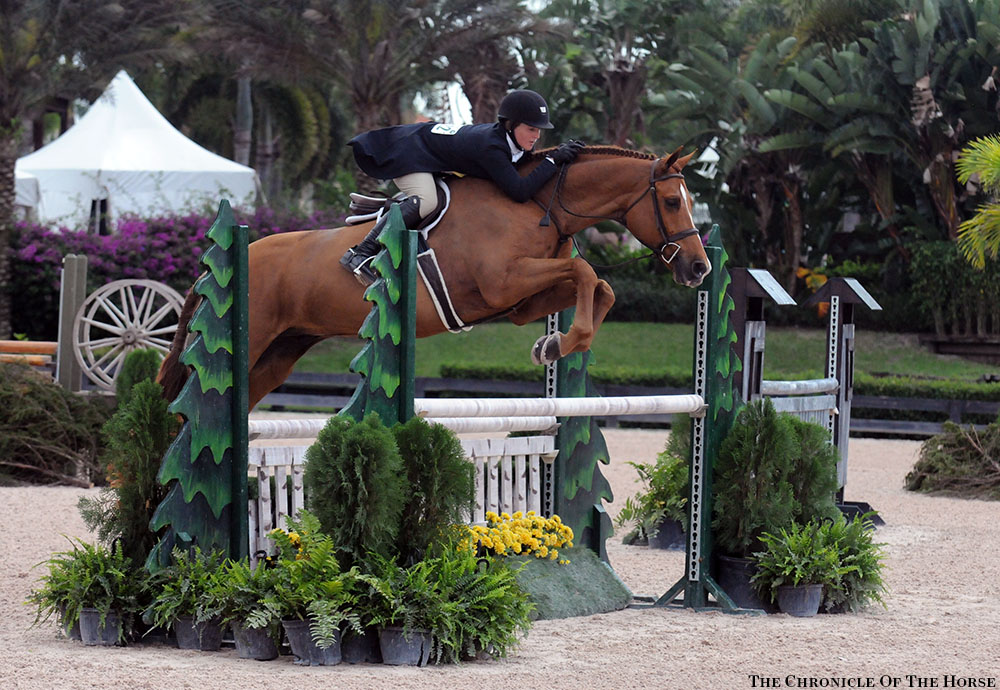 Samantha Schaefer and Classified are just 1 point behind Frey and Kodachrome in second.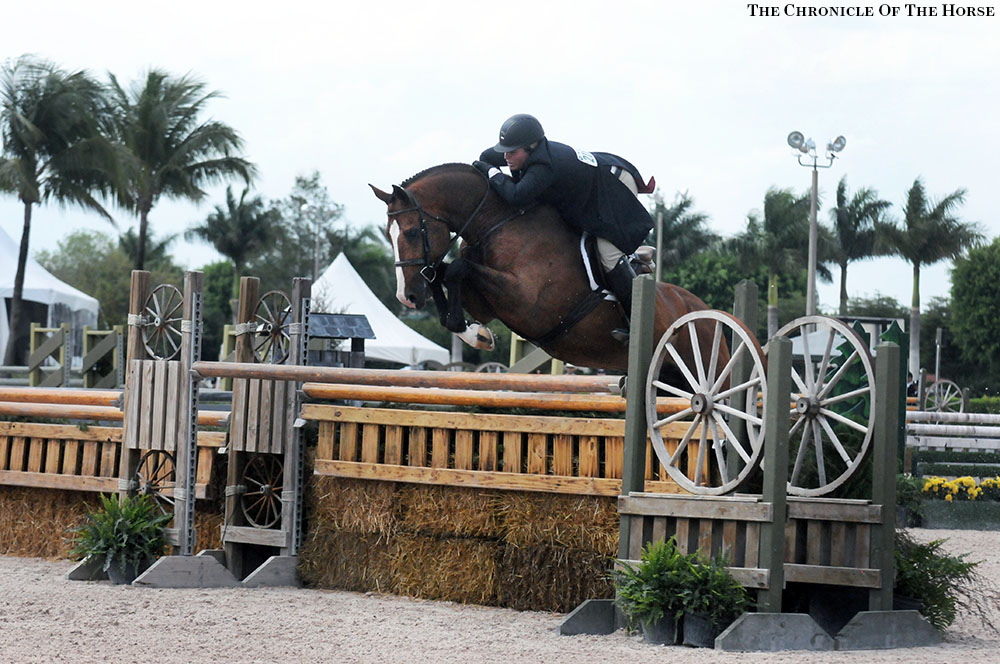 Callie Seaman and Carrico finished third in the first round.
For full results from the first round of the $50,000 USHJA International Hunter Derby, click here.
Check back at coth.com tomorrow to find out who takes the top overall prize.
For more in-depth coverage from WEF's finale week, check out the April 25 issue of the Chronicle.