I know this blog is most definitely overdue, as I realize it has been a month since Rolex and my, shall we say, "interesting" go there.
This means I have approximately 11 months to think up the most exciting way I can get eliminated in the show jumping there next year. I don't think many people can say their first two trips to Rolex have been as interesting as mine have been!
That being said, I was thrilled with how Ping jumped around the track at Kentucky, other than what happened at the corner, and to be honest, what you see is what you get with that.
I was a bit shocked when we jumped over the widest part, so I stopped, looked back, and asked if I had jumped clean and should keep going, and I was told yes. I then jumped around the track clean, and my horse pulled up sound as a pound!
I was assured for quite a while that I was good—that we'd been inside the flags and that our clear round would stand—but then eventually I was called to the ground jury and eliminated.
I will tell you that Nina Gardner (Ping's owner) and I were devastated at the time, but looking back, I made a wrong call. And I am very, very thankful that my horse proved he was a four-star horse that day and jumped the way he did for me. I'm more thankful that he pulled up incredibly sound and is happy in a field on vacation. We look forward to a possible four-star attempt this fall.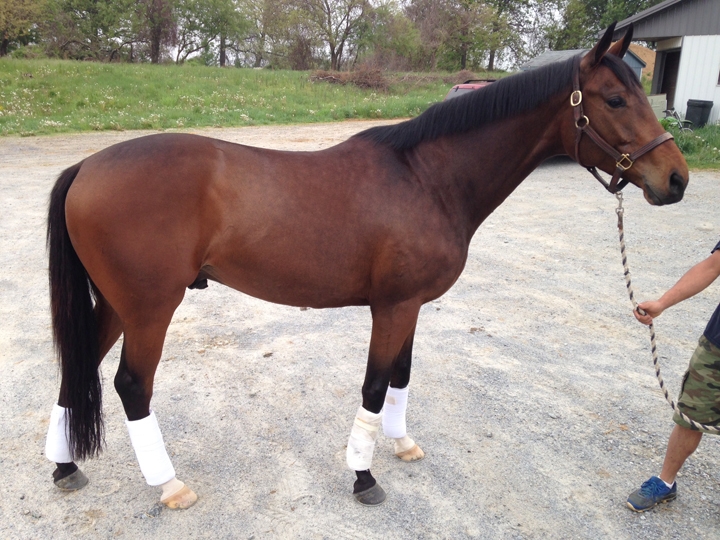 Headkeeper, an unraced 5-year-old French Thorough-
bred, has come to Jennie Brannigan's barn via renowned
race trainer Michael Matz to try his hand at eventing.
In times of disappointment, I tend to get busy. You only have two options when you get knocked down, and giving up or getting depressed isn't an option I'm willing to take!
In other news, I'm thrilled to have officially welcomed Henry into the barn as a Gardner horse from Sharn Wordley and Scott Keach! The partnership has been lovely to have. He's had back-to-back wins with me at Fair Hill in the open intermediate and at Virginia in the CIC**, and I am thrilled to have him in the barn. I'll be running him methodically and taking good care of him with hopes of taking him advanced in a month or so.
I'm also thrilled and honored that Michael Matz has sent a horse named Headkeeper to my barn to learn how to jump. He's a 5-year-old French Thoroughbred who never raced and is taking to his possible new career very well!
I'm back to galloping a few sets for Michael early in the mornings, and although the days are long, it's more than worth it to see how that operation runs and the level of horsemanship there.
I'd also like to welcome Stephanie Cauffman into the barn. She's come on board as my assistant and has quickly improved so many aspects of the running of the operation! She worked for Missy Ransehousen for many years, and I'm lucky and thrilled to have her.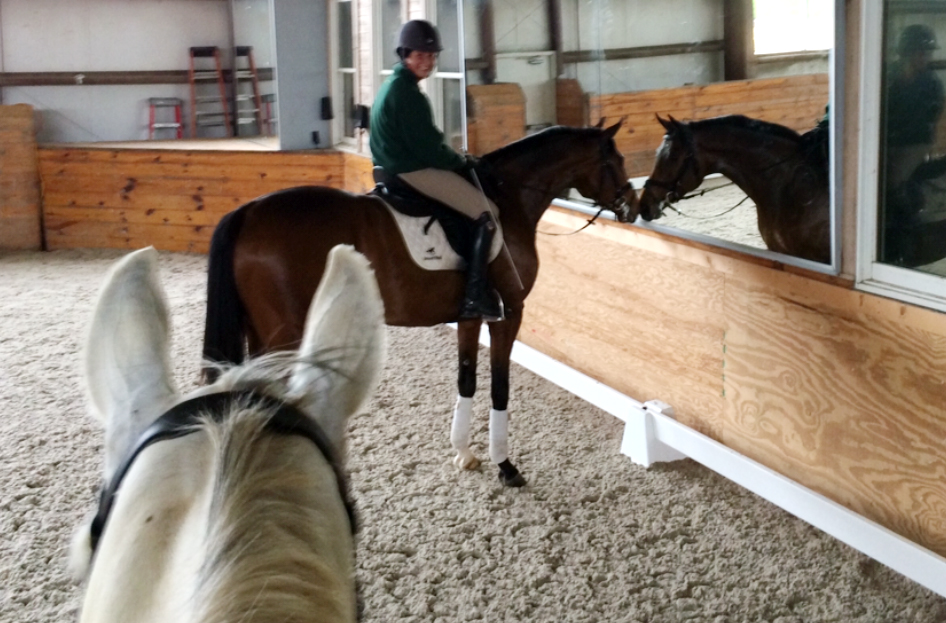 An introduction to dressage meant Headkeeper got
the chance to admire his handsome reflection for
the first time.
Finally, I'd just like to say thank you for the support from everyone. I know I'm very lucky to be doing what I do every day, and all the positive comments and messages have been lovely. Thank you all!
Til next time,
Jennie