After a quarter-century wait since the United States' last Paralympic equestrian gold medal, Roxanne Trunnell and Dolton now have earned two in one week, finishing their Tokyo Paralympic Games appearance by winning the Grade I freestyle with a Paralympic-record setting score of 86.92 percent.
Trunnell and Dolton, Karin Flint and Flintwoode Farms LLC's 9-year-old Hanoverian gelding (Danone I—Lady, Londonderry), earned the highest score across all grades in every phase of competition in their second Paralympics: the individual test, the freestyle and the team test—where with teammates Rebecca Hart and Rowan O'Riley's El Corona Texel and Kate Shoemaker with her own Solitaer 40 they won bronze, a historic first team medal for the U.S.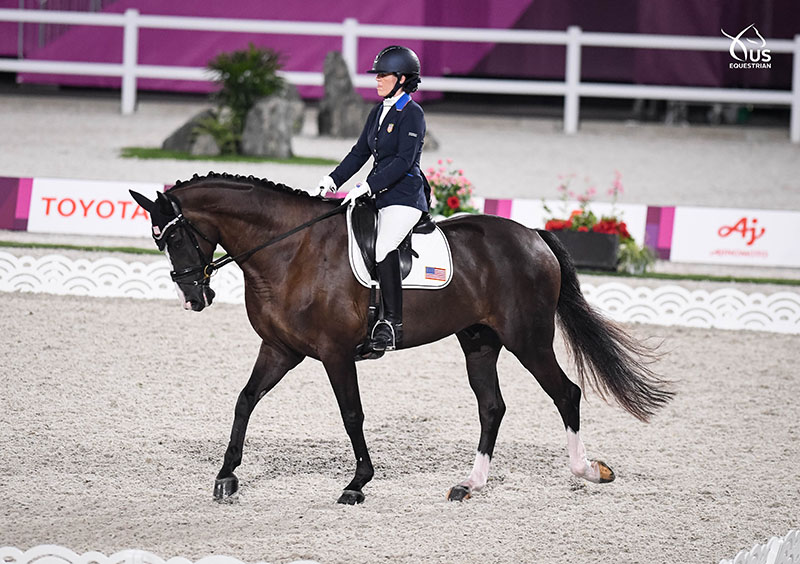 The pair rode to a freestyle of music from the movie "Forrest Gump" including snippets of Tom Hanks' dialogue from the movie at the start and finish of the ride. ("Mama always said, 'Life is like a box of chocolates, you never know what you're going to get,'" plays as the pair walks up their final centerline.)
A version of the same freestyle helped the pair win bronze in the 2018 Tryon World Equestrian Games, and she has stuck with it, with modifications, since then.
"He was really with the music and marching like we wanted; I hit all my little points with him," she said, particularly noting how well Dolton demonstrated stretching in that portion of their test. "He really loves his freestyle."
Trunnell's score broke a 9-year-old Grade I Paralympic record, and it was needed in the only grade to have three athletes with scores of over 80% on the podium. The previous record of 84.75% was set by Sophie Christiansen of Great Britain in London 2012.
As for what she'll do with her two gold and one bronze medals once she arrives back to her home in Royal Palm Beach, Florida?
"I have a little pig statue to hang them on," she said with a laugh.
In a repeat of their individual medals placings, Latvia's Rihards Snikus and King Of The Dance took silver in the freestyle with 82.08% and Italy's Sara Morganti aboard Royal Delight took bronze on 81.10%.
Monday's freestyle event concluded the equestrian portion of the Tokyo Paralympics. It's results were very similar—and in Grades I and II, identical—to those of the individual competition that opened the Games.
In Grade II, British Para Dressage Team anchor Lee Pearson completed a "triple-triple" by winning gold in the individual, team and freestyle competitions—his 12th, 13th and 14th Paralympic gold medals. Austria's Pepo Puch, the freestyle gold medalist from London 2012 and Rio 2016, took silver aboard his own Sailor's Blue with a 81.00%. Great Britain's Georgia Wilson finished her debut Paralympics with a second bronze aboard her, Geoff and Julie Wilson's 7-year-old Sakura, on a score of 76.75%.
His relatively inexperienced and home-bred partner, Breezer, took scored  82.44%.
"Number 14, not that we're counting," Pearson said with a laugh. "I'm twice over the moon. I actually didn't care if I medaled. That horse gave me his heart in there. He was so much braver than the team and individual test a few days ago. He was still nervous, and we had a tiny little spook when we entered but I said 'come on we can do this'."
Pearson came to Tokyo with Breezer having had to retire from their selection event.
"I've not managed to ride this freestyle in a competition so I've been nervous for days. He's brilliant. I'm taking the best horse home. I didn't think I could love him any more than I did before but he's beautiful, amazing."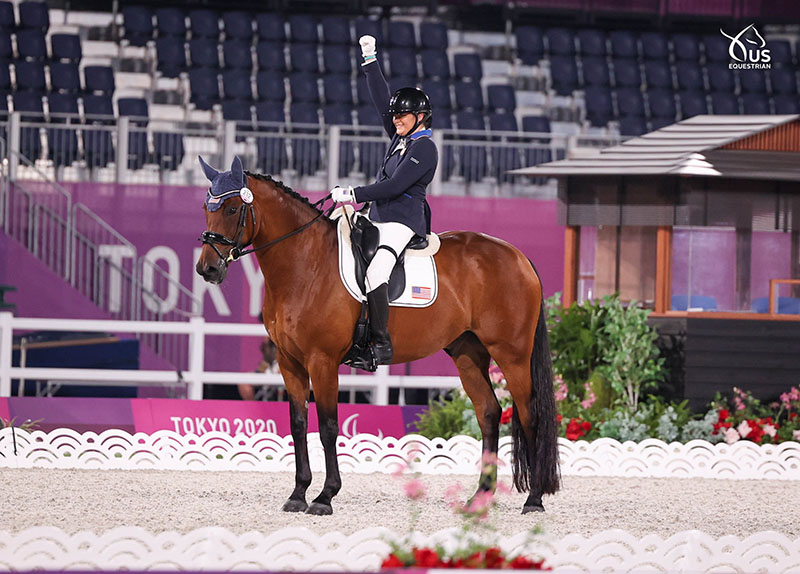 For the U.S., Beatrice de Lavalette of Loxahatchee, Florida, and Clarc, owned by Elizabeth and Nicolas de Lavalette, finished in sixth place on a score of 72.19%. The score built upon the 70.26% the pair earned Aug. 26 in the FEI Grade II Individual Test.
In Grade III, Denmark's Tobias Thorning Jorgensen took gold aboard Jolene Hill, owned by Signe and Thomas Kirk Kristiansen and Line Thorning Jorgensen, on a score of 84.34%. Great Britain's Natasha Baker with Keystone Dawn Chorus earned silver (77.61%) and Ann Cathrin Lubbe with La Costa Majlund took bronze (76.44%).
In Grade IV, Kate Shoemaker of Wellington, Florida, and her own Solitaer 40 just missed bringing home another medal for the United States. Their score of 74.91% saw them finish in fourth place.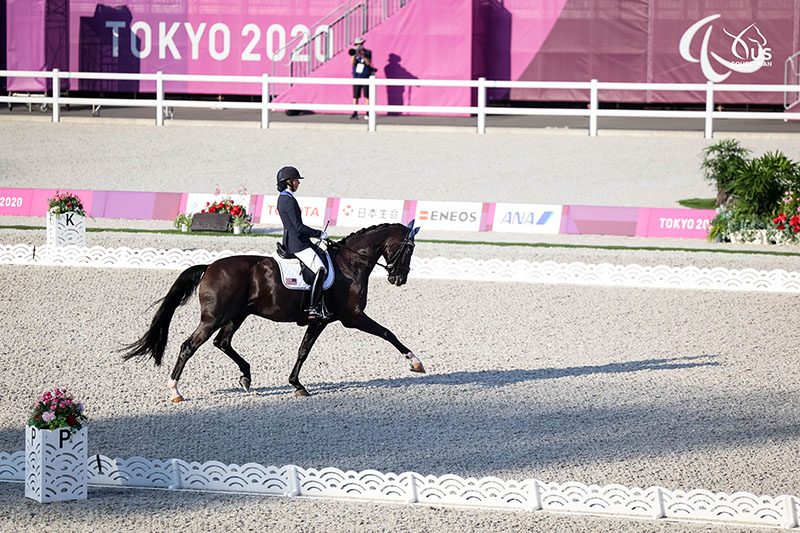 Sanne Voets of the Netherlands with Demantur, owned by RS2 Dressage Center de Horst, continued her winning ways in these Paralympic Games—she took gold in the individual medals and earned a personal best in the team test en route to helping her country take silver—scoring 82.05 percent to take gold by a comfortably margin in Grade IV. Louise Jakobsson Etzner of Sweden and her own Goldstrike B.J. took silver (75.93%) and Belgium's Manon Claeys and San Dior 2 won bronze (75.68%).
"It was just me and my horse and the music. It was a bit like hypnosis," Voets said. "It felt powerful and soft and relaxed and confident. Sometimes when you ride a test you're thinking 'what do I do now?' but it was like it just happened to me. It felt like we found that true harmony and it was the two of us and no one else."
In Grade V, Michèle George of Belgium and the aptly named Best Of 8 finished best of eight in the freestyle to take their second gold medal of the Games. The mare, owned by the rider, Wendy Laeremans and Camille Vangheluwe, scored 80.59%. Behind them, it was Netherlands' Frank Hosmar and Alphaville in silver (80.24%) and Germany's Regine Mispelkamp and Highlander Delight's for bronze (76.82%).
The Olympic and Paralympic flags flew at half-mast over Baji Koen Equestrian Park on Monday in recognition of the passing of former International Olympic Committee president Count Jacques Rogge, 79. Rogge, who lead the IOC from 2001-2013. Along with his many contributions to the Olympic Games, Rogge was recognized for helping stabilize the International Paralympic Committee financially and grow the Paralympic movement.
"It was under Jacques's leadership that London 2012, arguably the greatest Olympic and Paralympic Games, took place," IPC president Andrew Parsons said. "During his time as IOC President, he signed several agreements that not only offered the IPC stability but enabled our organization to grow and flourish.  We will forever be thankful for his assistance as the IPC would not be the organization it is today without his support.
"In 2017, we recognized his services to the Paralympic Movement with our highest honor the Paralympic Order.  Today in Tokyo we will recognize his passing by flying the Paralympic flag at half-mast at competition venues."
Watch the freestyle and the rest of the Paralympic equestrian competition on demand via NBC's Paralympic livestream.
See full freestyle results here.
The Fédération Equestre International contributed to this story.