Devon, Pa.—June 1   
McLain Ward had a little bit of a different preparation for the jump-off of the $225,000 Sapphire Grand Prix of Devon. He went to one corner of the ring and had a little chat with the spectators there.
You see, last year, Ward and Rothchild were well on their way to winning the grand prix when on their way to the last jump, the crowd in that corner cheered loudly, and Rothchild got a bit rattled and ran out at the last jump.
So this year, when Ward saw that the jump-off track mimicked last year's with the run to the last fence in the same place, he asked them a favor. "It's probably the same people who have been sitting in those stands for the last 25 years, so I just said, 'Please just for a moment, can you be a bit quiet.' They knew exactly what I was asking. And they obliged and it worked out."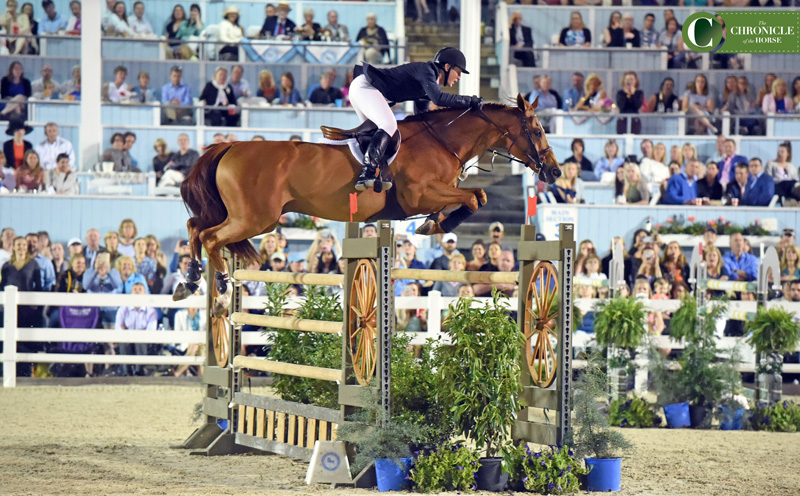 Of course, even with a quiet crowd, Ward and Rothchild had to perform, and "Bongo" was in vintage ears-pinned, knees-folded form. He and Ward spun around the turns and galloped in mad dashes to shave almost a second off the time Devin Ryan had turned in on Cooper.
Ward noted that course designer Kelvin Bywater's jump-off track included a lot of tight turns. "Rollbacks and Rothchild are a little dicey; he can duck out every once in awhile, so I have to give a little bit of room even though he has good foot speed," Ward said. "I didn't think the jump-off was super fast tonight, so I didn't have to be insane."
Ryan noted that he also took some extra time, which cost him some time in two turns. "My horse isn't the best in the rollback turns," he said of Cooper. "He's quick across the ground but he's not as good at the turnback. I have to give him a little room with his front end. I didn't take the shot there. Recently I've been taken a shot in the rollback turns and I've been having them down, so I decided to be a little conservative and see what happens."
Ward noted that this is Rothchild's seventh year showing at Devon. The 16-year-old also won the grand prix in 2013. Despite the fact that the carriages and Saddlebreds tend to freak Rothchild out a bit, Ward said the 16-year-old horse does like the venue. "He's a handful, we know that. Some days I tell him 'We've done this before, can we settle down?' But that's him and that's what's giving him the jump and allowed him to do things that probably physically he shouldn't have been able to do," Ward said. "He's got wonderful people around him and wonderful owners who deserve the best and it's been a wonderful story and we'll see how long it goes.
"That horse gets this sport. I mean, I don't know if anybody noticed the style he jumped the plank in tonight, but he understands to leave it up," Ward said. "I always say to him, 'You don't owe me a thing but it would be nice to win again!' And that's kind of how I am with him. He owes me nothing. If he never jumps another fence again it's fine. I'm sure he's the winningest money-won horse in American history. But as long as he's healthy and he's performing this way I think he enjoys it, and physically he looks better than ever, actually. And luckily now in this situation I don't have to ask the max of him like I did a couple of years ago. So I'm going to continue on with him as long as he tells me he's still healthy and enjoying the sport and enjoying what we're doing."
See full results from the $225,000 Sapphire Grand Prix of Devon and from all of Devon. To see all of the Chronicle's coverage from the Devon Horse Show, click here. And make sure to read the June 19 issue of The Chronicle of the Horse for more in-depth coverage from Devon.
2017 $225,000 Sapphire Grand Prix of Devon
Molly Sorge / Jun 1, 2017 10:56 pm