Del Mar, Calif.—Feb. 2
It's been nearly a year since Rosamunde competed with Steffen Peters, but tonight she came to the Adequan West Coast Dressage Festival with a newfound relaxation that resulted in a win in the CDI-W Grand Prix for the freestyle (72.56%).
After the FEI World Cup Final (Nebraska) last April, Peters competed at the Del Mar CDI-W, then decided to let the 11-year-old Rheinlander mare (Rock Forever—First Lady, Fidermark), owned by Four Winds Farm, step out of the spotlight and learn to relax.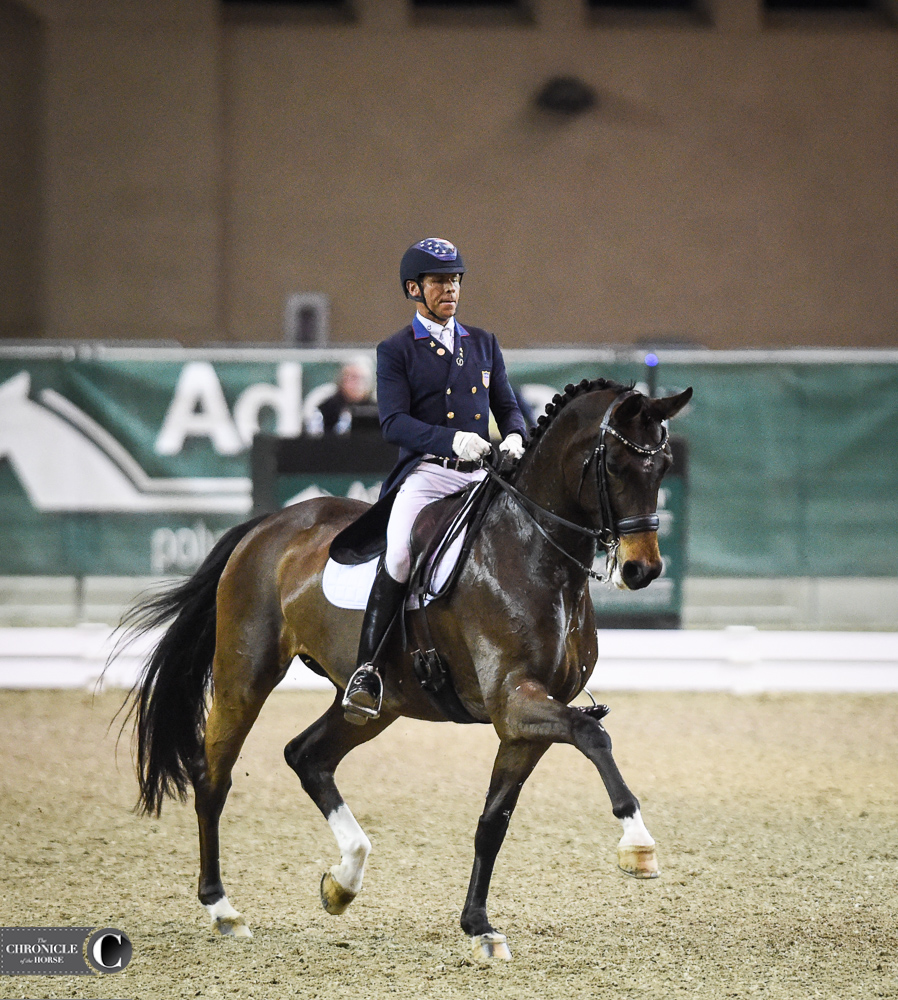 "The reason why we took it easy with her is because she was getting so keyed up—the walk wasn't working anymore. She did the movements and never said no, but was simply too nervous," said Peters, San Diego, California. "We took her out of the show ring for awhile and did as many hours of walking and stretching, stretching, stretching and then some more stretching, and it paid off. Sometimes we have to take that step back, as much as you want to stay in the show arena. At the end of the day, we have to listen to our horses. We shouldn't just talk to our horses. Today was very obvious it was the right decision to take it easy with her."
While tonight wasn't "Rosie's" best score, Peters still thinks it was a strong start to her season.
"Unfortunately there was one gigantic mistake from the passage to the canter. I told the judges everything from the Grand Prix is working pretty good, it's the training level transitions from trot to canter that's challenging!" he said. "But I'm extremely excited. She wants to do it, she's more relaxed, and the piaffe has improved tremendously. She did beautiful half passes today, wonderful pirouettes, so I'm super excited."
Peters also topped the national open Grand Prix (75.65%) this morning on his new ride Suppenkasper, a 10-year-old Dutch Warmblood gelding (Spielberg—Upanoeska, Krack C), also owned by Four Winds Farm, and formerly ridden by Germany's Helen Langehanenberg.
The pair won their last four CDI*** starts on the AWCDF circuit, but Peters decided to compete in a national class to work on some warm up techniques and have a chance to ride with Langehanenberg in her Masterclass on Saturday night.
"We started out with an OK Grand Prix, then the Grand Prix Special was already better, and at the last CDI the Grand Prix was a step better. Today was his best Grand Prix so far," said Peters. "We wanted to play with a few ideas in the warm up that we tried at home that worked out beautifully. Of course afterwards I wish I would have entered him in the CDI because he was so good, but it was a bit of an experimental warm up, it worked, and he'll be in the next CDI."
"Mopsie" will give Peters a second horse to be in contention with for this year's FEI World Equestrian Games (North Carolina) team.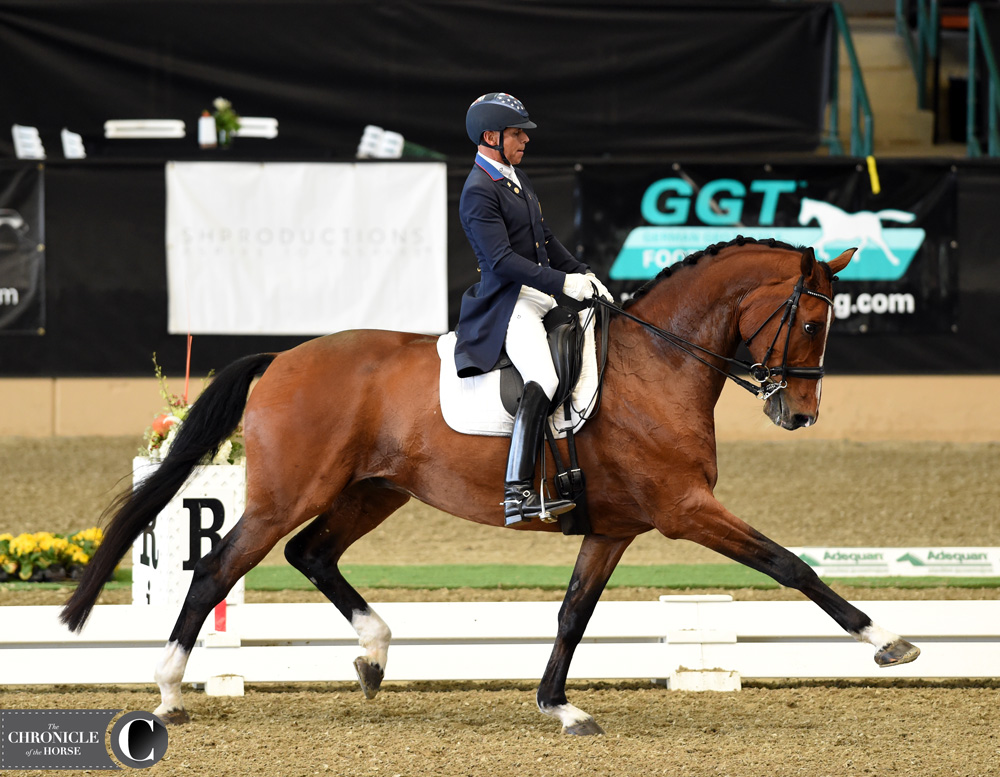 "I've never had a horse that I've had to leave him so much alone in the show arena. There are always places where with some horses you have to encourage them to try a little bit more. I have to encourage him to try less. He tries so hard and [my wife] Shannon's been telling me all along, less is more, and she was right. Credit for the improvement goes to her," he said.
"It's good for him to get used to this atmosphere. I'm excited for Helen to see him. Even between the shows we've had so many discussions. She saw the videos and said, 'try this, try that.' It's been a really fun exchange of knowledge," he continued. "I have to learn to ride him as good as Helen, and that's exciting. It's a challenge, and in this sport you never stop learning."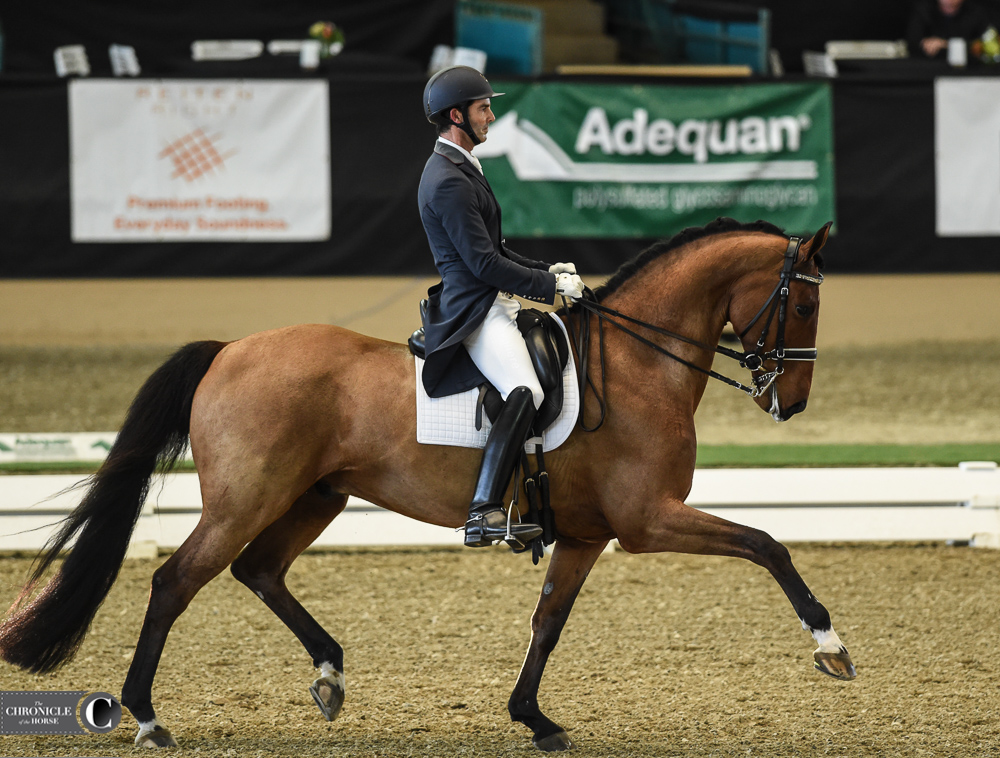 Nick Wagman's waited a long time to get to a CDI Grand Prix, and this weekend he made a splash in his debut with Beverly Gepfer's Don John, winning the CDI*** Grand Prix yesterday and the Grand Prix Special (67.21%) today.
"It was just impressive and exciting to go in there and do it," said Wagman of the Special. "Today he was with me from start to finish, and it was just fun! We had some mistakes. He did ones instead of the twos, but that was legitimate—he was a little confused. Some of the piaffe was good—he still had some bobbles, but we had a really solid ride. I just can't believe that we're here with this caliber of competition and holding or own. It's pretty cool."
Wagman's had "DJ" since he was 5. His friend Gerard Hogervorst found the gelding, and Wagman bought him without riding him when he was unable to make it to the Netherlands.
"It was a gamble—he was big and hot and strong, and I was like, 'Oh God! OK,'" he said.
Wagman's worked largely on his own after spending seven years in Europe, and when he decided to focus on the AWCDF this year, he enlisted the help of Marie Meyers last fall.
"I knew the series was coming up, and I knew I had some big ambitions. I've worked by myself most of my life and had good input here and there, but I just hadn't had a coach, and was going to CDIs without an eye on the ground, and I just thought, 'this is dumb. I can't do this anymore, I need to find somebody,'" he said. "Gerard has sold Marie a lot of horses, and we both kind of said, 'What about Marie? Let's give it a try.' After one lesson together we were just on the same page, and I thought, 'this is the voice that I need in my ear when I'm preparing.'"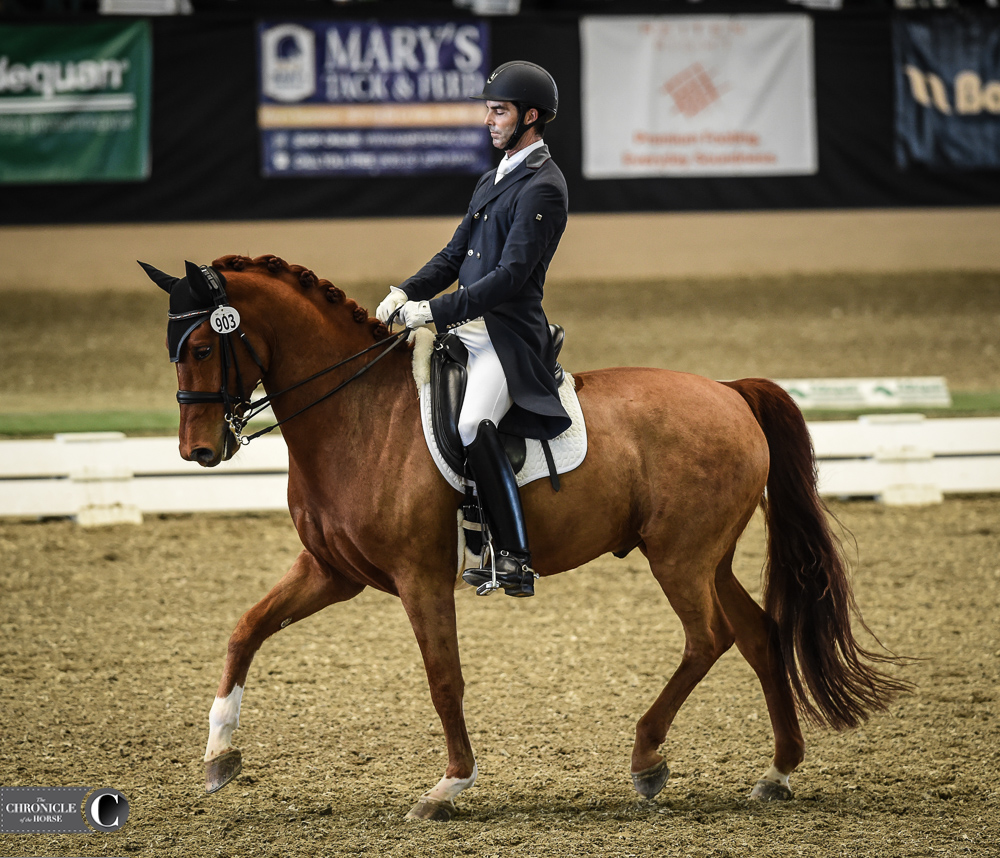 Wagman finished second in the CDI* Intermediare I with Elizabeth Keadle's Ferano, after winning the Prix St. Georges yesterday.
"I tried a little too hard and ended up making mistakes," he admitted. "I blew my twos, but overall I was happy with him. He still got great scores. He's an 8-year-old doing this level of work in that big environment. I was thrilled with him. I let the desire to maybe get the blue ribbon again get the better of me today, and I tried too hard, so lesson learned."
Click here for full results.
Click here for more from the Adequan West Coast Dressage Festival.
Check out more from the AWCDF in the Feb. 26 issue of the Chronicle.
2018 AWCDF - Friday
Lindsay Berreth / Feb 2, 2018 11:06 pm