Dressage rider Allison Brock has decided that her 2016 Rio Olympic Games mount Rosevelt will no longer compete at the top of the sport.
"We came to this conclusion because he came out of Rio with some bumps and bruises, and we gave him plenty of time to come out of that," said Brock. "He's sound right now, and he's working, and I'm riding him. He's had kind of a bumpy road to the point where his owners and I felt it would be too hard and possibly unfair to demand that he's operating at that level, and I'd rather have a nice riding horse for the next 5 years.
"He's basically my best friend and like my old shoe and can be very useful to potentially [owner Claudine Kundrun] or whoever's working for me," she continued. "So we just decided it was in his best interest to not to demand that of him. He owes us nothing."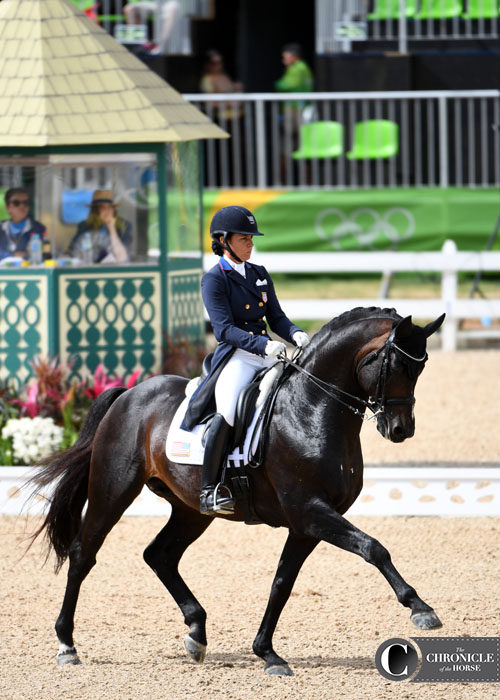 The 16-year-old Hanoverian stallion (Rotspon—Lore, Lauries Crusador xx) won his 2006 stallion licensing in Sweden and then went on to finish fifth in the World Championship for Young Dressage Horses (Germany) with Hans Peter Minderhoud as a 5-year-old. He was second at the Falsterbo Horse Show (Sweden) as a 6- and 7-year-old with Jan Brink.
Fritz and Claudine Kundrun imported "Rosie" in 2010, and Brock rode him in a successful small tour season before debuting him at Grand Prix in 2013. They were named to the U.S. Olympic dressage squad in 2016 and helped the country secure a team bronze medal.
While Rosie did quite a bit of breeding while in Sweden, he only sired two foals since moving to the United States. But now that he's no longer a team contender, Brock and the Kundruns have decided to make him available for breeders.
"The first year when we imported him, I opened him up to somebody locally, and he had two foals," said Brock. "We stopped doing that because he just got a little too sore in his back, and the goal was to have a sport horse versus a breeding stallion. So now that the demand isn't top sport then he can breed, and it's not a problem."
Rosie also developed a breathing condition in late 2017, and while that is under control, Brock cited it as a factor in the decision to step the stallion down.
"It's hard enough to manage them when they're fit and healthy, and then if you're trying to deal with an older Grand Prix horse with several things going on, it's just not fair," said Brock. "I never would present if I didn't think he was better than when he was out the last time. It's important to me that people remember him at his best. Sometimes I think horses get run out longer than they should, and that's not interesting to us. If I'm a little bit worried about something, I'm never going to ride him at full power because I would never forgive myself if he got hurt in the ring."