Wayne, Ill.—Aug. 22
"This horse looks like a pleasure to ride," said judge Jeanne McDonald at the conclusion of Carly Taylor-Smith's FEI 5-Year-Old Finale test on Rosalut NHF.
Taylor-Smith agreed.
"Me and him, we fit like a glove, and I think that's the best part about us," she said. "We have so much trust together, and the test felt flowing, and it felt easy. There wasn't anything that was tricky, and that's what is good about him. He gives me 100 percent all of the time."
Rosalut NHF picked up first in today's test (8.38) and that boosted the pair into first for the 5-year-old division at the Markel USEF Young Horse Championships. Gail Lynn Redinger and Formancier earned a score of 8.08, and that put them into the overall reserve slot (7.96). The Oldenburg (Rosenthal—Legacy) gelding earned a 9 for submission, 8 for trot and walk, 8.4 for canter and 8.5 for general impression. Rosalut, owned by Nikki Taylor-Smith and bred by Margaret Neider, also took home the prize for being the the top U.S.-bred horse in the division.
"I just ride him the same every day," said Taylor-Smith. "I never really get nervous. Yesterday I took him for a hack, so he doesn't work too many days in a row. Today I rode him as normal. We have such a good partnership that I know what to do on the day of showing."
Redinger and Formancier came all the way from Idaho, a thee-day journey they broke up by overnighting along the way. They placed fifth in the first 5-year-old test on Thursday, and Redinger was determined to improve on that score. Judges today awarded the pair 8.08 overall, with their highest score, an 8.6, coming from the walk.
"I'm thrilled," Redinger said. "I was hoping I could improve from Thursday and show him off a little more. He came up to my expectations and was there for me the whole way. He's so reliable, and if I ask him correctly he's always there for me.
"He's fancy, but I want to be sure I have a sound and sane FEI horse in the future and a long-term FEI horse," she added. "I don't want to wear him out. I just adore him."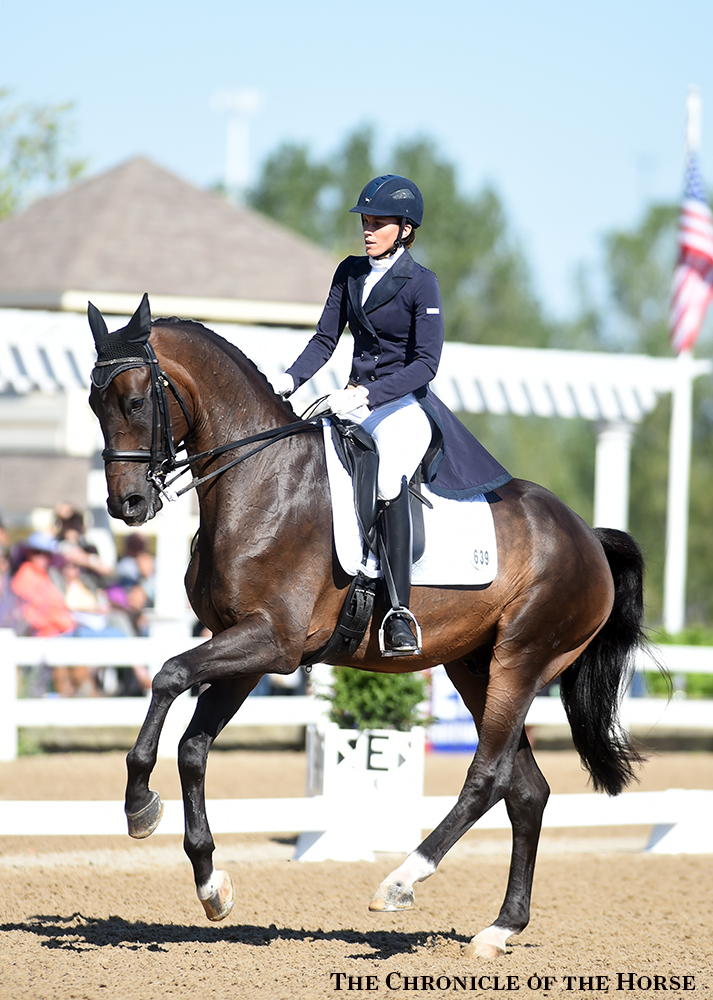 (Christina Vinios and Folkenstone)
Christina Vinios and Folkenstone put in a fault-free test for first in the FEI Developing Prix St. Georges (72.40%) which boosted them to overall first with a 71.24 percent over Heather Blitz on Ripline (70.15%).
"The first day I was a little nervous and just wanted to do a clean test, and today I was like, 'If I want to beat these people, I need to ride for every point,' " said Vinios. "I loved the ride today. I really wanted to fight for every point, and so a couple times I maybe pushed a little too hard and had a few bobbles, but I really wanted to try and show the horse as best as I could."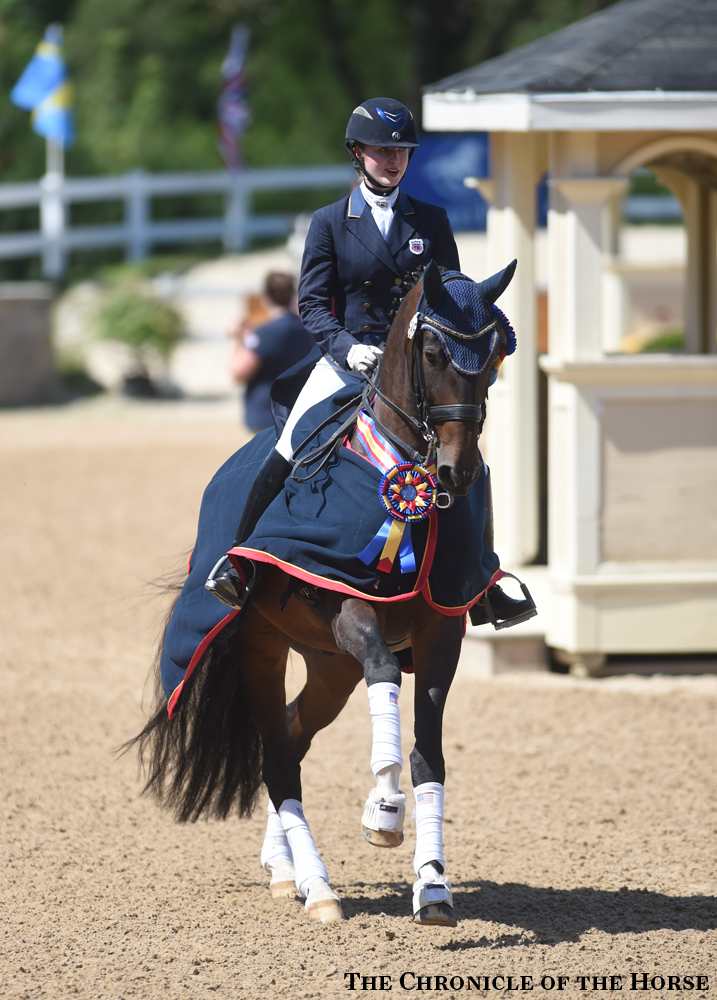 (Catherine Chamberlain and Avesto van Weltevreden)

Catherine Chamberlain closed out her young rider career with a first place in the FEI Young Rider Individual test on Avesto van Weltevreden with a 69.43 percent, which clinched her the U.S. Dressage Festival Of Champions title for that division over Kerrigan Gluch on Vaquero HF.
"He is still a little bit green at this level because we just started in February," said Chamberlain, who first competed the horse at third level last spring. "I was very happy with my ride; I thought it was very smooth.
"I'm really thankful that we were able to come here, especially having the young horse and developing championships alongside has been really inspirational—to see all those top riders and just see the quality that we have in the United States is really fun," she continued.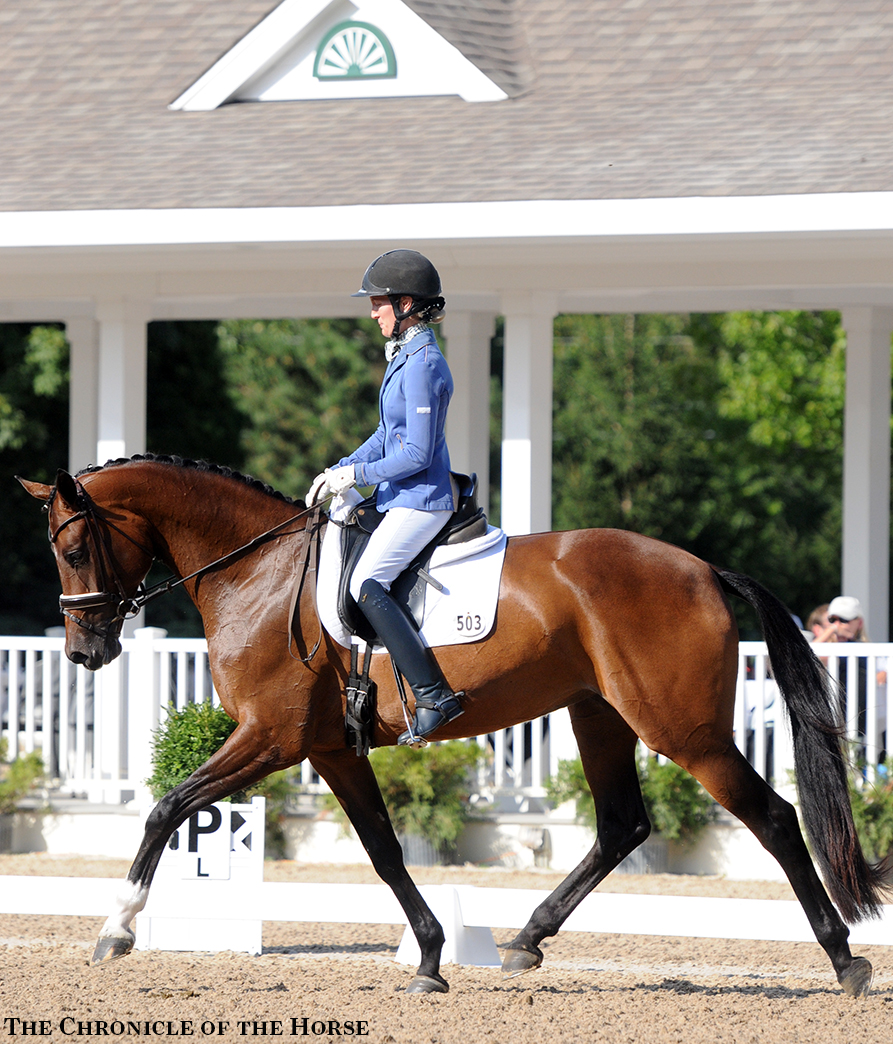 (Alice Tarjan and Tiko)
Alice Tarjan rode her Tiko into the Markel USEF 4-Year-Old Young Horse Championship. Today the horse earned an 8.5 for trot, 7 for walk, 9 for canter, 8 for submission and 8.5 for overall impression. That gave them a score of 8.2 for today.
"She's just lovely," said judge Jeanne McDonald about the horse. "She has a wonderful natural cadence and softness in her trot and canter that I think will develop into the kind of balance and collection we want to see in coming years."
Brooke Voldbaek picked up second overall on Generosa M, and Tarjan was third on her other mount, Donatella M.
"I think Tiko put in a pretty decent test, and I was pleased," said Tarjan. "The other one I messed up on. It was rider error entirely. I was worried about her being a little spooky, so I rode her too low, but I made sure on Tiko to ride her extra up."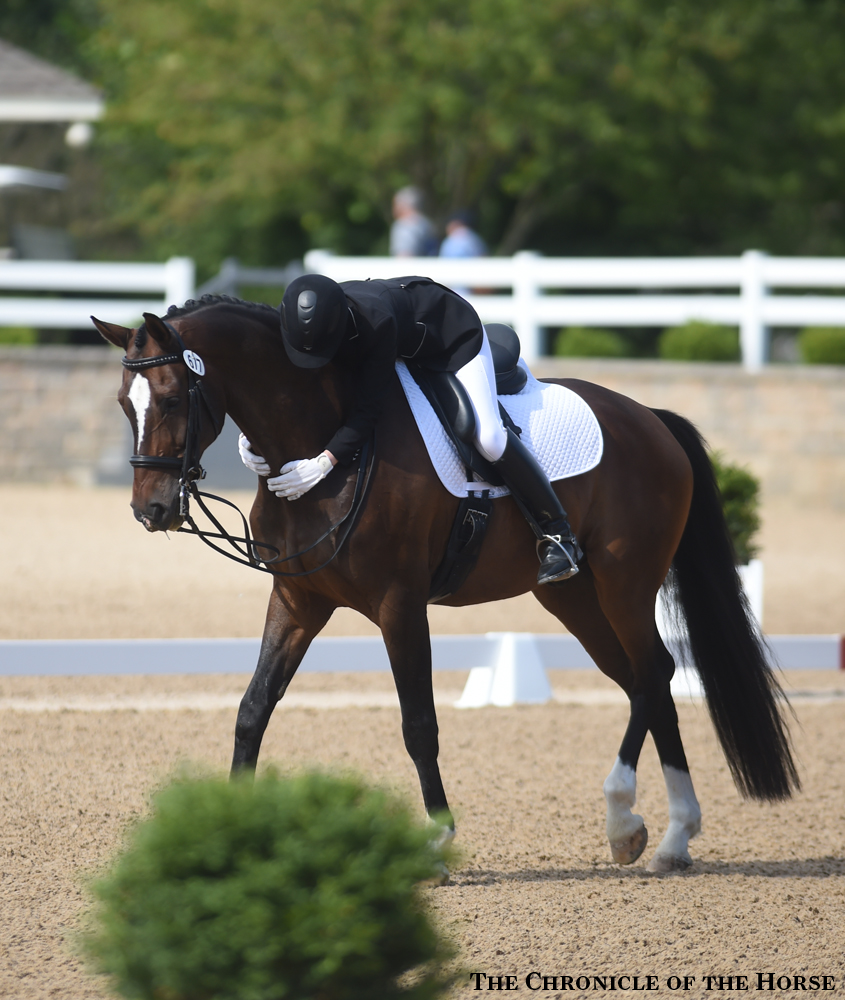 (Mickayla Frederick and Wrainier Q)
Mickayla Frederick captured the U.S. Dressage Festival Of Champions junior title on Wrainier Q. With better adjustability and a soft, smooth ride, they finished with a score of 69.17 percent.
"I'm just so shocked and so proud of my horse for getting me here!" said Frederick. "I definitely felt like today I was really riding; I wasn't just kind of along for the ride—I just felt that I was able to slow time down and make changes as I went."
Kristin Counterman won the FEI Junior Individual test (69.47%) and then moved up into overall second on Three Times, finishing with a score of 68.40 percent.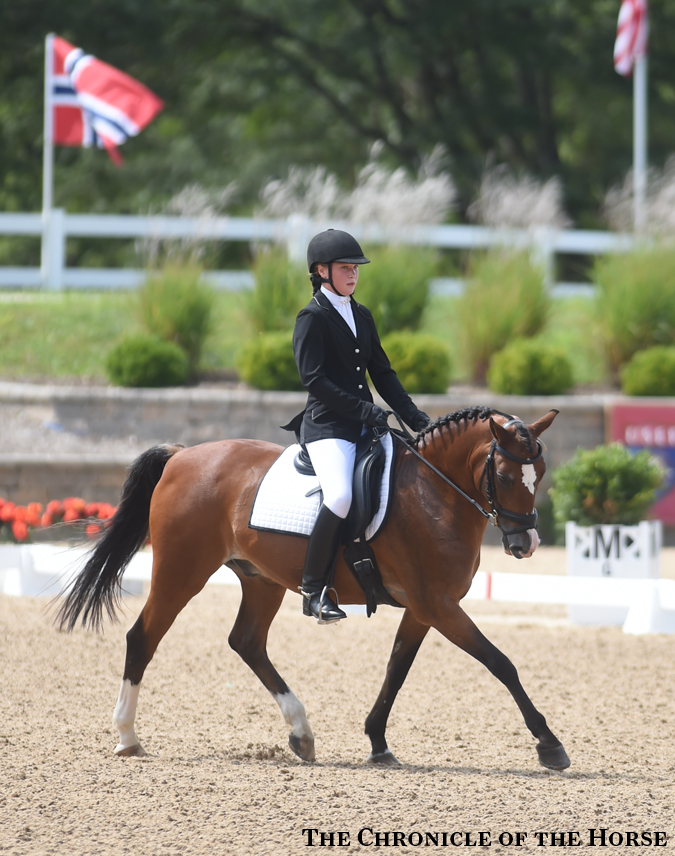 (Allison Nemeth and Pablo S)
Allison Nemeth and Pablo S topped the FEI Pony Team test today with a score of 70.94 percent. "Today my pony was a lot more energetic and collected than he usually is, and he really listened to me," said Nemeth. "I'm just so glad to be here and so thankful."
See full results, a photo gallery from today, or coverage from yesterday's action.