German-born professional Petra Warlimont tops two divisions at the Colorado Horse Park.
Most professional dressage riders have spent decades honing their skills in the show ring, but not Petra Warlimont. The 35-year-old just returned to competition last year after a 14-year hiatus, but that didn't stop her from riding Rohmero to the open third level championship with a score of 68.72 percent at the Rocky Mountain Dressage Championships in Parker, Colo., Sept. 26-28. Warlimont also captured the open first level championship with Matinee SF (72.36%).
Warlimont, Longmont, Colo., showed through second level while growing up outside Frankfurt, Germany, before putting away her dressage saddle to focus on show jumping. Though she's been riding professionally for six years, she focused on teaching and training young horses, finally making her U.S. debut last year.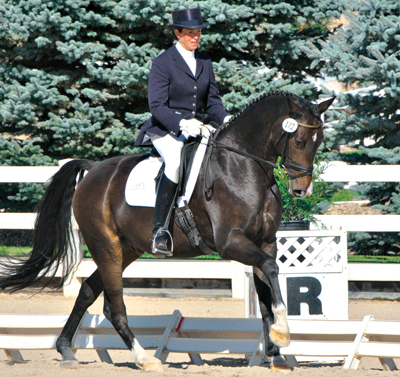 Rohmero's win arrived on the heels of a successful trip to the Markel/USEF National Young Horse Dressage Championships (Ky.), where the Hanoverian gelding finished third in the 6-year-old division.
"We went to Kentucky hoping to finish in the top 10," said Warlimont. "For him to do so well in there and then again in Colorado was fantastic. He's been fabulous—he keeps surprising us every show."
Though Rohmero schools through Prix St. Georges, Warlimont has been taking it slow with him in the show ring. "Rohmero is a super fast learner and a very loveable guy," she said. "He's pretty attentive at home, but he gets a little distracted at the shows. He's still green in his body and his movements."
Warlimont and Somerset Farms owner Kim Lampert went on their first horse-buying trip to Germany two years ago hoping to track down a trio of dressage prospects, but they only found two horses—including Matinee—who fit the bill. When their dealer, Hannes Baumgart, overheard them lamenting the empty stall on their upcoming flight, he suggested they take Rohmero along.
"We didn't know anything about the horse, but Hannes picked us a great one," said Warlimont. "I think they chose him for us because he's too small for most of the tall Germans to ride."
Warlimont hopes to campaign Rohmero (Romancero H—Waldina, Walldorf) in the developing horse classes next year, but she's also angling to convince Rohmero's owner, amateur rider Debbie Voigt, to take over the reins in the show ring. Voigt had been on the lookout for a schoolmaster, but she changed her plan when she saw Rohmero schooling at home. Though he hardly had the miles of a seasoned veteran, Rohmero turned out to be exactly what she was looking for.
Rohmero was one of the first horses Warlimont campaigned when she started showing in the United States. After showing in 1.35-meter jumper classes as a teenager, she lost her appetite for the sport when one of her promising young jumpers tore his meniscus. Disheartened, she turned her focus to dressage and found the sport much more rewarding the second time around.
Under the guidance of Siegfried Winkler, and more recently Baumgart, she's found a natural rapport with developing young horses. Beginning with their first trip two years ago when they stumbled upon Rohmero, Warlimont and Lampert have made yearly treks back to Germany to scout out prospects.
Warlimont never intended to become a full-time equestrian. She came to the United States in 1994 with a plan to study English and attend college en route to a professional career, but she couldn't stay away from the barn. While earning her masters degree in resource economics and policy from the University of Maine, she discovered a knack for teaching after she started giving pointers to the owner of the horse she catch-rode. As a German citizen on a student visa at the time, Warlimont couldn't accept payment, so her student eventually gifted her a horse as thanks.
When jobs in resource economics and policy proved scarce, she found herself riding new arrivals from Holland and accepting students.
These days Warlimont keeps a full appointment book of dressage and jumping lessons at Somerset Farms in Longmont, on top of managing the barn and training half a dozen young horses.
Warlimont's return to the show ring ushered in a banner year for the business. Somerset hosted its first recognized dressage show and first recognized horse trial. Riders flocked to Lampert's new 40-acre cross-country facility, Silo Farms, and the event attracted a long waiting list of horses, including more than a dozen preliminary entries.
"This was definitely a breakthrough year for the farm and for me," said Warlimont. "I feel like I've been living my dream, and I don't want to wake up."
Mollie Bailey