Keep it simple is the motto of this up-and-coming dressage rider.
Alex Robertson has a reputation for turning horses around. While he'd rather not become the dressage world's horse whisperer, he does enjoy the challenge of figuring out what makes a difficult horse tick.
Divali didn't come to him because he was a problem horse, but he was a horse with a self-esteem issue. The 13-year-old Westphalian gelding (Delphi—Frequenz) was trained through Prix St. Georges, but he had little time in the show ring and needed a confident rider to help him develop a record.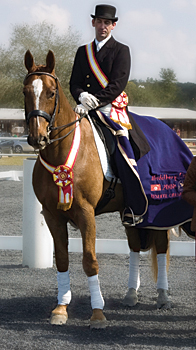 And Robertson has done just that over the past eight months, earning his share of ribbons in the small tour and culminating thus far in two wins at the Heidelberg Cup, Feb. 2-3, in Apopka, Fla.
"He had no show record," said Robertson. "His owner, Ruth Anne Leibman, bought him to learn from. She wants the best for the horse, and my job was to get him confident in the ring."
Robertson, 31, started showing Divali last July. "The warm-up was great," he recalled. "I left the warm-up and dropped my reins to put on my top hat and shadbelly. When I picked up the reins he wanted to go back to the barn. I had the feeling that he'd never been in there. He just needed to go in there and get the job done."
They made it around that first test, and Divali has steadily improved from that point forward.
"The first time I had to put a little more leg on to let him know he's going in there one way or another," said Robertson. "This last show was the first show where I felt like he was confident in the ring."
With the help of longtime trainer Belinda Nairn-Wertman, Robertson set about helping Divali gain experience and exposure.
"I take him to as many shows as I can, even if I don't show," said Robertson. "We take him out through the woods and give him stuff to do. He needs that. I feel that he needs someone who's going to be there with him and not force the issue. If you make a big deal, it becomes a big deal."
Robertson was pleased to discover that Divali truly wanted to please and enjoyed the work.
"He has a good eye, he wants to do stuff," he said. "It's given him a place to be happy in the ring and enjoy himself. We're trying to get him ready to do Grand Prix. He's very good at piaffe, and the passage is coming. The flying changes are super. He's accurate and steady. I've seen other horses go in that have better ability, but he beats them because he's more honest. There's not a shady side to him."
The Perfect Situation
Divali is in Ocala, Fla., with Robertson to be sold, so Robertson's put a lot of thought into what kind of rider would work best for the horse.
"He needs to go to a good amateur or young rider," said Robertson. "Most typical amateurs want a horse with no insecurities. Young riders typically have that confidence and relaxation. They need a horse with training. He scores well enough, and young riders need serious competitors."
But if Divali had objected to life as a dressage horse, then Robertson wouldn't have continued trying. He'd have looked for a new career that would make the horse happy.
Robertson comes from a Pony Club background. He received his A-rating and credited Pony Club for teaching him about all aspects of horsemanship.
"It taught me a lot about riding," he said. "You had to be able to jump and go cross-country, and longe and be a horseman."
So Robertson keeps his jumping skills tuned, and when he gets a horse in that appears sour about dressage, he'll try jumping him instead.
"I would have loved to ride with Reiner Klimke," said Robertson. "That system where the horse is a natural athlete, and you're using jumps and cavaletti to do it naturally. Just like you see a horse in the field and see clean flying changes and passage."
Robertson credited his success with difficult horses to his relaxed riding style. "I can react and then let it go quickly," he said.
He doesn't want to be pigeonholed as a "problem horse" trainer, though. "I've bought a couple of my own horses, so I can build them on my own," he said.
He's also earned the ride on some talented young stallions owned by Iron Spring Farm. But Robertson doesn't see himself ever abandoning tough horses altogether.
"You get bored if it's the same deal every time," he said with a grin. "I grew up taking in whatever we could afford. I love that challenge."
One of his philosophies is that horses need to be treated as individuals, not fit into a trainer's system.
"Trainers train the horse to their preference," he said. "I think you have to train the horse to the horse's preference. You can't keep one system. If you do, then you're going to ruin three out of 10 horses."
Robertson has big dreams of riding on a team someday, but he's also realistic about how many things have to come together for that to happen.
"If I don't train a horse to Grand Prix, that's fine," he said. " I've never trained a horse to Grand Prix on my own, but I'm still working on it. If I could do it once, and the horse was doing it well, I'd be happy."

Two Peas In A Pod
Training horses to Grand Prix is something Jules Nyssen has plenty of experience with, but he wasn't showing off his FEI horses at the Heidelberg Cup. Instead, he took home blue ribbons with two 6-year-olds, Volturnus and Vlegel.
"I got them both unbroken," said Nyssen. "They're nearly twins when you see them."
Both are Dutch Warmbloods by Flemmingh. Jennifer Brinkley owns Volturnus, and Nyssen owns Vlegel. He imported them both in their 4-year-old year.
"They really have the Flemmingh attitude," said Nyssen. "They're very trainable."
The Statesville, N.C., trainer said that at this point Volturnus is just a bit more developed. He won third level, test 1, with Volturnus (66.66%), while taking home a blue in second level, test 4, with Vlegel (64.76%). The two geldings tied with 74 percent in the 6-year-old test.
"It's very early in the season, and I'd never done the young horse test before," said Nyssen. "It was more difficult than I thought. They did make mistakes that young horses make, but it wasn't a big deal. They were both good."
Nyssen said that Vlegel's best qualities are his wonderful attitude and top-quality canter. "That's a pace you cannot develop, they either have it or they don't. You can fake the trot a lot more than the canter," he said.
Volturnus also has an excellent canter and is a powerful horse. "He's strong and has a natural balance. He looks a little bit more mature at this stage," said Nyssen. "They're both easygoing and have easy half-passes and changes. They're very rideable and eager to go in the ring. This is my fifth or sixth [horse by] Flemmingh, and they're all the same. They all made it to Grand Prix.
Although Nyssen hadn't ridden the young horse tests before, he was enthusiastic about the program.
"Once [Volturnus and Vlegel] know this test they'll be ready for the Prix St. Georges," he said. "I have
a 4-year-old at home and a 5-year-old. I hope they're all going to go to the finals."
Nyssen immigrated to the United States in 1983 from the Netherlands and competed in upper level eventing and dressage before focusing on dressage. He also has coached numerous top-level eventers on their flatwork, including Bruce and Buck Davidson, Karen O'Connor, Nina Fout and Karen Stives. He currently receives help from Carol Grant.
"I like training young horses," he continued. "Now [the program] is set up nicely, and they've got good judges.
I think that's important because you get picked apart in front of people. I think everybody is enjoying it. I think the audience enjoys it. It gives us an idea of where we should be. You don't have to force the horse to be in third level, where they might not give you the leeway that you get in a young horse class."
Sara Lieser