Tallahassee, Fla.—March 11
Throughout their four years together as a couple, Waylon Roberts and Jenny Caras have supported each other through the ups and down of life as professional event riders, and this weekend they're both celebrating two big ups, as they both brought home wins at the Red Hills International Horse Trials.
Roberts topped the advanced division on Kelecyn Cognac, while Caras took home the CIC** win, the first FEI win of her career, on Fernhill Full Throttle.
Caras has had "Pongo," a 9-year-old Irish Sport Horse gelding (Cyrano—Euro Glory, Euro Clover), for three years since she bought him from Carol Gee of Fernhill Sport Horses. He'd competed at a one-star with Irish rider Fraser Duffy.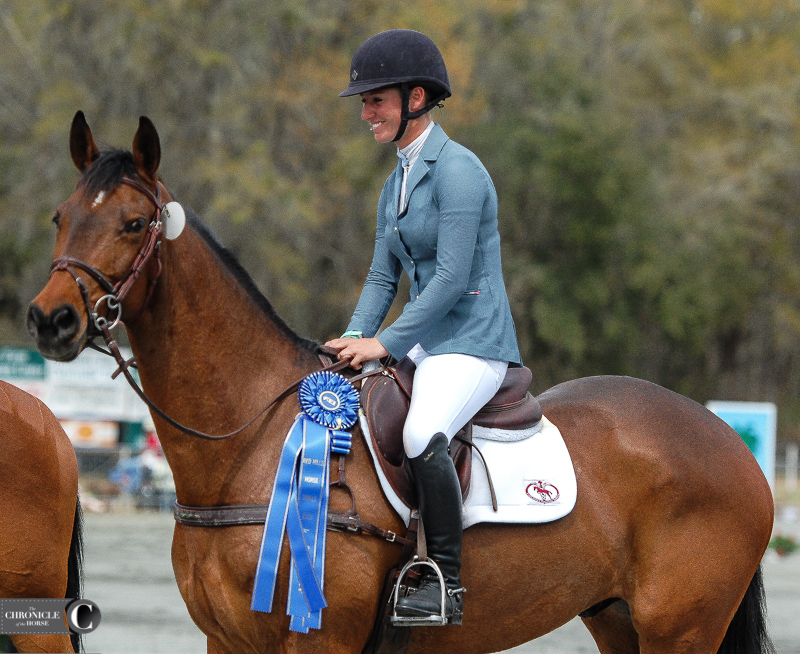 Caras and Pongo had good placings last year, finishing fourth at the Dutta Corp. Fair Hill International CCI** (Maryland) and second at the Richland Park CIC** (Michigan) and the Plantation Field International CIC** (Pennsylvania), all on their dressage score.
"He's been a little tricky because he's quite careful, so it's taken me a bit of time to figure him out," said Caras. "Now we have a pretty good partnership going. Last year was his first year at intermediate, then he finished off the season great. He likes to win I think. He tries his heart out. I'm just along for the ride!"
Pongo jumped a clear round today to move up from second after cross-country. Leaders Caroline Martin and The Apprentice dropped two rails to fall to fourth.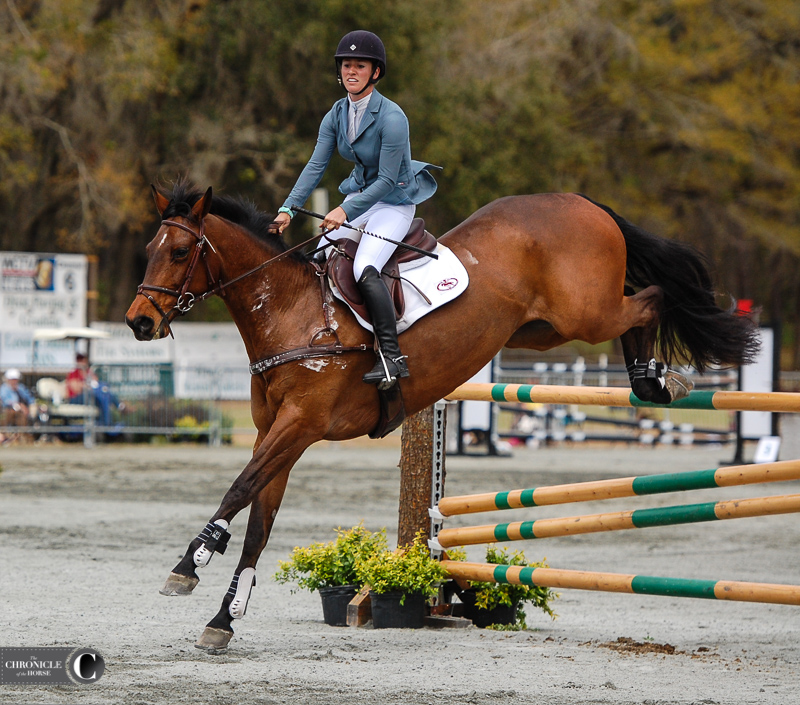 "He jumped great," she said. "I don't think he touched a rail. He's a really good show jumper naturally. For some reason I was more nervous today than usual. He let me make a couple of mistakes, and he forgave me for them, so I was really happy with that. The win means a lot to me. I've never won an FEI class, so I'm really happy. He's kind of been knocking on the door last fall at a few events, so for it to come through, it feels great. He's so consistent."
Caras said it took some time to get to know Pongo, and he can still be a bit menacing in the stall, but it's all bark, no bite.
"He's a very careful horse, but when I got him he was very stiff. I think he didn't have the best life before Carol got him," she said. "She bought him off somebody who maybe had a bit of a hard time. He seemed like he was a little roughed up. He's really grumpy in his stall and pins his ears and bites and kicks the wall. Everybody that comes in the barn doesn't want to be around him, but he's the sweetest horse. He would never do anything. You walk in there and give him a scratch, and he's like your best friend. Because he's so sensitive like that it took me a long time to build a partnership with him.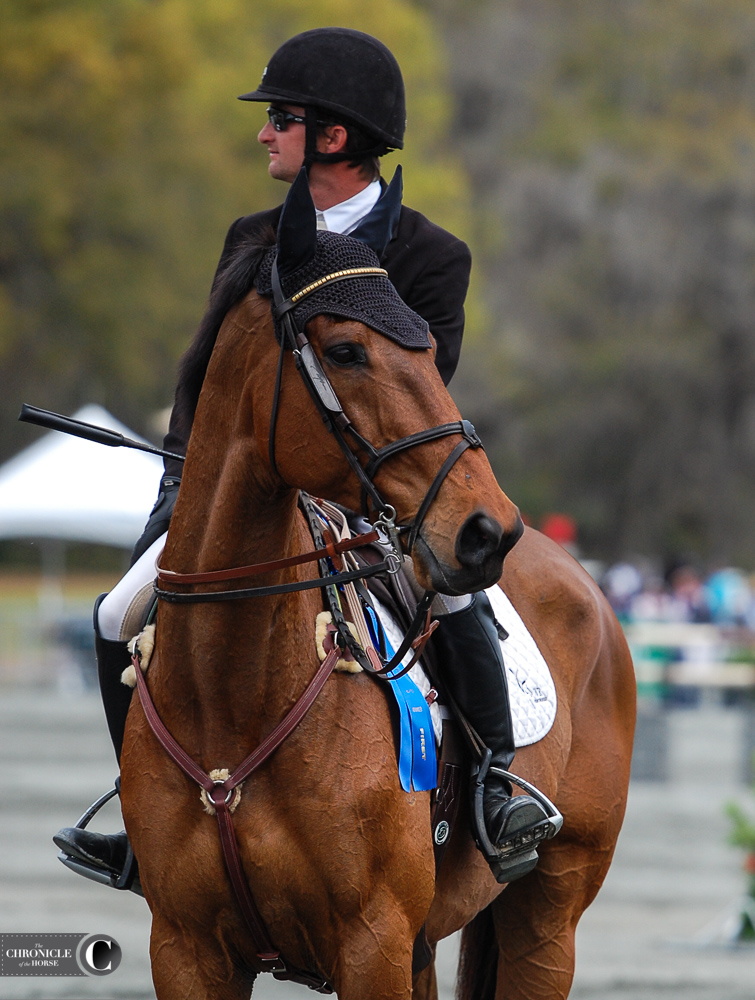 "He's like a little sportscar on cross-country," she added. "You land, and you think about going, and he's already two strides from where you thought you were. He's pretty easy to go fast."
Roberts and Kelecyn Cognac led the advanced division from start to finish, adding one rail and a time penalty.
"He wasn't as spry when I brought him out to ride this morning," he said. "I don't know what it is about the atmosphere, but the second I brought him out for the class, so I was super happy. We've ridden a few Chris Barnard courses this year, and every one has been tight on the time. You had to keep moving, but it's a risk you take. I think he's a master at making you stay careful but keeping the class interesting."
Roberts has had "Dan" for four years. Now 15, the Australian Thoroughbred was bred in Australia and competed to the three-star level with Kevin McNab, but he had issues with show jumping. He was then sold to Heidi White, who had similar struggles.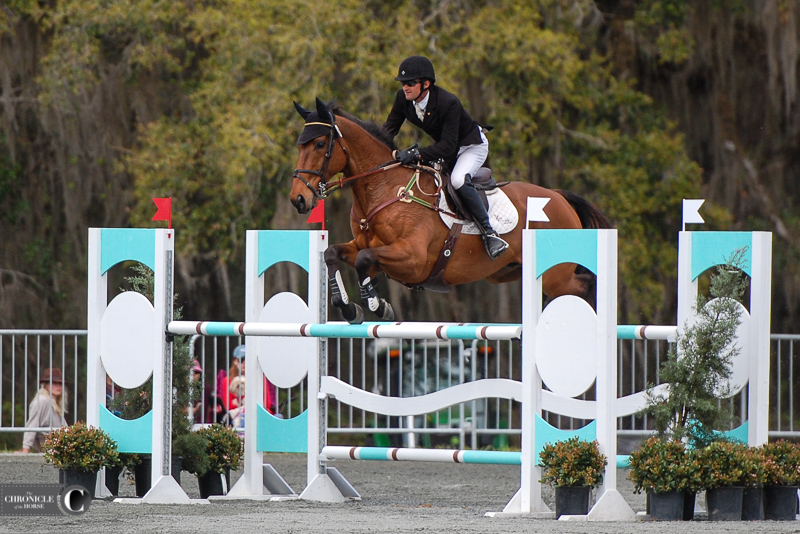 "He wants to be careful, he's just not the most orthodox of horses, and I don't know what the issue was," said Roberts. "He's a big horse, and he's a sensitive horse. He's got a Thoroughbred mind. He remembers everything, and he takes everything very personally, so you've got to work it through with him. He just keeps getting better."
Caras and Roberts joked that they're quite competitive with each other.
"I think we get more nervous when the other one is going," said Caras.
"Oh, I'm a wreck!" Roberts added. "I'm super competitive against Jenny, but we're just pushing each other to get better."
Both riders are based out of Phillip Dutton's barns in Aiken, South Carolina, and West Grove, Pennsylvania, and are looking to combine their businesses in some way this year.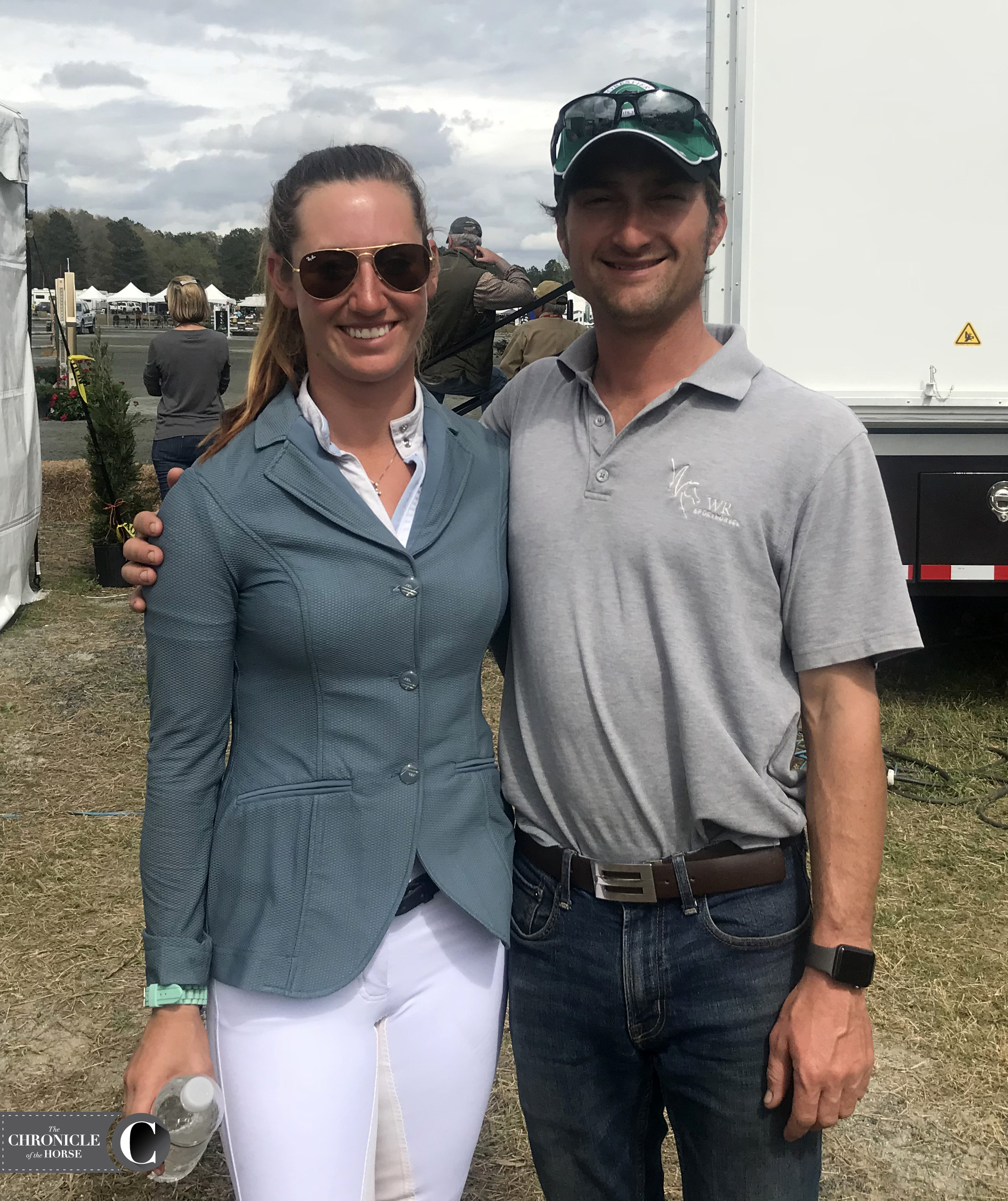 "It's totally fun because if you have a difficult horse at home you can bounce ideas off one another, and it's always coming from a good place," said Caras. "I'm never afraid he's just telling me what I want to hear about the horses. We've been together long enough now, the gloves are off!"
"I'm a little frightened of her sometimes!" Roberts said with a laugh.
For full results, click here.
For more from Red Hills, click here.
2018 Red Hills - Sunday
Lindsay Berreth / Mar 11, 2018 5:38 pm