After six weeks of exciting, world-class equestrian competition, the 2017 Great Lakes Equestrian Festival concluded on Sunday, Aug. 14, with the $100,000 Grand Prix of Traverse City CSI*** at the Flintfields Horse Park in Michigan. Roberto Teran Tafur of Colombia piloted Brilliant Du Rouet to the fastest double-clear performance to win the most coveted prize of the summer at GLEF in 35.70 seconds.
Tafur and the 12-year-old Oldenburg gelding, owned by Liubov Kochetova, have been consistently competing at the three-, four- and five-star levels as well as in Nations Cups since 2015, earning multiple top placings together, but had yet to claim their first FEI win. That all changed on Sunday as the pair were finally crowned victorious and led the victory gallop around the Grand Prix Ring at GLEF as the Colombian national anthem played.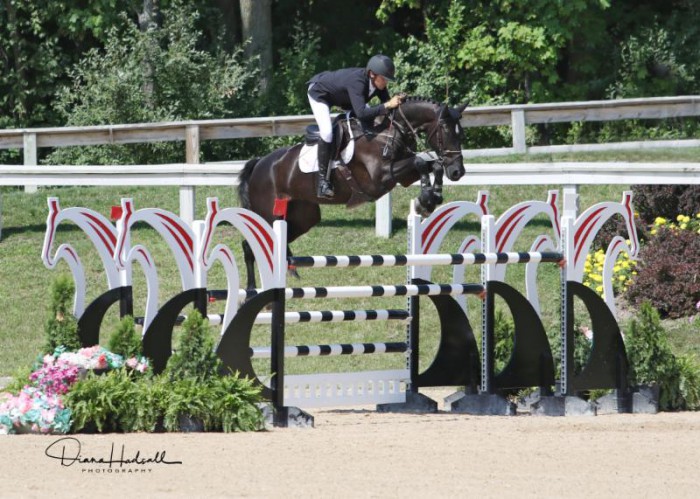 "I'm super excited," said Tafur. "I have been working with this horse for three years. We have been all over the world together. He has given me many, many good placings and fantastic rounds, especially this last month. He was very close to winning a grand prix, and the last two grand prix events in Lake Placid and Saugerties he was super close to winning, but he didn't. Finally today I was able to ride him well enough to close the deal."
Not only was Sunday's featured event the most highly ranked FEI class of the 2017 GLEF circuit, but it also counted as an opportunity for athletes and horses to qualify for the upcoming 2018 FEI World Equestrian Games in Tryon, N.C. Twenty-eight international horses and athletes were tested over the largest and most technical track the Grand Prix Ring has seen this season thus far, built by Canadian course designer Michel Vaillancourt. Six were able to produce clear rounds throughout the first round to advance to the jump-off.
Olympian Margie Engle was the early double-clear pathfinder as second in the order-of-go in the tie-breaking round aboard Gladewinds Partners LLC's Royce, stopping the timers in 37.26 seconds.
Tafur followed Engle and achieved the only other double-clear round of the jump-off, outpacing the pair by two seconds to take over the top spot on the leaderboard and garner the first place prize. For the second time throughout Week 6, Engle, winner of Week 5's $50,000 Grand Traverse Grand Prix CSI**, and Royce would settle for second place.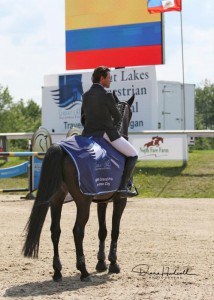 "When I turned to the in-and-out, I knew I was right on her track," said Tafur. "Then the last two jumps were really smooth and really fast. My horse is a little bit of a faster mover than [Margie's horse, Royce], who spends a lot of time in the air. She's a super fast rider, but when she didn't do five [strides] from [fence] 1 to 2, I knew I had a shot for first place."
Claiming third place honors, also for the second time throughout Week 6, was Austrlia's Scott Keach and Southern Cross Equestrian LLC's Fedor. They were the final horse-and-rider combination to compete over the short course, crossing the finish line with 4 faults in 36.40 seconds.