This six-time Olympian explores the field of dressage competitors and makes his predictions about who will come out on top.
This year will be very similar to previous years where you have two different races going on in the team competition. There will be a Dutch versus German race, and then there's the rest of the field who will be going for that bronze medal. It's sort of sad that we have not moved the sport along to a place where there is a greater race between more countries for the gold.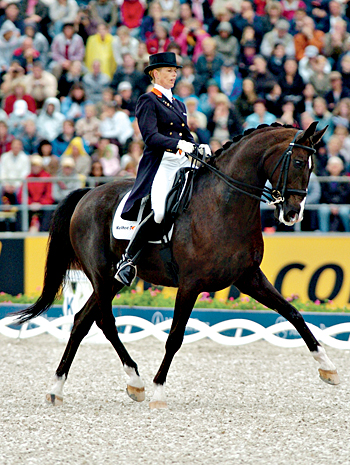 I believe the Netherlands is going to edge out Germany this year. I think that because of what I just saw from Aachen (Germany). The reserve rider for the Dutch team, Adelinde Cornelissen, beat everyone but Isabell Werth and Satchmo at the Aachen CHIO. That bodes well for the Dutch. If they do what they've been doing, they're going to take that medal. It won't be easy for them. If all of the Germans do their very best, then they'll give the Dutch a run for their money, because the Germans are on excellent horses too, and they're great riders.
Sadly, the general competition is going to feature a weaker field than we've had in past Games because of some dropouts, like the Swiss team and a few of the other riders who had soundness issues with their horses. The weaker field is an advantage for America. That Denmark won't have Blue Hors Matine or Lone Jorgensen bodes well for the United States.
If all things stay the same, and all the horses that are now nominated stay sound and do their thing, then I'm extremely happy to be of the opinion that the United States will be in the bronze position followed by Denmark and then by either England, Spain or Sweden.
If everything goes right, the United States will win the bronze medal, but if one little thing goes wrong, then the Danes have Andreas Helgstrand with Blue Hors Don Schufro and Nathalie zu Sayn-Wittgenstein with Digby. Andreas will hope to score around 71 or 72 percent, and Nathalie could get 70 percent. She'll do a very credible job. Their third rider is Anne van Olst with Clearwater. That's going to be their weakest link, like a 67 percent. I think we have the lead over them for bronze because we have three horses that should get 70 percent.
With the Swedes, both Tinne Wilhelmsson with Solos Carex and Jan Brink on Briar will be around
69 percent.
The Spanish will be better than expected. I believe the Spanish will all be between 67 and 69 percent. They had two great horses before between Beauvalais and Invasor. Now the Spanish have regrouped, and they're coming up with their horses, but they're not consistently over the 70 percent mark. I don't think they'll be a challenge to the United States.
Courtney King-Dye is a wonderful rider. She's a flagship rider for any country. She sits so beautifully, so
elegantly. She makes Harmony's Mythilus look fantastic. She's done better at producing an outline in the horse that is more competitive. The movements, especially the piaffe-passage, are excellent.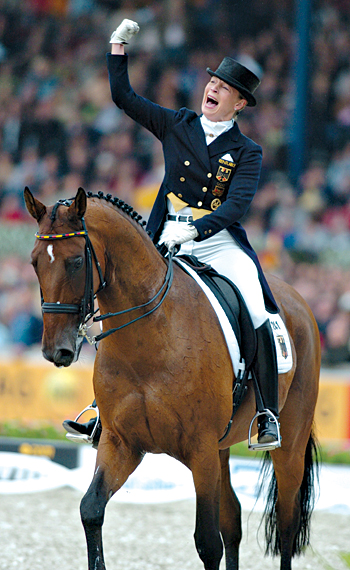 Ravel is with a top, very experienced rider, Steffen Peters, who stays cool and knows his job. Ravel is the latest and probably the finest horse Steffen has ever ridden. His piaffe is outstanding and, as a type, he shows top class and consistency throughout his test.
Brentina is very sound. She's maybe not as strong as she once was. But no horse goes into the arena with a rider looking more like her heart is in the right place than Brentina. No horse anywhere, anytime, does its job so willingly and with so much harmony in every single moment, as Brentina with Debbie McDonald. That's what we'll count on as an anchor ride. They're all good riders, good managers, and they know their business.

The individual medals this year will come from averaging the scores of the Grand Prix Special and the freestyle.
I wish they'd also included the scores from the Grand Prix, but those will only be used to determine team placings and the 25 riders who will make it into the Special.
The Netherlands' Anky van Grunsven is going to win the overall individual gold with Salinero. Germany's Isabell Werth will win the silver with Satchmo.
What seems to happen, and this has happened many times, is that on that second day Isabell Werth puts together that Grand Prix Special. On technical merits and on marks, I think she's going to win the Special.
These horses, Satchmo and Warum Nicht FRH, are completely a credit to her and her amazing talents. By comparison to others, she is a little person on huge horses that weren't easy for her to train. There were many rides that made me think I would not be thrilled to be riding that one around. She's amazing and is able to bring out the best in her horses over a long period of time. She's patient. She chips away at the block until they're the way she wants them in the ring. She's an incredible technician in the ring.
I think Anky van Grunsven will be second with Salinero in the Special. But in the freestyle I think Anky's going to do a hands-down win. She's so consistent, and she knows it. She and Salinero are at a completely different level. I think Isabell will be second.
It's going to get interesting after that for the individual bronze. I think the politics will probably favor horses like Imke Schellekens-Bartels' Sunrise and Nadine Capellman's Elvis. The probable bronze medal will go to Imke and Sunrise.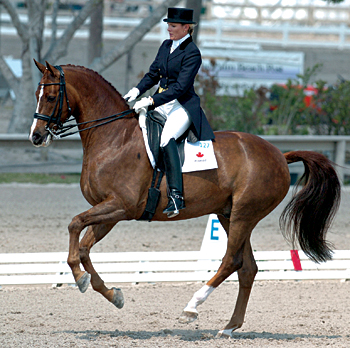 Horse for horse, ride for ride and quality of riding overall, I would love to see Ashley Holzer and Pop Art win bronze. I truly believe Ashley can ride a test that's as good as the very best of them. My gut feeling is that it's going to be difficult though, because she hasn't beaten those horses already in the past. It tends to be a sport in which how you finish has to do with who you've beaten going into the competition. Ashley is a dark horse.
But I just watched Ashley Holzer ride through her work last week, and I think she has incredible technical riding, absolutely beautiful harmony and solid basics. I watched the U.S. trials, and then I went and saw Ashley Holzer. Ashley was a cut above on technical merit and the absolute exactness of her riding. The expression within the three gaits and the movements were outstanding. If the judges are willing to see it movement for movement, and Ashley does her very best ride, then she will be totally fantastic.

From there on down the line lies a group of other possibilities, and that group includes Heike Kemmer with
Bonaparte, Hans Peter Minderhous with Nadine, Kyra Kyrklund with Max and Steffen Peters with Ravel. They're all wonderful.
I believe that if everything went at its optimum, and Brentina was just perfect, her freestyle is absolutely fantastic. I love it. It makes me want to get up and start clapping halfway through. Debbie rode a great freestyle out at the trials. I had her winning out at the trials. If she's really going with those hind legs and technically doing everything right, I could see Brentina just getting in there for third place in the freestyle.
I predict that all the Germans, all the Dutch and all the U.S. riders will make the Grand Prix Special and the freestyle. That group will also include Kyra Kyrklund, Andreas Helgstrand, Ashley Holzer, both British riders, Laura Bechtolsheimer with Mistral Hojris and Emma Hindle with Lancet, and possibly Jan Brink or France's Karen Tebar with Falada M.
I don't think Don Schufro is anywhere near as strong as Matine, but Andreas Helgstrand does an exceptional job.
Jan Brink's horse, Briar, has seen its better days. He's a great competitor, and he's a great rider. He's been an exceptional athlete in our sport. Jan is somebody you love to have in there, especially because he's from another country. Still, he's going to have a hard time being in the top 12 this year.
Mexico's Bernadette Pujals is competing with an older horse, Vincent. I really love that horse, but it's going to be harder for him to keep up with the younger group of horses. When you have these newer horses like Pop Art and Ravel, it's not going to be as easy for Bernadette. I think she'll be up in the top third, but not in the highest group.
Australia's Quando Quando will be around 68 or 69 with Kristy Oatley, but you'll see three Germans over 70 percent unless something goes really wrong. You'll have three Dutch over 70 percent and three Americans over 70 percent. You'll have Ashley from Canada, Kyra and possibly two Brits hovering around 70.
You'll have a big group of riders that are very respectable. In 1984 a 66 percent was the individual bronze medal—Otto Hofer and Limandus won individual bronze with that score. If you look back at it, it was hilarious. There were only a few horses that could piaffe. Within the top 12 you had horses that could only sort of do the movements, but not in any way, shape or form like the horses of today. The world has progressed, countries are more sophisticated, and the horses are generally of a better quality, so you see better sport.
It would be great to see a North American get an individual medal this year. But it could go in a whole different direction. A fly landing on a horse can change the whole thing, and it has before.

Robert Dover, as told to Sara Lieser
---
A United States dressage legend, Robert Dover has competed in six consecutive Olympic Games, the most ever for a U.S. dressage rider. He also competed in four World Championships and won team bronze and placed fifth individually in The Hague (the Netherlands) in 1994. His Olympic debut was at the 1984 Los Angeles Olympic Games, and he won his first Olympic medal in 1992 in Barcelona with Lectron. He collected four Olympic bronze team medals over the years and finished sixth individually at the 2004 Athens Olympic Games with FBW Kennedy, his highest individual placing. In addition to these accolades, Dover competed in seven FEI World Cup Finals and was the U.S. National Grand Prix champion five times