In this series, the Chronicle follows multiple riders as they seek to fulfill their FEI World Equestrian Games dreams in Tryon, North Carolina, in 2018. We'll check in with them in the coming months as they pursue a team spot to see how they're getting their horses ready and preparing mentally.
A streak of bad luck plagued Boyd Martin's string of potential World Equestrian Games horses: His most probable and tested partner, Shamwari, sustained a top-sport career ending injury at the Luhmühlen CCI**** (Germany) in May of this year, and his usual fallback mount Steady Eddie's record on cross-country has faltered as of late.
That left Martin with Tsetserleg. Though the youngest and least experienced of the group, "Thomas" finished 11th in a brilliant performance at the Land Rover Kentucky CCI**** in April. USEF selected Martin and Tsetserleg for the Land Rover U.S. Eventing Team for the WEG late June, so it's "Thomas' " time to shine, turn Martin's luck around and show the country what he's made of.

---
Shamwari was probably my most talented, experienced horse that I had, but he also had a lot of mileage on his legs. To be honest I didn't really go to Luhmühlen thinking, "I want to get picked for the WEG on this horse." I really went to try to win the four-star there and said to myself, "Look, if he comes through it all right there is a good chance he will go to the WEG, but my main goal is to try and win one of the biggest international four-stars in the world."  So it was rushing, but at the same time I knew Tsetserleg was in with a shot.
I also knew that Thomas was a little bit less experienced, and there were a number of other American horses and riders that did fabulous at Kentucky and Badminton [England], and I really thought I was kind of on the edge of getting picked or being reserve, so it was pretty nerve wracking waiting for that email on Tuesday. They say they're going to send you an email at 4:30, so I checked it probably 50 times from 4:25 to 4:30 when it turned up.
It's a huge honor and a real privilege to be named to the U.S. World Equestrian Games team. One of my goals is to ride at the championship level, and it's an agonizing process to get there. It's a huge relief to be picked, but by saying that, that's not the ultimate goal. The ultimate goal is to go in and put in a personal best performance for the country in September.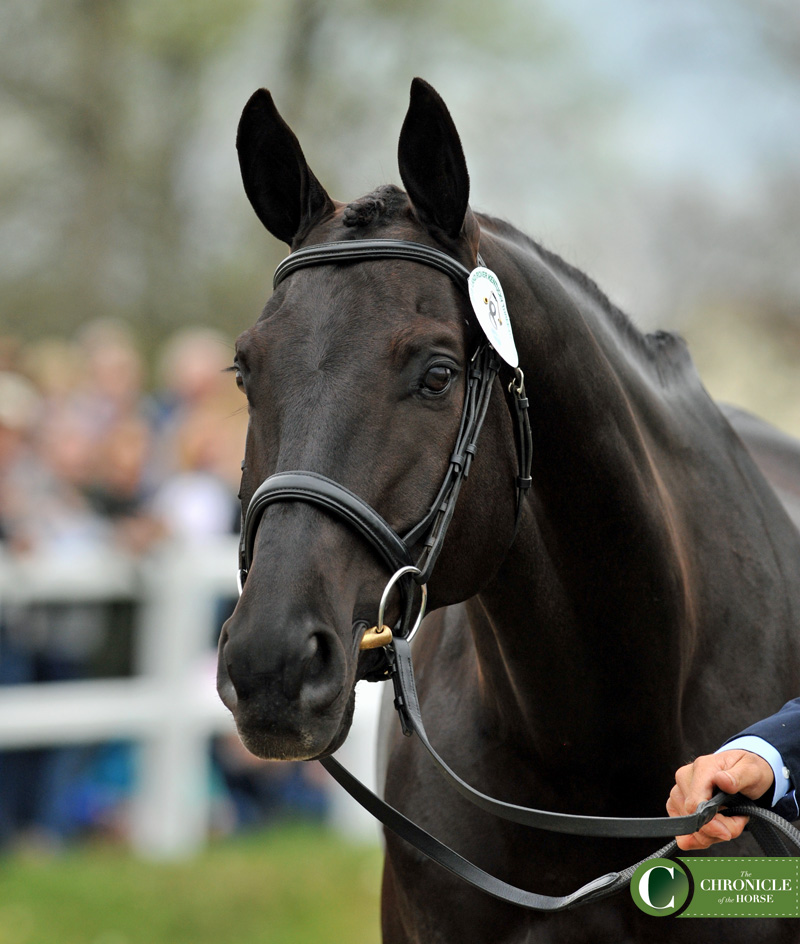 [Getting named to a team] is probably more of a mental stress [than a physical one]. The most important thing is the timing of having your horse fit and sound and in form. I had a number of horses that were hopefuls for this WEG team, and a few of them—Steady Eddie lost a bit of form in the cross-country this year, and poor Shamwari had a freak injury at Luhmühlen—so I was really down to just Tsetserleg. I always try to have three or four horses in line, and as you can see the last six months a couple things didn't go my way, but luckily for me little Tsetserleg has been in sizzling form, and he's getting stronger and performing really, really well, so I'm very happy that he's really shown through this season.
You know I've never seen a horse improve as much as [Thomas] has. I haven't been with him that long, and he stepped up and looked really good at the [Dutta Corp.] Fair Hill CCI*** [Maryland] last year and felt even stronger at Kentucky this year, and my guess is he's definitely going to improve on the performance that he gave in Kentucky in April. Our chef d'équipe, Erik Duvander, is here a couple times a week. The amount of effort and energy and focus that we're putting in to Thomas' training each day, it's really, really rewarding seeing how much the horse is improving.  We're working on every aspect; obviously the dressage is always a work in progress.
He [scored well at Kentucky, with a 31.2], but he's also got another level. He's a great mover and has a great mind for it. With the jumping, he's a bit of an awkward show jumper, but he's a real trier, so we're chipping away at that with my jumping coach Richard Picken. And then the fitness and the cross-country, Phillip Dutton and Erik together sort of guide me along and keep making sure we're working on his speed and his fitness and some of the technical things in the cross-country, schooling what we're most likely to see come September.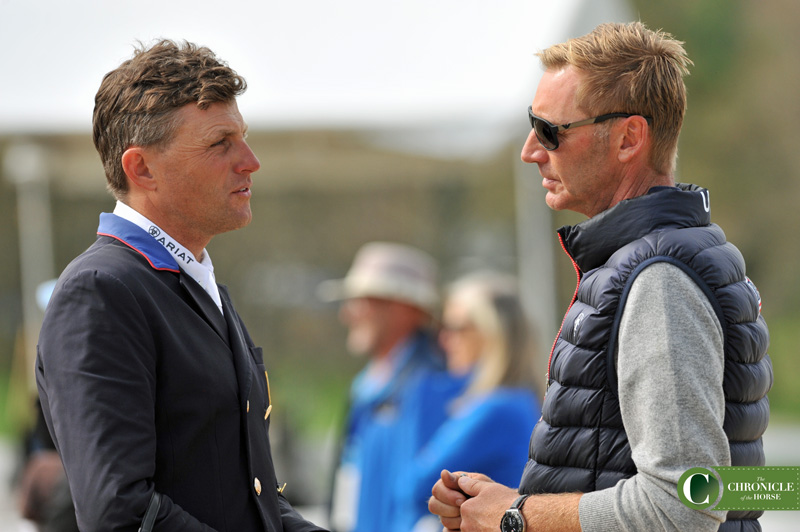 We just started working with [Erik Duvander] this year really. This year he came on full time. I've known Erik for years, and I honestly think he's really, really improved me as a rider and a horseman and my program, everything. I've never had a chef d'équipe or coach who's dedicated themselves so much to their riders. He's left his family behind in New Zealand, and seven days a week he's just helping this group of riders who are getting ready for these big events coming up this summer. He's just so knowledgeable and hungry, and his personality really clicks with mine, and I really, really have gotten a lot out of him and can't say how much I appreciate his dedication.
We had [the Brook Ledge] Great Meadow [International (Virginia)] last week [where Thomas won the combined test on a 36.2], and then this week I think I'll spin him around just to see how he feels at the two-star at the Maryland Horse Trials if the ground is good. Just a nice easy, smaller cross-country course to make it nice and easy and a little bit of a fitness run, and then I'm going to take him down to Kentucky to [a jumper show] and spend a week down there competing in a couple 1.30-meter jumping shows with my coach Richard Picken.
We will be chipping along with his fitness the whole time. We'll be swimming him and putting him on the AquaTred, and we've just put in a new synthetic gallop at our farm [Windurra USA in Cochranville, Pennsylvania], so that's come along at the right time. And then his final run will be the Bromont CIC*** (Canada), and that's three weeks before the WEG.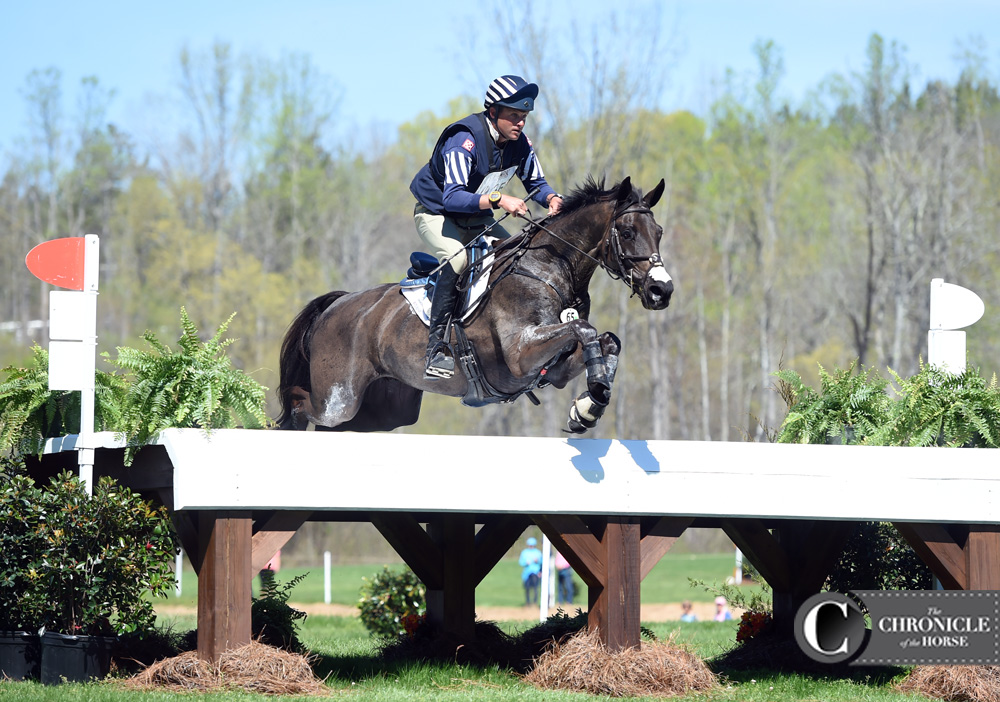 You know the build up and the lead up [to a championship] is very stressful; you feel a lot of pressure. Every time you compete the horse or ride them, if he takes one bad step you know there is a reserve horse and rider ready to step in.
The biggest thing, I think, is not leaving anything on the table. For me, when I finish the championship, I want to be able to drive home saying I did everything I possibly could; I gave everything I had to put in my best result, and that might mean not taking any shortcuts, training as hard as you can, pushing your horse as hard as they need to be pushed, and not trying to over protect them and sacrifice fitness because you're so worried about them taking a bad step and getting injured. I've seen some of the other riders in the past sort of protecting their horse just so they can get around and call themselves an Olympian. That's a balancing act of making sure your horse is good, healthy and sound, but they've got to be ready. They've got to be as fit as they've ever been.
And then from a personal point of view, I really want to feel like I've given everything I've got, so that means sacrificing—stop drinking, lose some weight, not doing clinics every weekend, cutting back on teaching at home, and really blocking out a big part of the day for high performance training for yourself. I'm getting older now, so it would be nice to get in there and win a medal now; it's not just about making the team and getting the T-shirt. We've come very close at WEGs and Olympics before as a team and just missed out, so for my legacy I really want to change that. Because you just don't know in two years time or four years time if you'll be in the same position where you can strike.
What Does Shamwari's Future Look Like?
[Shamwari's] got about four months on just stall rest; he had a pretty significant injury. He's an old horse now, and there is surgery and stuff like that, but I really think it's time to close his career at the very top of the sport. It's sad a bit because it was a freak accident; I really felt like the horse was in fantastic health and condition, but he still looks good and happy.
My guess is we'll get him healed up from this tendon slip on his hock, and he'll most likely end up with one of his syndicate owners, and he'll probably do some low-level dressage and jumping and trail riding. I think he's still got some good years left to do stuff, and I really truly believe that these horses, it's a bit unkind throwing them out in a paddock and forgetting about them. I've still got [2010 Alltech FEI World Equestrian Games (Kentucky) mount] Neville Bardos in my stable [who is being ridden by a working student].
This kid from Australia has come over and is working for me, and that's her special horse, and he gets brushed and groomed and ridden and washed. To be honest, the horse is still very special and important, and I think it's important we look after them and make sure they're happy after they retire.
Catch up with our other Road To The WEG riders:
Dressage rider Olivia LaGoy-Weltz
Para-dressage rider Rebecca Hart