In this series, the Chronicle follows multiple riders as they seek to fulfill their FEI World Equestrian Games dreams in Tryon, North Carolina, in 2018. We'll check in with them in the coming months as they pursue a team spot to see how they're getting their horses ready and preparing mentally.
Rebecca Hart is a veteran of the U.S. Para-Dressage program. She's been on teams at the 2008, 2012 and 2016 Paralympic Games as well as the FEI World Equestrian Games in 2010 and 2014.
Hart retired Rio mount Schroeter's Romani at the end of 2016 and spent 2017 horseless, but she's coming back in a big way with two new WEG contenders in El Corona Texel and Fortune 500. Hart is based in Wellington, Florida, year round, and "Tex" and "Moola" are at Cedar Crest Farms and Havensafe Farms respectively.
Hart, 33, and Tex are undefeated in the 2018 season. Their high score together is 74.44 percent in their most recent CPEDI.

Go Behind The Stall Door with El Corona Texel.
Learn how Fortune 500 joined Hart's string.
---
I had retired my horse Romani [in 2016] because we knew how much travel we would have to do for competitions, and she was 16 years old at the time and didn't owe us anything. I knew I wanted to continue but wasn't quite sure how. It was a full year before I was able to have another horse. [That year] allowed me to do some soul searching and realize how important horses and competing were to me. I was in the scene supporting and watching everyone else compete, and I was like, "Wow this is amazing, but I want to be there too!"
El Corona Texel is a 9-year-old Dutch Warmblood. We got him about seven months ago, and he's exactly my type: small, compact, incredibly powerful. Once you become his person he's got a real in-your-pocket personality. I like all my horses to have character, so despite his supreme talent he does have a more difficult side.
He's very expressive, but he can be a little reactive to his surroundings. Tex is technically brilliant, so the challenge is getting his mind to stay focused. I have no [control of my] legs when I ride, so where an able-bodied rider could wrap their legs around him and say, "Focus. Stay with me," he has to trust himself more with me. We've just been exposing him to all sorts of stimuli like flower obstacle courses and shiny streamers, basically trying to bombproof him in very manageable chunks. We're just learning how to take his energy and keep it positive. We've been very successful the last few months.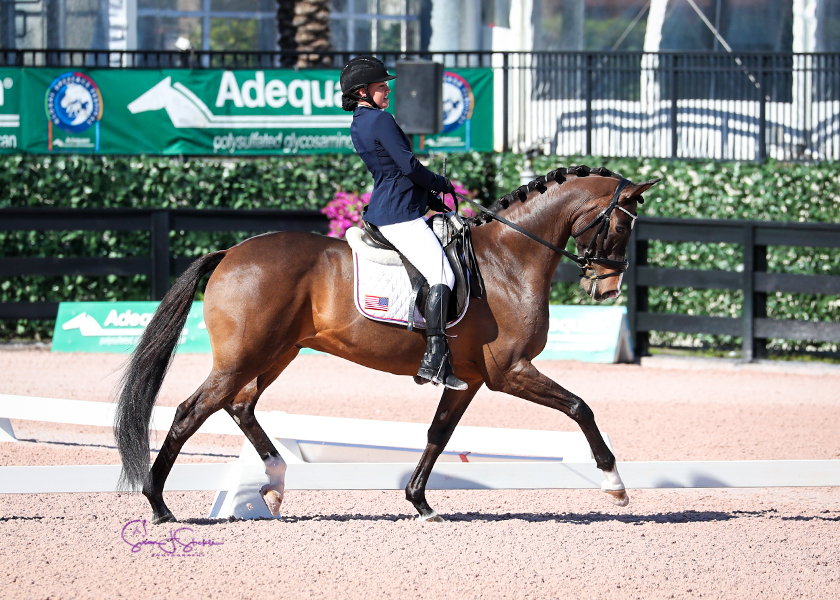 We call Fortune 500 "Moola." He's an 8-year-old Oldenburg, and he's kind of the exact opposite of Tex. He's tall, very big, and he's a very expressive, beautiful mover. Where Tex has bursts of power, Moola is softer. Tex can be reactive; Moola is chill. He's a laid-back happy soul, which has been really fun.
Moola is new to showing, so we've been doing a lot of homework. We've only really had him a month, but we're very fortunate to be in Wellington where there are a lot of dressage arenas around. We'll braid him and trailer him over and expose him to all these different venues to see what he does. We're kind of fast tracking him because we're trying to qualify for WEG, but he's been super consistent and easy, and it hasn't really involved a lot of pressure.
Learning Curves
Both horses were previously ridden by professional able-bodied riders, so when we first got them there's always a little bit of a learning curve. I usually have my trainer [Melissa MacLaren Velix] get on and do the warm-up because I can't post, so we did that with Moola, and once Melissa got off he was like, "Wait a minute, she got off. I'm done, right?" He kind of grew roots the first week I got on him. He didn't think he had to go, and I didn't have any leg to get him moving. We had to think outside the box, so I got on first and did a walking warm-up, then Melissa got on, but I velcroed her leg down so it would feel more like mine. If Moola said no she could use her leg to get him going. It only took two rides doing that for him to get the idea.
I ride with two whips, so we have to teach the horses that the whip is no longer a correction, nor is it an aid for ultra-collection; the whips are mostly for lateral movement. Tex at seven months is just now understanding the variety of whip cues. I have a progressive condition, so I used to be able to use more of my seat and lower back, but now I'm not as able to do that. I've had to relearn some of my own cues, and I also use a lot of voice now.
Each horse [has different voice cues]. Tex knows a pop, which means walk, a kiss means trot, and a cluck means faster in whatever gait we're in. Moola knows "walk," for now, but we'll turn it into something less obvious. It's amazing, each horse has that silent language, this classical set of cues, and then I like to think of each horse as having their own dialect of that language. With para there's this whole other depth to that because we don't have access to all of our bodies. Getting the horses to be able to translate from the able-bodied cues into what we're doing and understand is a truly fascinating process.
Making Preparations
Melissa is exceptional; she's been hands on helping us stay on top of everything. We do a lot of our own care. We know what their legs feel like. We know every inch of them, so anything suspect gets caught early.
We do ring work, but we also have access to hacking trails and polo fields. With Tex we like to go through a whole test. He likes to be aware of what's up; he likes to know the tests really well. Some horses over-anticipate tests like that, but he never gets ahead of me. He just takes a deep breath.
With Moola we've been doing single movements, so we know the pieces work. We're also getting him used to the smaller ring. In low grade para we ride in a 20-meter by 40-meter ring, and that was a big thing for Moola. He was a little surprised at how quickly the wall came up the first time, especially since he's 17.1 and big-moving.
We do a lot of body work, massage therapy and acupuncture. We do icing on their legs, we'll use an Equissage, but other than that they're pretty simple.
 Competitive Goals
The big difference between this year and past cycles is obviously that I had my horses for a considerably longer amount of time [before past Games]. I'm pretty confident with Tex, but Moola I've only had three weeks. Our goal for para—and this is so paramount for our sport—is to do as well as possible and make sure we are as capable of getting a medal for our country as possible.
It's so vitally important for our funding to have the growth and depth of riders we need to be medal contenders. At competitions we want to make sure we're accurate, and we don't throw points away. Those medals are separated by thousandths of a point at the international level. It's the small details you have to have hammered out. We make sure we do all our homework, so when we're in the situation where we have to deliver we know we can get it done.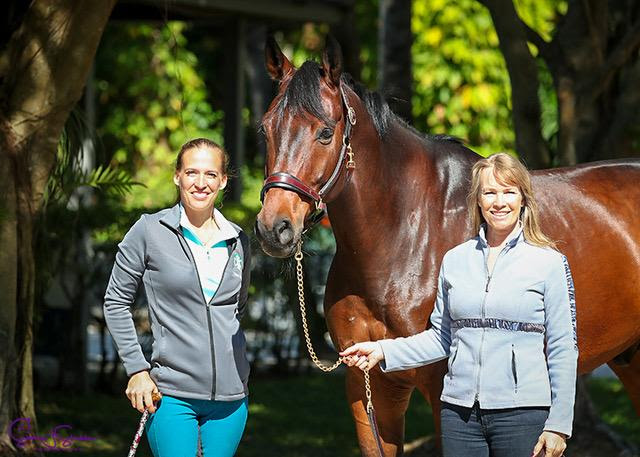 Read all the 2018 Road To The WEG articles.
Catch up with our other Road To The WEG riders:
Dressage rider Olivia LaGoy-Weltz