In this series, the Chronicle follows multiple riders as they seek to fulfill their FEI World Equestrian Games dreams in Tryon, North Carolina, in 2018. We'll check in with them in the coming months as they pursue a team spot to see how they're getting their horses ready and preparing mentally.
Since arriving in Europe, Olivia LaGoy-Weltz and Lonoir went to CDIs at Rotterdam (the Netherlands) and Leudelange (Luxembourg). The pair improved their scores at the CHIO Aachen (Germany), earning a 71.87 percent in the Grand Prix CDI**** for fifth and a 77.43 percent in the freestyle for third.
On July 26, LaGoy-Weltz and "Lono" were named as alternates for the Dutta. Corp U.S. Dressage team at the 2018 FEI World Equestrian Games. They're now awaiting a flight back to Miami and will remain in Florida until the team ships to North Carolina.
You can also learn more about Lonoir in his Behind The Stall Door feature.
---
I'm so happy to be a part of the team in any way, shape or form. I totally agree or would have done the same thing looking at the scores with who they picked [for the team] and how that worked out. [Technical Advisor] Robert [Dover] always says to us, "Try not to see it from your perspective, but try to imagine if you were the team coach, what would you do?" So I'm really excited for our team for the WEG.
I think we have a really good-looking team with Laura [Graves] and with Kasey [Perry-Glass] scoring so well, and then Adrienne [Lyle] also has the potential. She's gotten 76 [percent], and [Salvino] is really developing. Steffen [Peters] has [Rosamunde], and she's had some really good shows, so if we're able to score like that, we should be quite competitive. And that's exciting. They're all great friends and all teammates, and you want the best for the sport and the country.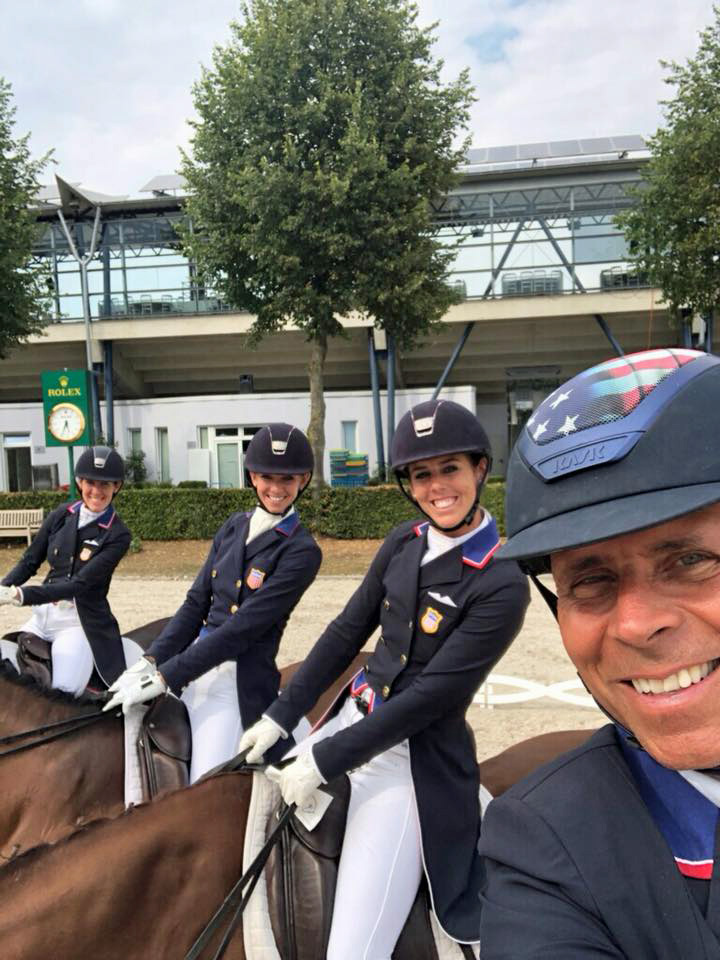 We all rocked it at Aachen, and for me that was really great because Rotterdam was not a bad show for me, but it definitely wasn't a high scoring show for me, so that was a little disappointing. I wasn't going to do [Leudelange], and then I did do it even though I had some doubts about it being the right venue for him. And again it wasn't bad, but it wasn't great either.
Sometimes it can be a little bit of a confidence knock. Like Leudelange, he got actually quite naughty in the second test on the second day, and I ended up excusing myself. I've had that happen one other time before I even started doing CDIs with him, and I wasn't anticipating it. I was worried that something was wrong with him or that kind of thing. There wasn't, he was totally fine, but that doesn't exactly give you the best confidence boost going into a huge show like Aachen.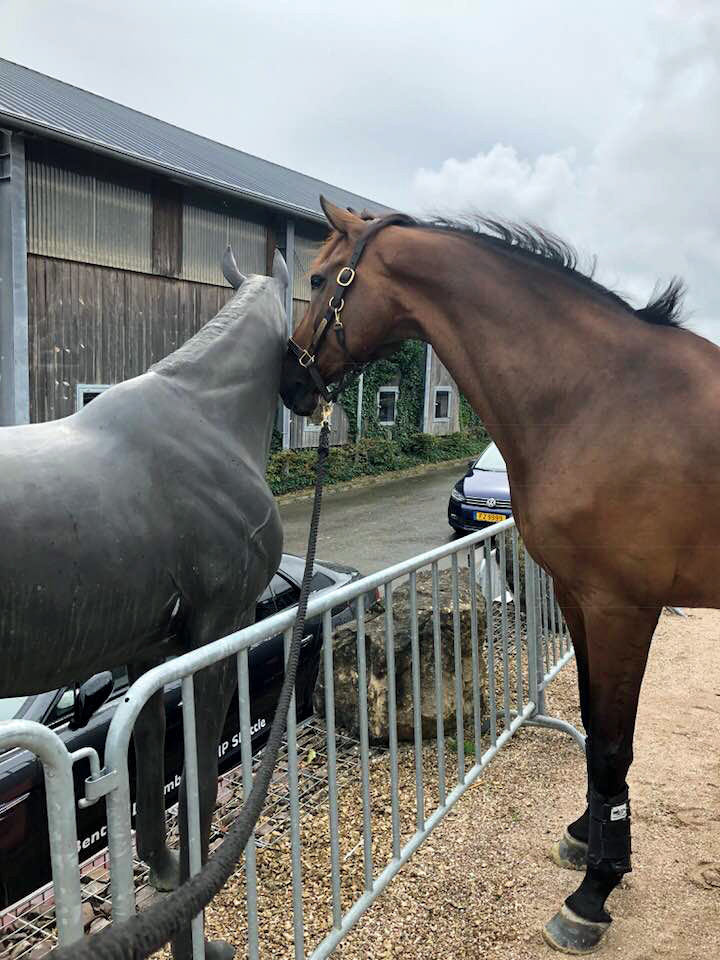 [In our Aachen] Grand Prix we got a 71.87 [percent]. That day it felt to me like a 78 just because he went in, and it was really good. It was very clean, and I think we had one piaffe where he wanted to go out earlier, and I made him stay, but other than that it was a good test, so then I felt more like, "OK he's good."
To finish at Aachen in a really good place; it's a tough show with so much atmosphere and doing the freestyle under the lights. That was fabulous. I was thrilled and couldn't have been happier. I just wanted to go in and have a positive, clean experience and ride well, and we ended up tied with Steffen [on Suppenkasper], so that was quite good.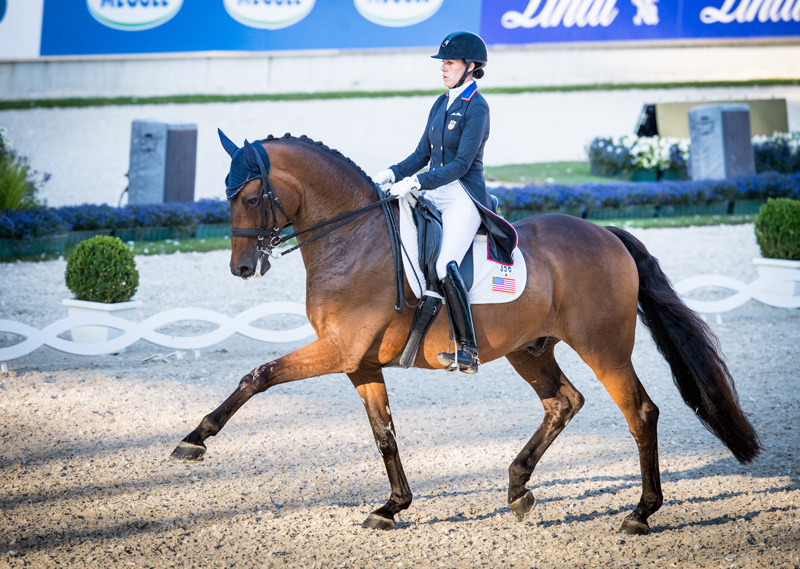 Talking to Robert and [personal coach] Debbie [McDonald], we all agree that the horse is on the cusp of being able to score higher than where we're at. He has the ability to score 76, almost 77 percent. Every single thing on the test, this horse can score between 7 and 9. It's just getting it to happen all on the same day, and that's the piece that we're really having to work on.
I have to say, it was such a pleasure to see Kasey come out and do so well this year, because I feel like last year for her was a little bit like where I am with Lono right now. There's a lot of potential, but it's just trying to find the right recipe, and I feel like she did that this year. It's totally exciting to see and very inspiring and makes you kind of realize that we all go through this and just keep looking and trying and keep believing in this horse.
A Team In More Ways Than One
It's a really great, special group, and that isn't just by magic. I think Robert has worked hard to set that tone and put in some expectations and rules. Basically, our team is not picked just off of scores, but it's also horsemanship and good behavior. You have to be a good human being basically, and I think that's fabulous. I have quite a few friends who have all come up to me and been like, "Wow, that's so nice you guys are so supportive of each other." And it really is nice. And they're like, "Is it real?" It is real. It's very genuine, and that is nice. It really makes it fun.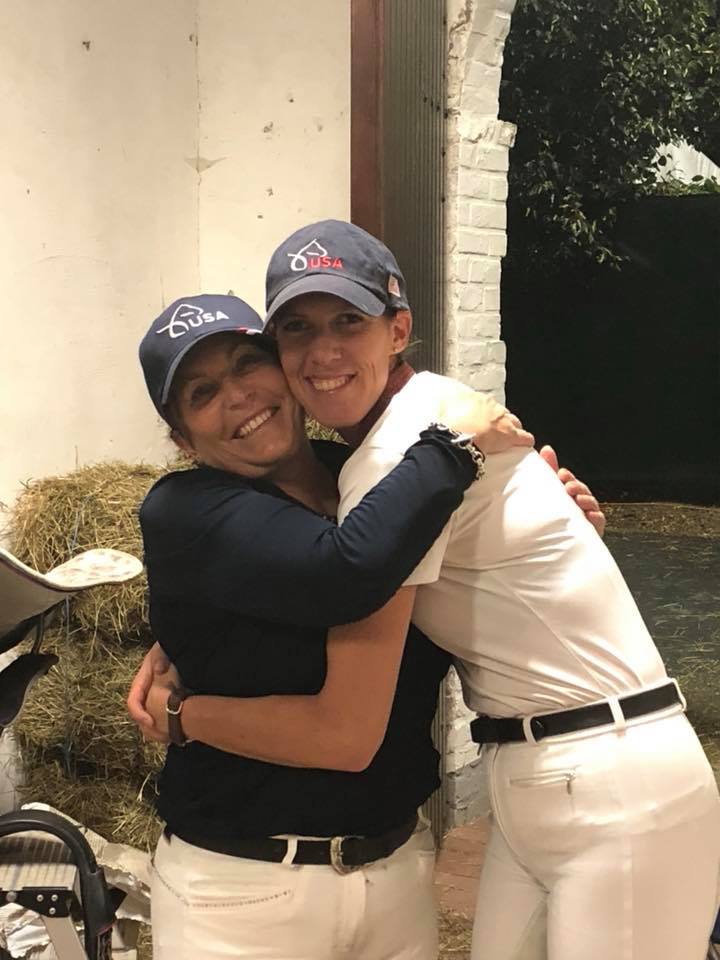 [Though Steffen isn't one of my trainers, he helped put Lono and I on the map.] I had gone out on my own on the East Coast in 2013. I had previously worked for Kathy Priest, and I moved to Virginia to live with my now-husband and had gone to a completely new area and knew no one and had this talented, hot horse that I was managing on my own. When I went down to Florida in the winter of 2014, I had signed up to do the [Succeed/USDF FEI-Level Trainers Conference].
Steffen was the trainer there, and the first day they watched us all go and decided the order and maybe Steffen gets on the horses. And he was very complimentary: "I don't need to get on this horse. You're doing such a great job. Sounds like he's a little tricky," that kind of thing.
It really gave me a confidence boost. I'm not a highly insecure person, but I'm not the most confident person. I'm very, very self-critical, so to have him say those things in front of a large group of people and to have it be so well-received was really huge for me and got Robert a little interested. And then we went out and showed later in that season and had a really fabulous show season. Then we did the [U.S. Dressage Festival of Champions (New Jersey)], and I got third to Steffen on [Rosamunde and Apassionata]. I've been on a few tours with him, and he's just a really great teammate.
We're excited to have Debbie [begin as technical advisor after the WEG], but we're going to miss Robert because he's really grown into that role super well, and we've all gotten so familiar with him.  I don't think you can find a bigger and more outspoken cheerleader for U.S. dressage than Robert. No matter where you are in that list or that line-up, he's very good at believing in everybody and cheering everyone on equally. He's been great.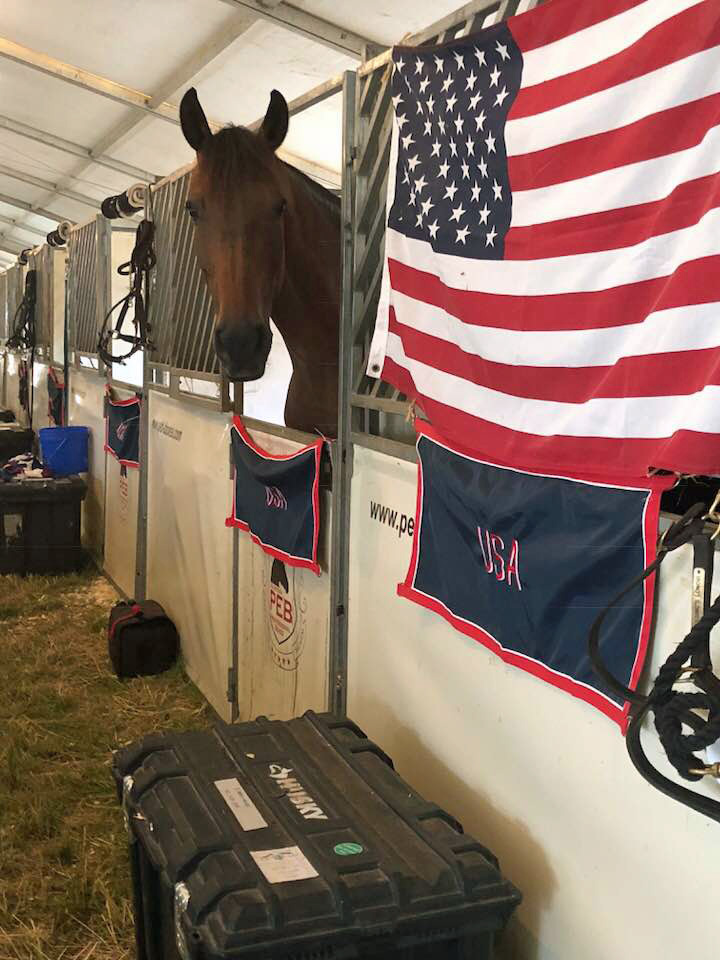 Life On The Road
It's stressful no matter what because you're overseas with your horses, and you don't have your comforts of home: your regular vets, your regular farriers at your beck and call, and you're living out of a hotel that doesn't have air conditioning.
On the one hand you think, "Oh my God, we're going to Europe; this is so cool." And it is, and it's such a privilege, and it's so awesome, but then your room is roasting. Adrienne [made] homemade air conditioning for her hotel room. She would literally freeze a block of ice every day and then put it in front of the fan at night because she runs so warm, and there's no AC. The hotel rooms here didn't have windows either, so either you slept with your doors open and let all the mosquitoes in, or you closed your door. It's little things like that that you don't really think of.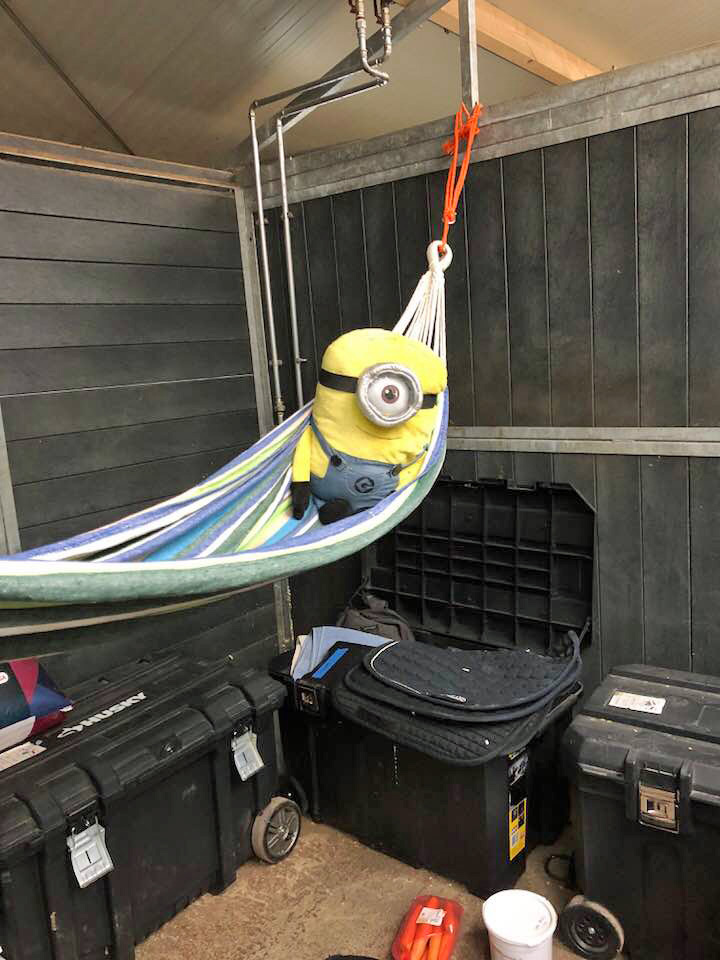 The whole group is pretty well versed in traveling to Europe, so everyone now has a system for doing it, and it keeps everyone comfortable and happy. Steffen brings model airplanes and flies those around. He always rents a station wagon, and you're like, "Why does he need a station wagon?"
"Oh, because he has a giant model airplane in the back of the station wagon." He goes and flies in the field next to the barn every afternoon.
You're riding between one and three horses. What do you do the rest of the day other than hop on your horse? At some point your horse is like, "Please stop looking at me."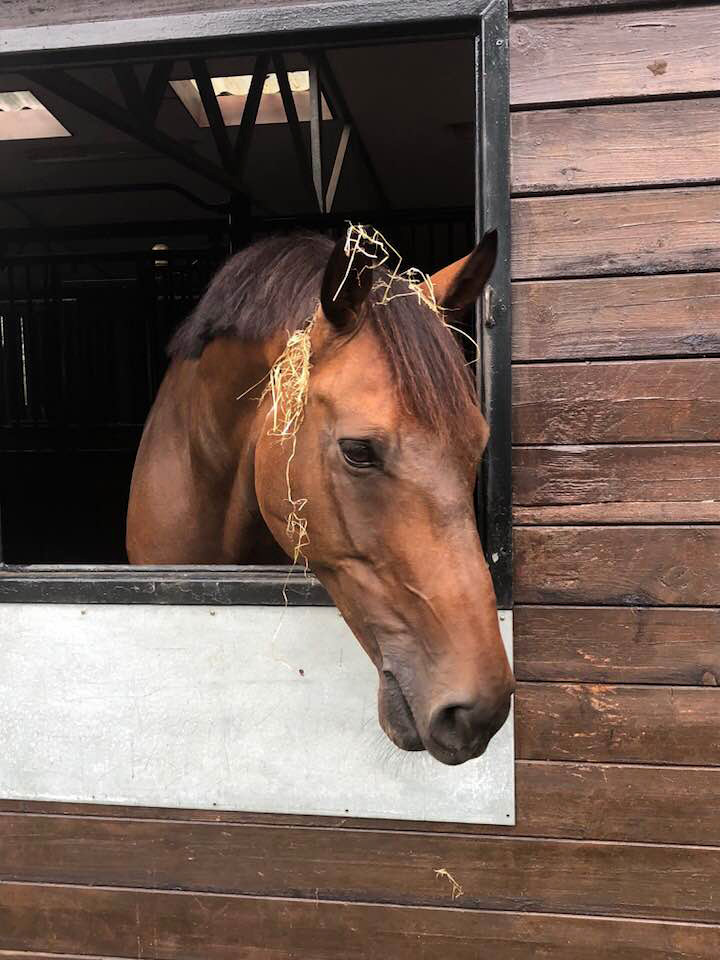 I'm good at finding stuff to do in the barn, but I'm definitely a big proponent of quiet time in the afternoon for the horses. Definitely going to the laundromat was a big event for us, because we don't have a washing machine. A couple days a week we make a pilgrimage to go to the laundromat and hang out and do that.
What was really nice at this facility is that we had turnout, so everyone would ride in the morning. In the afternoon you'd probably find Kasey, Laura, Adrienne and myself sprawled out in the grass, watching the horses in turnout. It's funny because you'd walk up, and it looks like pony camp except we're all in our 30s instead of 12.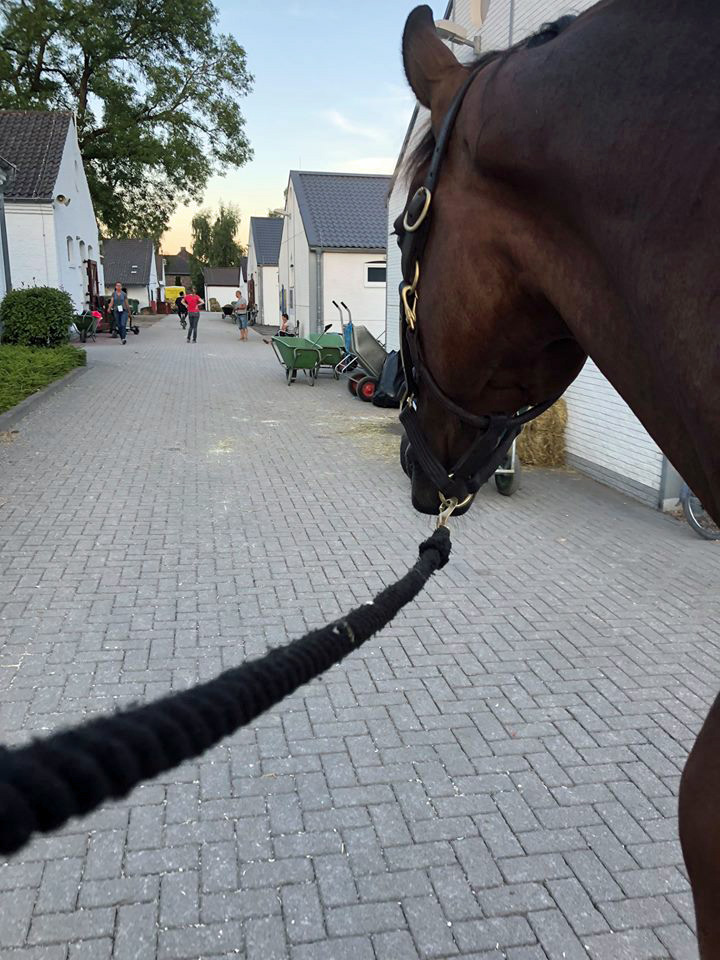 You definitely create activities. Kasey, Laura and I don't bring a groom, so that helps fill your day. And then we would rotate who would go to Starbucks because it was 20 minutes away, so we'd get 10 drinks for people.
We went to a scary movie one night. I'm not good at [watching scary movies], so I'm hiding in my scarf, and we got to the end of the movie, and it's kind of an odd movie, and all of a sudden the main character jumps out of a window into a flowerbed. At this point the whole audience was like what's going on with this movie? Then this guy in the back just starts cracking up, and then I start cracking up, and then the entire audience in this horror film is cracking up. That was a good memory.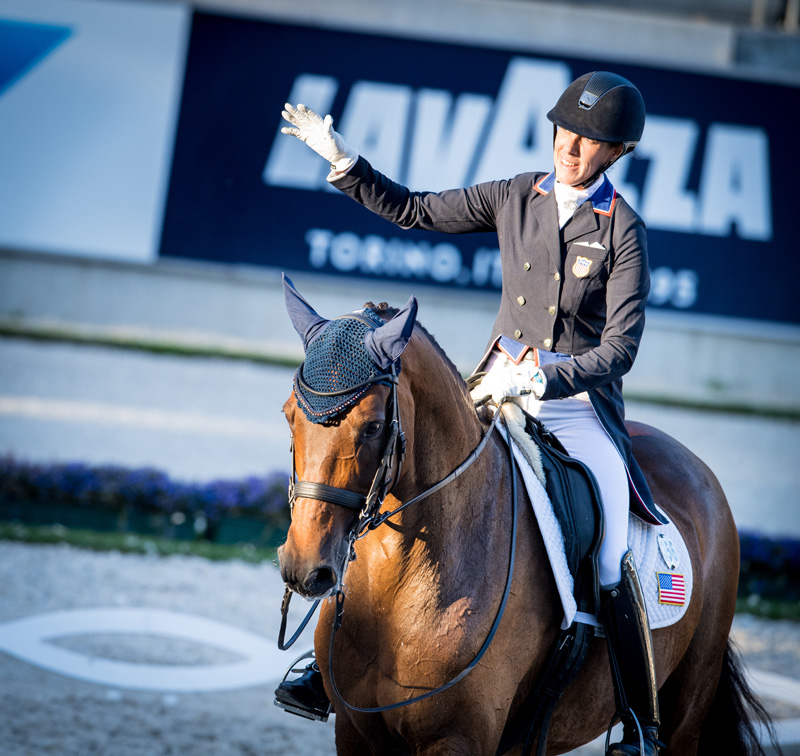 [Now] I will go down to Florida, and then I'll be stabled at [Oded Shimoni's] just down the road from Debbie. I'm working with Debbie and Robert up until Tryon. I'll travel with the team to Tryon, and we're going to be based at JJ Tate's barn for about 10 days, and everyone else goes to Tryon. At Tryon [alternate stabling is] offsite, so I'll stay at JJ's. Right up until two hours before the jog they can still substitute me in, which I hope I don't. You never want that to happen; even if you're the alternate, you don't hope for that. It's not the best for the team.
They have tickets for me, so I'd like to hang out and support, and I may send Lono home so that he can have a few days off while I do that, but he may stay down there. And then back home and see where he's at and see if he wants a break. If he's feeling fit and happy, keep him going. He's such an interesting horse and interesting shaped horse, that he'll take a break from competition, but for him it's also a good thing to just stay fit and keep moving, whether it's hacking, trail riding, longeing or fun riding.
Read all of the Road To The WEG articles with Olivia LaGoy-Weltz
Catch up with our other Road To The WEG riders:
Para-dressage rider Rebecca Hart