In this series, the Chronicle follows multiple riders as they seek to fulfill their World Equestrian Games dreams in Tryon, North Carolina, in 2018. We'll check in with them in the coming months as they pursue a team spot to see how they're getting their horses ready and preparing mentally.
Margie Engle and Royce left the United States for Europe after collecting a second-placed finish in the Kentucky Summer Classic Mary Rena Murphy Grand Prix CSI*** and showing at the Devon Horse Show in Devon, Pennsylvania. With a week of downtime in Connecticut, the pair headed to their first observation event for the 2018 Tryon World Equestrian Games at Sopot CSIO***** (Poland).
In Poland, Engle and Royce earned second place behind Henrik Von Eckermann and Castello 194 in the CSIO***** Longines Grand Prix of Sopot. In the Longines FEI Jumping Nations Cup of Poland, the U.S. took the bronze spot on the podium, with Engle and Royce tallying 4 faults in each round.
Their next observation event is the Aachen CSIO***** (Germany) on July 17-22.
Learn more about Royce in his Behind The Stall Door feature.
---
It was actually my first time showing in Sopot. It was a great event. I've never shown in Poland before, and everyone there was very hospitable, and they had nice showgrounds. It was a long trek to get there.
[Royce's] been in a great mood and has been great with all the shipping around. There was the flight, and then [it] took two days once he got there to go to Liège [Belgium], and then they took two days to get to Poland.
Both horses [Royce and my young horse Dicas] were in the top three in every class. So I was really pleased with that. Royce seemed to get here nice and fresh between all the shipping, and he was fantastic. [He] just missed winning the grand prix, just a couple tenths of a second off, and then got second in that. Felt nice and fresh again on Sunday for the Nations Cup, and he went super.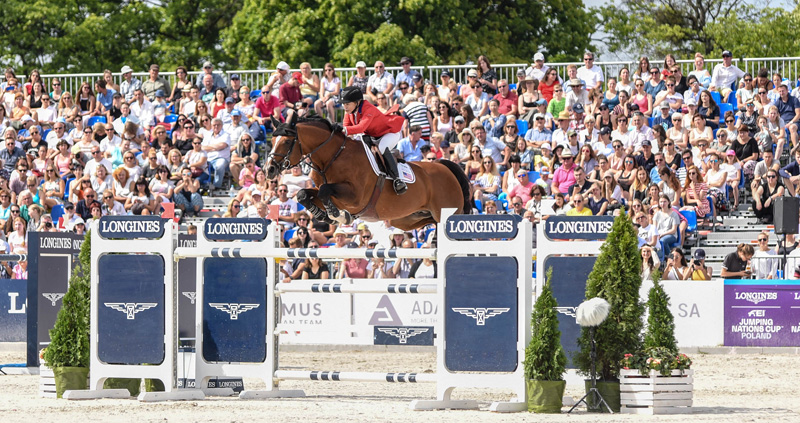 Unfortunately [in the first round of the Nations Cup] when we landed after the last double—it was the second-to-last jump—he kind of landed in a bit of a hole and pulled his shoe off, and it caused him to trip a stride, and it just got a little bit longer than I would have liked to the last oxer. And he just barely ticked the back rail. But he tried his heart out, and I couldn't have asked him for more—just something that really was not his fault. But he jumped fantastic. There was only one double clean in the Nations Cup [Olivier Robert and Eros]. And he jumped around easy, which I was very happy with.
In the second round, he came back nice and fresh and felt even better than the first round and went beautifully and just had a very, very light rub. Just coming up into the in of the double, just towards the end.
[It] came up a little bit casual. I maybe got too comfortable to it. He's riding so nice now; I may have just taken it a little for granted. I maybe needed to do a little something like kick or pull. That was the only jump that he did that the whole time. It wasn't a hard rub; it was very light. He still jumped it really well, and he feels like he's riding great. Came out of the class well, so I just have to take it one day at a time and one show at a time.
I'm just thrilled with where he is at this point. He's jumping and riding better than he ever has.
Now [the horses are] down in France for a little R&R, and we're going to stay here and work them.
[We're staying with] Nicolas Paillot. He's in Chamant. So it's very close to everything.
We've stayed here before, and [Royce] likes it here. It's very relaxing. They have the big barns with the nice big courtyards and big permanent stabling. It's very nice—very horsey—like a huge area away from the city. [He can] just kind of chill out.
Royce is like a big kid. He likes to play with whatever he can and just have some nice downtime away from the horse shows and all that atmosphere.
I'm going to maybe do one show in between at Knokke [in Belgium], and then he'll have about 2 1/2 weeks between that and Aachen. I'm going to show my young horse a little bit, and I'm looking for other horses over here hopefully in between to try for different clients and possibly to show in some of the other shows too.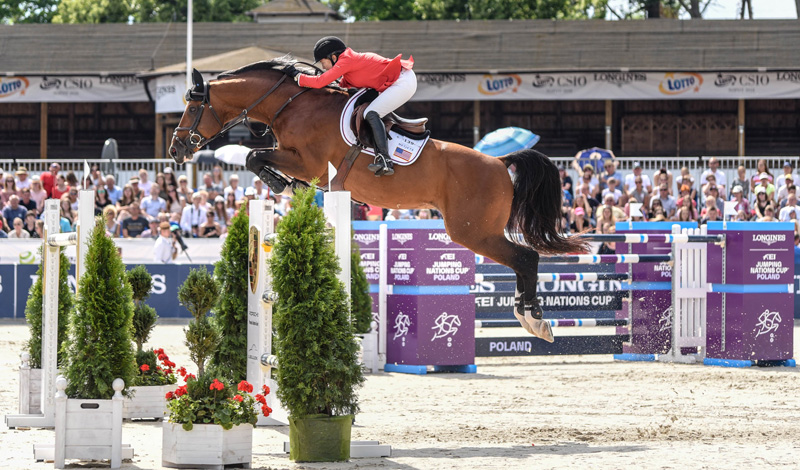 He's been very consistent so far. Hopefully he stays consistent and follows work that I'm fine tuning. You can always make something a little better.
[I'm looking to] just try to keep him happy and comfortable. And he feels great. It's just one of those things that sometimes [the rub] goes your way, and sometimes it doesn't. Sometimes you can hit them harder, and they stay up. Same with the grabbing his shoe—that's not something he could have helped. It's not anything he did wrong. He was good to finish up well—he still gave it a great effort. I was just a little bit unlucky. But those things, it all evens out in the end.
He feels good. He feels better this year than he's ever felt. And that's been a long process. There are a lot of layers to get through with a big, strong big horse, so he's kind of feeling like he's really coming into his own right now.
Read all of the Road To The WEG articles with Margie Engle.
Catch up with our other Road To The WEG riders:
Dressage rider Olivia LaGoy-Weltz