In this series, the Chronicle follows multiple riders as they seek to fulfill their FEI World Equestrian Games dreams in Tryon, North Carolina, in 2018. We'll check in with them in the coming months as they pursue a team spot to see how they're getting their horses ready and preparing mentally.
Boyd Martin and Tsetserleg were named to the Land Rover U.S. Eventing Team for the WEG in late June. Since he last checked in, Martin finished fourth with "Thomas" in a CIC** at the Maryland Horse Trials and attended a jumper show at the Kentucky Horse Park to give him some additional mileage in that ring. His final outing will be the Bromont CIC*** (Canada) Aug. 17-19.

Since we last talked to him, Martin also added a new little bundle of joy to the family—he and wife Silva Martin welcomed Leo Rossco Martin on July 22. 
---
Throughout this whole preparation Silva has been heavily pregnant, and she's been helping me on the ground day-to-day with Thomas. I think her specialty is the flying changes, which are my weakest thing. In the past I've just thrown her on, and she'll do like 200 flying changes on the horse, and then I hop on, and it's perfect. Unfortunately I got my timing wrong on this baby; poor old Thomas is having to put up with me schooling the changes for his preparation.
Silva has been battling with a blood deficiency throughout the pregnancy, and we were forced to deliver prematurely [on July 22]. I was supposed to be competing at the Fitch's Corner Horse Trials up in New York, and the day I was supposed to go I raced off to the hospital. They had to do an emergency C-section, so I sent my assistant to Fitch's Corner to ride the young horses.
We had a nice 4-pound boy who we call Leo. He's in Philadelphia, so it's been a bit hectic the past couple weeks because he's in the NICU at the University of Pennsylvania. He'll be there six weeks. Silva and [the Martins' nearly 3-year-old] Nox and the nanny have moved into an apartment right in the middle of the city, and I've been driving back and forth, visiting and then coming back and riding all day.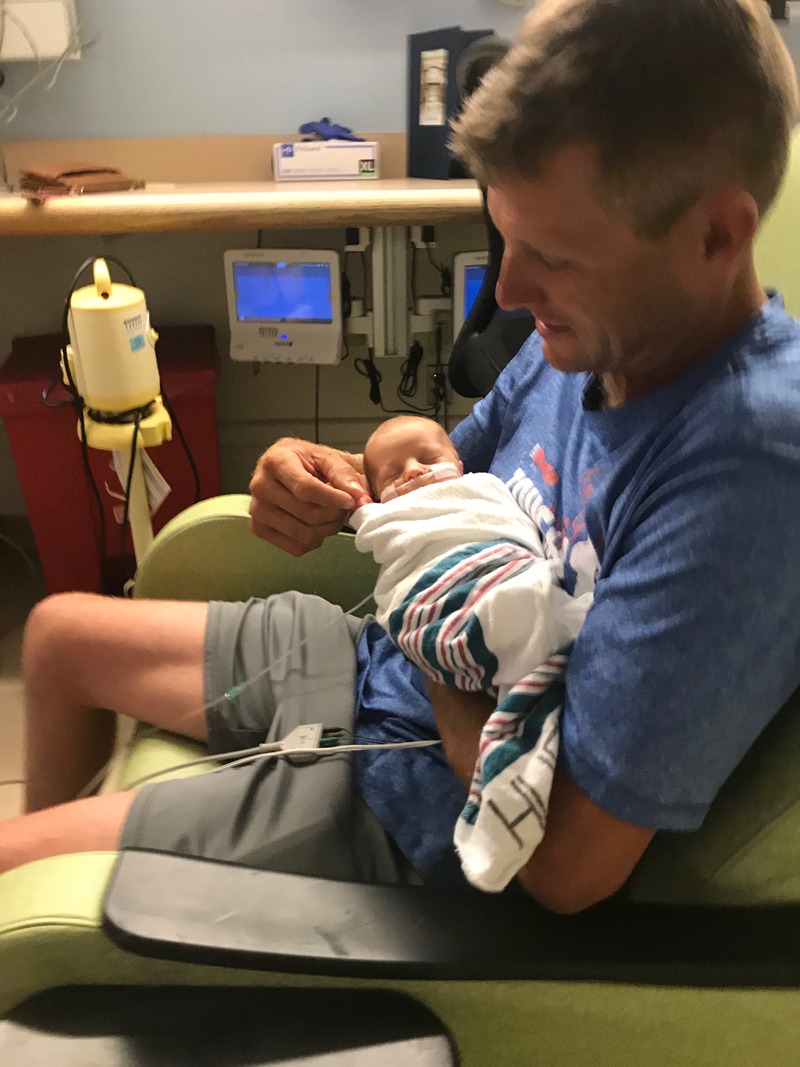 So it's been a bit hectic, but I thrive when it's hectic. I love a bit of madness and chaos, and it seems to spur me on a bit more, and Silva and Leo are both doing well.
Workin' On My Fitness
Since the team has been announced, we've really been honing in on Thomas' fitness. He's not a full Thoroughbred, so we're really working on his fitness. He's a great galloper, but I'm training him for this event expecting the worst. I'm trying to keep in the back of my mind that it's going to be a brutally tough course, hot weather and a monster hill at the end of the cross-country, so I'm really putting the miles into him.
I've been galloping him on our new track a lot, and we've been lucky; we live in the Cheshire hunt country, and some of the landowners have been letting Phillip [Dutton] and I use their big, long turf hills to get the horses fit. When it was a little bit dry, one of the neighbors had just put in a beautiful all-weather gallop a mile up a hill [that we used].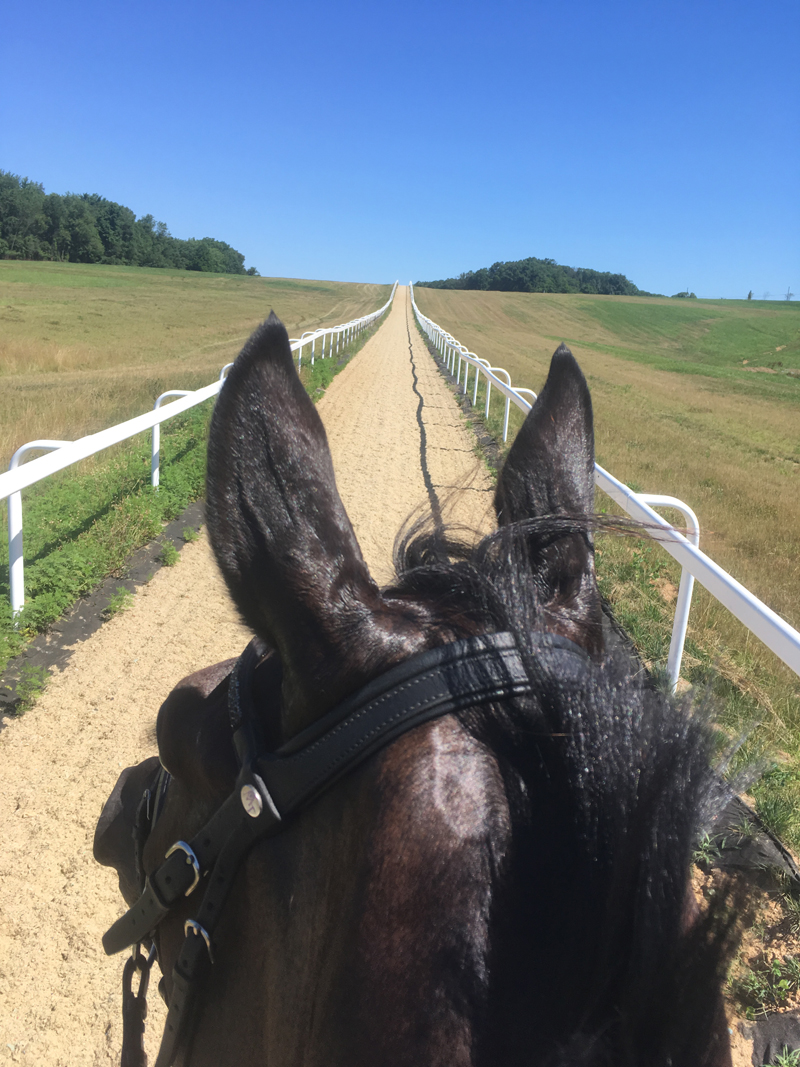 Because I'm really wanting to make sure he's ready to go on cross-country day, [I'm] sending him to the swimming pool once a week and then also to the AquaTred. [I'm] trying to do a fair bit of cross-training with his fitness work. We did that a little before the Kentucky four-star, and I really felt like I had plenty of horse all the way around the course. But I want to step it up a notch, and there's only so much galloping you can put on his legs.
I'm very lucky I'm surrounded by lots of top trainers in our area, race horse trainers and timber riders. We're in a community full of masters of people getting horses fit, so I've been trying to do a bit of cross-training to make sure I'm not just getting him fit by going faster.
There are a lot of rumors flying around that the course is going to be shortened, and from a personal point of view, if this was the case it would be an absolute disaster—calling this the World Equestrian Games and having a shortened course. This should be the ultimate test of the fittest, strongest, best-performing horse and rider in the world. It only happens every four years, and it would be very, very sad if it was a CIC track. Saying that, my hunch is that [course designer] Capt. Mark Phillips is a determined man, and he will ensure that this is going to be a true test come September, so I'm ignoring all the rumors and preparing for the biggest, hardest, most grueling event Thomas has ever seen.
He's been a little bit tricky in the combinations where he jumps in quite big and gets a bit bold and brave, so we've been working on his training in just encouraging him to slow himself down and back up in the combinations, and it's been a lot of hard work. My two jumping coaches, Richard Picken and Erik Duvander, have been coming up with a lot of exercises to try to steady him up a bit. We took him to the Kentucky Summer Horse Show and did the 1.20-meter and 1.30-meter [classes], and I was really, really pleased with the way he jumped through the combinations in Kentucky.
Watch Thomas showing in Kentucky:
Basically he gets a little bit panicked and nervous in [triple combinations], so we've been doing trebles that are quite low, and doing V poles and placing rails. [We're just using] rails and things to try to back him off a little bit, so I don't have to use my hand. He jumps into the treble and visually sees rails, and hopefully that backs him off, and then he learns that it's so much easier jumping through the combinations at a slower speed. It's one of those things you're not going to fix in one session; you just have to gently be chipping away at it.
Getting The Band Back Together
The Maryland Horse Trials was the first time the majority of the WEG team was together with their horses since being named, and it was good to see [RF] Scandalous and Vermiculus and Donner looking really, really impressive to me. All of us just gave our horses a nice, steady run around the cross-country just to get them back in the swing of things after Kentucky.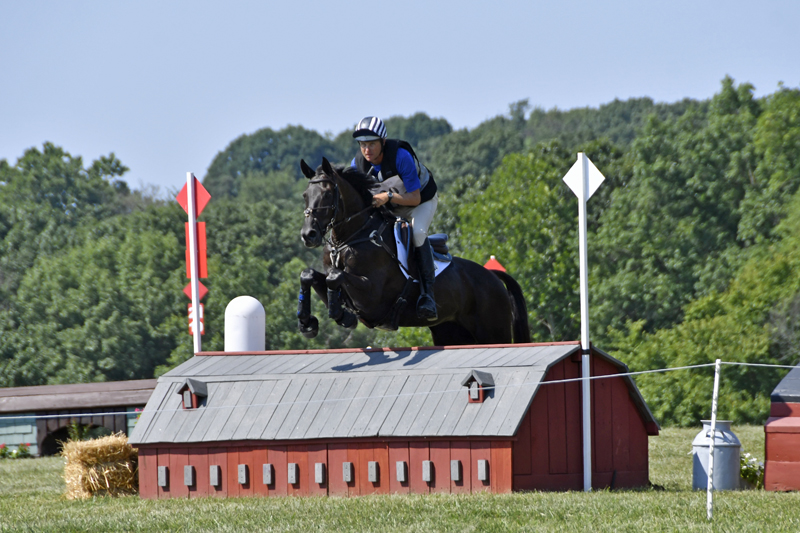 This is going to be a weird [WEG] because it's in America, and we're basically all training out of our home bases, and our Chef d'Equipe Erik Duvander is going from farm to farm every day checking in on us, so he's with us a couple days a week. It's different from other championships, like for Normandy [in 2014], we all moved to France together for a month, so it's a bit weird. We've all been on a team before, so we know each other quite well, but really the only one I'm interacting a lot with is Phillip. I still go to him for guidance with the fitness and the training; we team up on stuff, and it's good.
The eventing world is a fun world. It's fun talking to some of my friends from New Zealand and Australia who have been put on the team. It's an amazing sport where we all sort of rendezvous every two or four years. Sitting back and watching the teams name their riders and feeling the pain for the people who have missed out or their horses got injured, it's a grueling process. You just want every single day to go perfectly in the training and the build-up and not a moment goes by where you're not sort of terrified of something going wrong.
Read all of the Road To The WEG articles with Boyd Martin.
Catch up with our other Road To The WEG riders:
Dressage rider Olivia LaGoy-Weltz
Para-dressage rider Rebecca Hart